Her neck of the woods is not a place you want to be.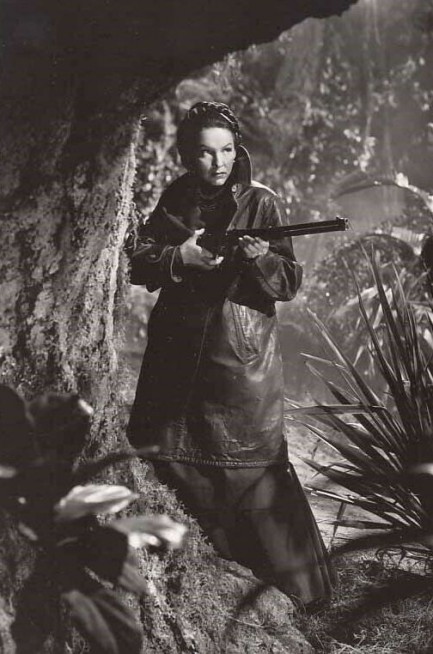 Gale Sondergaard, born in 1899 in Minnesota, stands vigil in the woods in this promo photo made when she was filming 1939's The Cat and the Canary. Sondergaard went on to appear in Appointment in Berlin, A Night To Remember, The Invisible Man's Revenge, The Spider Woman Strikes Back, and numerous other films we'd like to watch. We did see The Cat and the Canary though, and talked about it last year. Check this link.
---
These are the warmest, slimiest raindrops I've ever felt.
Since we were on the subject of werewolves a couple of days ago, here's a fun promo shot of Claude Rains about to precipitate doggie drool onto Evelyn Ankers in their 1941 horror flick The Wolf Man. Ankers had trouble with other weird creatures too, including ghosts in Hold That Ghost, a vampire in Son of Dracula, an unseen troublemaker in The Invisible Man's Revenge, and a reanimated monster in The Ghost of Frankenstein. All that experience and she never learned to look up. Well, in her defense Rains is unusually sneaky, plus canines don't usually climb trees.
---