Her neck of the woods is not a place you want to be.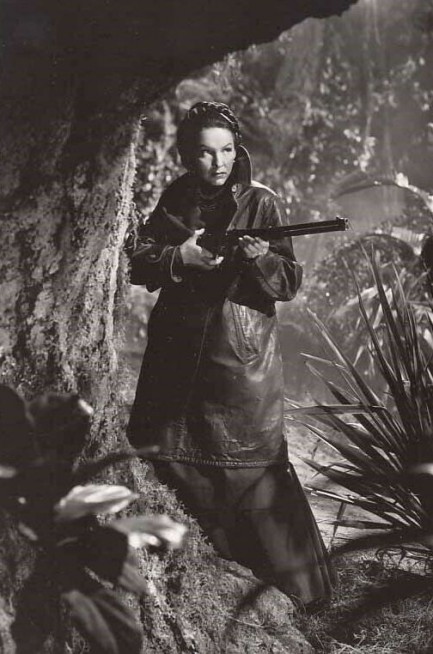 Gale Sondergaard, born in 1899 in Minnesota, stands vigil in the woods in this promo photo made when she was filming 1939's The Cat and the Canary. Sondergaard went on to appear in Appointment in Berlin, A Night To Remember, The Invisible Man's Revenge, The Spider Woman Strikes Back, and numerous other films we'd like to watch. We did see The Cat and the Canary though, and talked about it last year. Check this link.
---
Um, so after we're done with the session d'ya think I could keep these pants?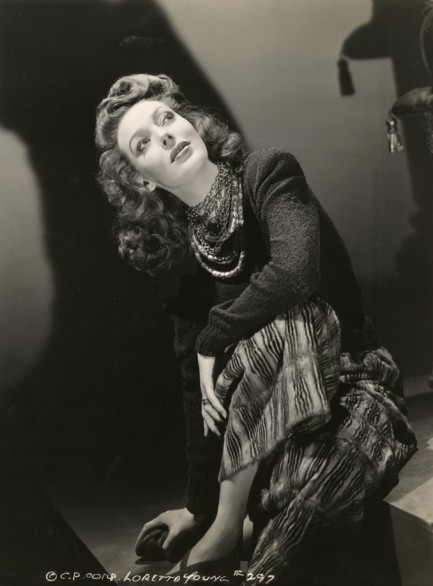 Loretta Young, née Gretchen Young, began her career in cinema in 1917 and worked in both film and television until 1953, along the way appearing in such efforts as The Accused, The Bishop's Wife, and The Farmer's Daughter. Apart from her work, Young is also remembered for the daughter she bore out of wedlock. In a classic bit of Hollywood subterfuge, six months into the pregnancy she took a vacation to England and returned weeks after the secret birth to start a new movie. Nineteen months later, she adopted a baby daughter. The ruse fooled virtually nobody, but it did preserve her image to the extent that she could go on working without repercussions. The father, by the way, was Clark Gable. This promo of Young in astonishing fur pants was made for the classic film A Night To Remember in 1942.
---