Tonight they're gonna party like it's 1955.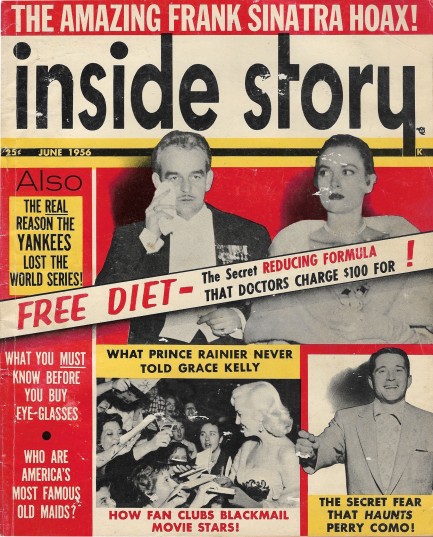 Questions abound on this cover of Inside Story, but for each one there's an answer. What did Prince Rainier not tell Grace Kelly? That the palace in Monaco was cold and drafty, and she couldn't sleep in the nude anymore because the premises were open to the public from 9 to 5. What was the amazing Frank Sinatra hoax? His studio Carlyle Productions started a whisper campaign that he was such a dedicated actor that he actually used heroin while filming the heroin drama The Man with the Golden Arm. What is the secret fear that haunts Perry Como? That his family might be kidnapped.
All of these pieces are fascinating, but since it's baseball season and people are high on the front-running New York Yankees right now, we'll point to the story, "The Real Reason the Yankees Lost!" What they lost was the 1955 World Series, and it happened—according to Inside Story—because they were partying too hard. They were ensconced at the Concourse Hotel for the Series, a hole-up made possible by the fact that their opponents were the Brooklyn Dodgers. So with both the home and away games taking place in New York City, and the players barred from sleeping in their own houses to avoid family distractions, the superstar Yanks did some major league carousing.
Inside Story scribe Manuel Shaw describes an allegedly typical scene: "Mickey Mantle, Phil Rizzuto, and several other Yankees were sitting around the lobby of the hotel when three lovelies from a nearby night spot showed up. Since the cuties were entertainers familiar to one or two of the players, and were rabid Yankees boosters, it was not remarkable that they were soon in animated conversation with the group, which shortly adjourned from the lobby to an upstairs suite."
Then he moves into this bit: "A beauteous brunette [was in the hall] clad only in a negligee. The two players wanted to spend some time with her, and they agreed that they would rather do it separately, but she insisted it would be more fun if they both stayed, and after a while she persuaded both of them to come back with her to her room. Soon a real party was underway, joined by many other Yankees, and several doting females who lived at the hotel."
Well, what good is being a member of the famed Yankees if you can't do some Yankee doodle diddling? Most guys we know can't resist a free beer, let alone a woman in lingerie. A little later in the story, after the question of whether professional gamblers employed the party girls to distract the Yanks, we get this: "If true, this parallels the persistent story in gambling and diamond circles that the voluptuous Marilyn Monroe was introduced to Yankee star Joe DiMaggio just in order to take his attention off the Yankee pennant drive of a few years back."
Did Inside Story really just say Marilyn Monroe was a mafia Trojan horse? Yup. They did. No ambiguity there. The magazine does not go so far as to say Monroe was aware of the set-up, so perhaps it was a matter of maneuvering her into the same space as DiMaggio at the same time and letting nature take its course. There are worse ways for a man to fall from the sporting mountaintop. And talk about a soft landing. We doubt the story, but you never know. There are far crazier tales starring Monroe. We have about thirty-five scans below, and more tabloids coming soon.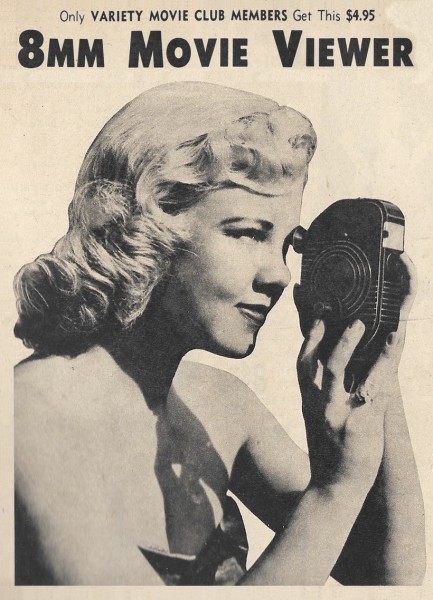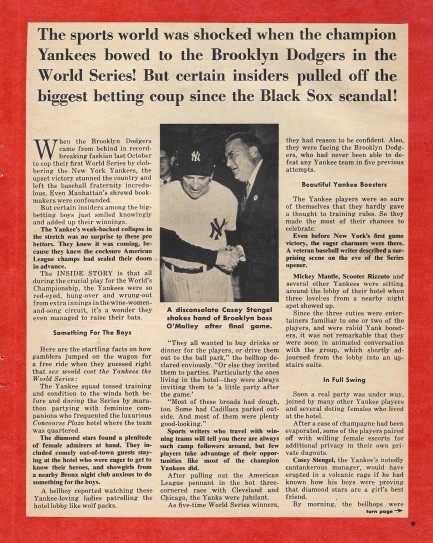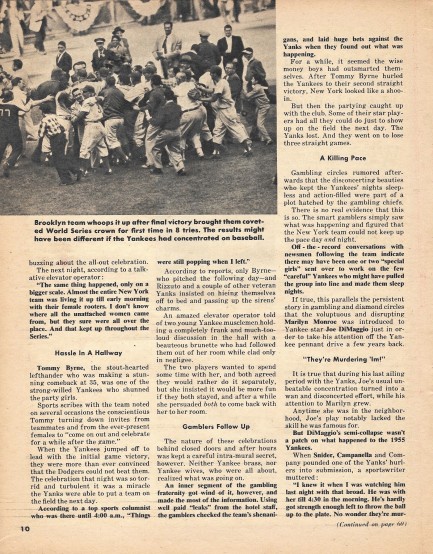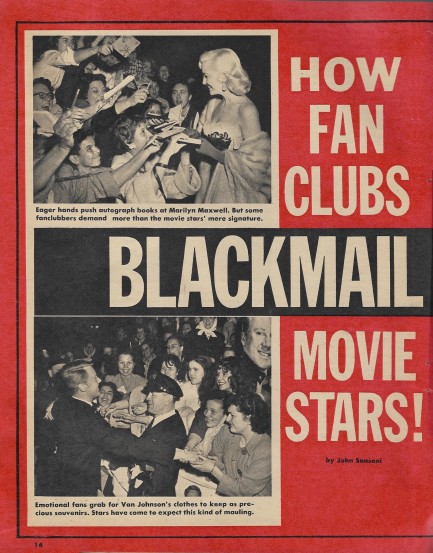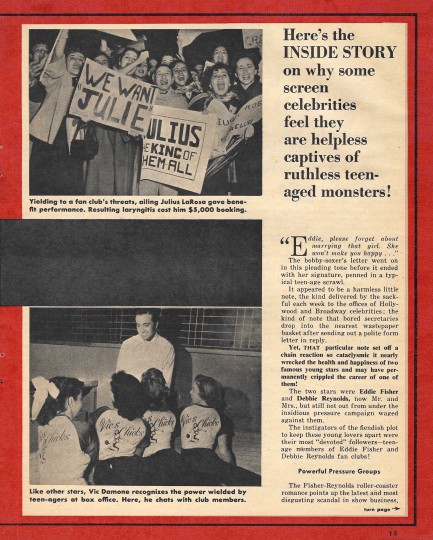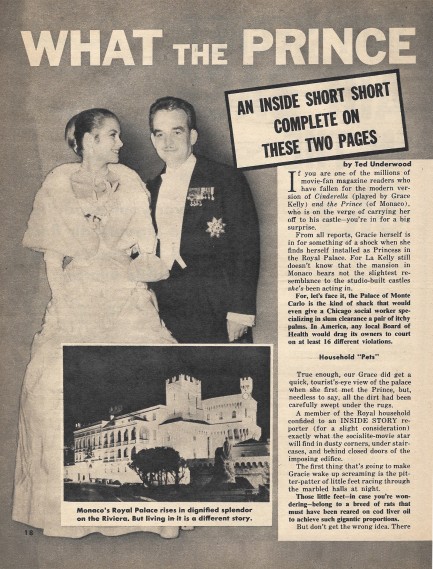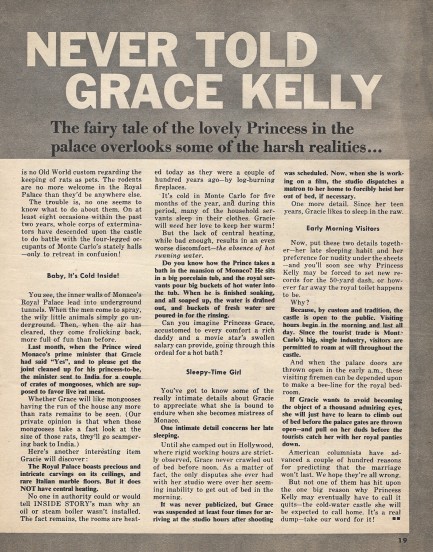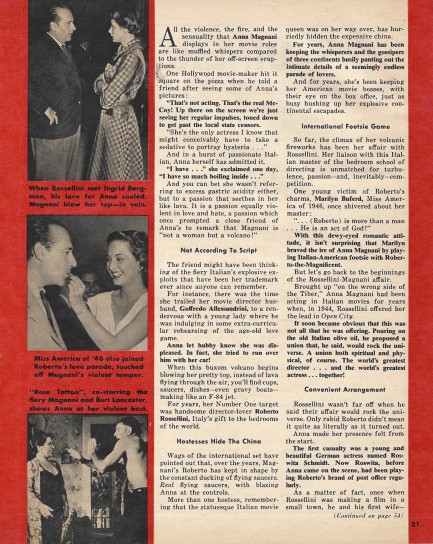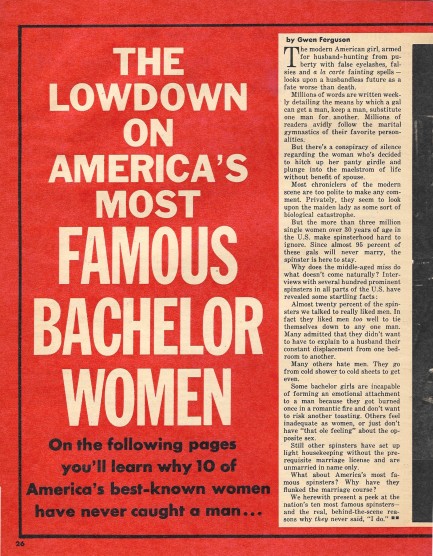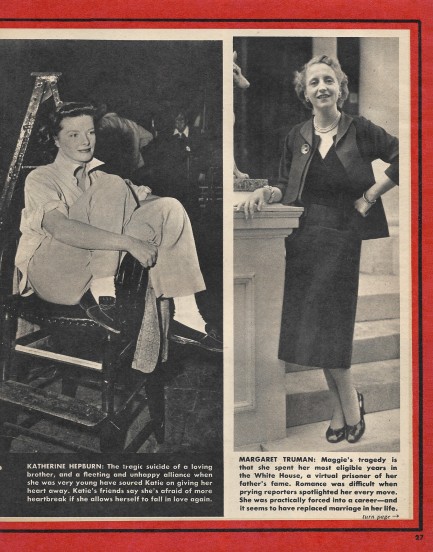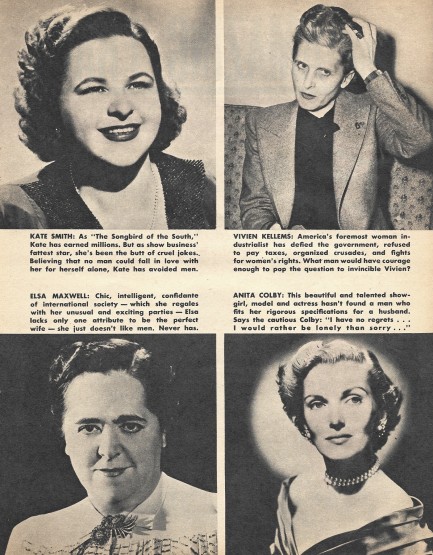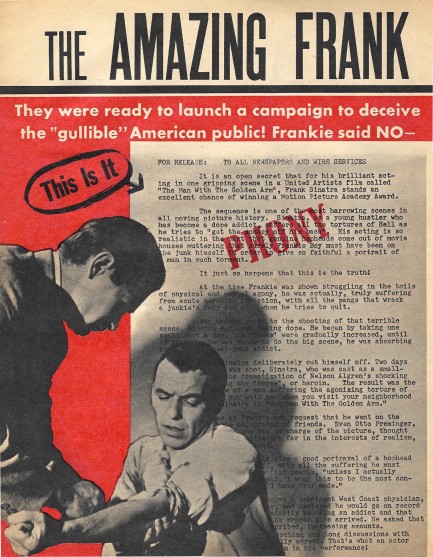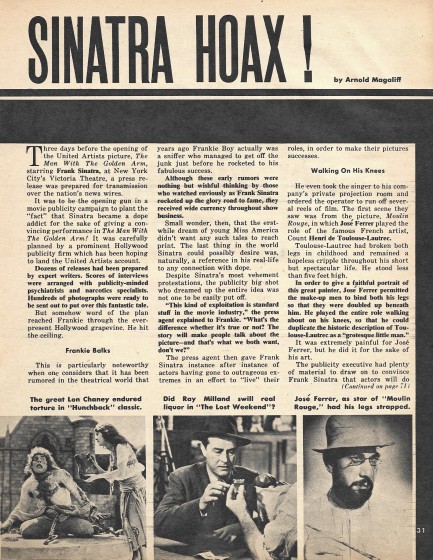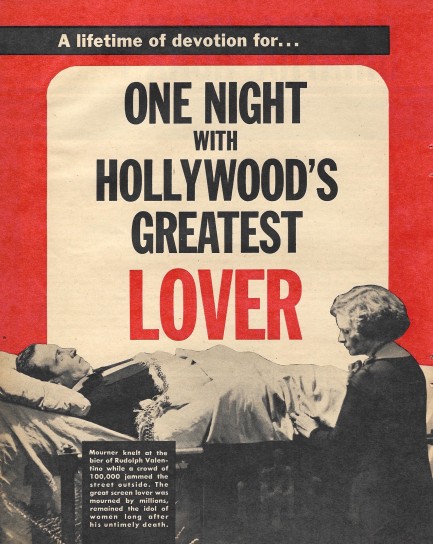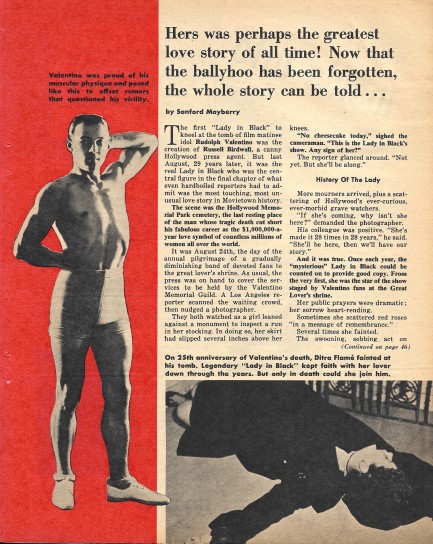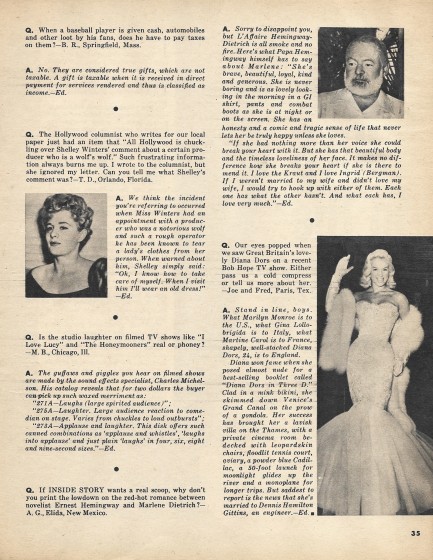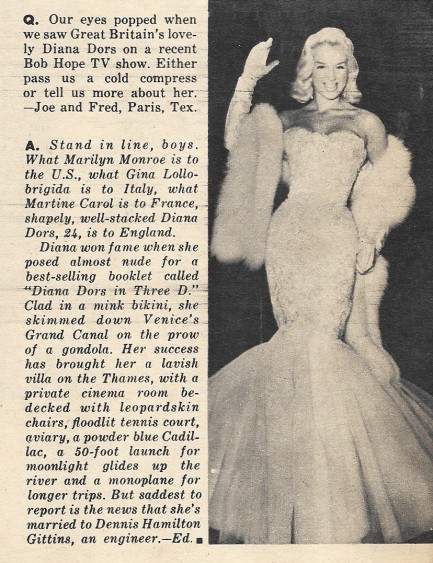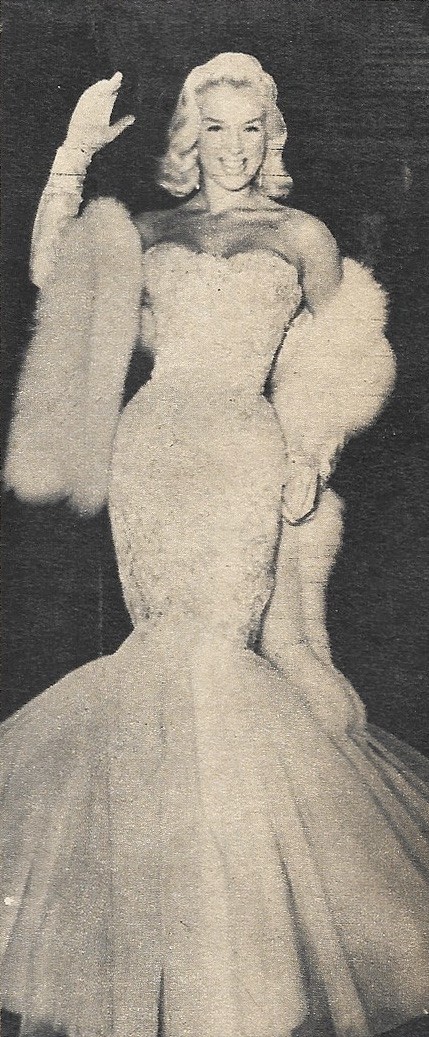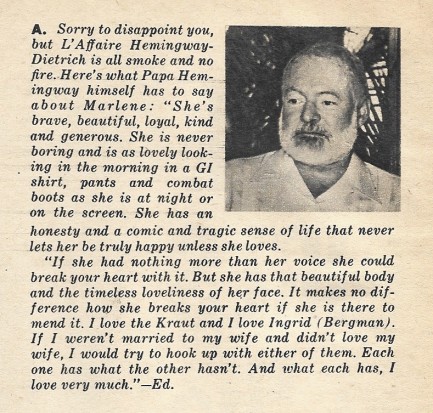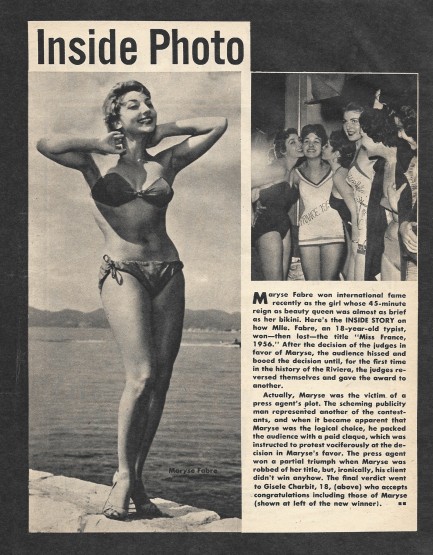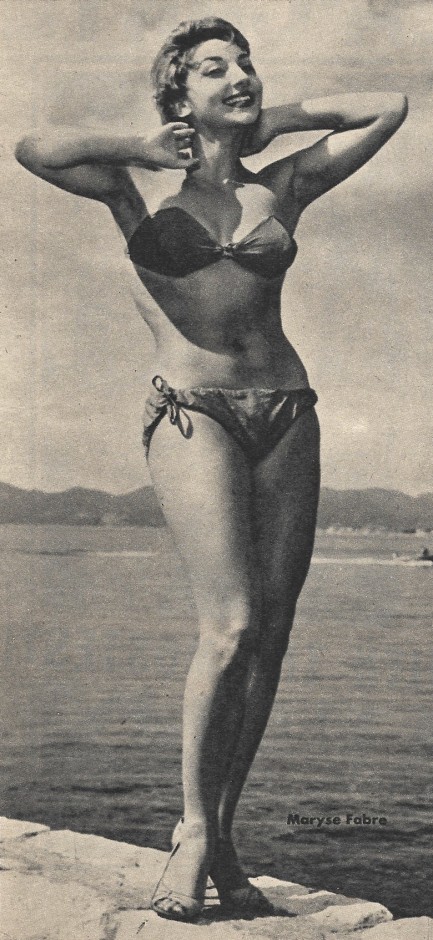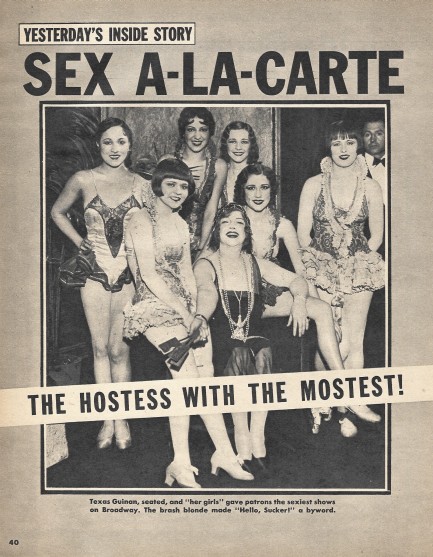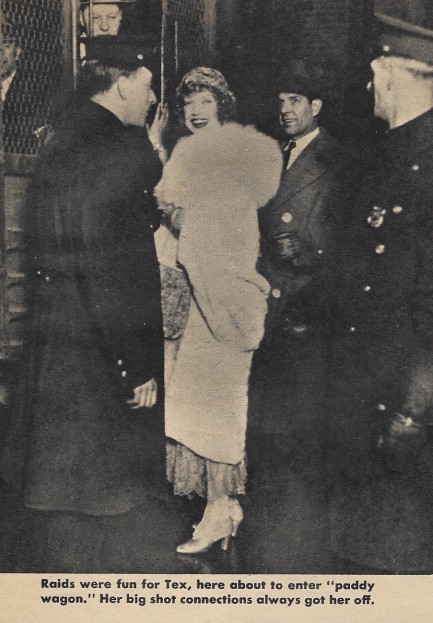 ---
The psychological thriller Vertigo couldn't hold a candle to star Kim Novak's real life.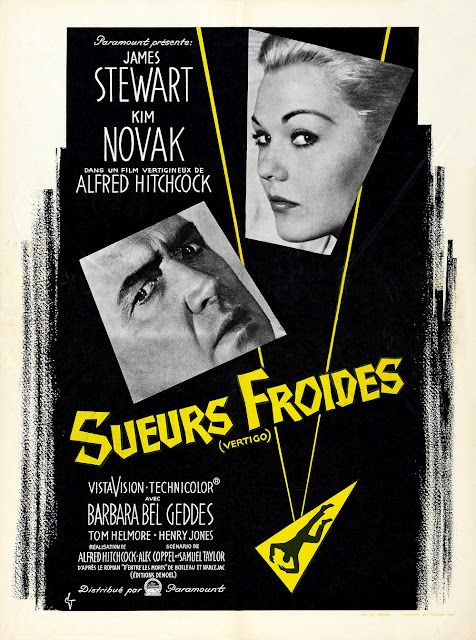 Hitchcock really cranked out films. Vertigo was maybe his fiftieth effort. We'd have to count to more than fifteen to be sure, and we're way too lazy to try. We just know Parisians first saw the flick today in 1958. By this time Hitch was so famous his films screened in virtually every corner of the globe, which means you can find posters of his movies in Russian, Spanish, German, Dutch, Portuguese, and so forth. When we stumbled across this nice French art we were reminded what a cool film Vertigo is. It has Jimmy Stewart, a great plot, period fx that still work despite their clunkiness, and a Bernard Hermann score. But really the best thing about this movie is Kim Novak.

After only a year in film, her classic beauty turned heads in the 1955 heroin addiction drama The Man with the Golden Arm, in which she played opposite Frank Sinatra. About two years later, when she was arguably the most famous and desired woman on the planet, she embarked upon an affair with brat-packer Sammy Davis Jr., which set off an avalanche of events that eventually resulted in the Mafia forcing Sammy to marry a Vegas showgirl who happened to be his own race. Novak's story is too complex to condense into a blurb—it involves gangland bosses, hush money for secret nudes, obsessive suitors, and all the best staples of pulpdom. Through it all she pretty much told the world to screw itself if it didn't like her exactly the way she was. And she's still with us at 75. We'll write more about this amazing person later on.
---