A million dollar profile.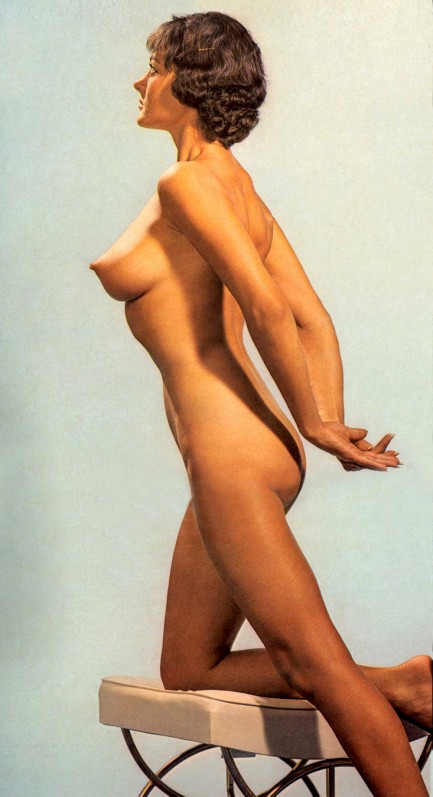 We were going to upload a Facebook profile for Pulp Intl. today, but then we decided you'd probably rather look at this profile instead. Pictured is Virginia Gordon, who started in 1958 as a nude model, and later appeared in b-films such as The Muthers (the 1968 sexploitation flick, not the 1976 blaxploitation flick), Hot Spur, and Francis Ford Coppola's nudie western Tonight for Sure. Her movies were mostly forgettable, but her modeling remains precisely the opposite. Bonus shot below from the same session. Probably 1962 on these.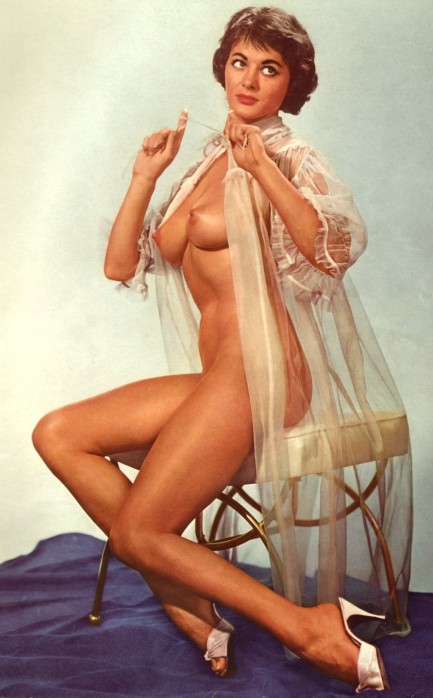 ---
Coppola brings the heat in his first credited production.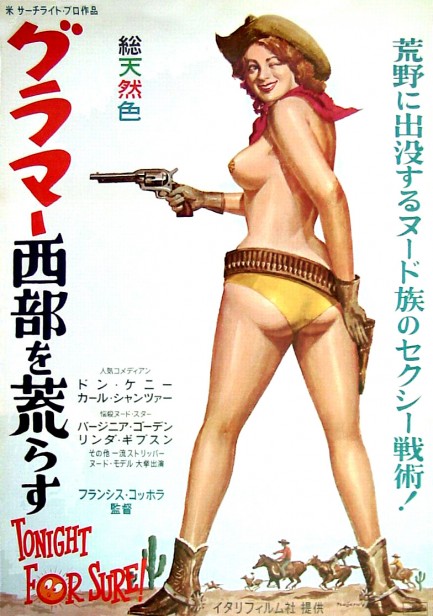 Here is a true rarity. And we've done a thorough search around the internet and we're 99% sure this is its first appearance online. It's a Japanese poster for Francis Ford Coppola's Tonight for Sure, a hot little nudie western that had only twelve minutes of Coppola-directed footage, yet, through a complicated set of circumstances, earned him full directorial credit. What happened was some people approached Coppola with a short nudie film called Wide Open Spaces about a man who kept hallucinating naked women whenever he looked at cows. The film was so bad that they asked Coppola to fix it, which he did by intercutting his short nudie The Peeper and adding a bit of footage to bridge the pieces. Coppola called the final result Tonight for Sure and gave himself full directorial credit. The movie went nowhere—except to Japan, apparently, where it showed in 1963. Remember, this would have been before Coppola had achieved any semblance of fame, so there was no reason for the movie to earn an overseas release. We can only assume that the copious nudity made it sellable and Tokyo was buying. As a side note, Virginia Gordon, who was one of the most famous nude models of the '60s, made an appearance and we found an on set photo, which we've posted below. Tonight for Sure—or some part of Tonight for Sure—was at some point going to be called Lake Girls, and you can discern that for yourself by lowering your eyes from Gordon's breasts to the slate underneath. But only if you want to. Whatever you call the movie, it premiered in the U.S. today in 1962.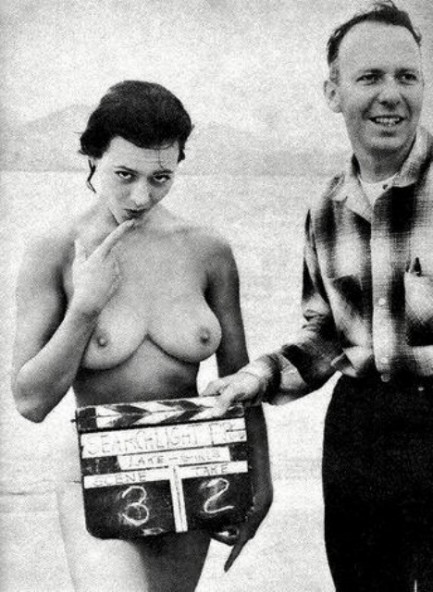 ---