Hi, I'm lost and alone and if I disappeared off the face of the Earth nobody would question it or care.
Above, very nice Mitchell Hooks art for Gil Meynier's Stranger at the Door, originally 1948, with this Crest Books edition coming in 1955. We gave it a read and you should think of it as an early Psycho. The main character Joe runs a Tucson boarding house, and we learn via his vivid internal dialogues that he hates all people, particularly those who possess authority through education or social position. His disorder soon focuses on Dorry, an attractive new boarder who has no idea how disturbed Joe really is. He schemes, sneaks around, spies, and steals, and his first attempt at serious harm involves running someone over with his car. That person isn't the last. An unusual book for the time period, which we enjoyed because it's so different.


---
So that's where your arm went. The damsel in distress thing was just an act, wasn't it?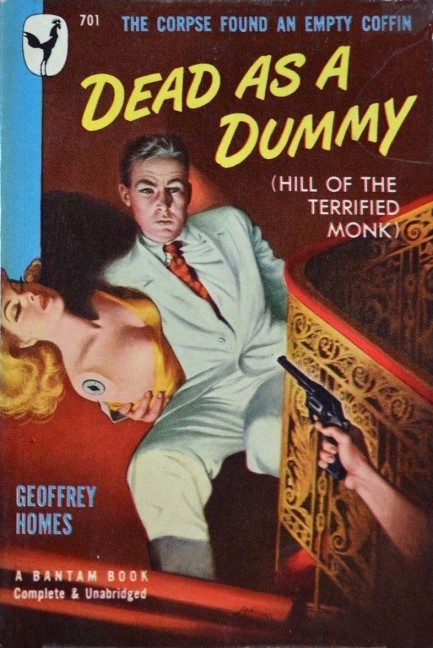 Dead As a Dummy is a thriller set in the unlikely locale of Tucson, Arizona, where a premiere for a horror movie called The Invisible Zombie goes completely awry when it becomes the backdrop for three murders. The main character is Ben Logan. His job is kind of hard to describe. Basically, he works for a cinema chain, and he handles whatever needs to be handled. Think of him as a troubleshooter. He puts together a lobby display for The Invisible Zombie featuring a coffin with a mannequin corpse inside, only to find the set-up put to use by a clever killer. The main attraction here besides the plot is good southwestern flavor, something author Geoffrey Homes was adept at after previous forays in the same milieu. The cover art on this is generally credited to George Fullington, but that's one of those cases of the internet replicating an error. It happens. We've done it ourselves. The art is by Ray Johnson—says so right on the second page—and the copyright is 1949.
---