Just another marvelous sight in the City of Light.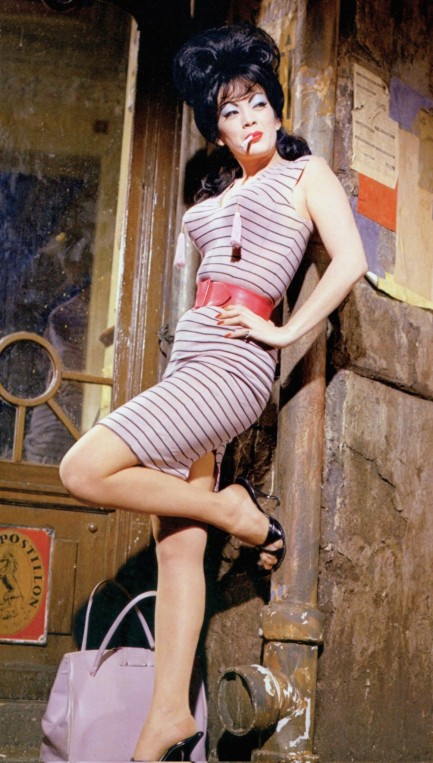 This cool and colorful photo shows actress and dancer Tura Satana as the character Suzette Wong—mile-high wig, tassels on the boobs, and all—one of many colorful Parisian prostitutes from the hit comedy Irma la Douce. Satana was born as Tura Yamaguchi in Hokkaidō, Japan in 1938, but moved to the U.S. after World War II and became famous in b-movies like Faster, Pussycat! Kill! Kill! and The Astro-Zombies. Irma la Douce was her debut film, coming in 1963. There's much about her life worth discussing but we can't get into it today. Maybe somewhere down the line. Actually, there should probably be a movie about her. Has anyone done that? Well, get to it.
---
Russ Meyer's tale of killer cats from Southern California is absurd but entertaining.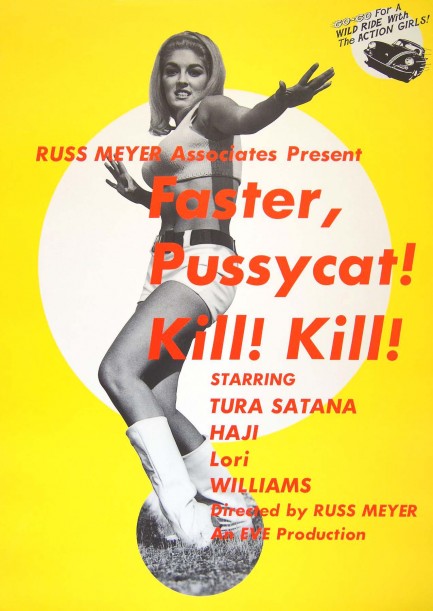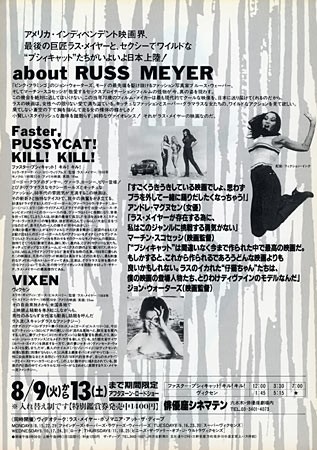 Though the text is in English, this promo for Russ Meyer's Faster Pussycat! Kill! Kill! was made for a 1994 re-release in Japan. You can see that the flipside at right is partially in Japanese. Faster Pussycat is one of those movies—everyone has heard of it, but fewer than you'd suspect have actually seen it.
So what's the deal? Tura Satana, Haji, and Lori Williams drag race, wisecrack, and roughhouse their way around Southern California. But because they're bad tempered and sociopathic, they eventually kill a guy, which then requires abducting the only witness, and in turn leads to a scheme to cheat a wheelchair bound old man out of his disablement stash. It's an uneasy alliance between these three kittens, destined for implosion, an inevitability helped along by Satana's unending torrents of shouty abuse.
You really have to hand it to Meyer—what he did, he did really well. Faster Pussycat is a completely overdone tale of reckless youth and the lawless west, but ripping around the Mojave Desert with these girls is consistently fun. The type of moral decay and geographical desolation showcased here is one of American film's time-honored motifs. Meyer's entry in the genre holds up pretty well. The movie originally premiered today in 1965.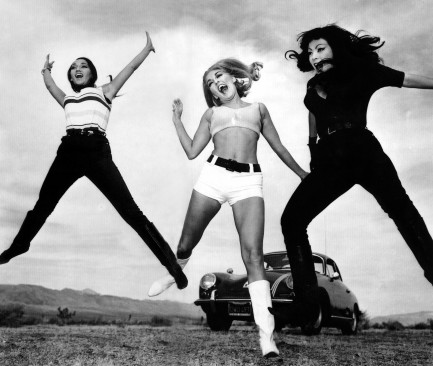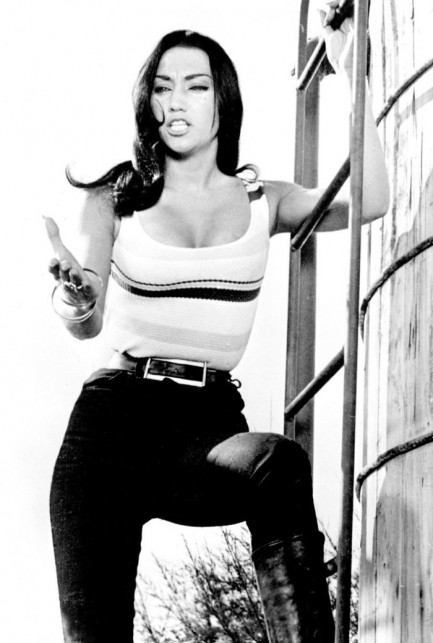 ---