Answer me honestly. Do men actually like this kind of cumbersome lingerie? No? Me neither. Ahh... that's better.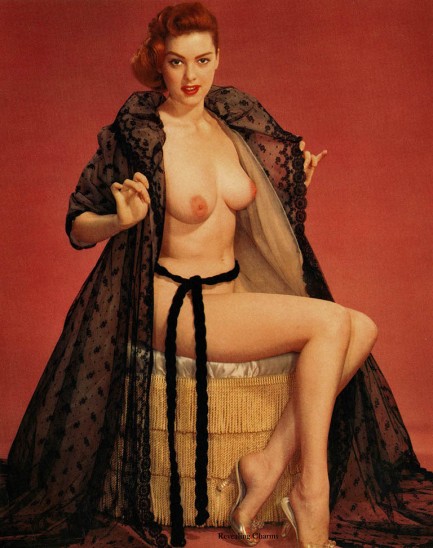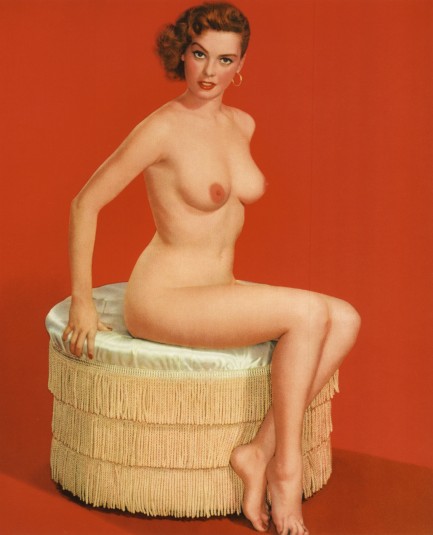 For a couple of years we were mystified by the identity of the above model, but recently learned that she's Virginia De Lee. There's actually some information out there about her, some of it quite interesting. For example, in June 1957, according to Hollywood columnist Erskine Johnson, she walked into his office dressed as a harem girl, accompanied by a "225-pound giant of a fellow and a four-foot [little person]," unrolled a rug, served him a cup of Egyptian coffee, and announced, "We are here to remind you that the Tyrone Power movie Suez will be on television tomorrow night. It's the premiere performance of a series of Twentieth Century Fox movies on KTTV."

That's what's called an old fashioned publicity stunt and as far as we know stuff like that doesn't happen these days. De Lee also popped up in the press when famed Hungarian sculptor Sepy Dobronyi said she had a perfectly formed body, so it's possible she modeled for him at some point. She obviously sought stardom, but her only movie role was a minor appearance as a stripper in the b-drama Hell Bound. Whatever fame she has these days mainly derives from the many collectible Technicolor lithographs in which she and that quirky right eyebrow of hers were featured. We showed you a few lithos already, and we have one or two more sitting around. You may see them later.


---
Closer... closer... come just a leeetle closer, my unsuspecting little morsel.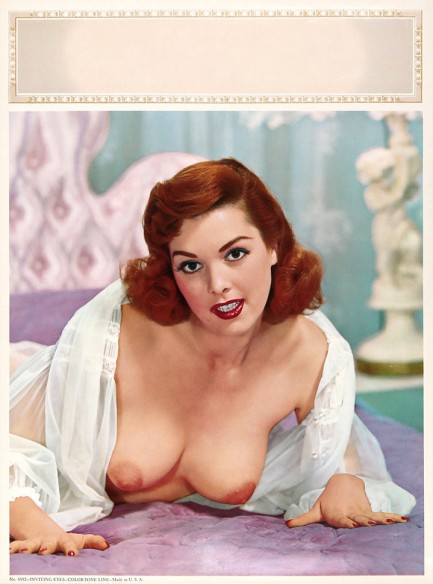 This interesting Technicolor lithograph from Colortone Line published in 1957 stars an unknown red-haired model and is titled "Inviting Eyes." But we think "uninviting eyes" might be more descriptive. Is it just us, or does the model look like a cat about to rip apart a helpless little bird? She's less intense in other lithos, and there are many, which indicates that she was probably a famous model. But we can't place her. We know—you count on us for this stuff, but even Joe DiMaggio struck out once in a while. As a consolation for our general ineptitude, we have two more of her lithos below. Notice the third one is actually from the same session as above. That satiny bed in the background confirms it. Know who this model is? Drop us a line.
Edit: And as of February 2021 we have the answer. She's Hollywood born model Virginia De Lee. We have more info about her we'll share soon, as well as more images.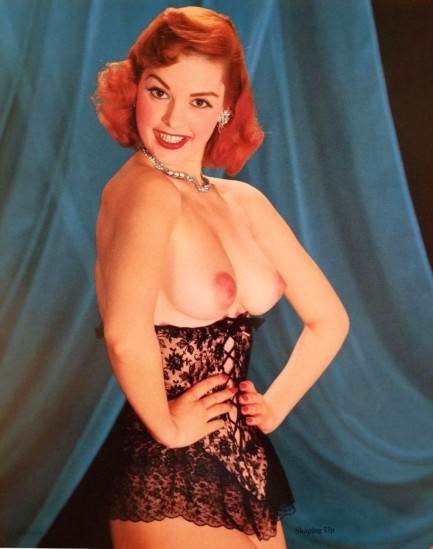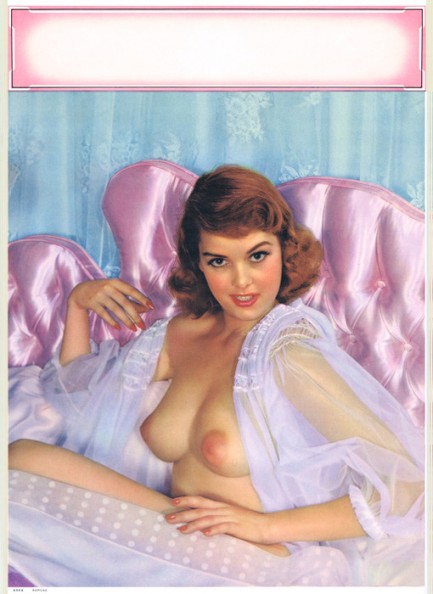 ---
Cover me, boys! If I can get ahold of that massive gun I think we can win this fight!
Above is a Robert Stanley cover and below are numerous interior scans from an issue of the vintage men's magazine Adventure published this month in 1958. For some reason we don't think of this as one of the major magazines of the type, but the masthead tells us this issue is part of volume 134. The content consists of fiction and fact from assorted authors, and a photo feature on model Virginia De Lee. The story art is by Gil Cohen, John Styga, Rudy Nappi, et al, and we should amend our cover credit—Stanley painted the western scene, but the pistol and badge plopped atop his careful work were painted by James Triggs. Wonder how Stanley felt about that? Scans below.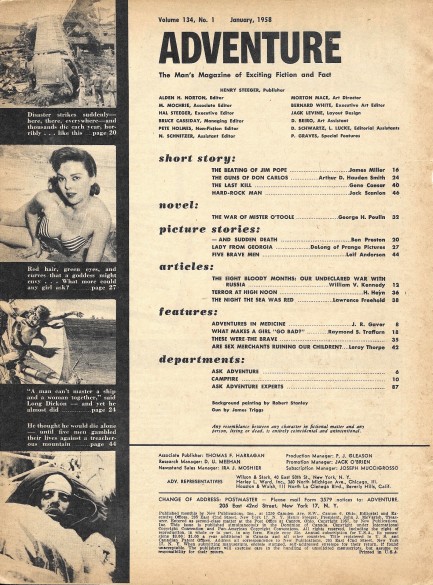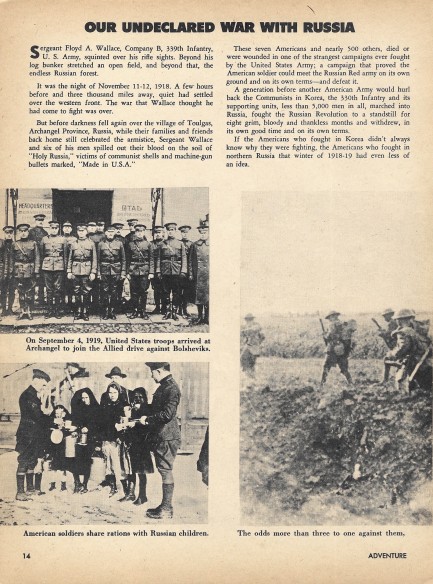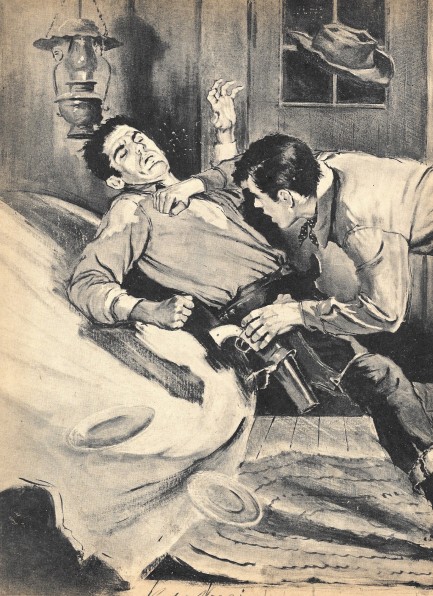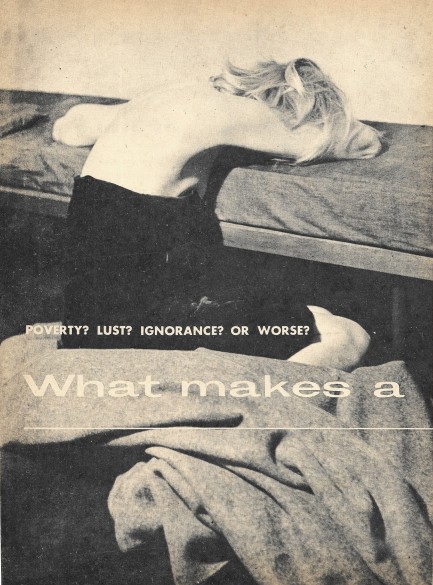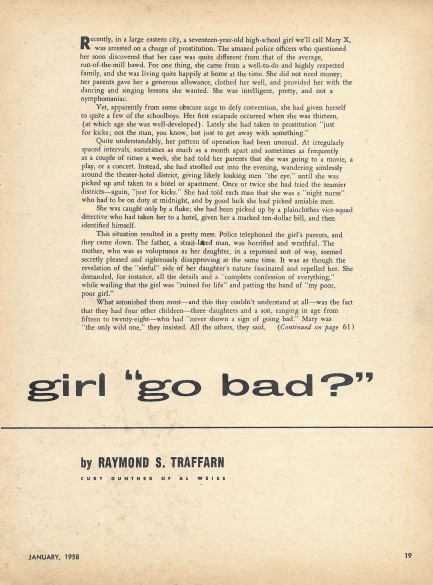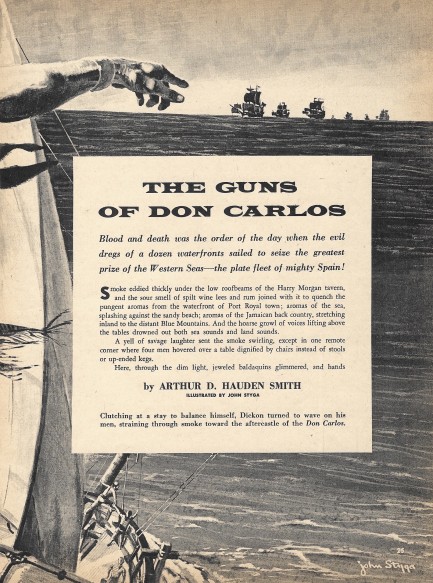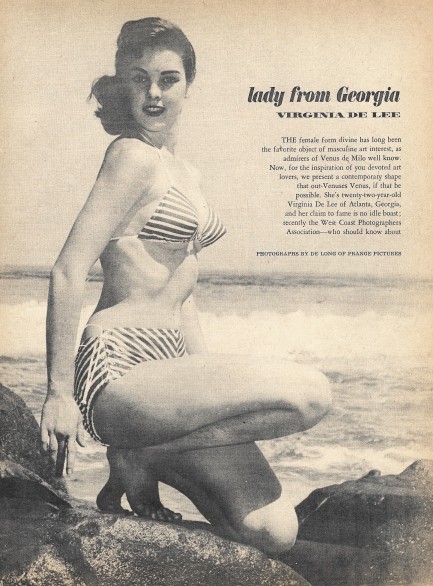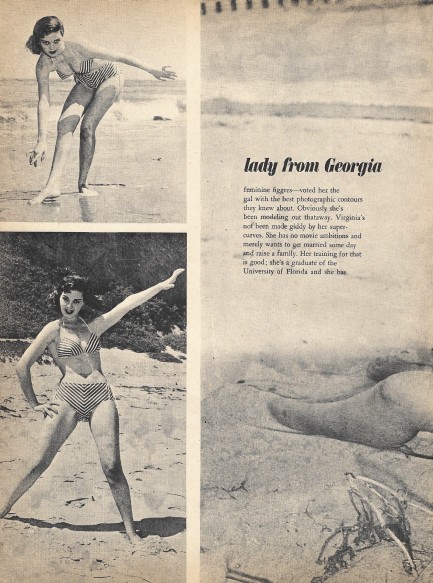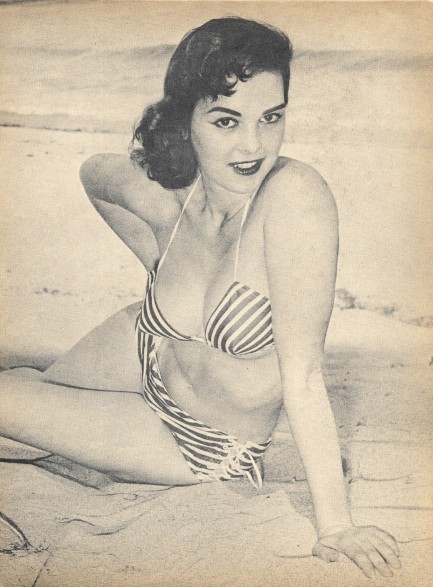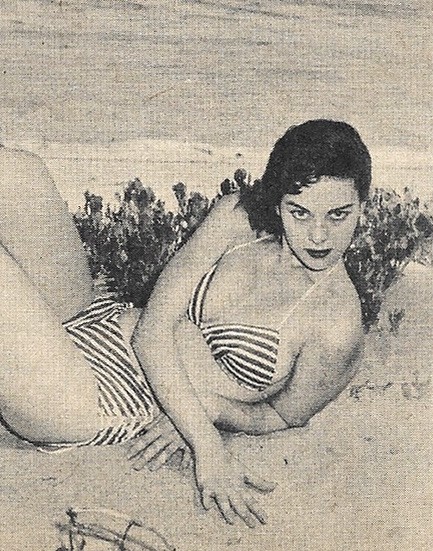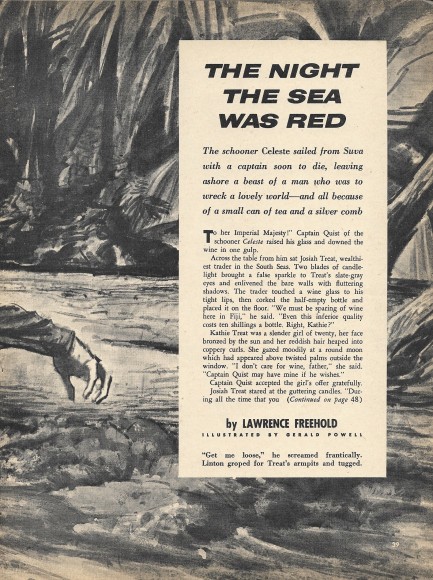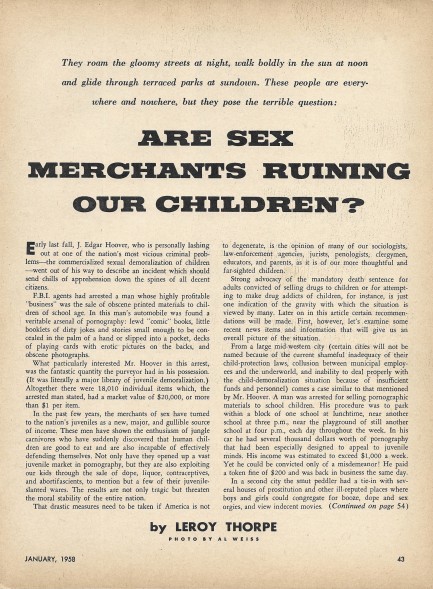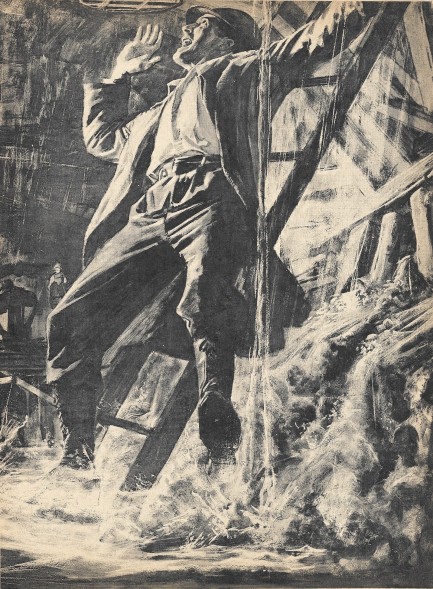 ---