Ready, aim, when the concession manager bends over we all nail him in the ass.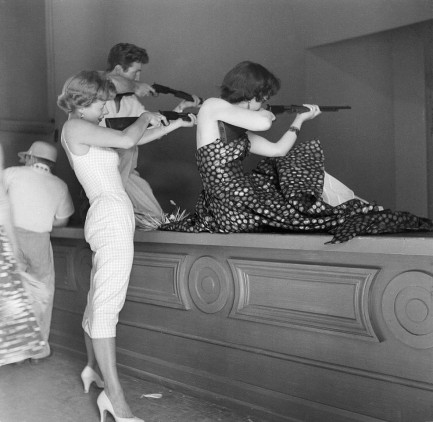 Today in 1955 the soon-to-be global tourist attraction Disneyland debuted to 28,000 invited guests, media, and assorted celebrities on hand to lend a bit of glitz to the kitsch. Stars who were present included Eddie Fisher, who hosted the festivities, Debbie Reynolds, Danny Thomas, Ozzie and Harriet Nelson, Art Linkletter, Irene Dunne, Jeff Chandler, Eve Arden, Marilyn Maxwell, George Gobel, Margaret Whiting, Gale Storm, Charlton Heston, and many more. The above photo shows, left to right, Adelle August, Steve Rowland, and Kathleen Case enjoying the air rifle attraction, and Case in particular must have been a hell of a shot, firing away from the hard-to-master seated position. No word on whether any of the trio won a prize, but we doubt it. On the other hand, considering the congestion and the mess 28,000 people can make maybe the prize was being allowed to the front of every line and having a celebrity potty watched over by a furry mascot wielding a mop and bucket. We aren't sure how long Case and Co. hung around—it was 101 degrees Fahrenheit that day and the water fountains weren't functioning—but it looks like they went above and beyond the call of publicity. If we had to guess, though, we'd say they left immediately after Case felt the monkey's warm anus on her bare shoulder.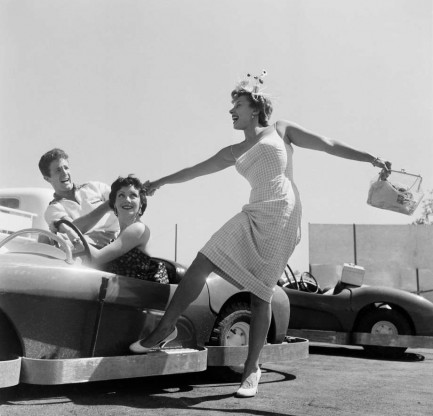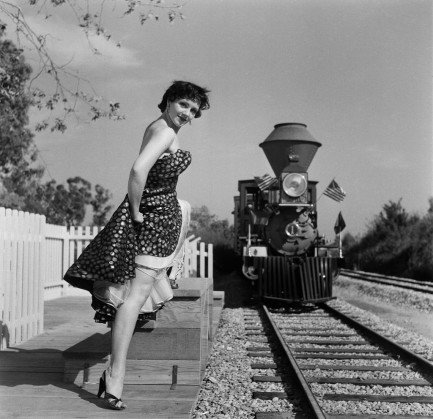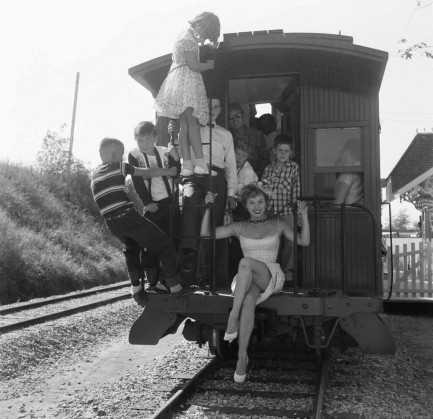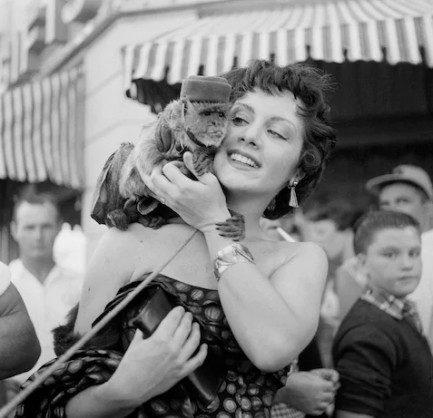 ---
I can't wait until I can afford a good pair of high heels—then when I walk all over these chumps it'll actually hurt them.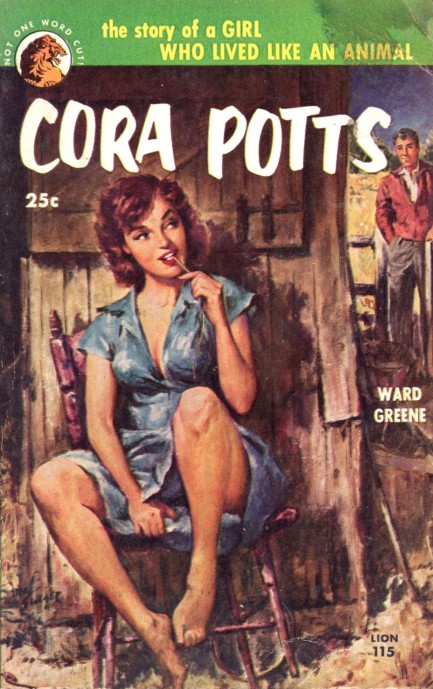 Above is the cover for the 1952 Lion Library paperback edition of Ward Greene's Cora Potts, which was originally published in 1929 as Cora Potts: A Pilgrim's Progress. An illiterate country girl robs her father's store, runs away barefooted to the big city, eventually commits murder, and ends up a respectable, nouveau riche society wife. Greene was saying that the U.S. was a country that rewarded greed and ruthlessness, while respect for the rules was peddled to the lower classes to keep them in line. Some critics found this formulation unpalatable, and many thought the part where Potts burns through $100,000 in one year was just impossible. As that's only about $1.3 million in today's money we find their protests bizarre, but in any case Greene had based his character on an actual femme fatale with the amazing name of Kitty Queen.
Catherine Queen, as she had been born, indeed progressed from barefoot Georgia bumpkin to bejeweled society dame. She became public knowledge briefly in 1929 when her dupe of a husband, a prominent banker, was nabbed for embezzlement and the facts of his lavish expenditures on Queen came out at trial. How much had he spent on her in a year? $147,000. And like Cora Potts' hapless first husband, Queen's husband still loved her, wrote heartrending letters from prison, and sent her the few meager dollars he still collected via various means. And yet Queen never visited him once, same as Potts never visits her imprisoned spouse. The Manhattan critics who doubted the novel's verisimilitude knew nothing about Kitty Queen, but Greene had lived and worked in Atlanta and down there her story had been big news.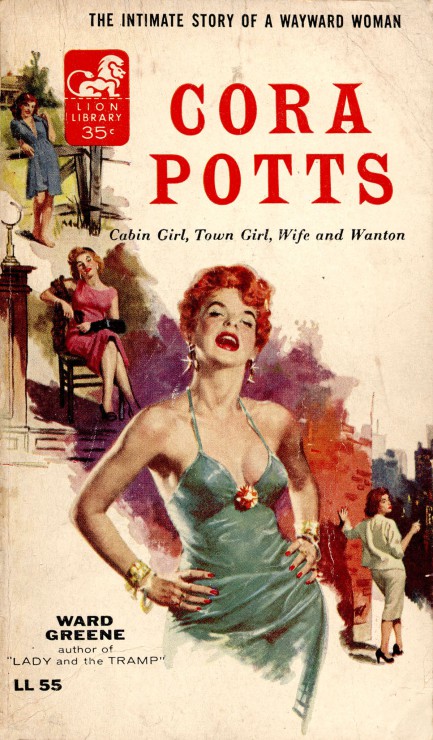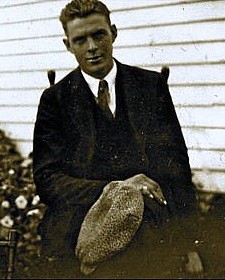 The cover at top is by Mal Singer, and the art from Lion's 1955 re-issue at right was painted by Robert Maguire. Greene's book is surprisingly obscure today, but its general message that in a corrupt society vice is virtue resonates more than ever. His genius was also in having a female character behave in a way typically ascribed to successful men, and having her go unpunished for breaking both the rule of law and of gender. Greene touched on similar themes more than once, but also wrote upbeat material. One of those pieces was a short story called, "Happy Dan, the Whistling Dog," which appeared in Cosmopolitan and became a primary inspiration for one of the most beloved screen romances of all time—the animated feature Lady and the Tramp.
And just to dig as deeply into this subject as we can, there is some confusion online about when Greene wrote that dog story. Nearly every website says 1943, but then again nearly every website copies from other websites. A couple of sources say the story is from 1924, while a French page says 1937. We don't know when he wrote it, but we're inclined to believe the 1924 date. Greene was already in his mid-thirties by then, and had been writing for
Cosmo
since at least 1923, publishing a piece on F. Scott Fitzgerald that year. We think Walt Disney probably read the Happy Dan story in 1943 in an old
Cosmo
, and at that point contacted the now respected literary figure Greene about buying the property and adapting it. But we don't know for sure. Someone in the real world of actual libraries with actual paper info will have to sort this one out.


---
More dispatches from the Blagosphere.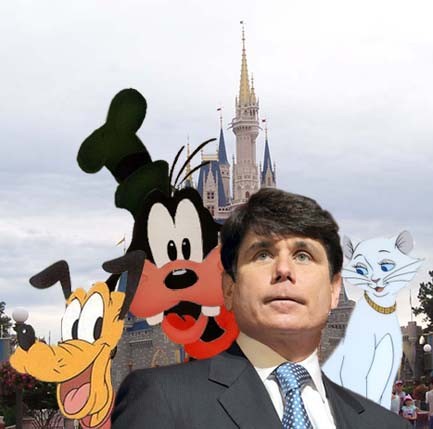 Yesterday we were reminded that our favorite pulp politician is still around when Rod Blagojevich was indicted on a raft of federal charges, including assorted racketeering and wire fraud counts, each carrying a potential twenty-year prison sentence. Blago, who couldn't look more untrustworthy if he wore fingerless gloves and a hoodie, once again maintained he had done nothing wrong, this time at an impromptu press conference at Walt Disney World in Orlando, Florida. Backed by his family, along with close friends Goofy, Pluto, and Duchess of the Aristocats*, Blago riffed about his innocence, but was interrupted when Goofy tapped him on the shoulder and quietly explained the concept behind a conspiracy indictment. Blago's eyes widened as he took in Goofy's words, and then he exclaimed, "You mean when you're a state employee it's illegal to even talk about breaking the law?"

The silence was deafening. Goofy and the other mascots had to be embarrassed for their friend—though it must be said their smiles never faltered. After an awkward pause Blago shrugged and said to the assembled press, "Oh, I didn't understand how the law worked. Wow, sorry fellas. Now that Goof here has explained it, I see what all the fuss has been about. I guess, what can I say, I'm guilty.** You can plainly hear me on the FBI recordings doing this conspiracy whatever thing, so, shit, sorry to have wasted your time with all these ridiculous denials. I just didn't get it." He then added, "But I've learned my lesson. No more influence peddling for me, no sir. That's all over with—I give my word."

Blago then became uncharacteristically philosophical, musing about the possibility of cryogenic freezing. He suggested his head could be put on ice like Walt Disney's until the time was right for a political comeback. "Is there someone here in the park I can talk to about that?" he asked. He next surprised everyone by apologizing to Jack Franks, who he had profanely blasted two months ago. As the press conference ended, Blago, apparently thinking his microphone was off, turned to Pluto and said, "By the way, I heard about how they downgraded you from a planet to an asteroid. Tough break buddy. But I got some friends who might be able to help out with that if the incentive is right, know what I'm saying?"

*images used transformatively for the purpose of parody, etc.
**innocent until proven guilty, not a real admission, strictly parody, and so forth.

---