She purrs but only when she's thinking about destroying you.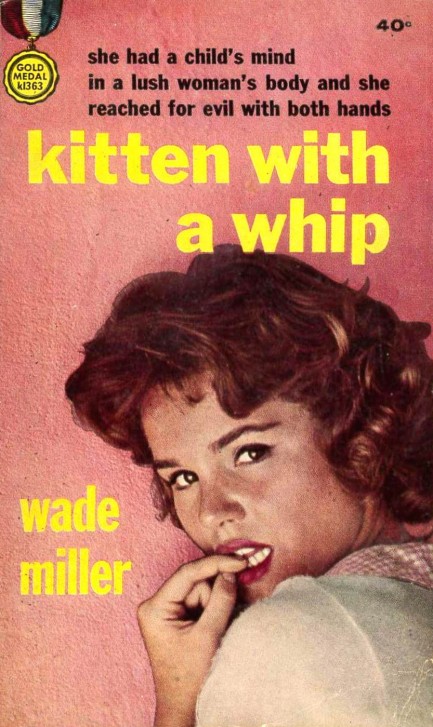 This edition of Wade Miller's iconic sleazer teaser Kitten with a Whip is a rarity and it came from Gold Medal in 1963. There's a moment early in the narrative when the hapless protagonist David turns on a news report about the seventeen-year-old sexpot invader occupying his home. Up until then the girl, whose name is Jody, has been in David's house tormenting him only a few hours, but is threatening to ruin his life with lies that they've been shacked up having a grand old time, or that he tried to rape her. David is paralyzed with fear that his wife, neighbors, and employer will believe her. But in that moment when the entire city is told the girl is a violent psycho who escaped her confinement a mere twelve hours earlier by stabbing a matron, David doesn't realize nobody will believe anything she says—not his employers, not his neighbors, and certainly not his wife—as long as he turns her in then and there. "I woke up, found her in my house, bought her some clothes because she had none, gave her money for a bus out of town—and instead of leaving she decided to stay and blackmail me." He'd be believed, beyond a doubt. But he never makes the call. So he really deserves everything that happens afterward. But the book is a classic for a reason. It's a fun, crazy read.
---
The ultimate hunt is one where the prey can shoot back.
The cover copy perhaps gives the impression Wade Miller's The Killer is about a hunter who goes after human prey for sport, but it's actually about a man who hires a professional big game hunter to track down and kill his son's murderer. While the hero uses his unique skill set to lay a trap or two and make some interesting deductions, the story is a standard thriller. But a pretty good one, set in different locales in the U.S., with a few decent twists and a nice—if somewhat overwrought—love story. Both covers from Gold Medal were compelling, with art by C.C. Beall and an unknown, 1951 and 1958.


---
Yes, you're definitely fabulous, but I said to bring a wetsuit, not a jumpsuit.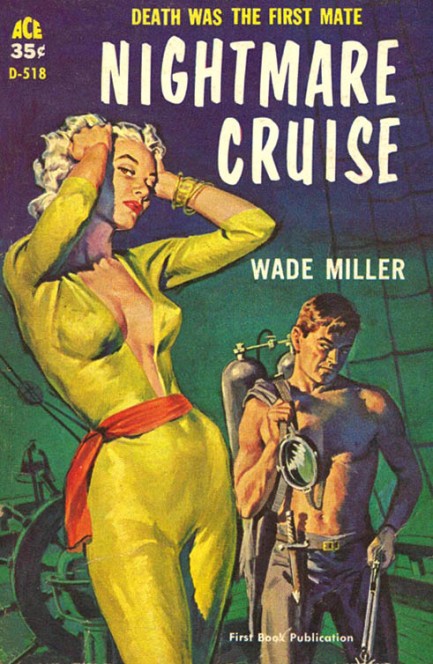 Nightmare Cruise, aka The Sargasso People, was written by Wade Miller, who was not an actual author, but rather a pseudonym for collaborators Robert Wade and Bill Miller. The two also wrote as Will Daemer, Whit Masterson and Dale Wilmer. During the '40s and '50s they published about three-dozen novels, including Kitten with a Whip, which became a celebrated piece of camp cinema starring Ann-Margaret. They also wrote Badge of Evil, which was adapted into Orson Welles' Touch of Evil, a film usually considered the last true noir produced. Miller died prematurely of a heart attack in 1961, but by then the duo's place in pulp history was assured. Wade continued writing, eventually winning the Private Eye Writers of America's 1988 Lifetime Achievement Award, and 1998 City of San Diego Local Author Achievement Award. We'll discuss his noteworthy solo output at a later date.

---