Beauty and the beasts.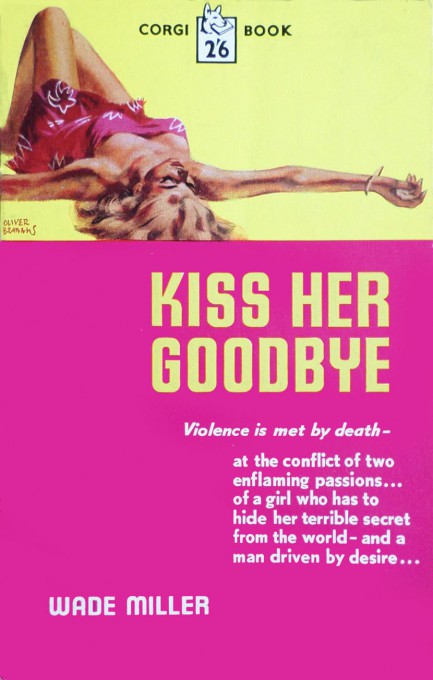 Wade Miller was a shared pseudonym of Robert Wade and William Miller, and in Kiss Her Goodbye they tell the tale of a pair of siblings—a steady, responsible brother named Ed and his childlike but beautiful sister Emily. By childlike, we mean she's fully grown but was stricken in her youth by some kind of brain ailment, maybe encephalitis, that stunted her mental development. She violently explodes when men make sexual advances toward her, something that happens constantly because, well, mainly because men are scum, but also because bombshell Emily is friendly toward strangers. You can imagine where this all leads. We've shared quite a few fronts from Corgi Books this year and this one from British artist Oliver Brabbins is especially nice with its color blocking and sprawled figure. Truly excellent work, and the book is good too. We have another piece from Brabbins here, and we'll definitely have more later.
---
Yes, you're definitely fabulous, but I said to bring a wetsuit, not a jumpsuit.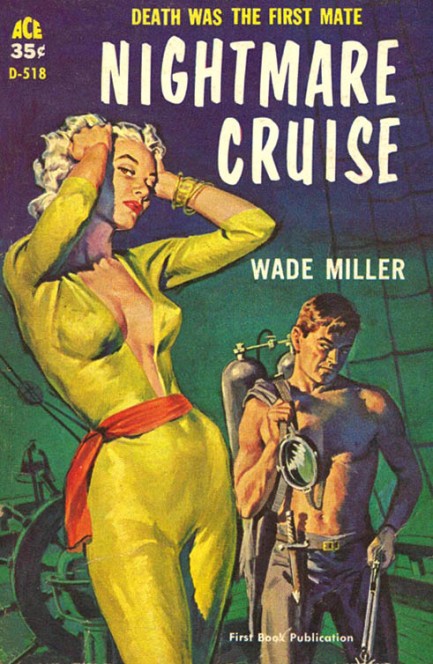 Nightmare Cruise, aka The Sargasso People, was written by Wade Miller, who was not an actual author, but rather a pseudonym for collaborators Robert Wade and Bill Miller. The two also wrote as Will Daemer, Whit Masterson and Dale Wilmer. During the '40s and '50s they published about three-dozen novels, including Kitten with a Whip, which became a celebrated piece of camp cinema starring Ann-Margaret. They also wrote Badge of Evil, which was adapted into Orson Welles' Touch of Evil, a film usually considered the last true noir produced. Miller died prematurely of a heart attack in 1961, but by then the duo's place in pulp history was assured. Wade continued writing, eventually winning the Private Eye Writers of America's 1988 Lifetime Achievement Award, and 1998 City of San Diego Local Author Achievement Award. We'll discuss his noteworthy solo output at a later date.

---