Actually, the flap on my bikini does slim the hips. It also hides pistols. Now get your hands up, idiot.
William Ard's Like Ice She Was stars his detective creation Lou Largo in a missing persons case. He's looking for a former prostitute who robbed a Montreal casino owner and fled to Miami. He finds her, but the situation escalates to murder and an attempted frame-up. This character was supposed to tentpole a series, and it did, but this was the second and last Largo written by Ard, as he died after writing it. The books thereafter were ghost written by Lawrence Block, and later John Jakes. Like Ice She Was is copyright 1960, and the Monarch Books cover guide has the art as uncredited, which is a shame.
---
Dead, bath and beyond.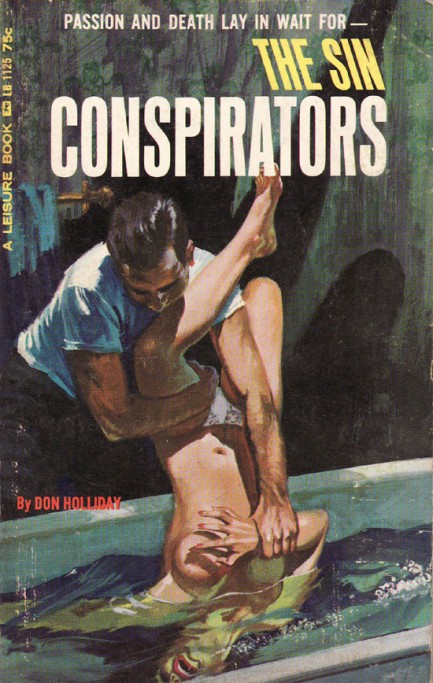 Don Holliday was yet another 1960s sleaze author who existed only as a pseudonym. This one was inhabited by Hal Dresner, Lawrence Block, John Jakes, Victor Banis and other sometime sexploitation writers. We don't know which one wrote The Sin Conspirators for Greenleaf Classics' sleaze imprint Leisure Books, but with a cover this brutal, it's probably good he distanced himself. Unless the man is only demonstrating how in high school the other kids used to give him swirlies, it isn't going to be just a bad hair day for his companion, but a bad air day. We're working up a more comprehensive post on these Greenleaf paperbacks, so keep an eye out.
---
My gosh, are those Vivier stilettos you're wearing? How extraordinary.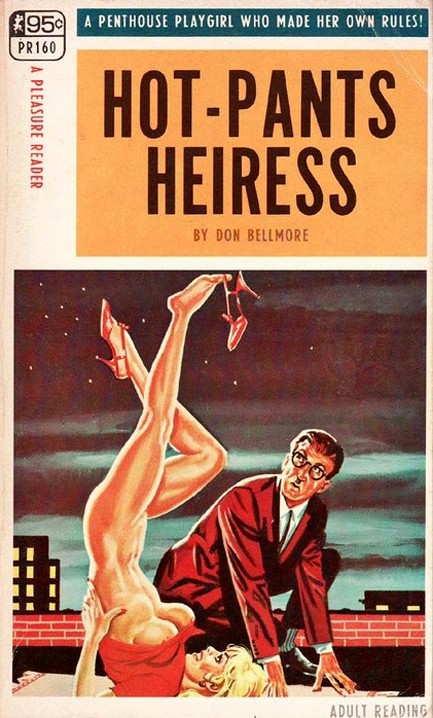 Don Bellmore, whose Hot Pants Heiress you see above, was one of many prolific smut authors during the 1960s. He wrote Shame Agent, Sin Dealer, Prey for Rape, The Dyke Department, The Twins' Initiation, and many more. It all sounds pretty low rent, but you'd be surprised how robust the market is for vintage sleaze. We saw The Twins' Initiation going for $49.95 on one site. Pretty good for an author that wasn't even real. Bellmore was one of those names shared by a number of writers, including George H. White, who also wrote as both Jan Hudson and J.X. Williams, though the J.X. pseudonym was also used by John Jakes among others. White/Bellmore also may have filled in as Alan Marshall when Donald Westlake wasn't inhabiting the role. It all gets pretty confusing. But what isn't confusing is this humorous cover art, featuring a bottomless vixen doing the upside down bicycle exercise and her friend with a shoe fetish. We have some more Bellmore covers below. Enjoy.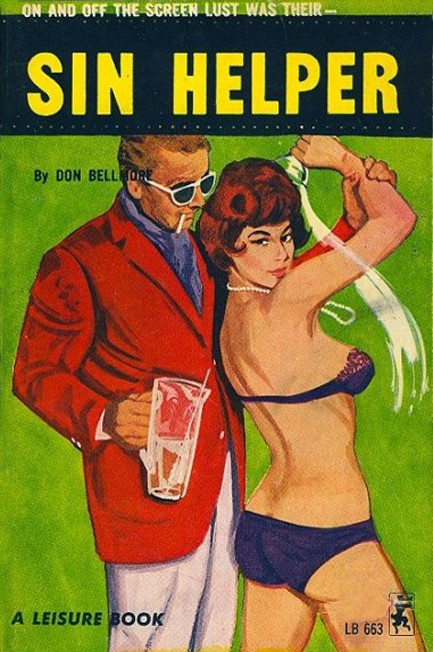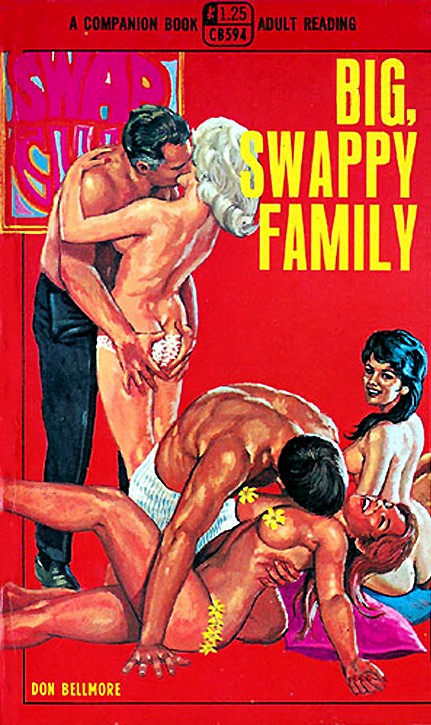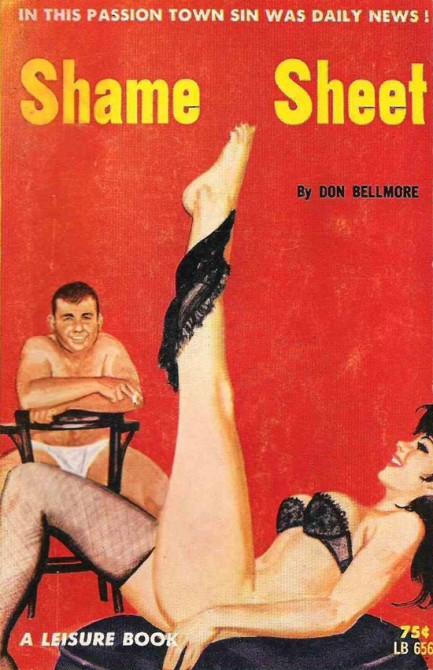 ---