Food and water may sustain a man, but it's revenge that really fills the belly.
In Inferno, a boorish millionaire played by Robert Ryan breaks his leg falling off a horse during a desert vacation and is left to die by his two-timing wife and her boy toy. While the lovers cover their tracks and try to confuse the police and search parties, Ryan has to figure out a way to escape the desert. We were surprised a movie like this was made back in 1953. There have been a lot of nature horror and survival thrillers in recent years and we had no idea the genre had roots so far back. The movie is solid, though we thought Robert Ryan's voiceover was often unneeded—maybe he should have had a volleyball to talk to like Tom Hanks in Castaway. But it's a minor issue. We gather that this had a 3-D release, which of course we didn't see, but it's obvious, especially during a truly tremendous fight scene where assorted and sundry items fly at the camera. But even watching in two dimensions you still get a nice piece of entertainment, shot in crisp Technicolor, well-paced and acted, as the desert provides assorted challenges and Ryan must come up with the needed answers or die. Inferno premiered in the U.S. today in 1953.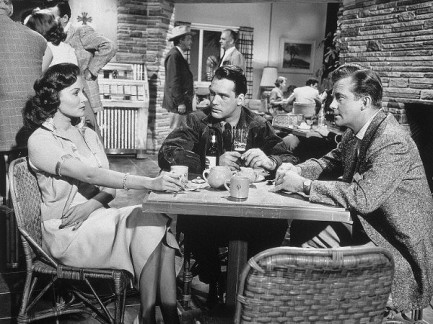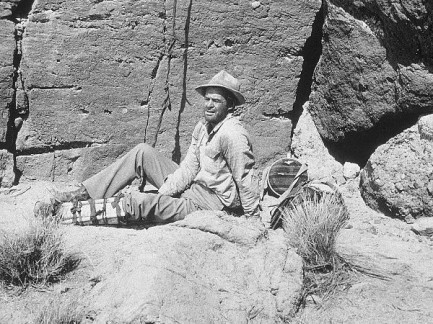 ---
Reaching the top isn't easy. Staying on top is even harder.
Above is a Spanish poster by Josep Soligó Tena for La casa de la colina, which was originally released in the U.S. as The House on Telegraph Hill. The movie tells the story of a Polish concentration camp survivor—played by Valentina Cortese—who upon release takes the identity of her dead friend, and later insinuates herself into the lives of the dead woman's San Francisco relatives. This identity swap is the classic Hitchcockian MacGuffin, which is to say it initially seems to be the plot driver, but later isn't important at all. While Cortese's labyrinthine lie is always a worrisome background element, the movie is really about how she finds herself embroiled in an inheritance mess and a love triangle. We thought this movie was quite good, but you do have to ignore bits like the improbable placement of a child's playhouse above a sheer drop (in a sense, another MacGuffin, as the threat of falling has no bearing at all on later developments). Highly recommended movie, and it has nice San Fran exteriors as a bonus. The House on Telegraph Hill premiered in the U.S. in 1951, and as La casa de la colina in Spain today in 1952. See more work from Tena here.
---