I know I'm an unorthodox teacher, officer. But if she thinks this is tough how is she ever gonna handle a left turn in traffic?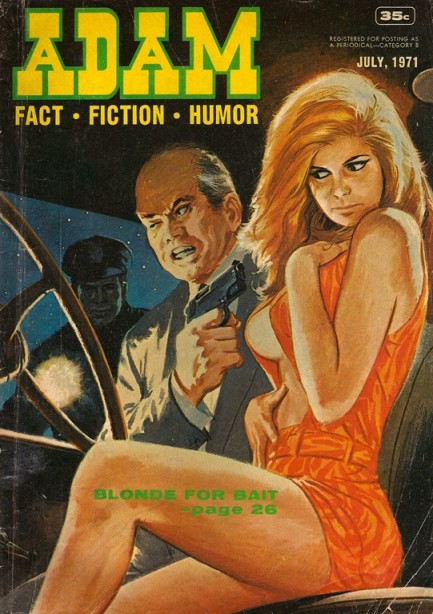 Today we have another issue of our favorite men's magazine Adam, this time from July 1971. Inside there's the usual fiction, true adventure, and cheesecake, including British model Susan Shaw. But this issue is also a little different—it dips into celebrity waters with a write-up on Aly Khan, the Muslim prince whose romantic hook-ups included Gene Tierney, Bettina Graziani, and Rita Hayworth, who he married in 1949. The cover illustration is paired with the short story "Blonde for Bait," by Dick Love. Yeah. Dick Love. This makes the 56th issue of Adam we've uploaded to our website. Enjoy Dick and more in thirty-two scans below, and see all the other issues just by clicking the keywords at bottom.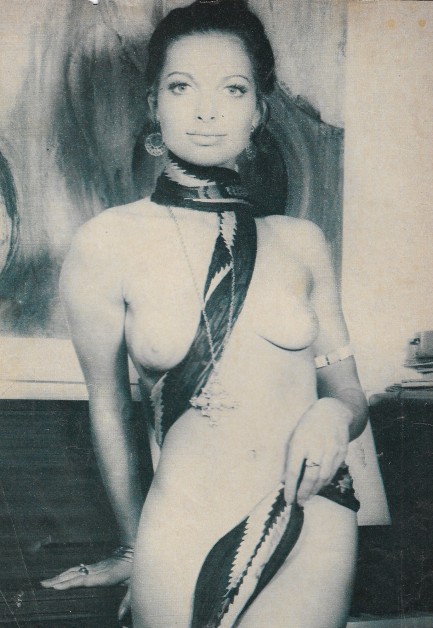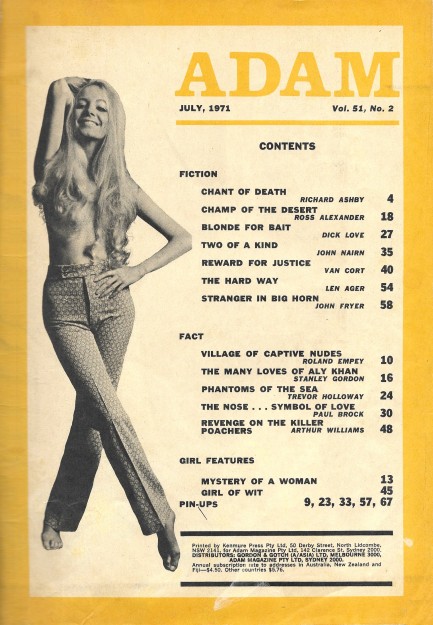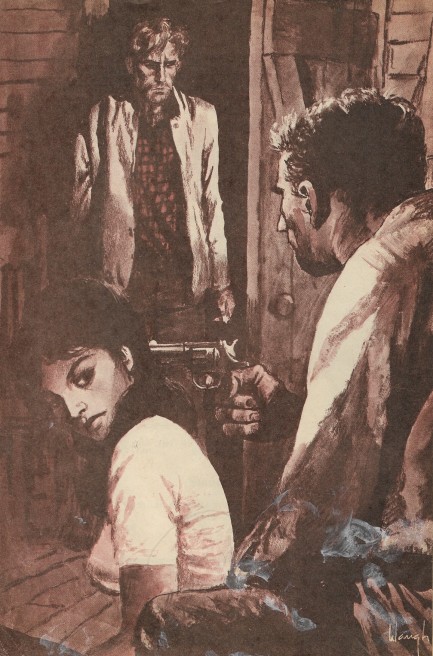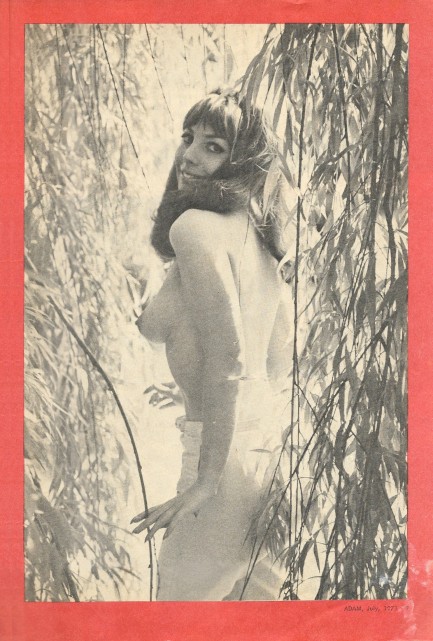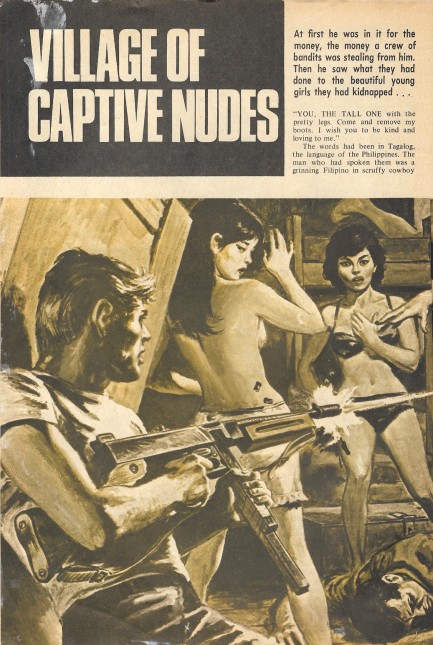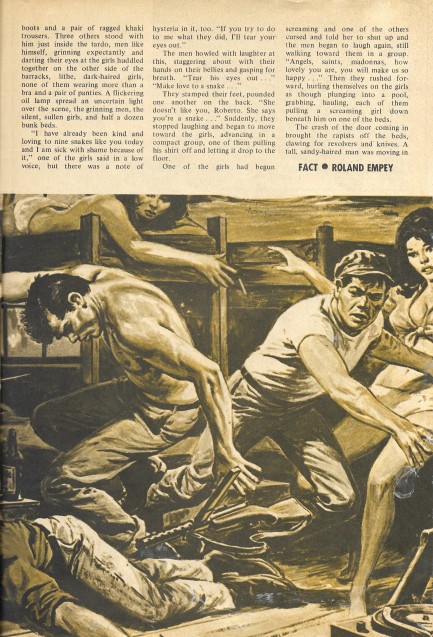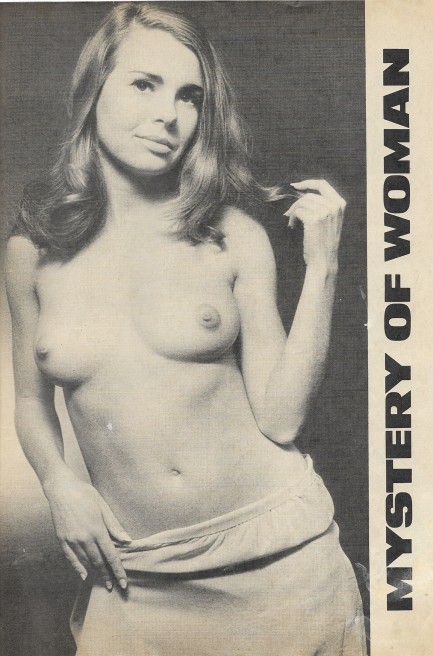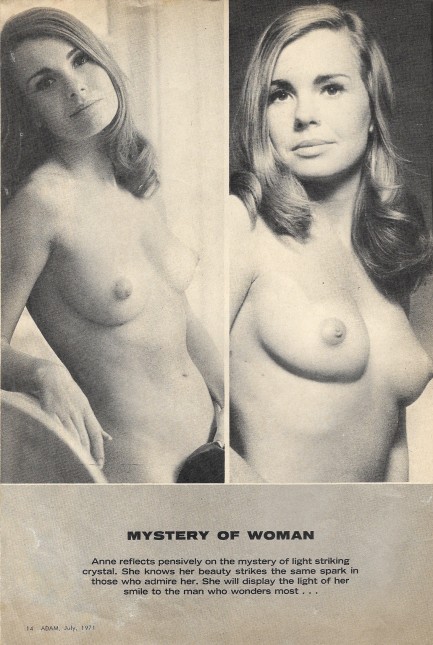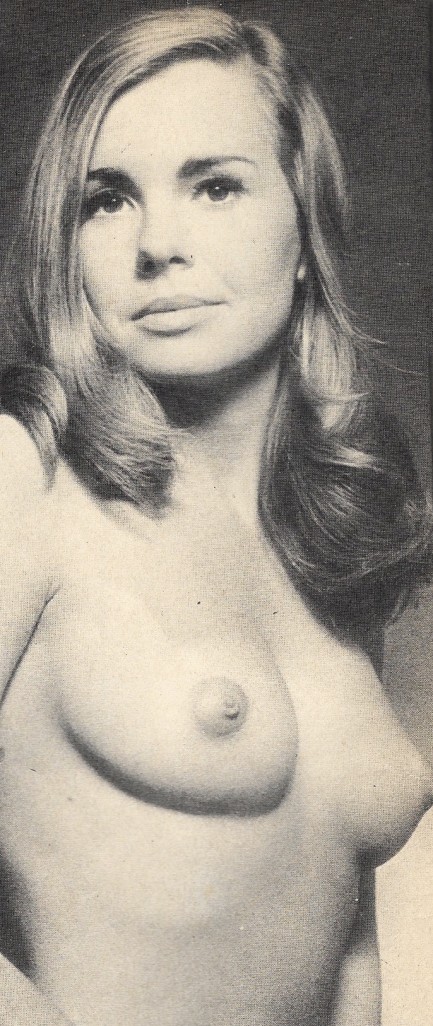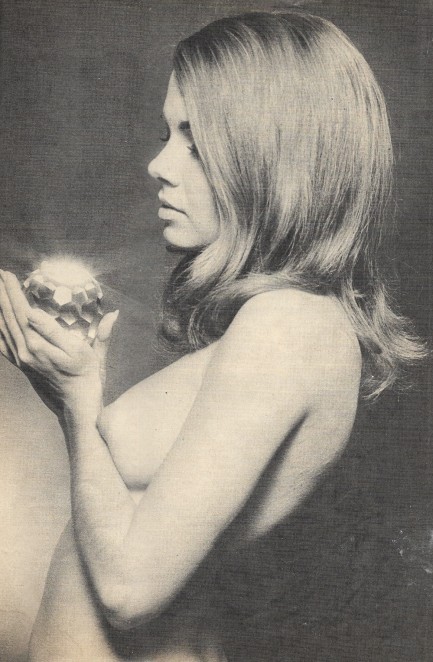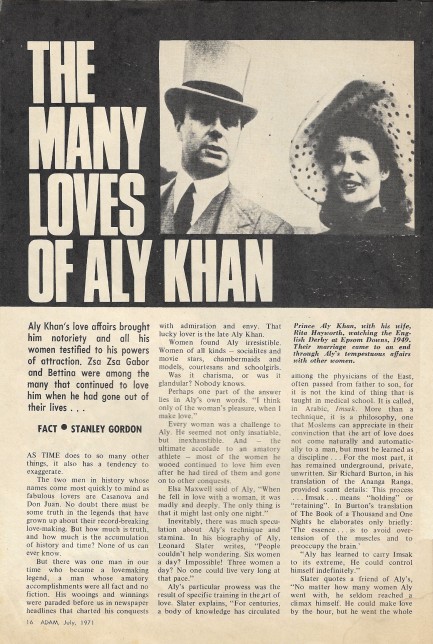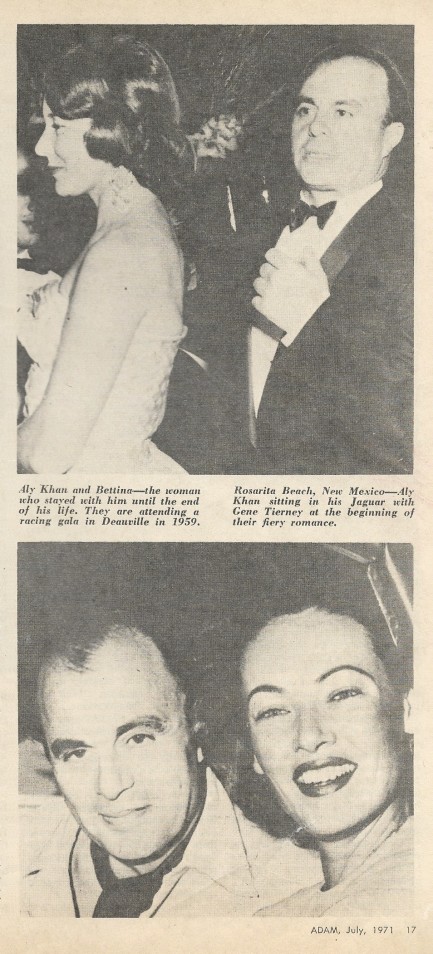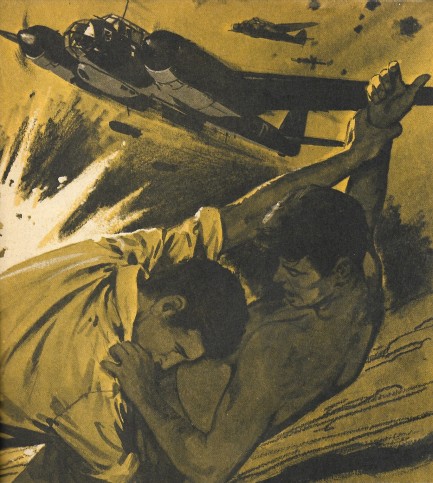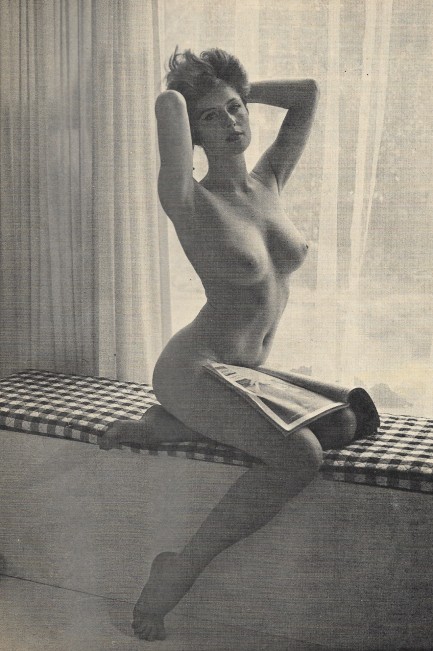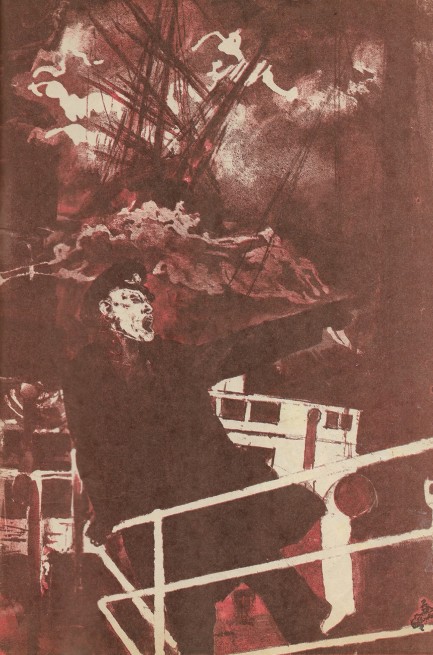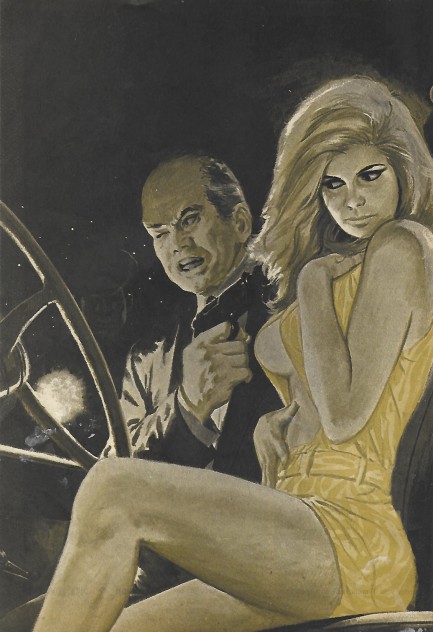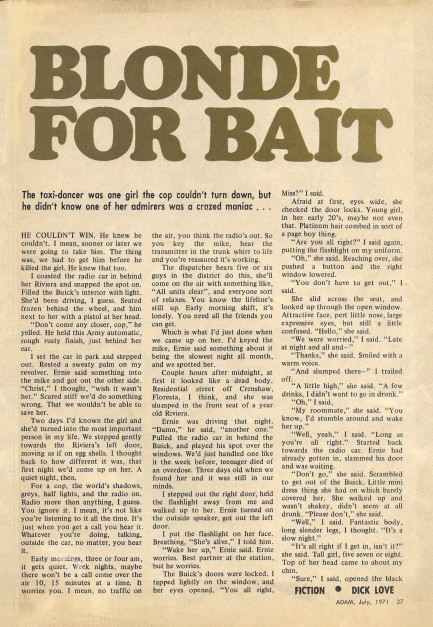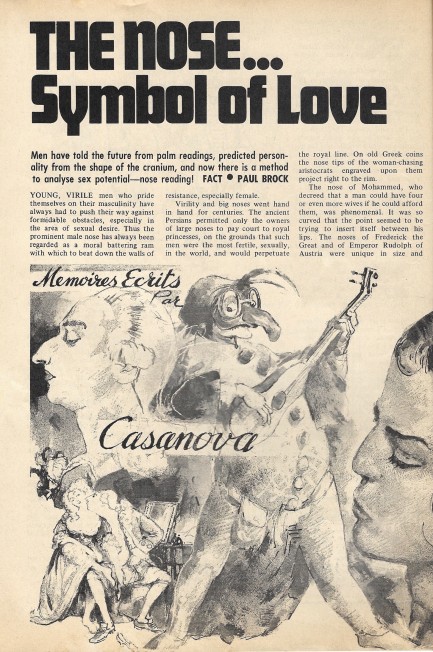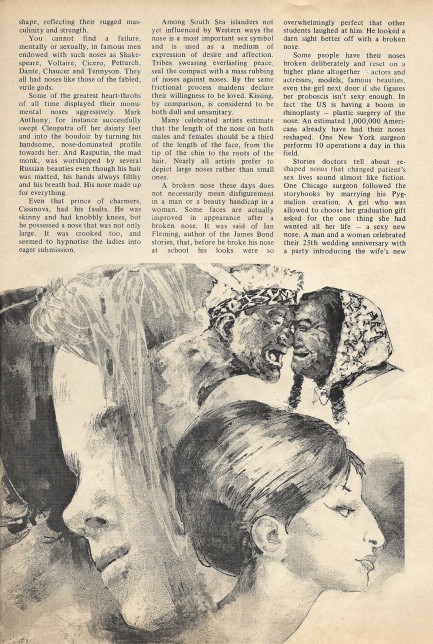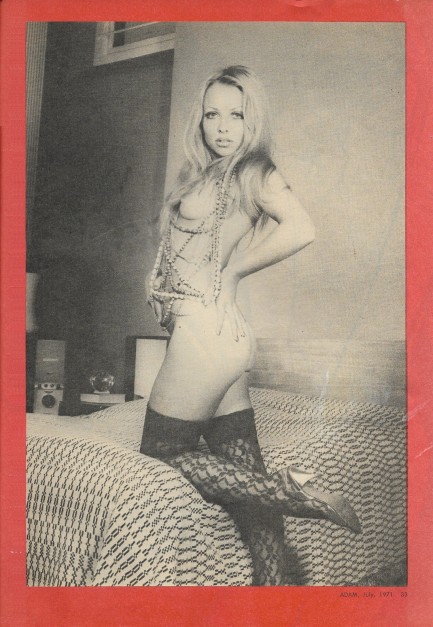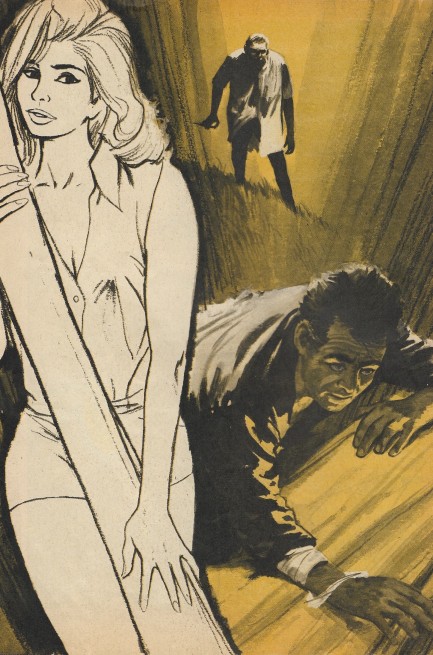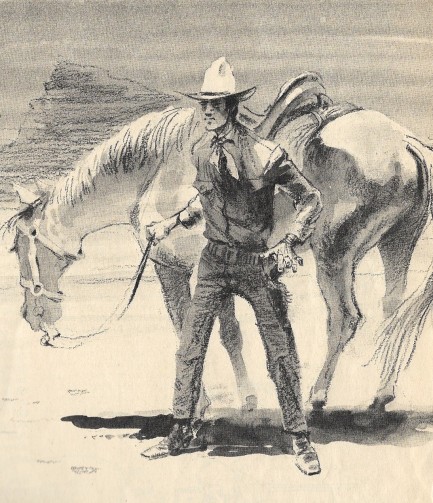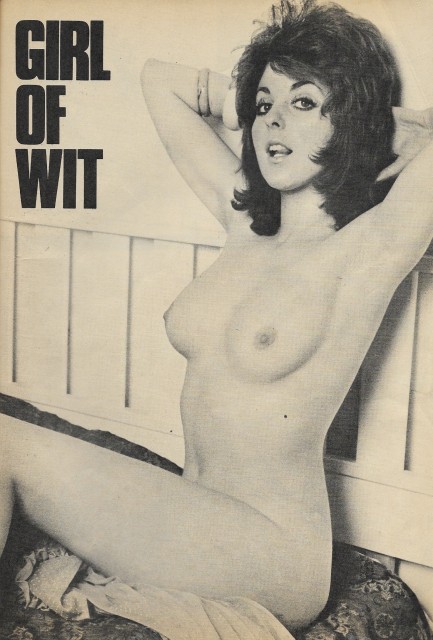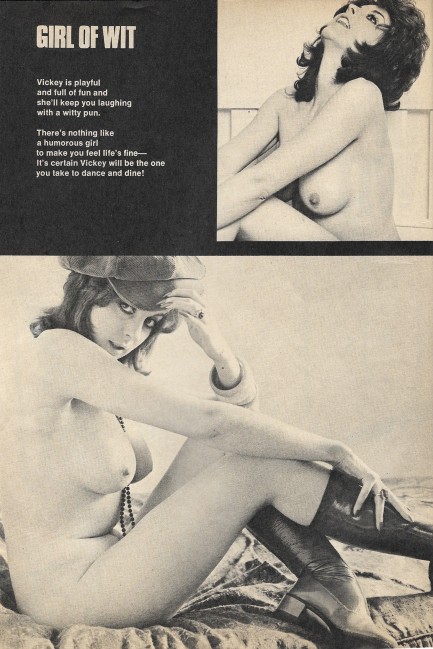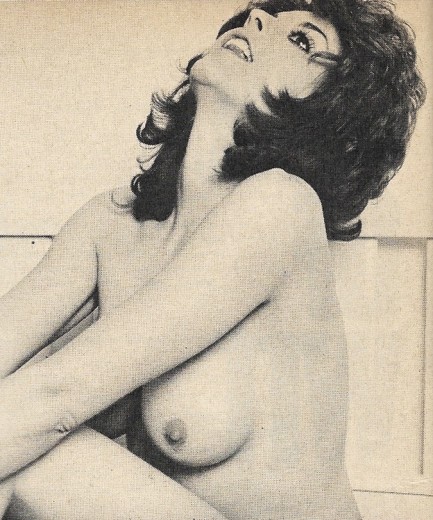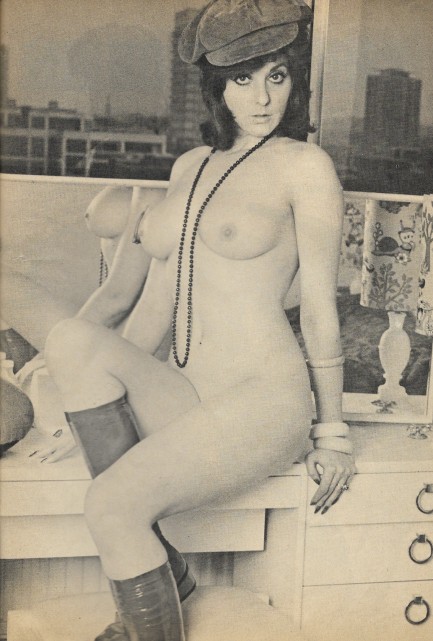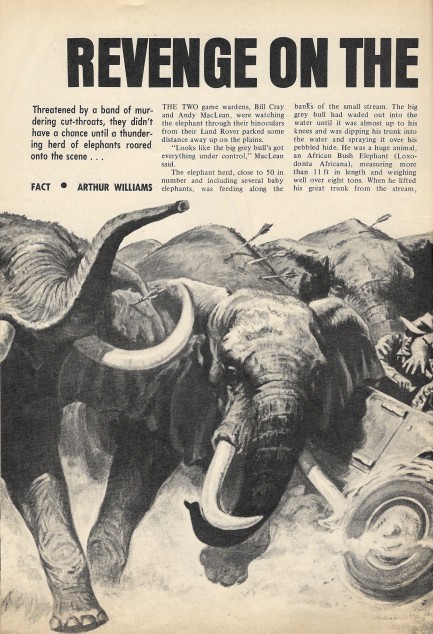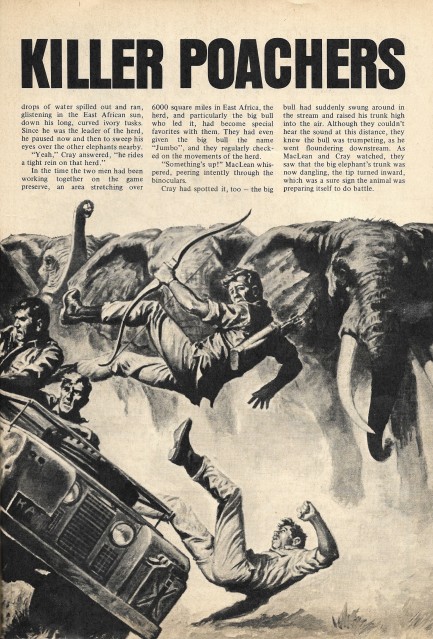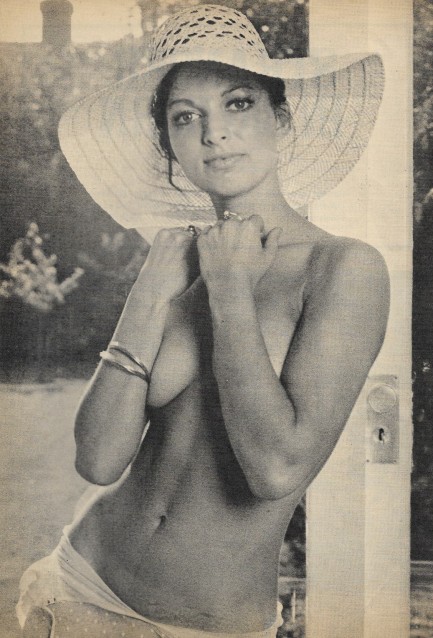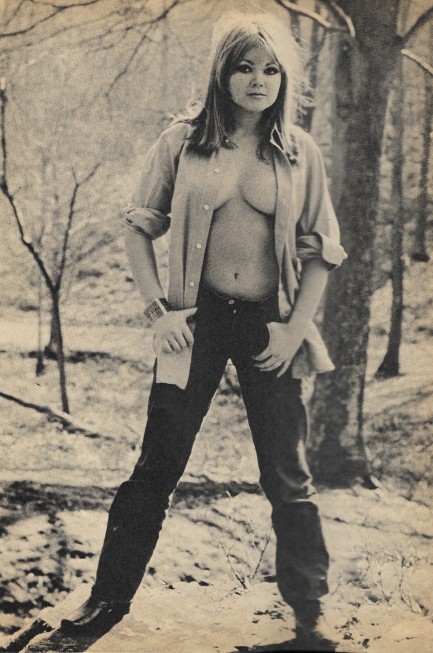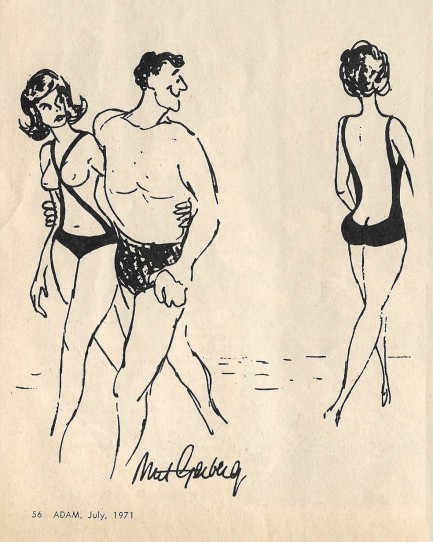 ---
New tabloid serves up Russell, Monroe, and others.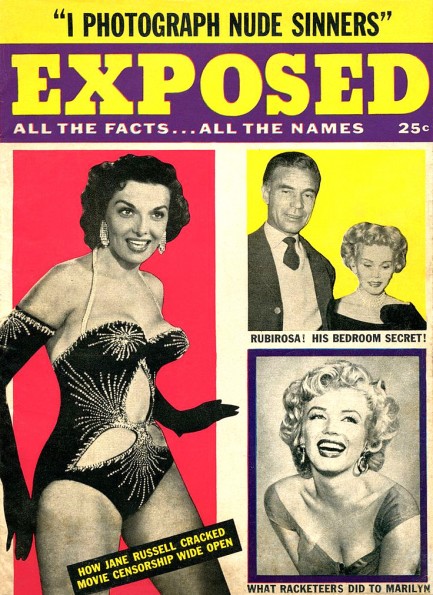 Jane Russell, wedged into an outfit that turns her boobs into footballs, graces the cover of the debut issue of Exposed, a high budget tabloid launched by Fawcett Publications in 1955. It arrived on a crowded newsstand already occupied by Confidential—then arguably the most circulated magazine in the U.S.—as well as Whisper, Hush-Hush, Uncensored, and similar publications. The get-up Russell is wearing is a costume from her starring role in 1954's The French Line, and we sort of assumed the shot had been at least slightly doctored,

and we seem to be correct. Judge for yourself at right. At least her boob punishment was offset by the fact that her outfit was too flimsy to include one of the deadly corsets that sometimes made their way around stars' waists.
Russell is in Exposed to illustrate a story about sex in cinema, but she isn't the most exposed occupant of the magazine. That would be Marilyn Monroe, whose famous Playboy nude is reprinted for a story about hustlers reprinting her photos. We'll just assume Exposed licensed their Monroe shot. Apparently, though, those other miscreants were selling her likeness by the thousands without permission and without compensating Monroe. Exposed shows her in court testifying for prosecutors. The prosecution may have won its case in 1955, but in the here and now Monroe is sold from Tegucigalpa to Manila, unlicensed all of it. Which just goes to show the more things change the more they stay the same.
Probably the highlight of the issue is a long story about detectives who make their living catching cheating couples in action. Exposed offers up numerous photos of these pairs caught in the act in motel rooms and secluded homes. Are these photos real? Well, we have our doubts. Even the most cleverly posed action shots have those intangibles that mark them as fakes, but that's just our opinion. Judge for yourself. Elsewhere in Exposed you get "Sophie" Loren, Errol Flynn, Marguerite Chapman, Franchot Tone, and other big time celebs.
We're pretty proud of this acquisition. It wasn't terribly expensive, but we've seen it priced much higher than what we paid. Maybe down the line we'll flip ours for a tidy profit. But that's what we always say. Much to the Pulp Intl. girlfriends' chagrin, our office just piles higher and higher with mid-century ephemera and we haven't sold a single piece yet. Exposed goes to the top of the precariously tottering pyramid. We have about thirty-five scans below, and plenty more tabloids on the way.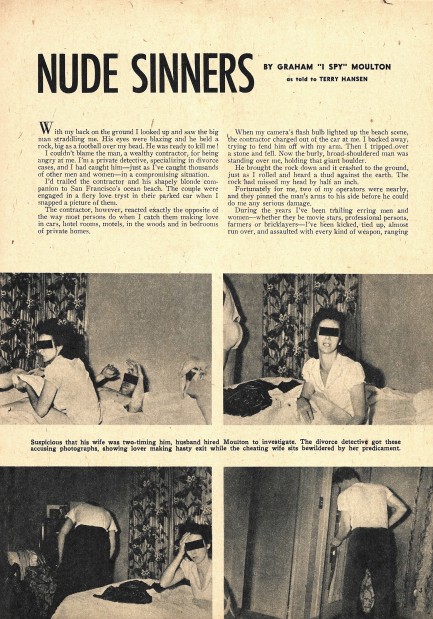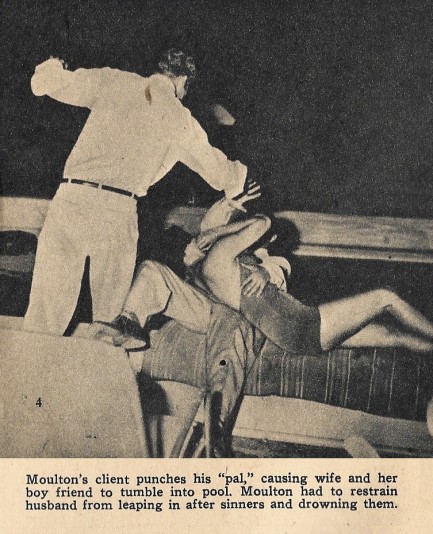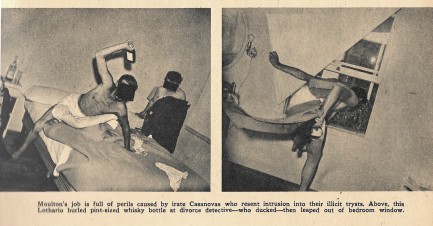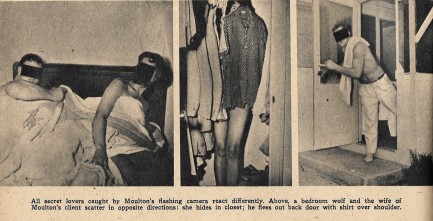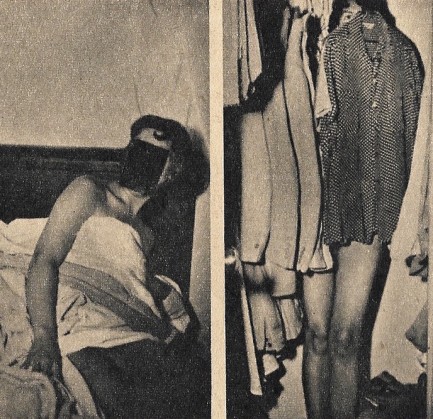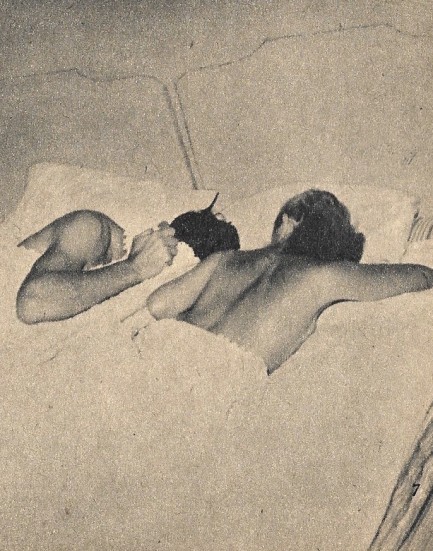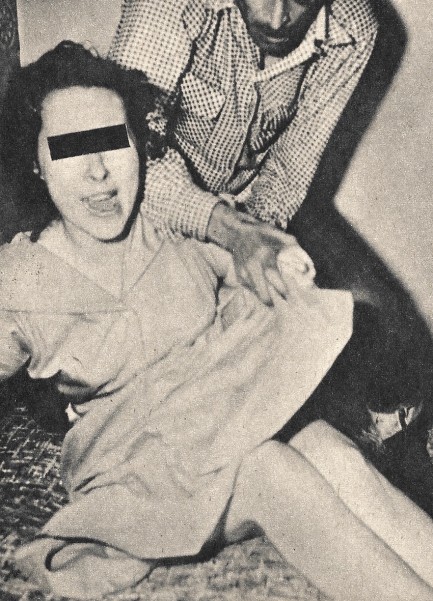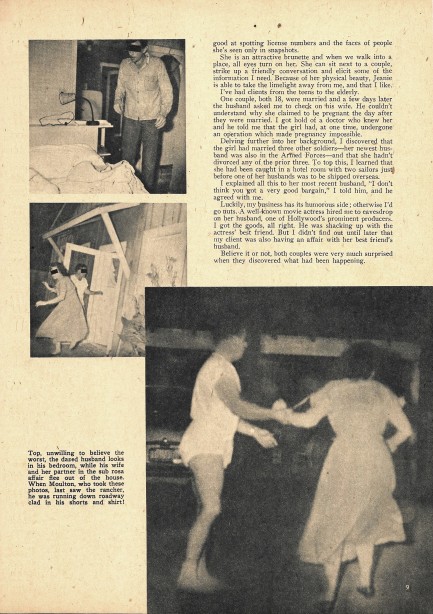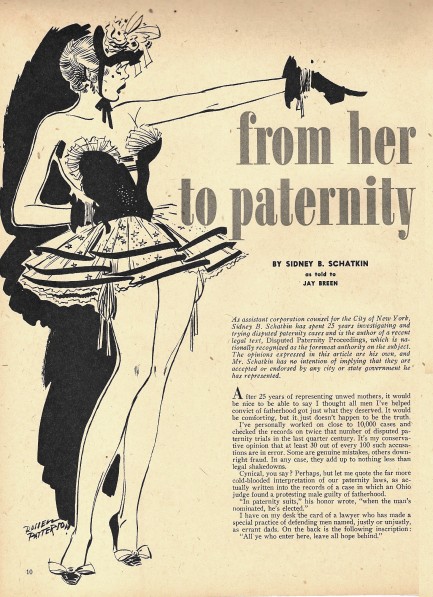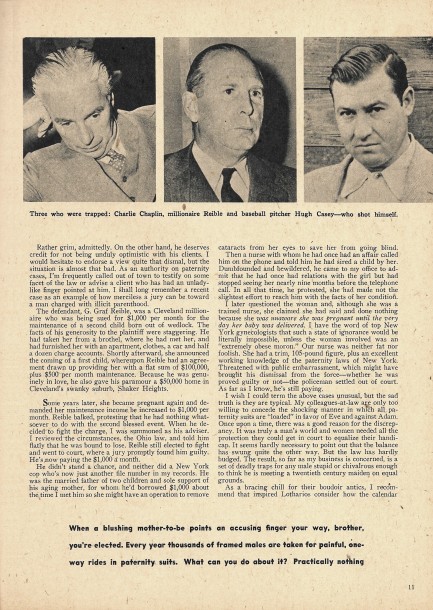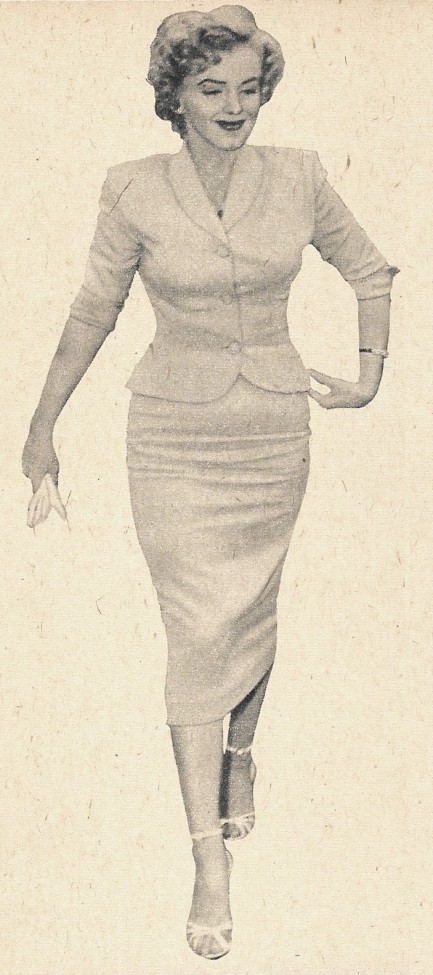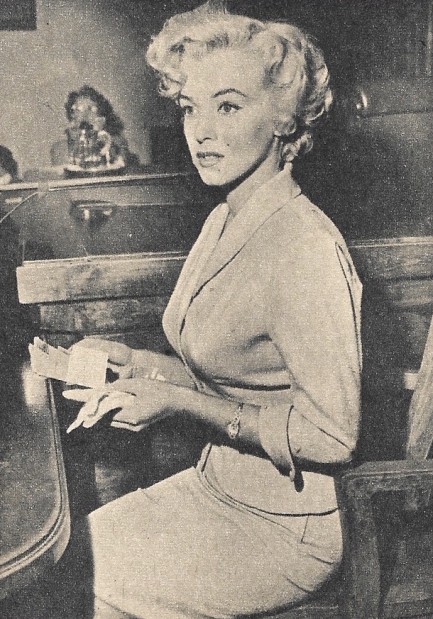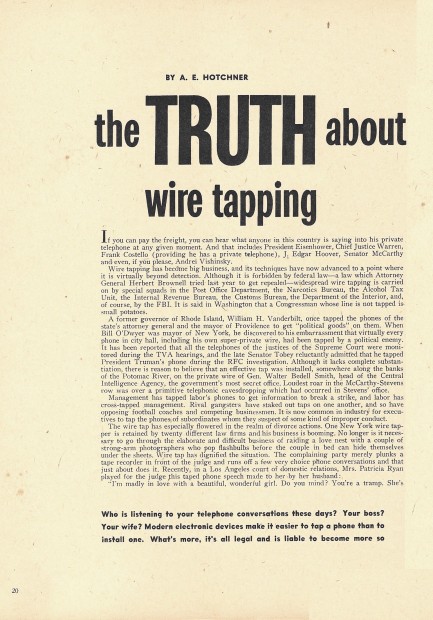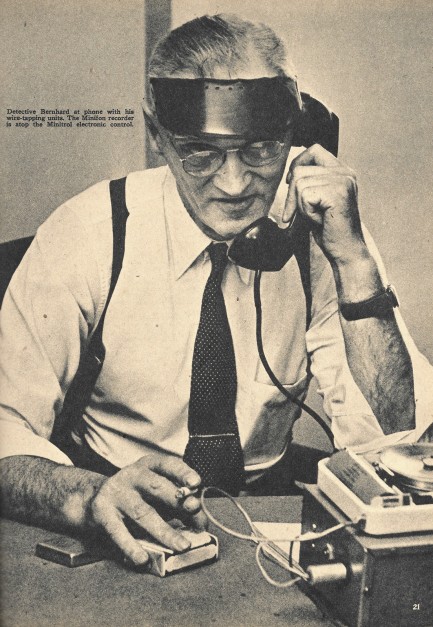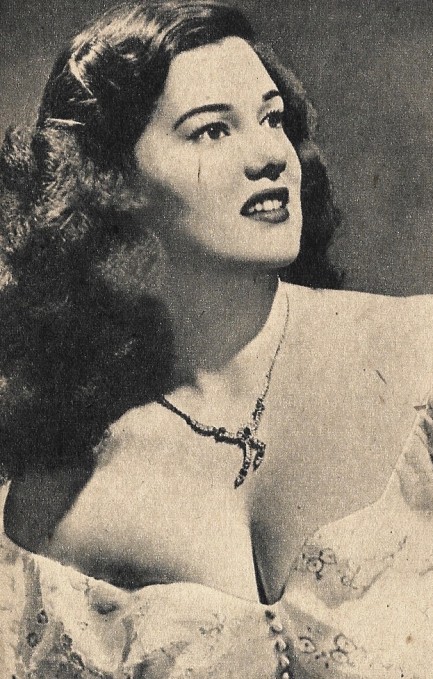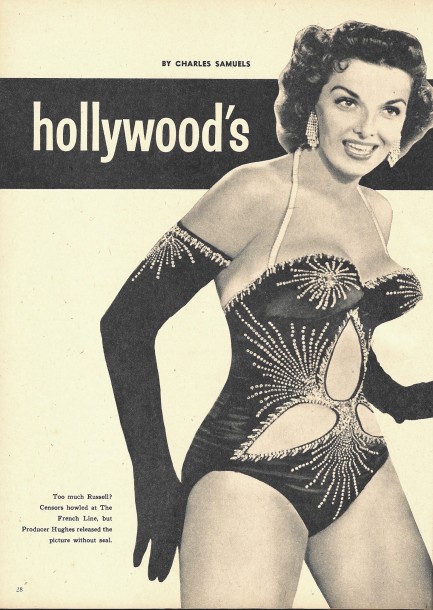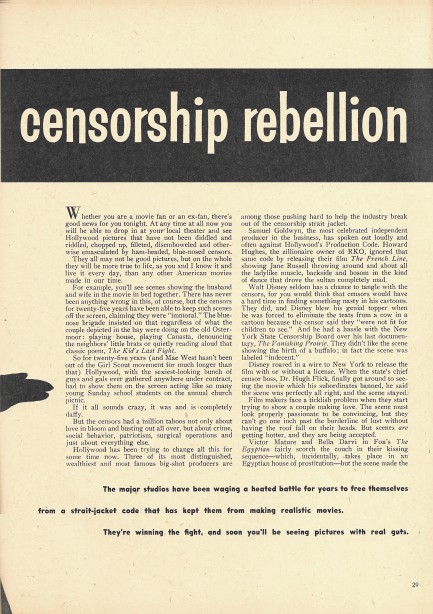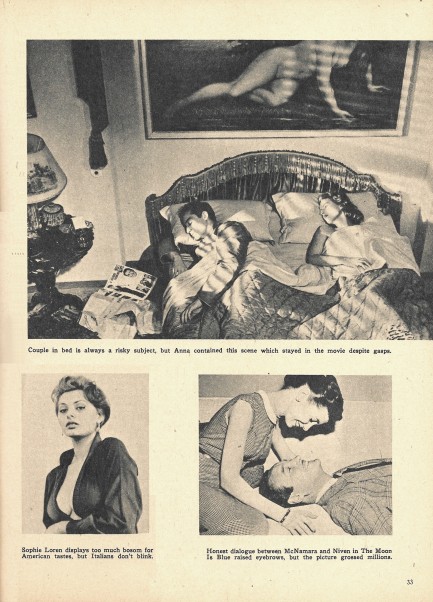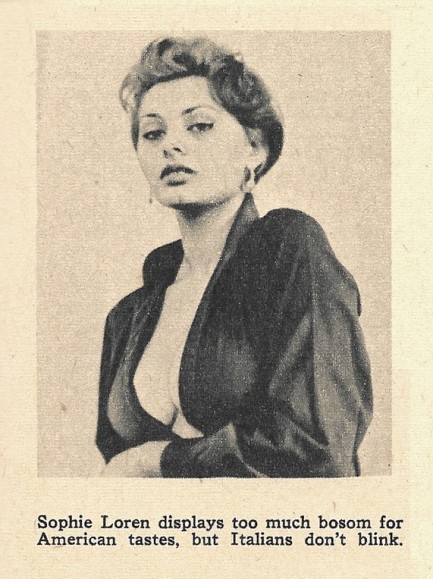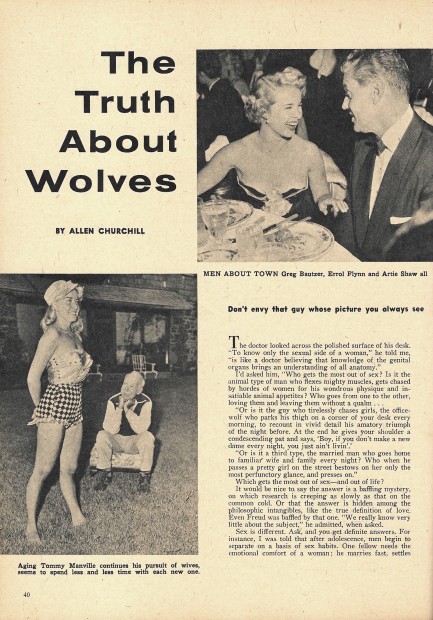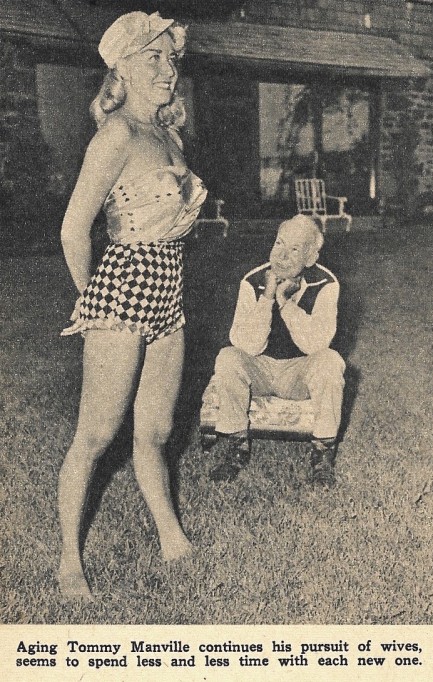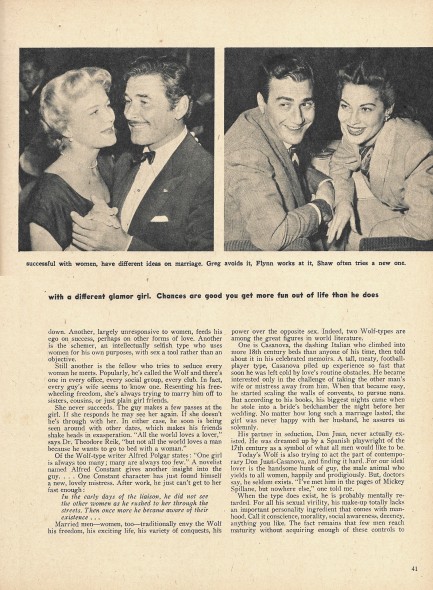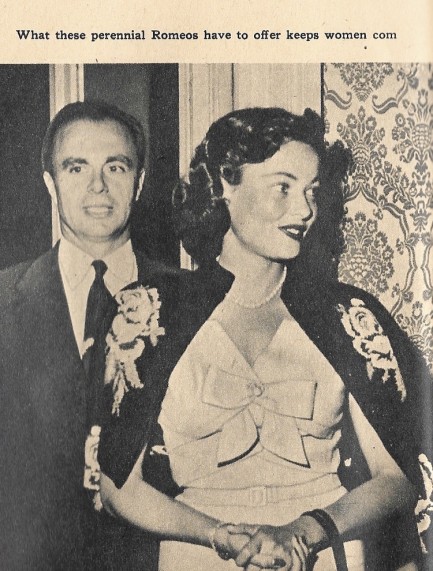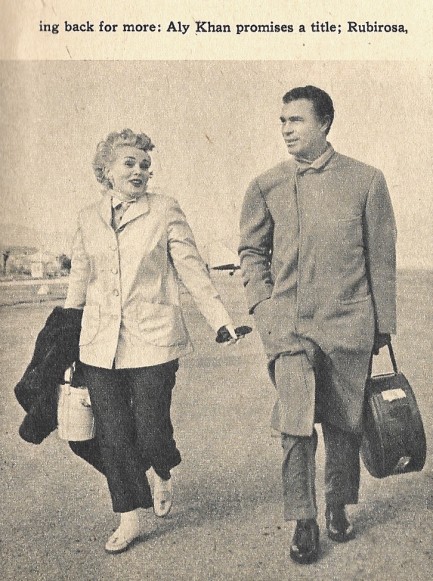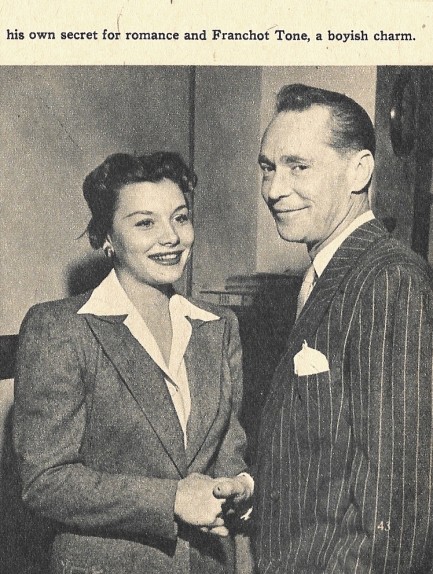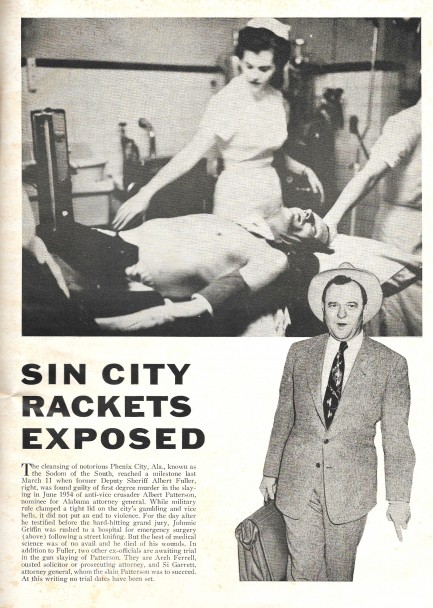 ---
New tabloid explodes onto the gossip scene.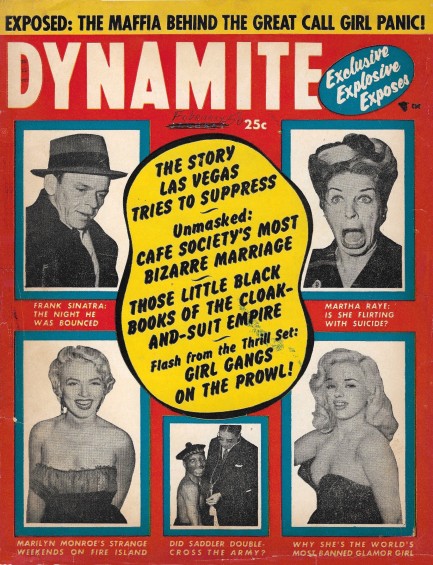 When we describe Dynamite as a new tabloid, it's only partly true. It was a new imprint. But its publisher, the Modern Living Council of Connecticut, Inc., was headquartered at the Charlton Building in Derby, Connecticut, which is where Top Secret and Hush-Hush based operations. When you see that Dynamite carried the same cover font as Top Secret and Hush-Hush, and that those two magazines advertised in Dynamite, it seems clear that all three had the same provenance. But unlike Top Secret and Hush-Hush, it doesn't seem as if Dynamite lasted long. The issue above, which appeared this month in 1956, is the second. We are unable to confirm whether there was a third. But if Dynamite was short-lived it wasn't because of any deficiencies in the publication. It's identical in style to other tabloids, and its stories are equally interesting.

One of those deals with Henry von Thyssen, the Dutch born, German descended heir to an industrial fortune, and his wife, Nina Dyer, heiress to a tea plantation in Sri Lanka, back then called Ceylon. The von Thyssen family manufactured steel in Germany, including for Hitler's Third Reich, and came out of World War II unscathed, as big companies that profit from war always do. Dyer was a dilettante famed for making bikinis popular on the French Riveria. According to Dynamite, von Thyssen was so desperate to marry Dyer that he allowed her to keep her boyfriend, the French actor Christian Marquand. Society gossips whispered,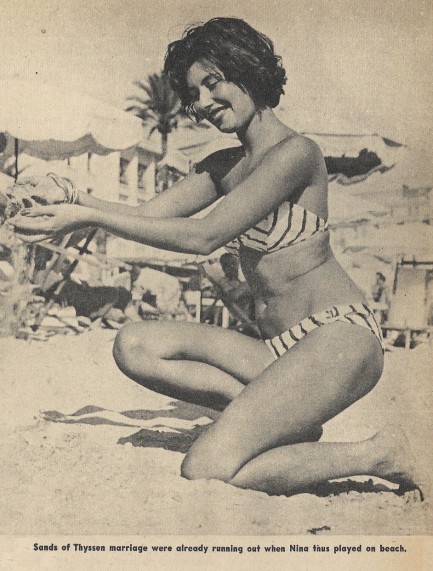 but both spouses were fine with the set-up until von Thyssen accidentally ran into Dyer and Marquand in Carrol's nightclub in Paris and was forced to save face by starting a fight. The couple soon divorced, but not because of infidelity, as many accounts claim. What finally broke the couple up was that Dyer dropped Marquand. Dynamite tells readers: "[von Thyssen] has ditched his sloe-eyed Baroness because now she's decided she loves him."
Interesting, but there are many similar stories about open high society marriages. What interested us, really, was the portrayal of Dyer. Apparently she had at some point been strongly influenced by Asian women. Her husband described her as "soft and feminine and oriental looking." Dynamite painted this word picture: "She walks as though she has a water pot balanced on her head, her dark, slanting eyes are inscrutable, and her movements are so languorous and cat-like that von Thyssen gave her a baby panther as a companion." Dyer eventually had two panthers, and was often seen walking them on the Croisette in Cannes. After her marriage to von Thyssen ended she quickly married Prince Sadruddin Aga Khan, but that marriage ended in divorce. Over the years she had been given many gifts. Besides the panthers there were cars, jewels, and a Caribbean island. But the one thing money never bought for her was happiness. She committed suicide at age thirty-five.

There's a lot more to learn about Nina Dyer—her modeling career, her adventures in the south of France, her free-spirited ways in the Caribbean, her 1962 E-Type Jaguar Roadster that was found in Jamaica in 2015 and restored for a November 2016 auction, and more. So we'll be getting back to her a little later. We still have about fifty tabloids from the mid-1950s and we're betting she appears in more than a few. Meanwhile, elsewhere in Dynamite is a story tracking Marilyn Monroe's movements around Fire Island during a summer 1955 vacation, a report about Frank Sinatra being barred from the Milroy Club in London, an exposé on prostitution in Rome, a breakdown of the breakdown of Gene Tierney's engagement to Aly Khan (Sadruddin Aga Khan's brother), and a couple of beautiful photos of Diana Dors. We have about thirty scans below for your enjoyment. Odds are we'll never find another issue of Dynamite, but we're happy to own even one. It's great reading.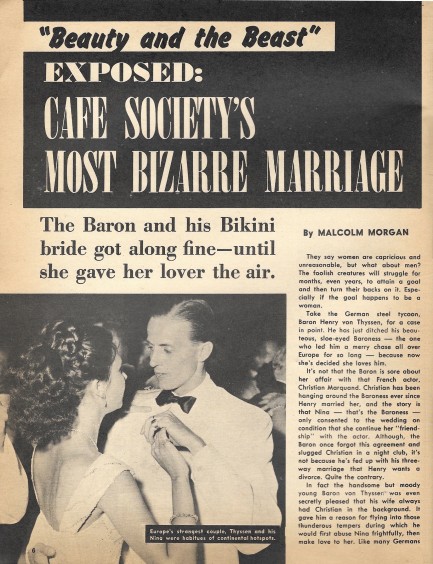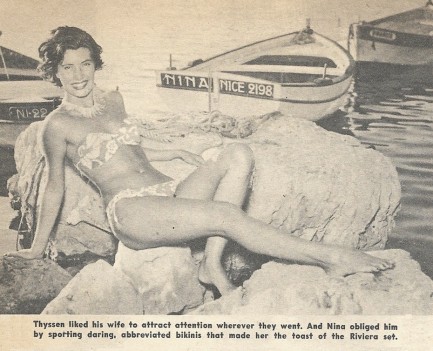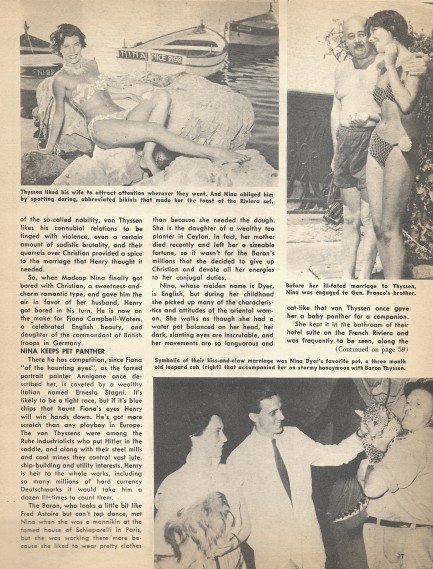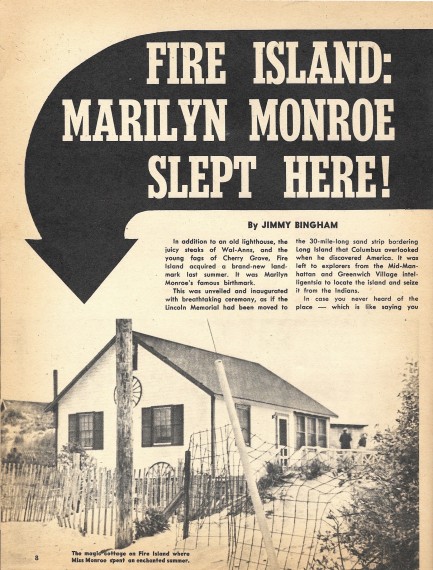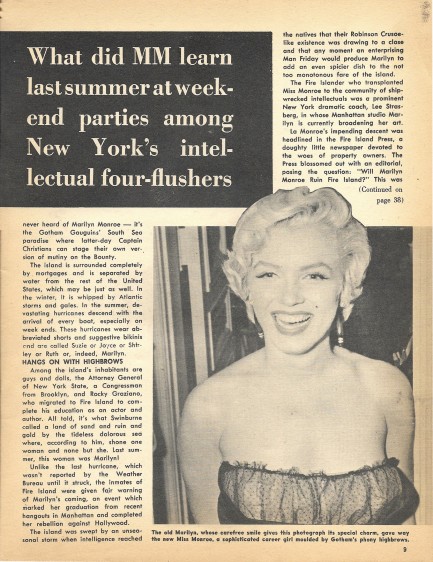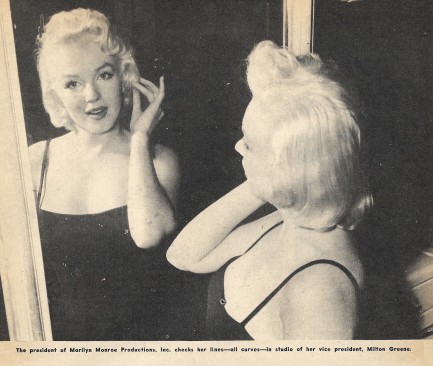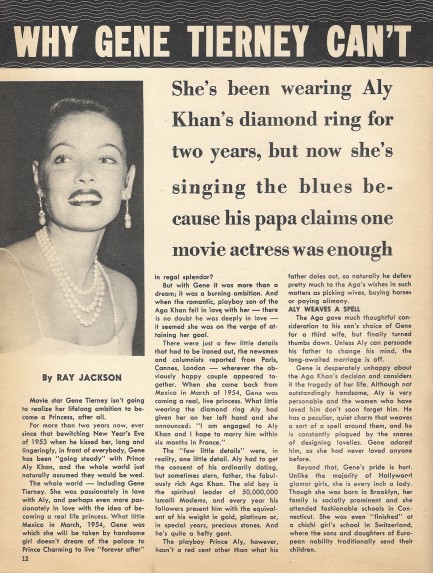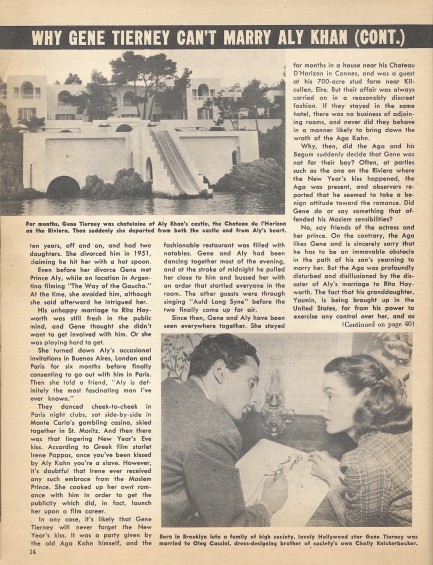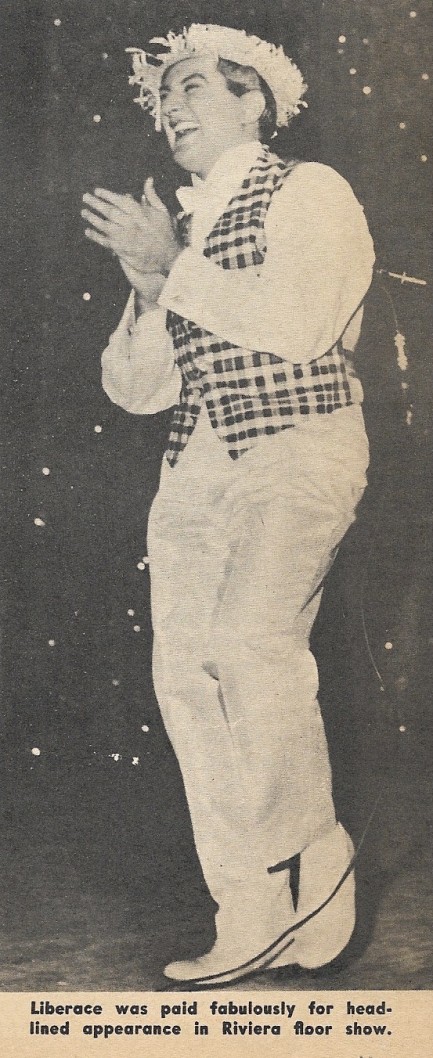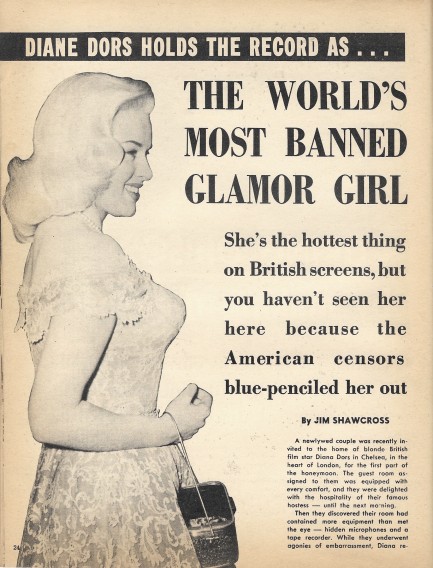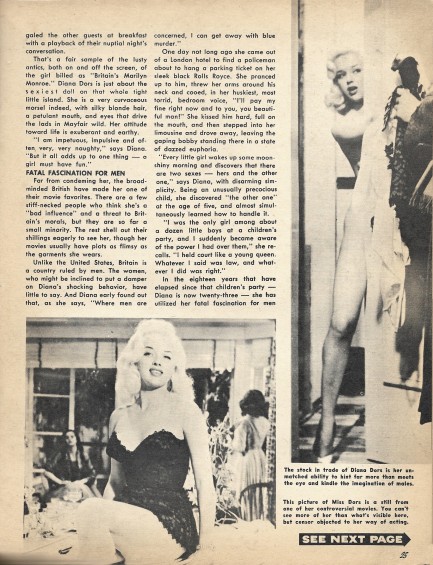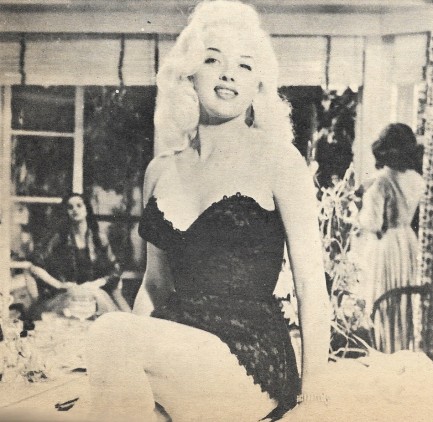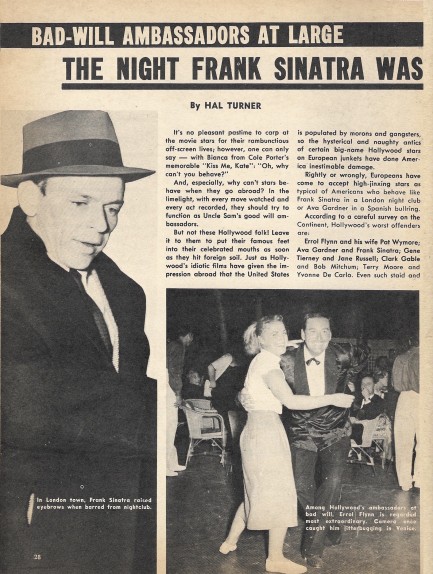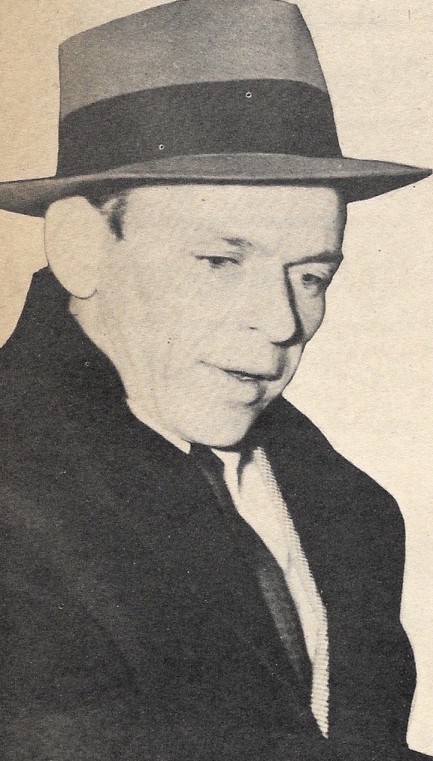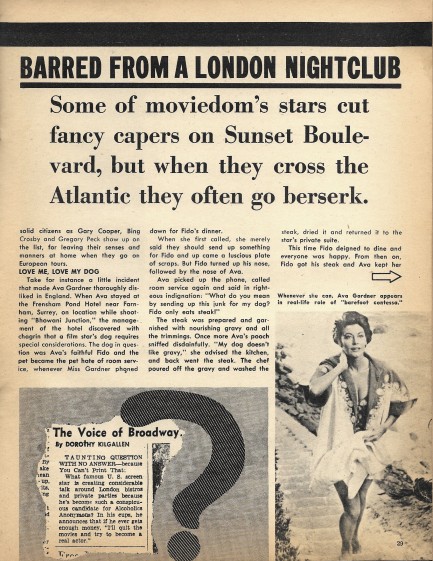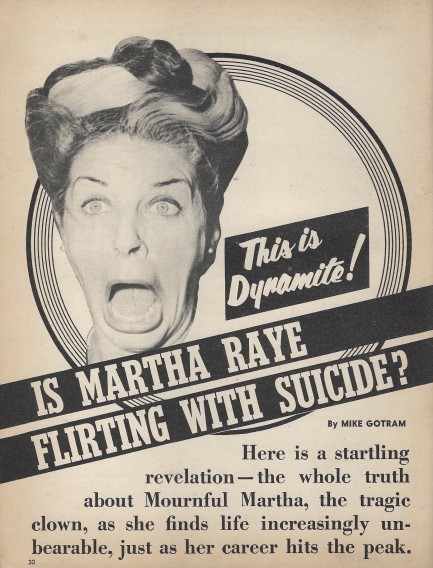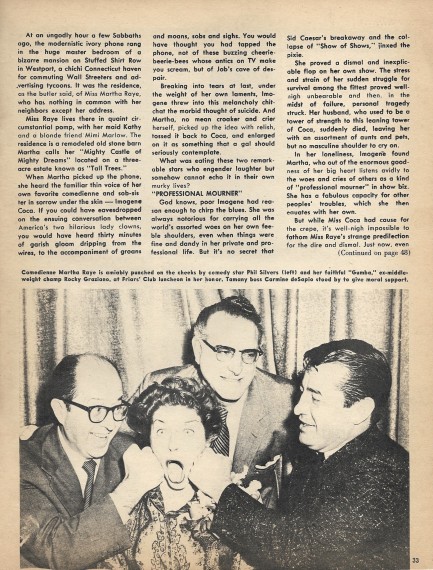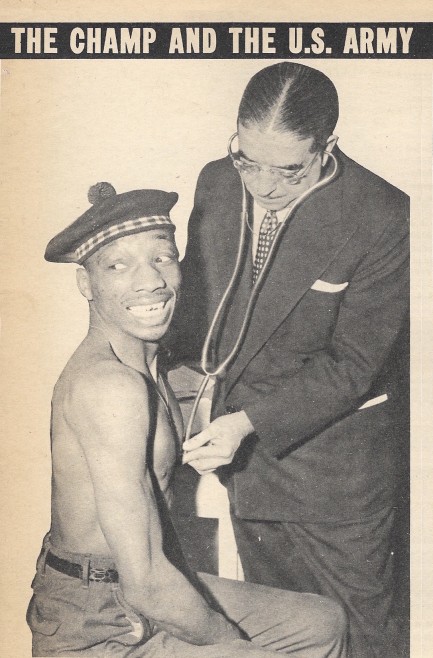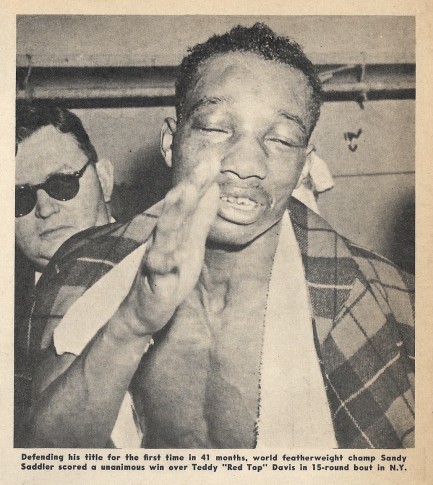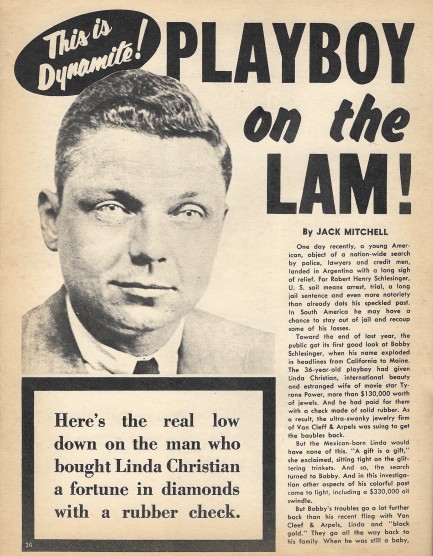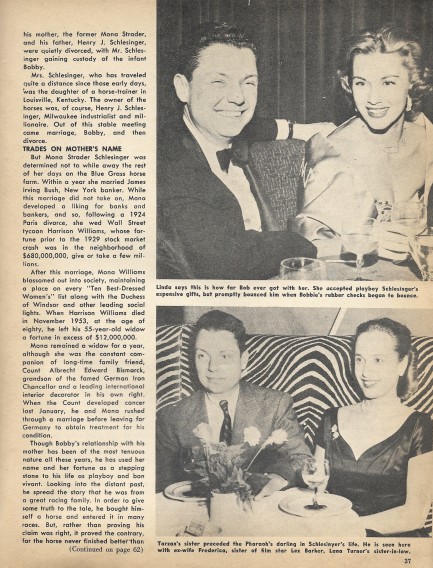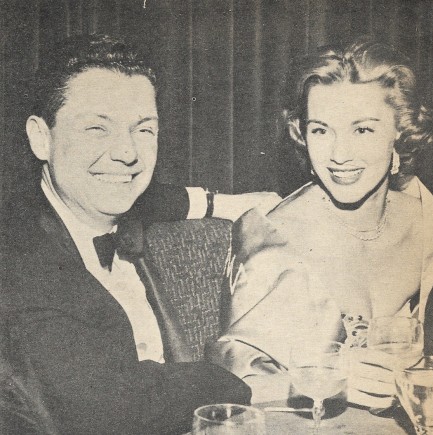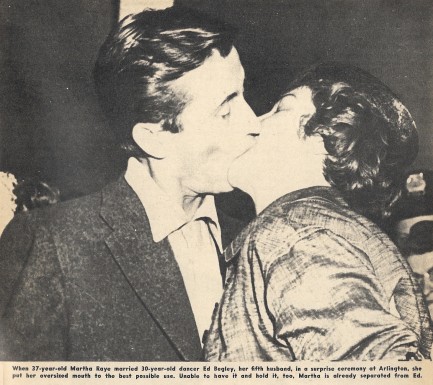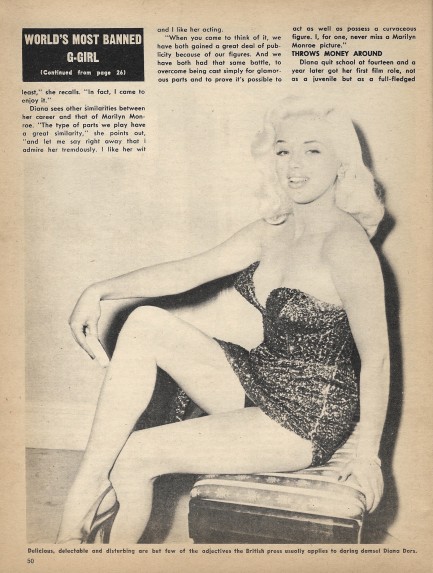 ---