For her taking risks is just feline nature.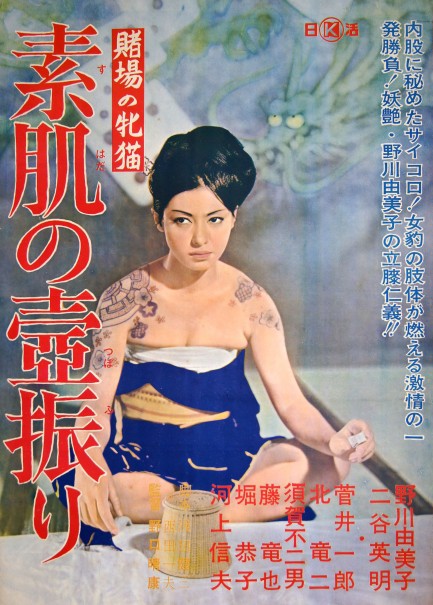 This poster was made for Toba no mesu neko: Suhada no tsubo furi, known in English as Cat Girls Gamblers: Naked Flesh Paid into the Pot, the second of three Cat Girls films. We shared a poster for the first back in 2014 before we could access the movies, but now we have them, so we screened part two last night. The lead in this and the other installments is Yumiko Nogawa, who plays a wandering gambler whose murdered father was a famous maker of rigged dice. After Nogawa's lover is killed in a dice game she swears never to play again, takes a job working at a Turkish bath, and seems to be dedicated to living a quiet existence.
But her idyll is turned upside down when she shelters a recently paroled criminal who wants to gain control of a yakuza territory he'd been promised before going to prison. The crime boss currently running the territory has no intention of giving it up, and Nogawa seems likely to be dragged into the middle of the conflict. As it turns out, she's working in the Turkish bath only as a means to find her father's killer. Since her interests and those of her new friend are aligned, they hatch a plot that just might give them both what they want.
This is a solid effort from Nikkatsu Studios, before the front office bigwigs had their roman porno revelation and leaned hard into sexploitation for the entire 1970s and beyond. Shot in black and white, the feel is arthouse, with a police subplot giving it shadings of an American detective drama. Nogawa, a movie veteran who began her career with 1964's famed Nikutai no mon, is self-assured as the headliner, and the entire supporting cast is good. A climactic fight perhaps won't seem convincingly choreographed to modern viewers, but we recommend taking a chance on this gambling drama anyway. Toba no mesu neko: Suhada no tsubo furi premiered in Japan today in 1965.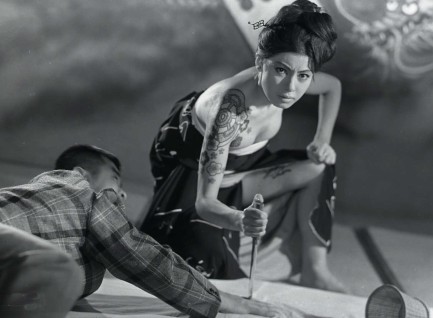 ---