Binger understates the obvious.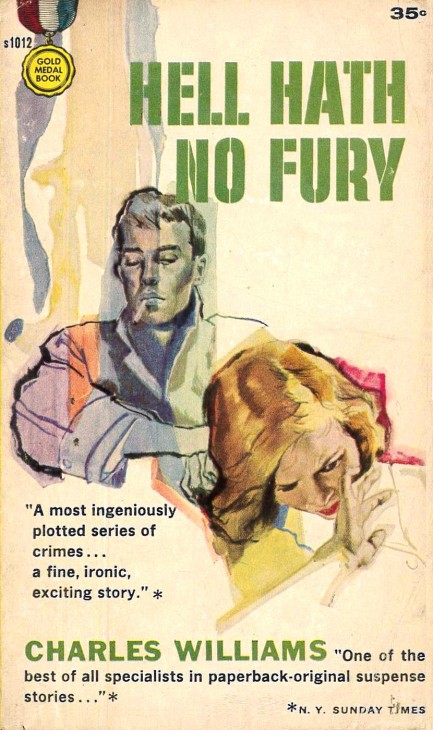 Above: a 1960 cover from Gold Medal Books for Hell Hath No Fury by Charles Williams. This was painted by Charles Binger and it's a beautifully simple watercolor composition, a very different approach from the almost fiery 1953 Barye Phillips cover. Of course, there's a good possibility that this is a random Binger not actually inspired by the book, but if so it's still interesting that Gold Medal would choose it. This is a reminder to track down more of Binger's work, and it's also a reminder that we're overdue to read another Williams. The cover says he was, "one of the best of all specialists in paperback-original suspense stories," and it's true.
---
Can I not die? No? Then I'll take: in bed, very elderly, after earth shattering sex with my 25-year-old boytoy.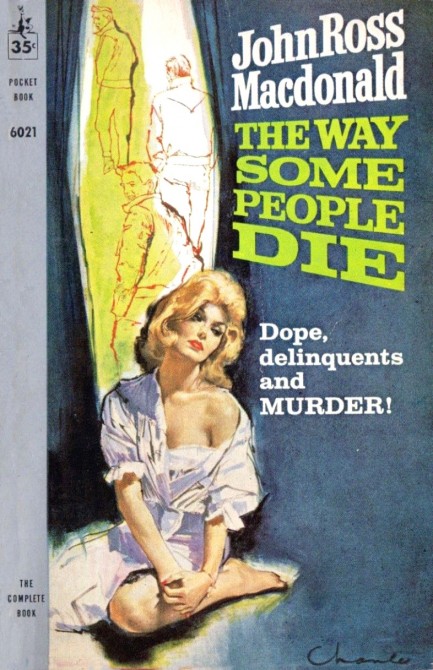 This Pocket Books edition of John Ross MacDonald's The Way Some People Die features the first cover we've acquired by British illustrator Charles Binger, and quite a nice one it is. It reminds us of Ernest Chiriaka's work, this one for instance. This is a Lew Archer thriller, third of eighteen, and as we mentioned before, this series is said to improve as it goes. We'll see about that. This one is a standard caper that starts when a mother hires Archer to find her missing daughter, who's gotten mixed up with the proverbial bad crowd. We're talking the worst of the worst—hustlers, gangsters, heroin addicts, and, most terrifying of all, failed actors. Archer beats down a few tough guys, gets hit over the head in classic detective novel fashion, has beautiful women express their romantic interest, and in the end is shotgunned in the face, dismembered, and incinerated in an industrial kiln. Oh, wait—that's not correct. Actually, he comes out on top again, bruised but triumphant. Not bad, but not great yet. Onward to book four.


---
To a hammerer every problem looks like a nail.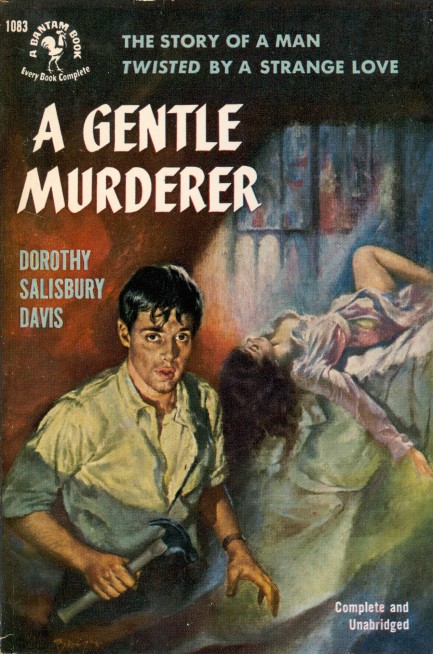 In Dorothy Salisbury Davis's A Gentle Murderer a man visits a confessional and reveals murdering someone with a hammer and flees into the night before the priest knows what to do. The dismayed padre decides to search for the mysterious man who burdened him with this terrible knowledge, thus taking on the role of detective in the story, though the police are on hand to conduct a parallel investigation. Naturally, another murder will soon occur if the killer isn't caught. The plot is similar to that of Alfred Hitchcock's 1953 film I Confess, but appeared in hardback two years earlier. However, the Hitchcock movie was actually based on Paul Anthelme Bourde's 1902 play Nos deux consciences, so perhaps Davis was inspired by either the play or Hitchcock's adaptation. Whatever the genesis, the result was a highly regarded mystery, considered by some to be among the best of the era. The cover art on this Bantam paperback edition is by Charles Binger, and dates from 1953.
---