Colleen Brennan headlines history's worst mafia flick.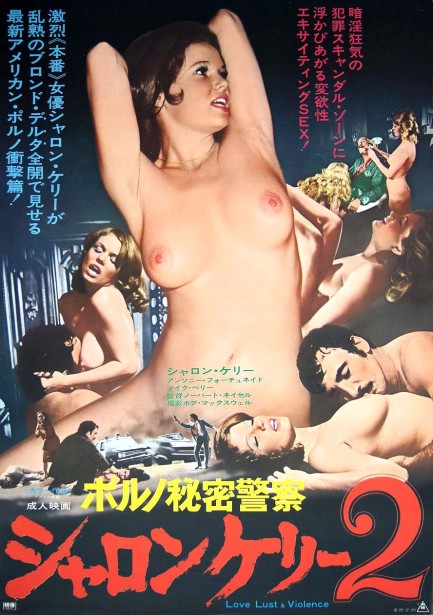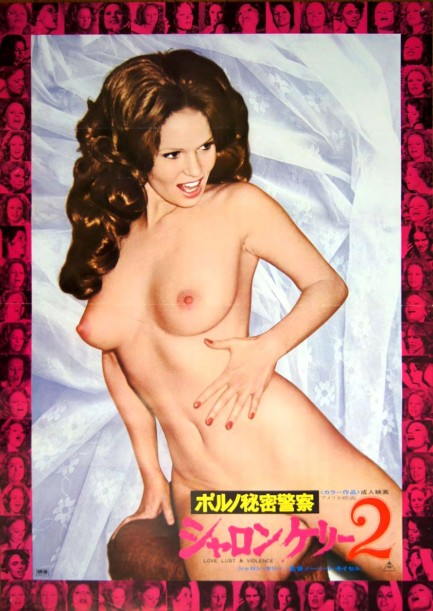 These two promos were made for the Japanese premiere of Mafia Girls, aka Love, Lust, and Violence, a grindhouse production that starred porn actress Colleen Brennan working under the name Sara Bloom and remaining fully garbed until the last three minutes. How do we describe this one? Plotwise, a general and member of the Joint Chiefs of Staff calls on a badass ex-soldier to take on the Chicago mafia, a motley crew that spends most hours of the day either watching live porno or getting blowjobs in a massage parlor. The movie is visually ambitious yet totally inept, which is a difficult combo to achieve, but director Norbert Meisel, a cast of b-grade co-stars, and several disinterested porno queens botch matters to such a degree that a comedic classic is the result. Imagine sweat, sideburns, semi-erect dicks, and pear-shaped bodies mixed with bad technical execution from acting to Z, and you'll have an idea what to expect. We cannot recommend this, but it provided some killer laughs. Mafia Girls premiered today in 1975, and its censored Japanese release occurred some years later.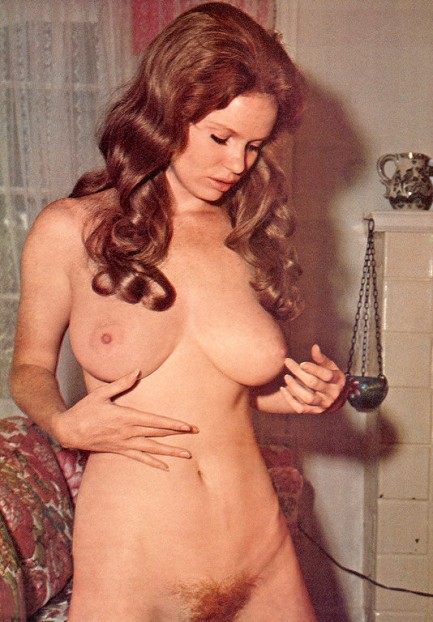 ---
Got a little porn in your past? Don't worry—the internet will find it.
This Japanese poster promoting a double bill of 1974's Gosh! (aka Alice Goodbody) and 1975's The Fireworks Woman features softcore/hardcore actress Sharon Kelly/Colleen Brennan front and center, but she appeared in only one of the films. The other starred Jennifer Jordan, aka Sarah Nicholson, who also appears on the poster, though in the background. Gosh! is a softcore comedy directed by Tom Scheuer featuring Kelly/Brennan as a waitress/wide-eyed ingénue trying to survive/succeed as an actress in Hollywood, while The Fireworks Woman is a fully hardcore tale about a man who joins the priesthood to escape an incestuous relationship with his sister. Spoiler alert—it doesn't work. It was helmed by Wes Craven—yes, that Wes Craven—under the pseudonym Abe Snake. Porn, whether softcore or hardcore, just makes people want to hide in fake personas, doesn't it? Scheuer was the only one who didn't bother and he never worked in cinema again, so the incognitos had it right. But the beauty of the internet is that everyone gets outed in the end. Schwarzeneggar, Stallone, Cameron Diaz, everyone. Happy New Year.
---
Make all the noise you want. Nobody is listening.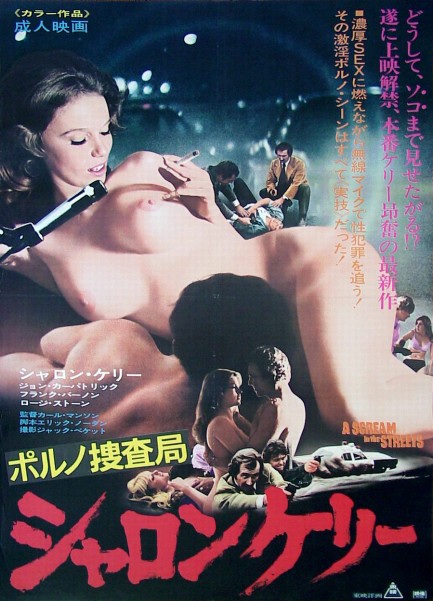 The rare promo you see here is the Japanese poster for Carl Monson's thriller A Scream in the Streets. We've seen this movie described as the first cop buddy picture. We don't know if it was the first, but the dynamic is there—a straight-laced family man partnered with a wild hothead, their relationship residing at the core of a plot involving murder and mayhem in Los Angeles. So yes, it's a buddy movie perhaps, but just barely—A Scream in the Streets is in actuality a sexploitation movie that spends far more time on the down and dirty than on crime solving, something you
can probably deduce from the fact that the promo features a nude Sharon Kelly, aka Colleen Brennan, and by the fact that the alternate promo below features an even more nude Kelly/Brennan.
While not hardcore, A Scream in the Streets was certainly too extreme to receive an R, and today it remains unrated, a garish display of flesh, blood, and profanity, as the cop combo wend their way through Los Angeles during a hot summer week rife with sleaze and crime, trying to keep the city from imploding as they also track a killer who targets women while dressed as one. If there's a lesson in the movie at all it may be that it's pointless to try and go unsullied by such rampant depravity—you can try not to touch it, but it'll reach out and touch you. Either that or the lesson is if it looks like a man dressed as a woman and acts like a man dressed as a woman, it's probably going to try and kill you—even if you're a cop. A Scream in the Streets premiered in the U.S. first, then in Japan today in 1973.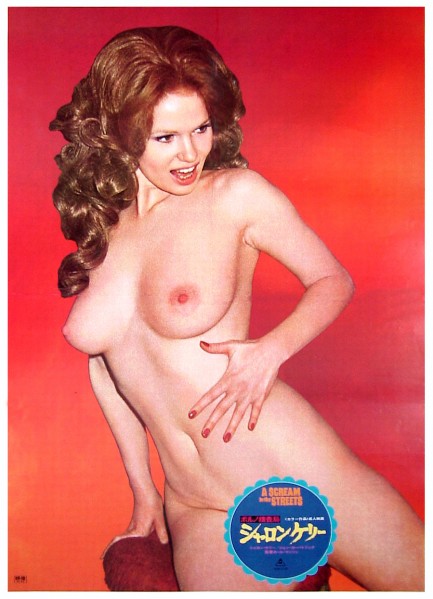 ---