That's no lady. That's a sexual predator.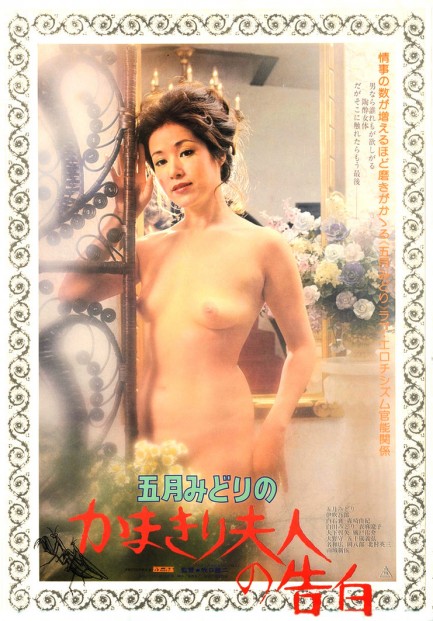 This is a pretty rare poster, very hard to find in uncensored form. It was made for Kamakiri fujin no kokuhaku, generally known in English as Confessions of Lady Mantis, a bizarre little movie about a woman who's a serial life destroyer. Midori Sasaki stars and plays a well known television host who embarks on a spate of affairs, with misfortune soon striking each of her involvements. But before we go on, let's take a moment to appreciate the movie's unusually beautiful opening credit sequence. Midori is photographed in similarly loving fashion throughout the film: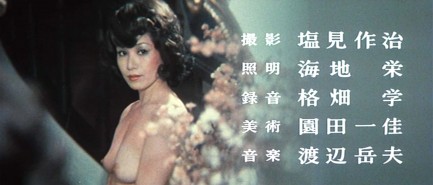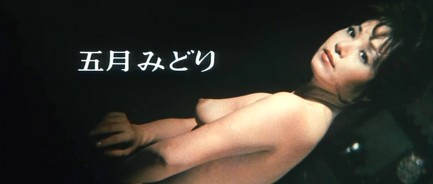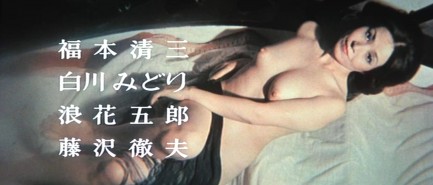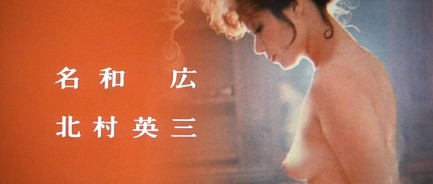 Getting back to Midori's affairs, her first is a formula one driver who's later killed in a crash. Then a neighbor she tempts gives up his perfect wife and beautiful house only for Midori to abandon him. Five flings all end badly for the men, but number six happens to be a contract killer. We won't tell you what happens next. It's amazing Midori gets through all these men in a movie running just over an hour. You really have to appreciate the conciseness of Japanese b-cinema. That being the case, we'll be concise too: Kamakiri fujin no kokuhaku is interesting, occasionally funny, and worth a look, but not special. It premiered in Japan today in 1975.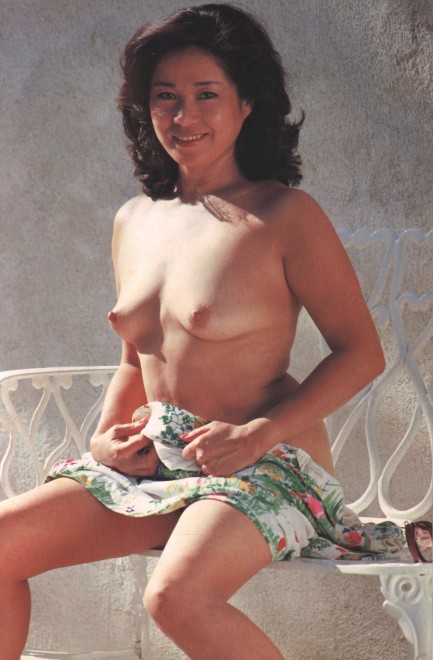 ---
It's a bold color but in samurai movies everyone who's anyone wears it.

The above poster was made for the samurai thriller Bôhachi bushidô: Sa burai, known in English as Bohachi Bushido - The Villain. Gorô Ibuki plays a mid-1600s samurai named Kyushi-Issho who goes to work for a gang called the Bohachi that kidnap women from across Japan to sell them into sexual slavery.
This gang is uniquely cruel, which suits Kyushi-Issho just fine. He's cruel too. He chops off numerous arms and heads, and generally paints walls red wherever he goes. Enter Reiko Ike, one of the stars of Toei Company's pinky violence genre, as Monkmatsu, who procures women for the gang. When she meets the samurai sparks fly, but she learns that Kyushi-Issho isn't exactly all there.
Their gang is soon arrayed against a rival group, and the tensions come to a frothy head. The conflict is resolved via a blood drenched final battle—a common motif in these films, the same way a final duel is standard in so many American westerns.
The nihilistic Kyushi-Issho is fond of saying that to live is hell, yet death is also hell. Somehow, though, he always finds the will make a choice between giving up and going on. For life may be hell, but better the hell you know. Bôhachi bushidô: Sa burai is blades, blood, and boobs done with style, well worth a watch. It premiered in Japan today in 1974.

You know what the ceiling needs? A splash of red.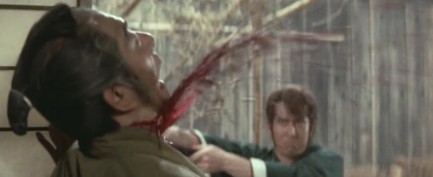 You know what that wall needs? A splash of red.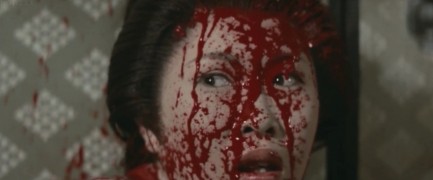 You know what her make-up needed? A splash of red.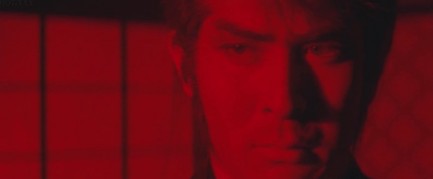 I like red. I shall paint the entire house this color.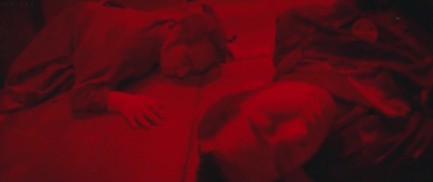 Yes. Just as I envisioned.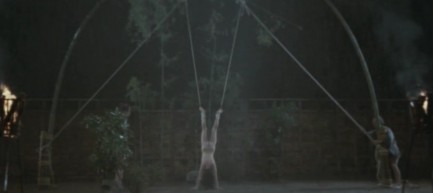 Why stop inside the house? When this woman is torn in half she'll paint the entire yard red.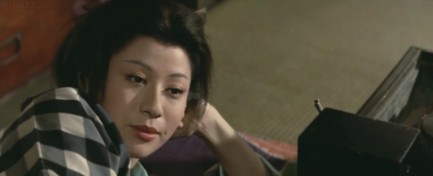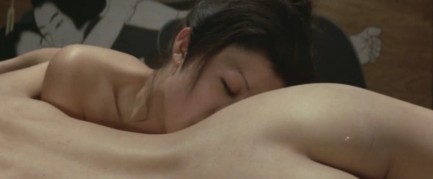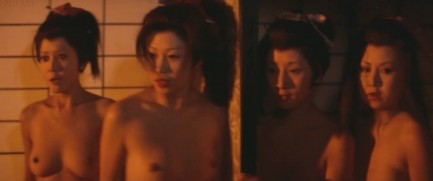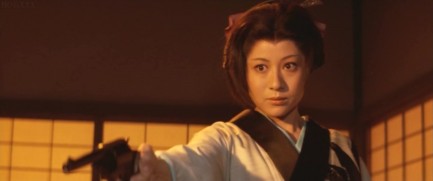 And lastly, the standard promo poster, as opposed to tateken size at top.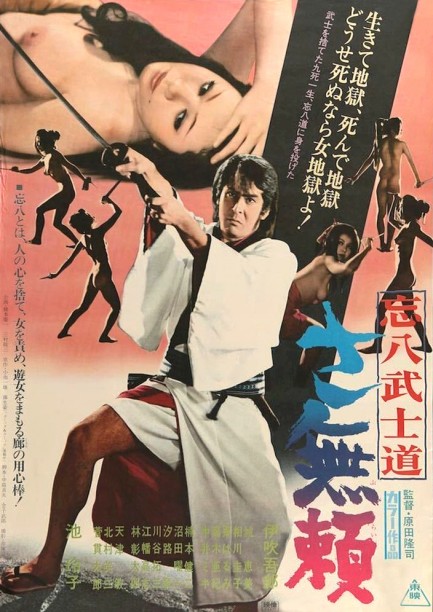 ---
How many licks does it take to get to the center of Yuki Morisaki?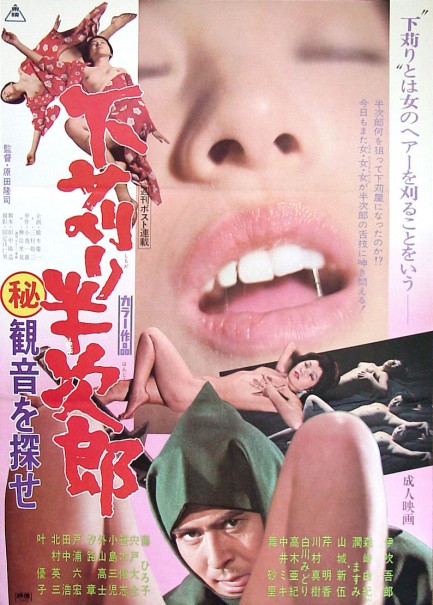 Above are a couple of attractive posters for a film that doesn't have a ready English title, but the translation from Japanese would be something like Shimojiro Shimoji (secret) Search for Kannon. According to the very reliable JMDB.com this one premiered today in 1975. As some of you doubtless know, Kannon or Guanyin is a figure from Buddhism, and is apparently associated with compassion. We haven't seen this movie, but online sources say it deals with a man (played by Gorô Ibuki) who is a genius at cunnilingus searching for a special woman (played by Yuki Morisaki) who is possibly a reincarnation or aspect of said Kannon.
The posters get the cunnilingus part of the movie across, if nothing else—notice how Gorô's naughty little tongue is out. His goal is somehow to impregnate Morisaki and be reincarnated as a great military leader, a curious choice of second life. If we could be reincarnated we'd come back as a Premier League striker and a power hitting second baseman. Actually, better yet, we'd just be born rich. Then we'd buy box seats at Premier League and MLB games and tell anyone who asked how we got rich that we were self-made geniuses. What would be a real genius move is finding this movie. We'll dig, but we make no promises.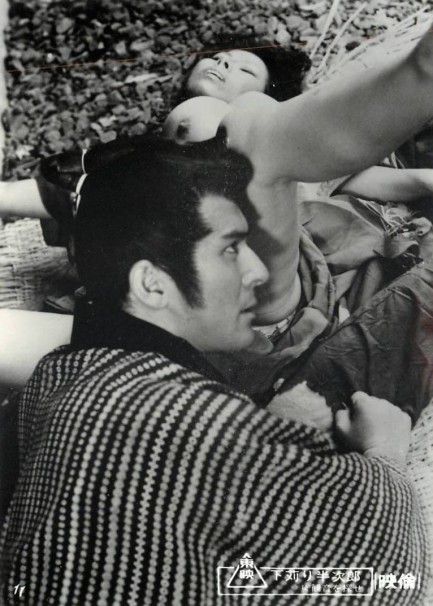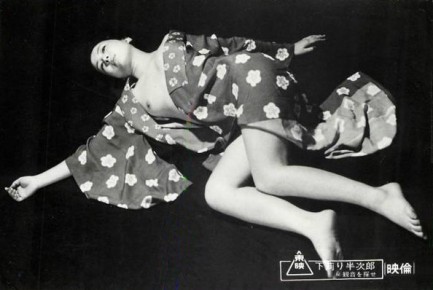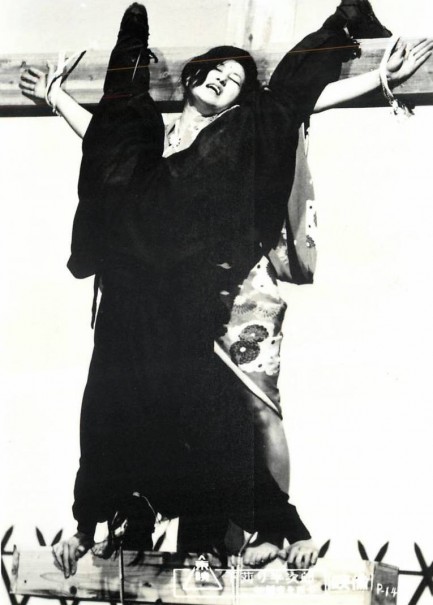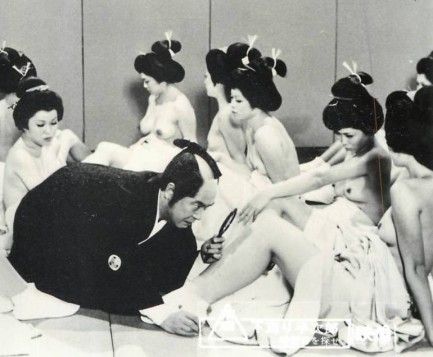 ---