One esoteric murder method begets another. Possibly.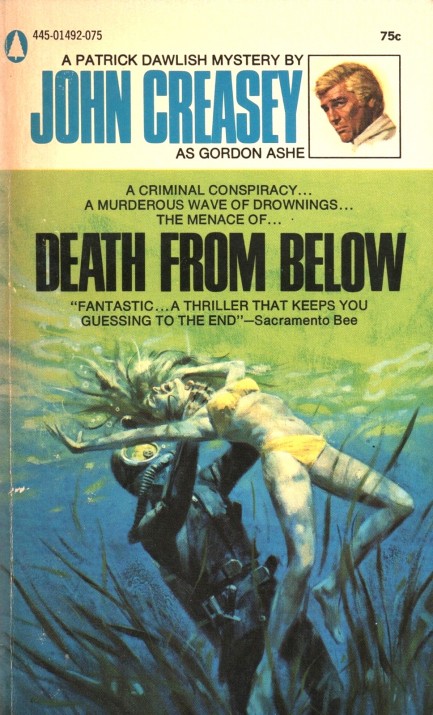 Concepts for thrillers can be hard to come by, so sometimes authors borrow from one another. Not long ago we read John D. MacDonald's The Drowner and shared the cover from the Gold Medal edition. Here you see British author John Creasey's, aka Gordon Ashe's, Death from Below. If you quickly click this link you'll notice the two books have identical art, thematically—a woman being pulled down into the water by an unidentified killer.
We figured Creasy borrowed from MacDonald, but interestingly, both books were originally published in 1963. Assuming months were spent actually writing them, it seems as if both authors simply had the same idea (we don't know if there was an earlier thriller with the same concept, but we wouldn't be surprised). The main difference between the tales is that MacDonald's killer drowns one person, where Creasy's goes full serial and drowns dozens, including children. His story also takes place in France, rather than the U.S., and has a deep—if unlikely—political element.
We know this scenario didn't happen, but we like to imagine both MacDonald and Creasy/Ashe walking into bookstores on opposite sides of the Atlantic sometime soon after both paperback editions had been released, seeing each other's on a shelf, and being mightily perturbed. At that point we like to imagine Creasy, in time-honored British fashion, saying, "MacDonald! That cheeky bugger!" MacDonald on the other hand, being American, probably went, "Creasy! That sneaky motherfucker!" Advantage: yanks.
---
And now the screaming starts.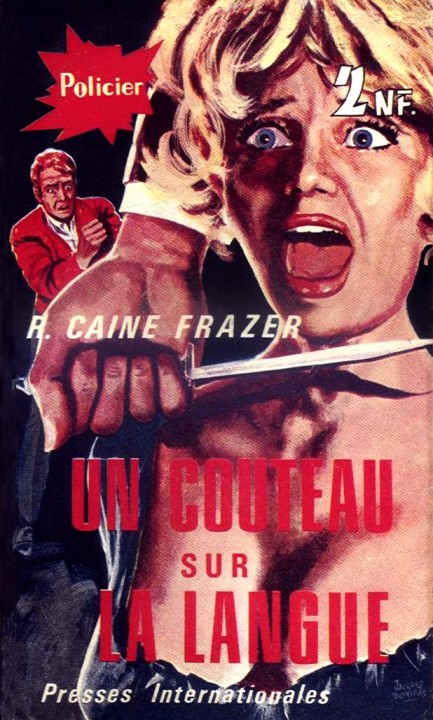 Above, an amazing cover for R. Caine Frazer's thriller Un couteau sur la langue, aka A Knife for the Toff, for Presses Internationales, 1952. Frazer was one of numerous pen names used by veteran British pulp writer John Creasy, who published perhaps two-hundred books during a thirty-plus year career.
---