He kills, robs, and terrorizes—yet still has panache. How very French.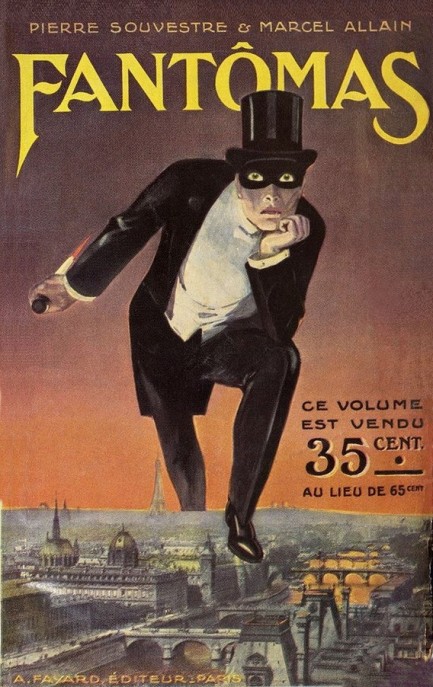 This is one of the oldest book covers we've shared. Fantômas, written by Marcel Allain and Pierre Souvestre, was originally published in 1911 by Librairie Arthème Fayard with uncredited art. We located a digital translation and were treated to a complex and somewhat episodic novel pitting the titular murderer and thief Fantômas against a clever and determined detective named Juve in a deadly pan-Parisian cat-and-mouse. Juve knows that many crimes committed in and around the city are the work of Fantômas, but catching him—when many believe he's just a figment of fearful imaginations—is another matter.
Fantômas and Juve are both adept with disguises, and a third character disguises himself as a woman. The focus on such playacting makes us believe costumes held a particular fascination for the French at that time.
The main surprise for us with this book was how evil Fantômas is. He kills one guy, crams him in a shipping crate, and injects his body with some chemical or other to keep the smell down. He shows his brutality in other instances as well. It's hard to wrap our heads around the fact that French readers embraced a tale that starred a serial killer, but then again the French were traditionally ahead of the artistic curve.
For francophiles Fantômas is probably a can't miss, and while it's perhaps less on target for readers used to structure and action from books written post-1970, it's certainly atmospheric as hell. Successful too—the book sold mountains and Fantômas became a franchise character. We're sorry to give away that he survives this novel, but it isn't as if you have a choice about finding that out, considering this book is referred to in numerous places as Fantômas #1. We wouldn't quite label him #1, but he's pretty fun.
---
That stocking she thought she lost? It's been under the bed the whole time.
Above is a nicely terrifying cover for Pierre Souvestre and Marcel Allain's novel Fantômas roi du crime, a police saga starring the recurring character Fantômas, a ruthless master criminal. Souvestre and Allain first dreamt him up in 1911, and saw their creation adapted to television, cinema, and comics. This particular edition, fifteenth in the Fantômas series and published by Chez Arthème Fayard & Cie, is from 1933, but the novel originally appeared way back in 1912 as L'Evadée de Saint-Lazare. We may try this out if we can find a translation somewhere.
---
Oh! Heh heh. You had something on your shirt and I was... er... just going to stab it for you.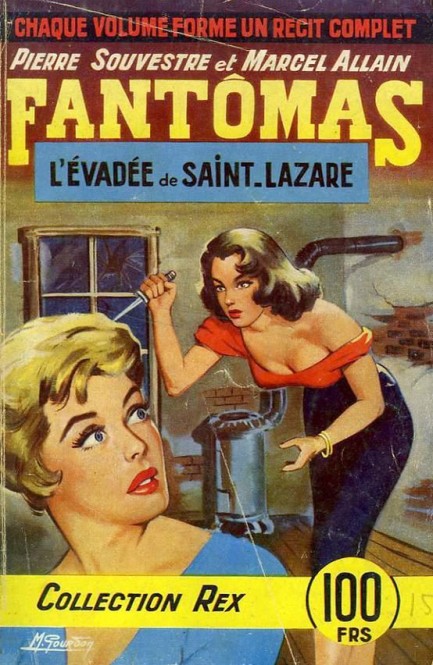 It's been a while since we featured Michel Gourdon's work, so above you see a cover for L'évadée de Saint-Lazare by Pierre Souvestre and Marcel Allain, for Paris based publishers Éditions Robert Laffont, number 29 in its series Collection Rex. The book is about a ruthless criminal named Fantômas, who wears a blue mask and black gloves. He was one of the most popular creations in the history of French literature. Souvestre and Allain wrote thirty-two books about him between 1911 and 1913. That's not a typo. They wrote fast, about a book a month, and were greatly helped by the money earned by selling him to the movies, where he became a stalwart of France's early silent cinema. Éditions Robert Laffont republished the books during the 1960s, with Michel Gourdon illustrating all of them, and the above edition coming in 1963. Rear cover below. We'll probably get back to Fantômas later.

---