As far as they're concerned no crime means no fun.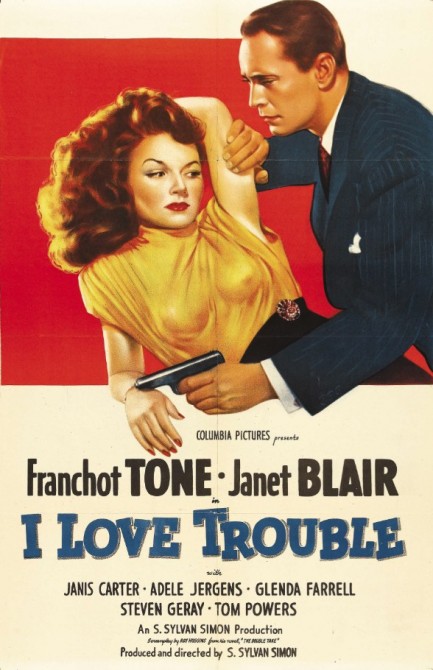 The 1994 romantic action movie I Love Trouble is unrelated to the original from 1948, for which you see a beautiful promo poster above. The first I Love Trouble is a film noir, a neglected one not often mentioned as an entry in the genre. Franchot Tone stars as a detective hired by a politician to look into his wife's background. He's been getting anonymous notes implicating her in some sort of illegality. As Tone chases clues from L.A. to Portland, his investigation uncovers blackmail and hidden identities, and of course a love interest pops up in the form of the wife's sister. With its smug private dick and regular interjections of humor the movie feels derivative of The Maltese Falcon, and its romance angle is incongruous, but Tone is cool in his detective role and carries the weight of the narrative nicely. The cast is a who's-who of stars and soon-to-be stars, including Adele Jergens, John Ireland, Tom Powers, and Raymond Burr. If that doesn't pique your interest you just don't love trouble. I Love Trouble premiered today in 1948 and went into to wide release January 15.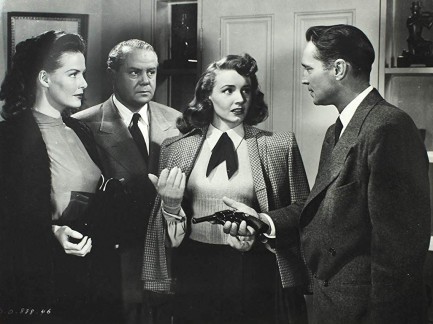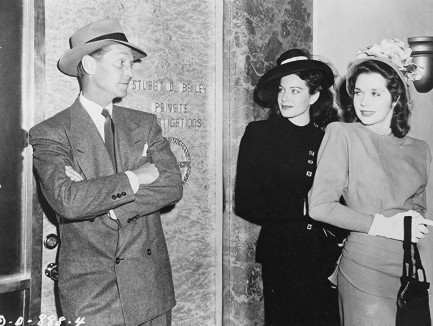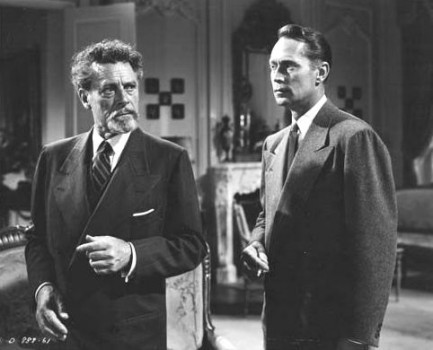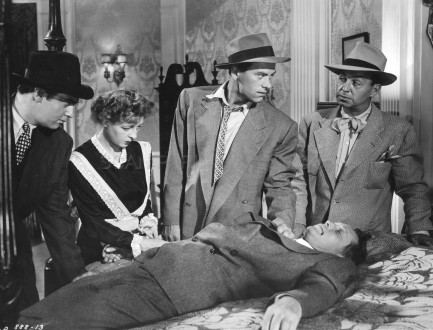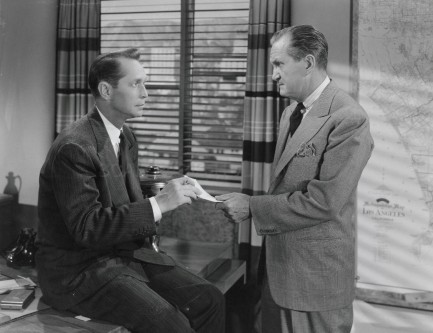 ---
They say the truth sets you free, but a Jaguar roadster helps quite a bit too.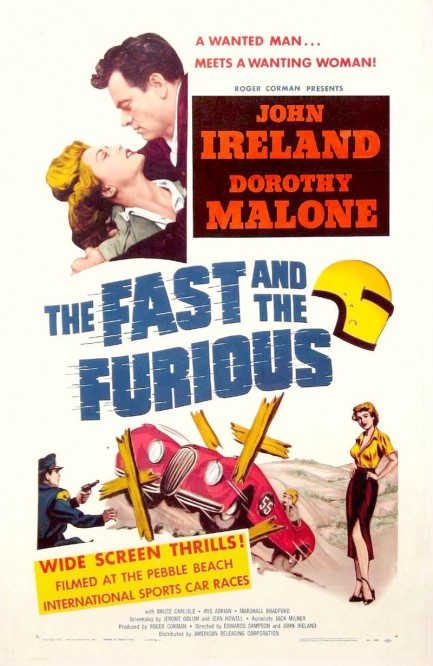 A great title cannot go unborrowed forever. The Fast and the Furious would be a good name for a film noir, a war movie, or even a romantic melodrama (young and restless, anyone?). So it was a good fit for the action franchise starring Vin Diesel. But it was first used for a little crime drama released today in 1955 starring John Ireland and Dorothy Malone. In the film, Ireland, who's been framed for murder, breaks out of jail, takes Malone hostage in her convertible Jaguar XK 120 roadster, and enters a cross-border road race hoping to get into Mexico. That's a killer concept for an action movie, but this is American International Pictures, which means it's done low budget, with lots of projection efx and stock footage in the action scenes, and minimal work on the script. But while the movie isn't great, it's certainly suitable as a Saturday night popcorn muncher. Invite witty friends, enjoy the cars, laugh at the repartee, and marvel over Dorothy Malone.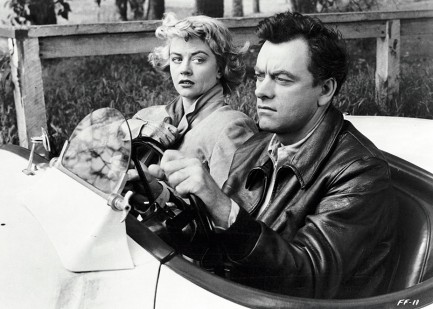 ---
Some decisions don't need explaining.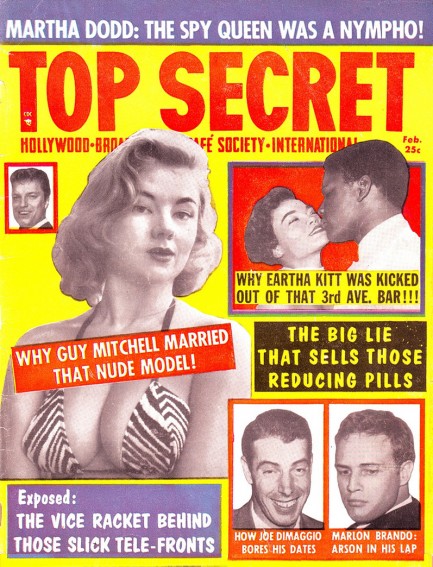 Top Secret packs several top celebs onto the cover of this issue published today in 1958, but gives center position to the relatively unknown Elsa Sorensen, the 1955 Miss Denmark referred to here as "that nude model." Sorensen was indeed a nude model—she was a 1956 Playboy centerfold under her own name, and afterward continued to model nude as Dane Arden. Top Secret editors claim to know why multi-million-selling pop singer Guy Mitchell married her, but we don't need their help to figure that out. See below: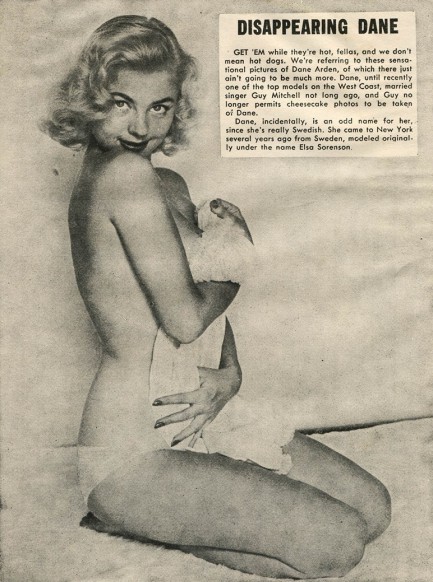 The magazine also spins the tale of how the calypso/caribbean themed NYC club the African Room sued Eartha Kitt for more than $200,000. Allegedly, one night while Kitt and some friends were in attendance to see house act Johnny Barracuda, aka the King of Calypso, she flew into a rage, poured Champagne on patrons, shattered glassware, and kneed one of the owners—an ex-homicide dick named Harold Kanter—in the gonads. The lawsuit claimed Kitt shouted, "This is nothing but a clip joint! You are nothing but thieves!" Supposedly, this was all over a $137.00 bar bill. In case you're wondering, that's about $1,100 in today's money.
Kitt's side of the story was simply that her group ordered three or four splits (mini-bottles) of champagne—though none for her, as she never drank alcohol—and when presented with an exorbitant tab asked for an itemized bill, only to be met with major static. We're siding with Kitt on this one, since Kanter, who somehow had enough money to leave the police force and buy a share of the African Room three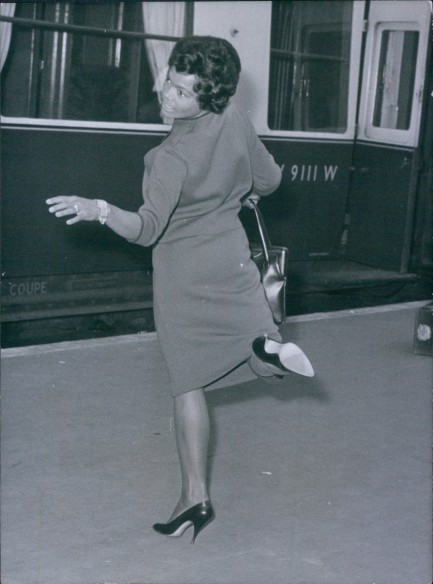 years earlier at age twenty-five, had already been busted for watering down his liquor, then trying to bribe his way out of trouble. Kitt said succinctly of the episode, "To me a $137 bill was preposterous. I asked for the bill so I could have it sent to my office. They would not give it to me. That's all there is to the whole story."
And that's all there is from Top Secret today, except to say that for us the most interesting part of the Kitt saga—aside from the tantalizing allegation by Kanter that she "disported herself onstage in a lewd and suggestive manner"—is the fact that she's pasted-up on the mag's cover with Sidney Poitier, when in fact her date at the African Room that night was Canadian actor John Ireland. Poitier was nowhere in sight. We'd love to know why Top Secret tried to drag him in, however obliquely, but we're not counting on ever getting the answer. When you dig through the past, unanswered questions are not the exception, but rather the rule.

---