She barely stomached Hollywood.
Adele Jergens, who appeared in I Love Trouble, The Corpse Came C.O.D., The Dark Path, and numerous other films, got her start in show business, like so many actresses of her era, when she won the a beauty contest—Miss World's Fairest, at the 1939 New York World's Fair. Later, as one of the famed Rockettes dancing troupe, she was named the number one showgirl in New York City. This led to her serving as understudy to burlesque dancer Gypsy Rose Lee in the Broadway production Star and Garter, and from there Jergens never looked back. That's probably why she forgot half of her sweater. This fun image of her with bare midriff was made in Los Angeles in 1946, by the pool at the famed Town House Hotel, a locale we've talked about more than once. Find out why by clicking its keywords below and scrolling through those posts, and you can do the same with Jergens if you want to see what else we've posted about her.


---
As far as they're concerned no crime means no fun.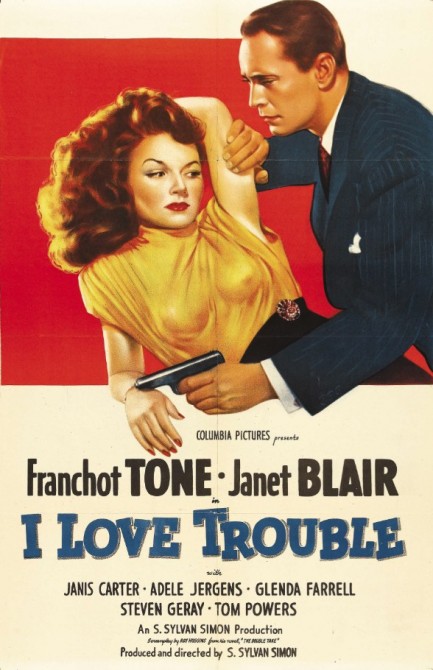 The 1994 romantic action movie I Love Trouble is unrelated to the original from 1948, for which you see a beautiful promo poster above. The first I Love Trouble is a film noir, a neglected one not often mentioned as an entry in the genre. Franchot Tone stars as a detective hired by a politician to look into his wife's background. He's been getting anonymous notes implicating her in some sort of illegality. As Tone chases clues from L.A. to Portland, his investigation uncovers blackmail and hidden identities, and of course a love interest pops up in the form of the wife's sister. With its smug private dick and regular interjections of humor the movie feels derivative of The Maltese Falcon, and its romance angle is incongruous, but Tone is cool in his detective role and carries the weight of the narrative nicely. The cast is a who's-who of stars and soon-to-be stars, including Adele Jergens, John Ireland, Tom Powers, and Raymond Burr. If that doesn't pique your interest you just don't love trouble. I Love Trouble premiered today in 1948 and went into to wide release January 15.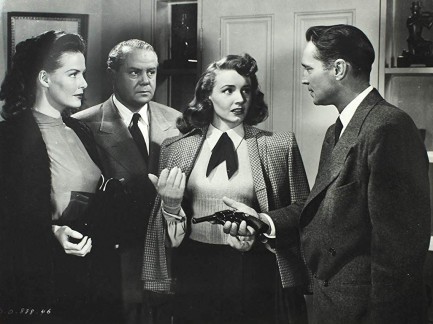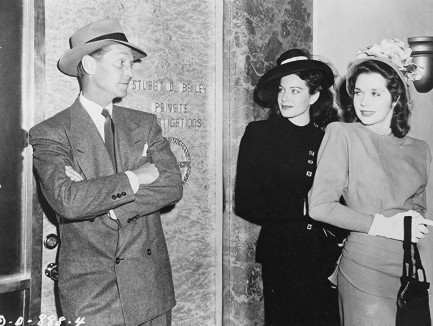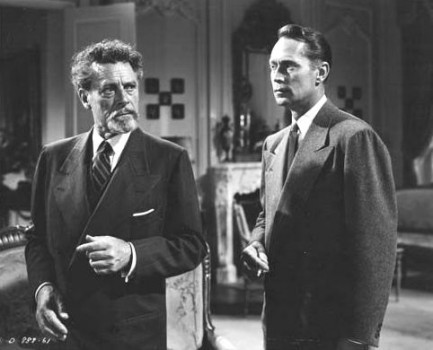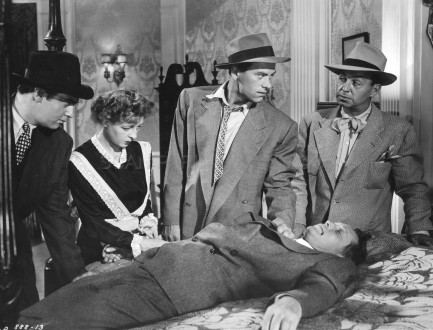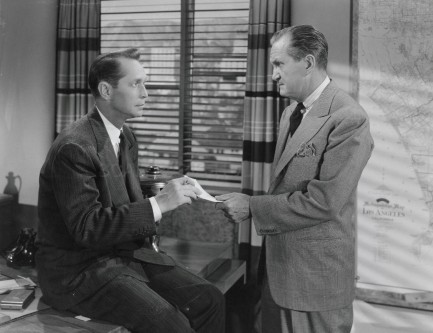 ---
She's well known for hopping from bed to bed.
Above, American actress Janet Blair, who appeared in many films, including the 1948 noir I Love Trouble

, and the 1945 musical

Tonight and Every Night

, seen here clowning around in a cute shot by Joseph Jasgur, mid-1940s.
---