Marriage to a savage jungle woman is all fun and games until you get on her bad side.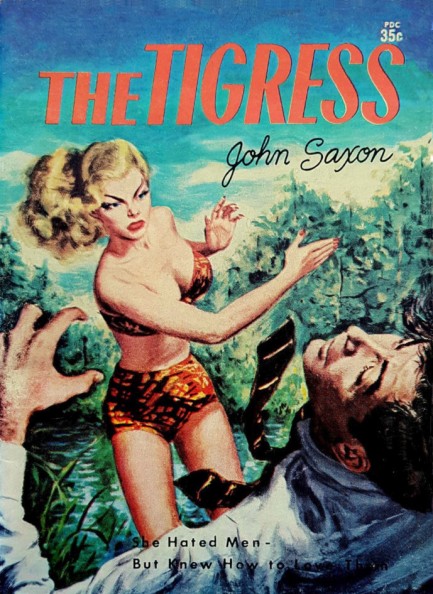 This is a fantastic cover for John Saxon's, aka James N. Gifford's The Tigress, for Novels, Inc, 1952. This poor guy in the art. Takes abuse at the office all day then comes home and has to take more from his wife. Well, it's better than when she ignores him, or worse, perches on the kitchen counter and stares unblinkingly at him for minutes at a time. That's just plain unnerving. But she's worth it, because at her best she's a real pussycat. This cover, sadly, is uncredited.
Update: Some online sources now think this art is by Walter Popp. We'll go with that.


---
You can't keep a good moonshiner down.
Home brew and rednecks, fast cars and dusty roads, shotguns and lots of banjo music are what you get in Moonshine Country Express, all of which is probably abundantly clear from a glance at the U.S. promo poster. You also get star Susan Howard, b-movie stud John Saxon, and support from Playboy centerfold Claudia Jennings, which means all the ingredients for a good time are here. The protagonists are righteous, the villains wily, and there's never any doubt that the family oriented 'shiners are going to upend the unctuous local strongman in this nearly scriptless flick about a daughter trying to sell her murdered father's stash of a-grade whiskey. We could say there's a metaphor here for small business versus big conglomerates, or liberty loving sovereigns versus the corrupt and connected, but we'd be making that shit up. It's just a mindless chase movie. It's hard to believe it would take another two years before this highly profitable formula finally moved to television in the form of 1979's The Dukes of Hazzard. We like to think Moonshine County Express was the eureka moment when someone realized it would work. If you watch this one, expect no more and no less than a Dukes episode in long form, but without the confederate flag, mercifully.
---
Just a woman and her will to survive.
This cover for The Passionate Tigress by John Saxon, aka James Noble Gifford, has art signed "Border." We've never heard of him or her before, and as you can imagine, we can't possibly hope to isolate a person with a name like that using internet searches. The people at the Greenleaf Classics website think this could be Ernest Chiriacka, and we agree the resemblance is uncanny, but absent confirmation this illustrator goes in the mystery category. 1959 on this.
---