Sinbad may be the star but it's the dancers who shine brightest.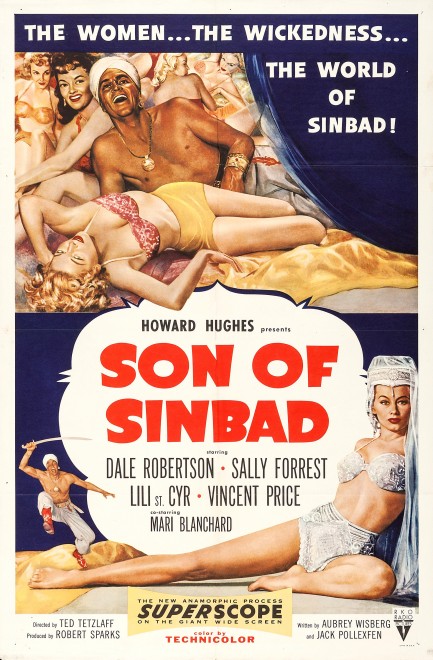 Howard Hughes had an entire slate of personal flaws, not least of which was that he was a frothing racist, but in terms of filmmaking he understood the concept of value-added cinema. He often battled censors, because if he had a beautiful actress on hand he'd build something around her that was as provocative as the market would bear. Jane Russell is his most famous protégée, but he shaped projects for Jean Harlow, Gina Lollobrigida, Faith Domergue, and others. In Son of Sinbad he wanted to show Lili St. Cyr to great advantage, and along the way, in typical fashion, added more, more, and more. He brought aboard MGM dancer-actress Sally Forrest and famed peelers Nejla Ates and Kalantan to compliment St. Cyr, made them all ornately clad harem girls, and ended up with a movie that was nearly banned.
The stars of Son of Sinbad are Dale Robertson as the fictional Sinbad's son and Vincent Price as the historical figure Omar Khayyám, and in the story, which is set in Baghdad, horny Sinbad is busted making time with one of the Sultan's harem girls and is imprisoned along with Omar. In exchange for his freedom Sinbad reveals the existence of Greek fire, a dynamite-like explosive, which could come in handy because the Sultanate is at war with the Tatars. Sinbad doesn't actually have the secret to this weapon himself—it's locked inside the head of his friend Kristina, who can only reveal the process for making it while hypnotized. The Sultan is suitably impressed after a demonstration and agrees to free Sinbad and friends, but due to some palace spying third parties have learned about the weapon, and from that point forward more complications ensue.
While Son of Sinbad is a fantasy adventure with elements of comedy, audiences also knew to expect titillation from RKO Radio Pictures, and the movie leans into that expectation with its sexy costumed dance numbers. Any movie that offers St. Cyr in motion is automatically recommended, and you'll get a sense of why she was probably the most famous burlesque dancer in America, though neither she nor the other dancers remove much clothing. Even so, it's a nice showcase of the burlesque arts, and the dancing offers reason enough to watch the film, and would even if the movie were terrible.
However, the bonus here is that the movie isn't terrible. The lavish sets, beautifully painted backdrops, and colorful costumes transport the viewer—not to ancient Baghdad, but to a magical, soundstage-bound, Technicolor realm similar to that from old Bible flicks. Robertson is fine as Sinbad Jr., but Price, as he tended to do, excels in his second banana role. The man was a born star, and a born ham. As long as you don't expect a masterpiece you'll be entertained. And as a point of added interest, Kim Novak makes a quick and uncredited appearance as a Tatar woman. It was her first screen role, but because the movie was delayed—like many Hughes projects—it was not the first time audiences had seen her. Son of Sinbad did eventually hit cinemas, though, premiering after more than a year of delays, today in 1955.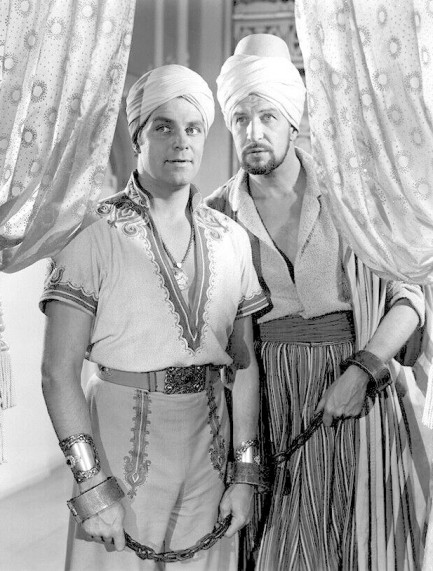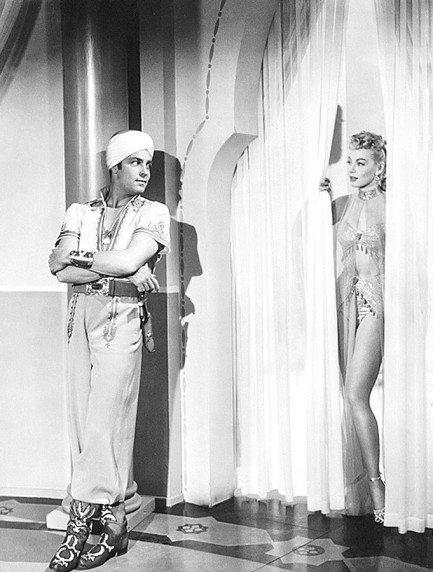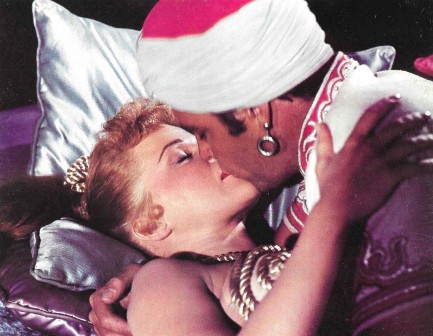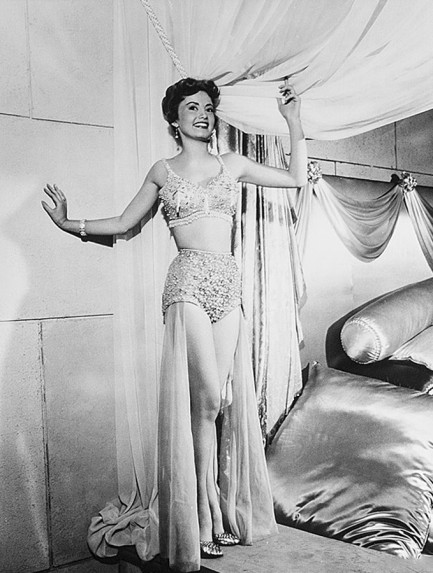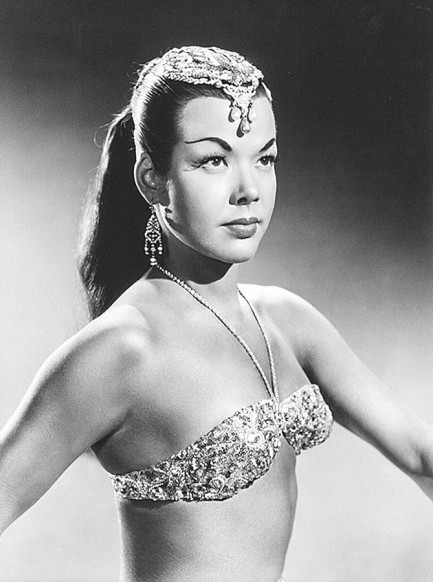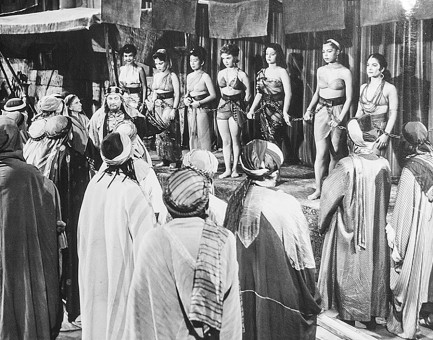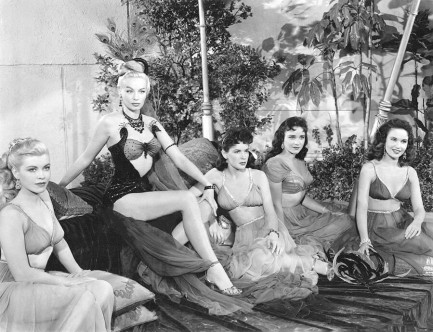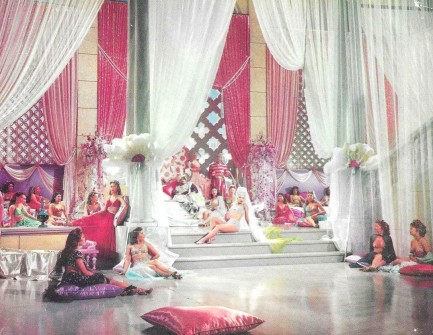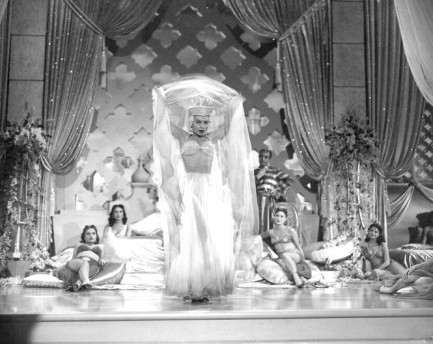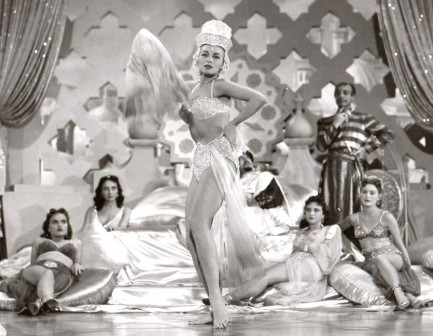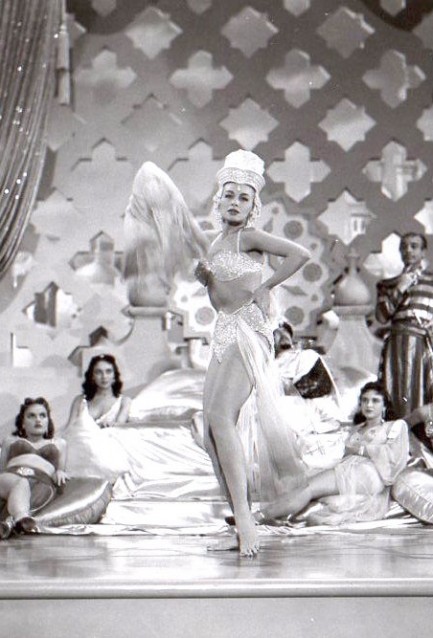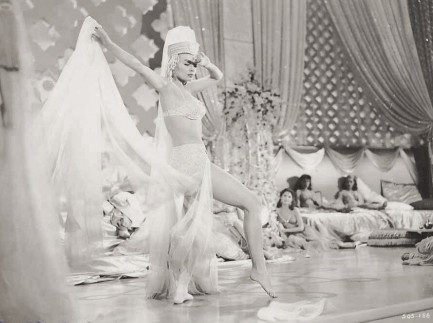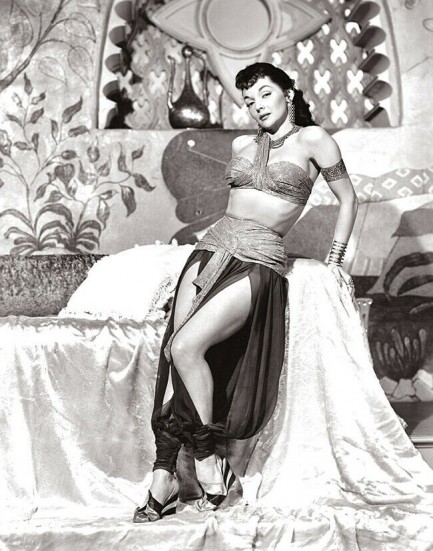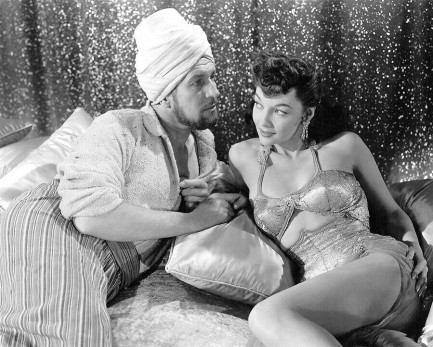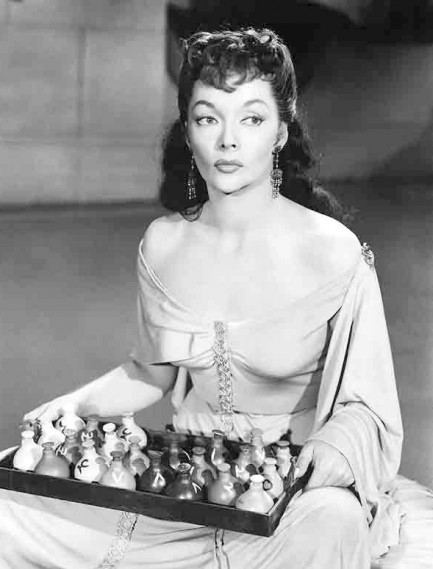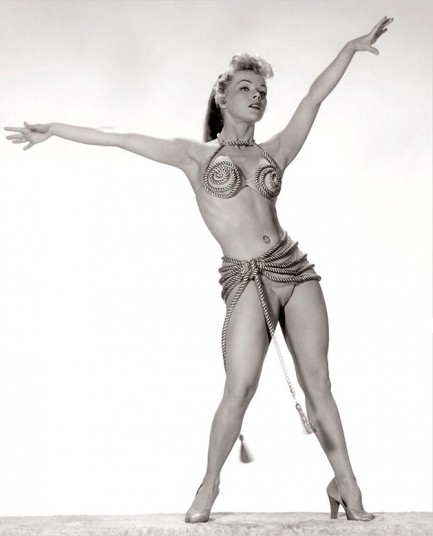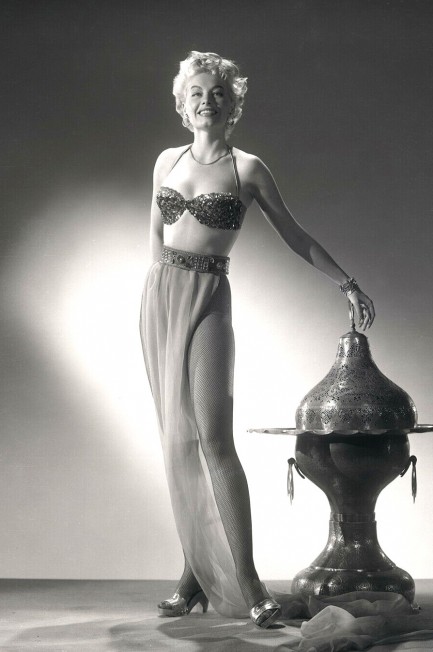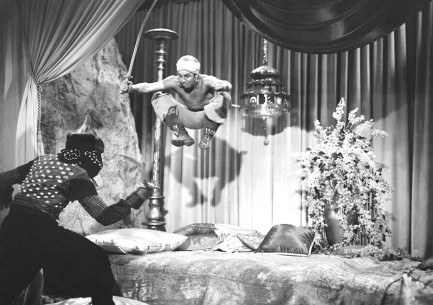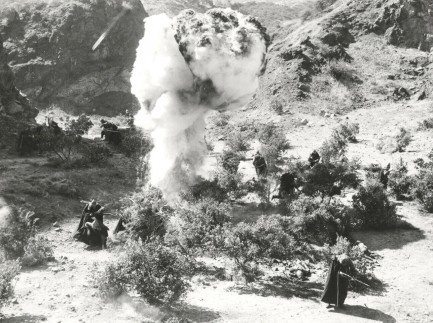 ---
They say it's the best medicine.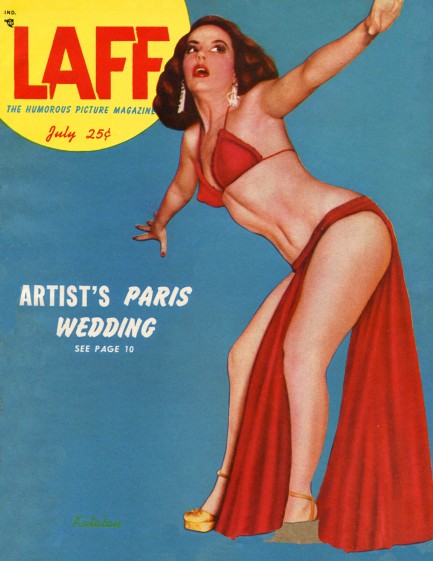 Above, the cover of Laff magazine from July 1952, featuring Kalantan, who began life as Mary Ellen Tillotson and earned success as a burlesque dancer. Laff also offers up images of opera singer Frances Yeend, model Eugenie Bennett, actress Joi Lansing (called "Joy" here), and others, all below. If you're curious, you can see Kalantan shake her moneymaker here.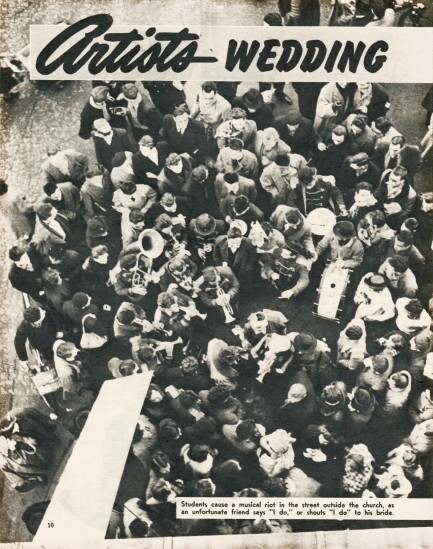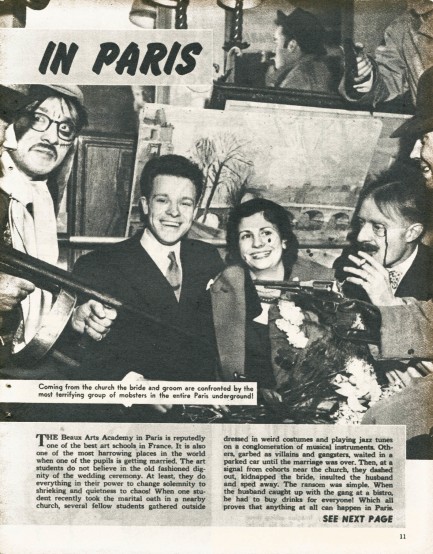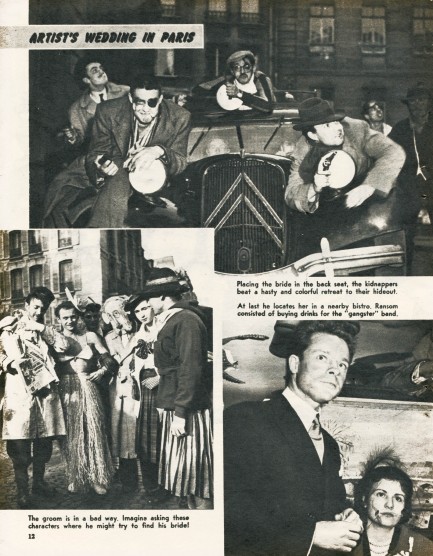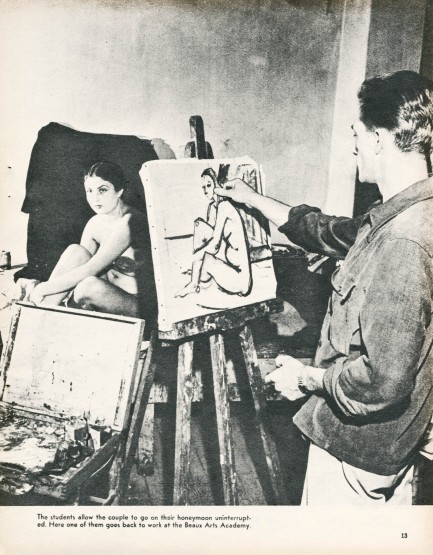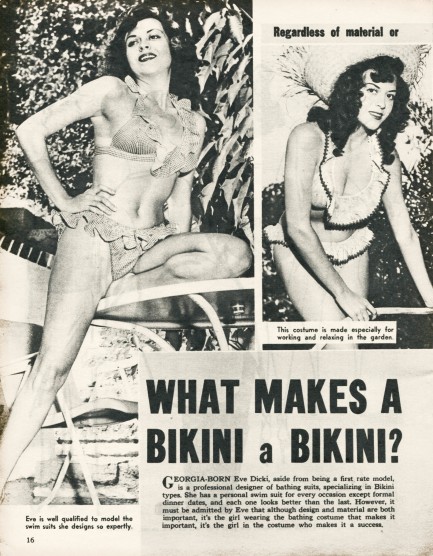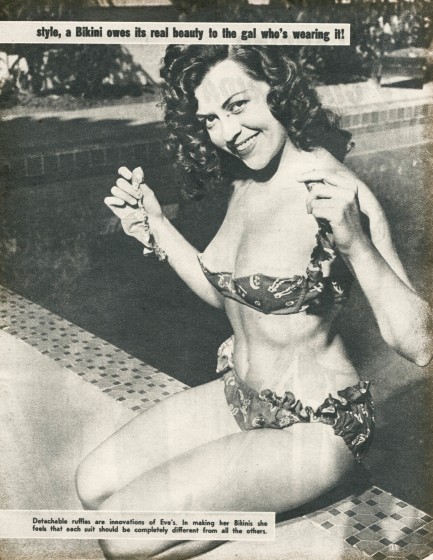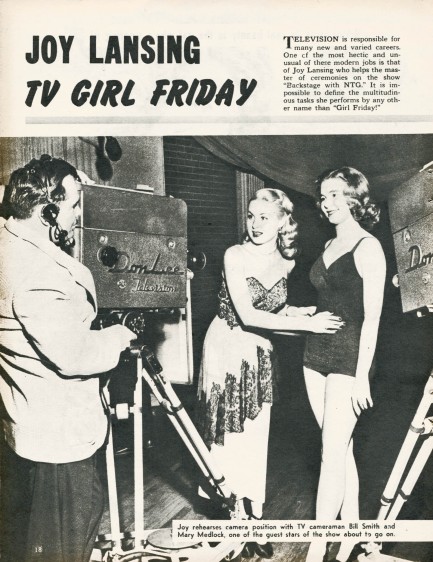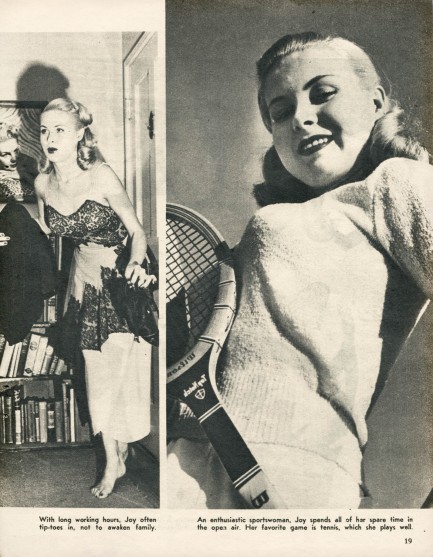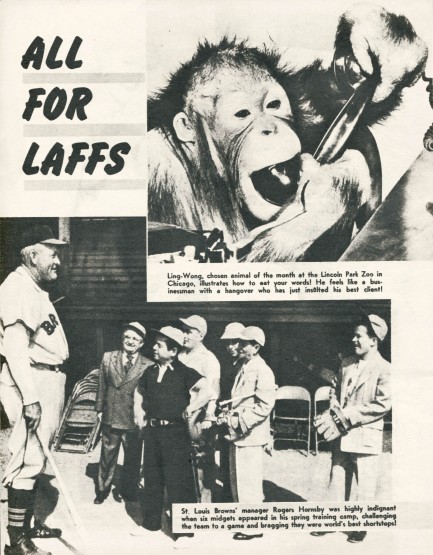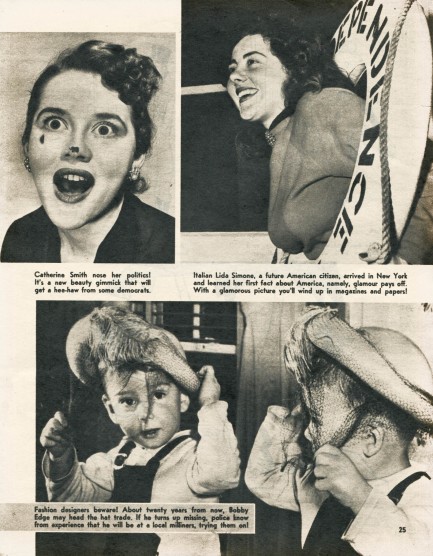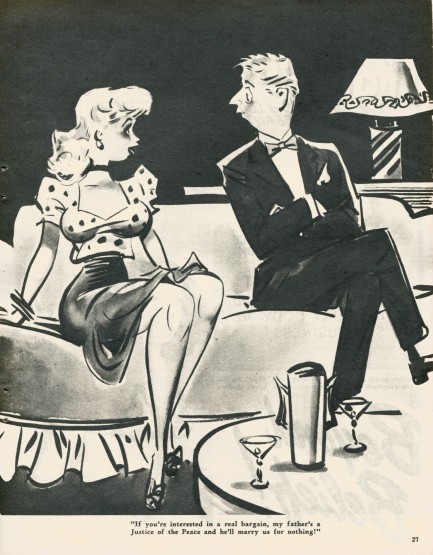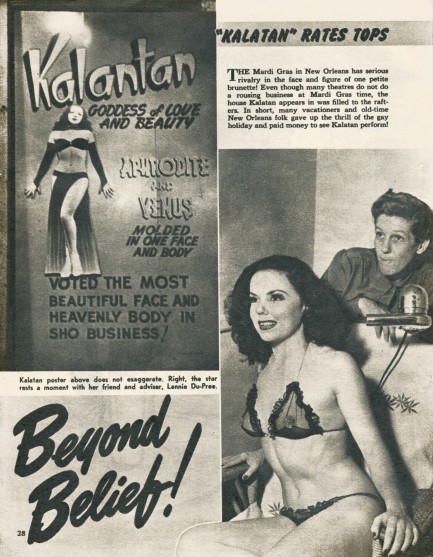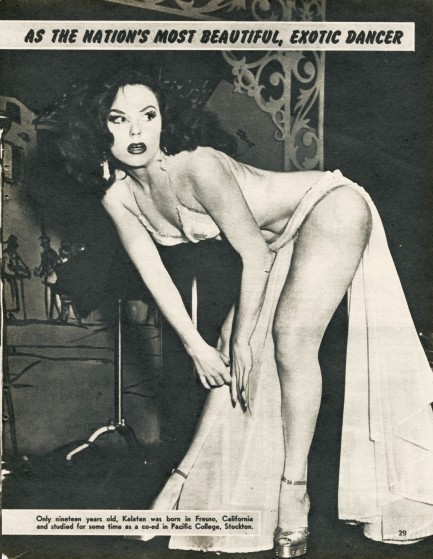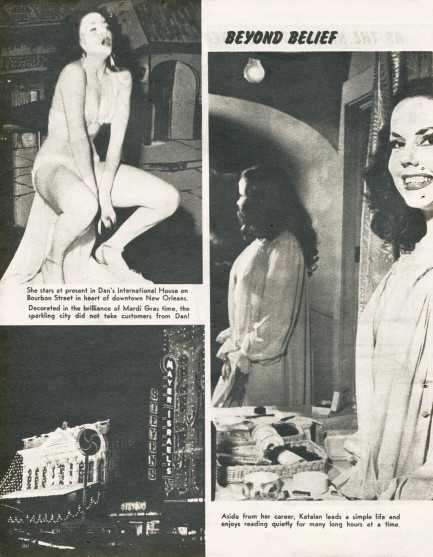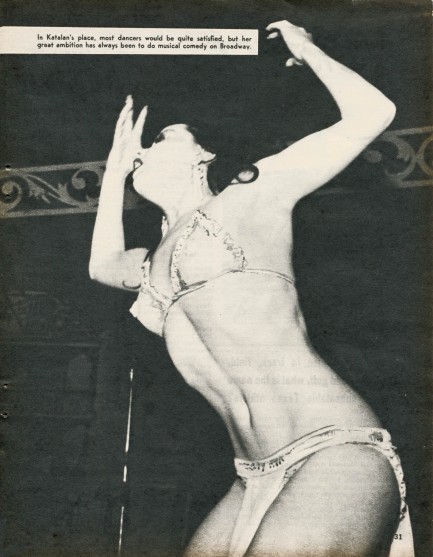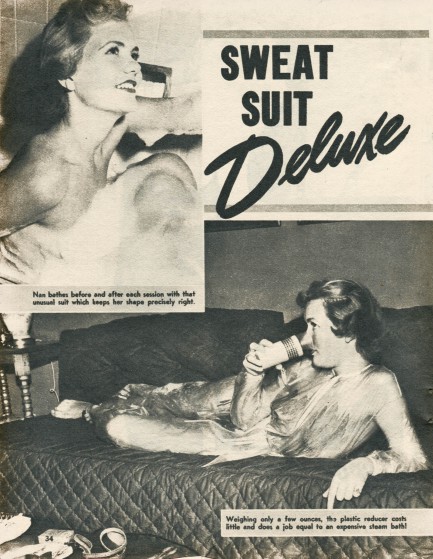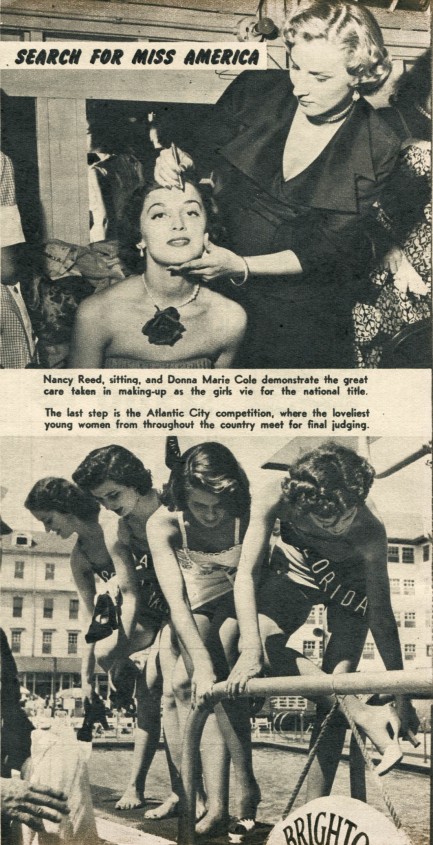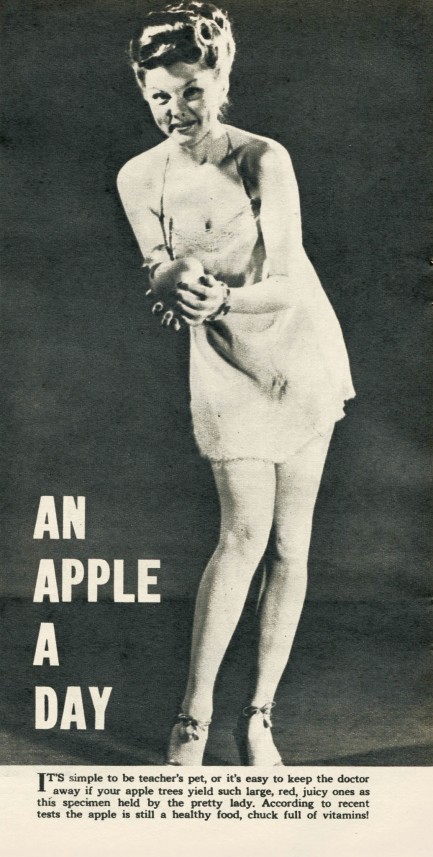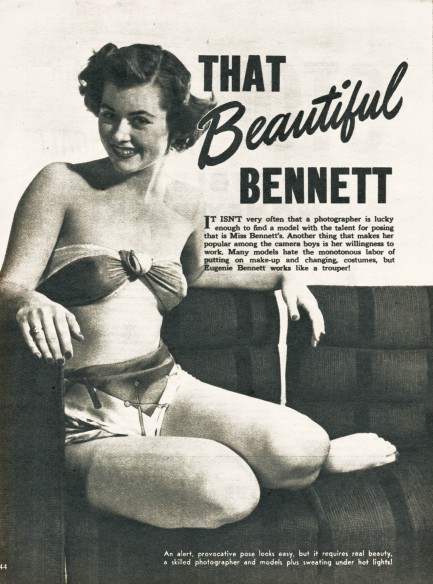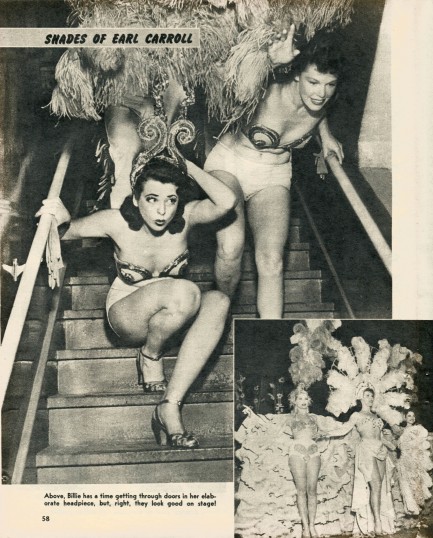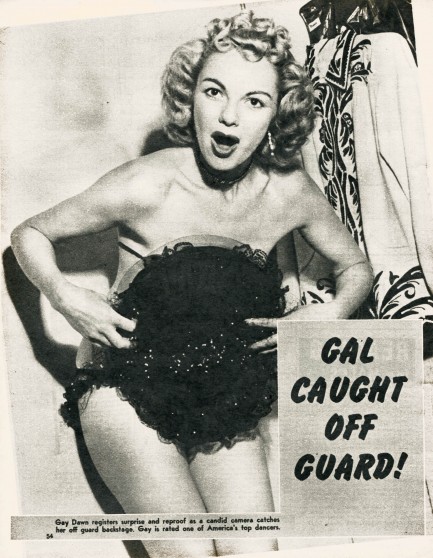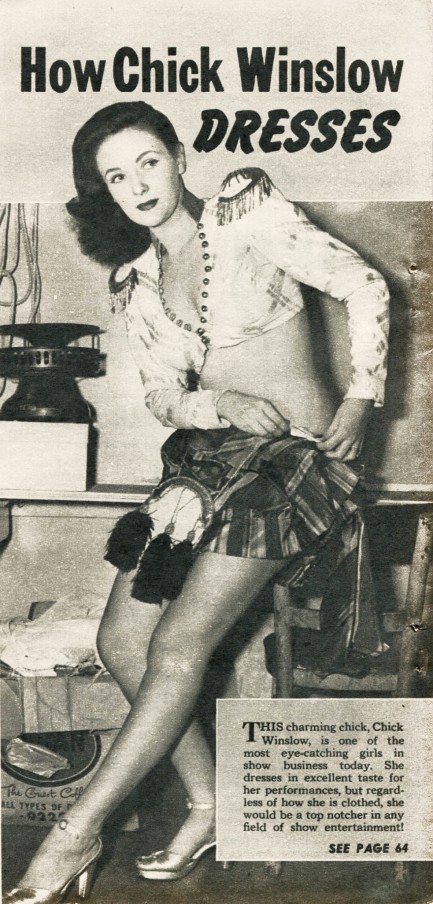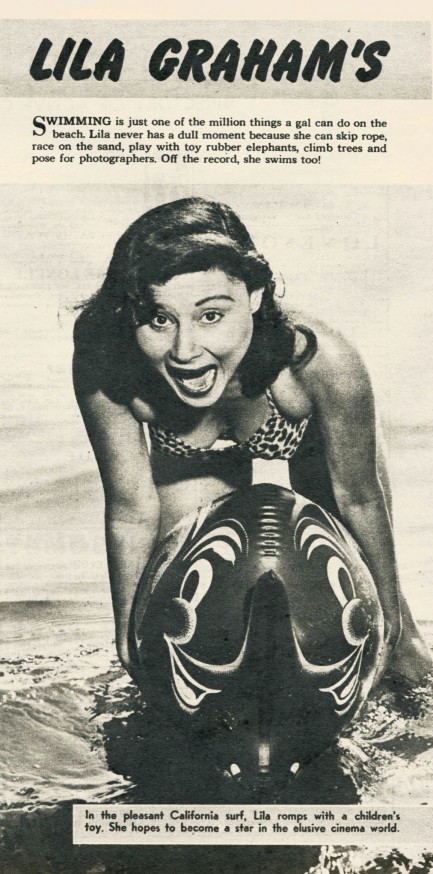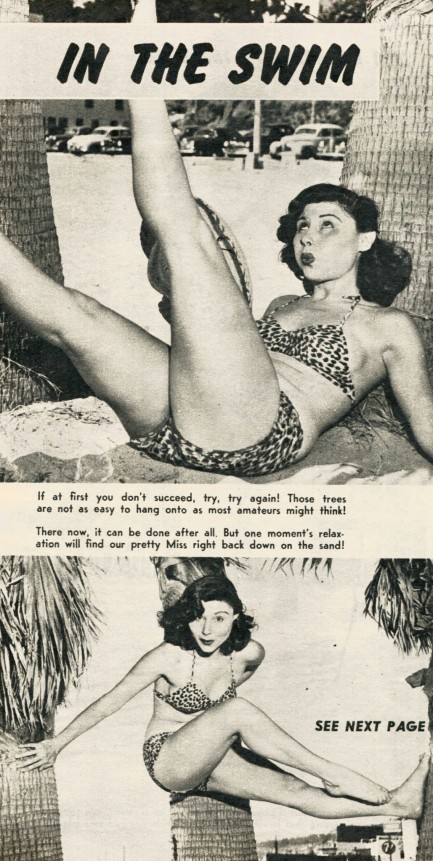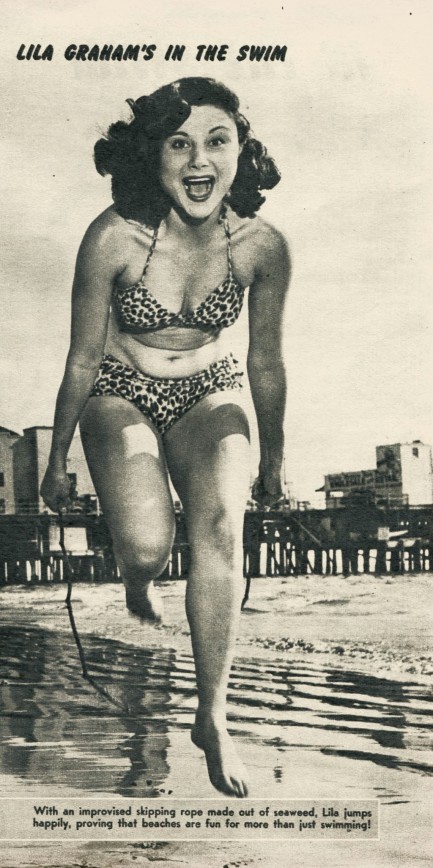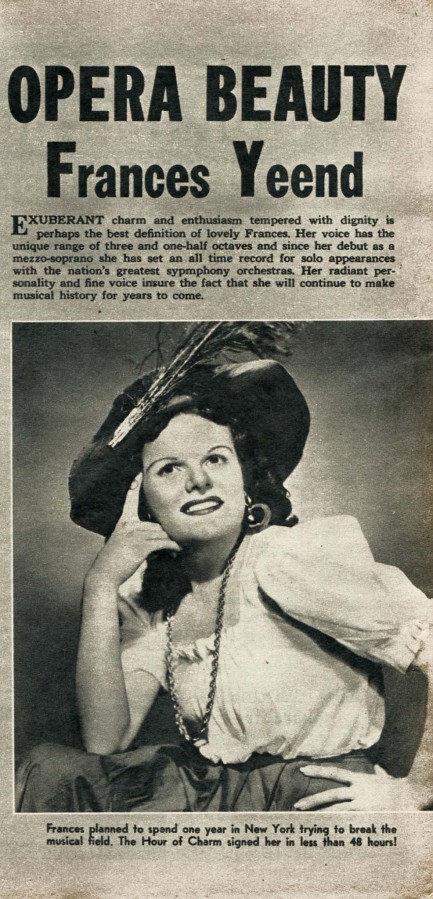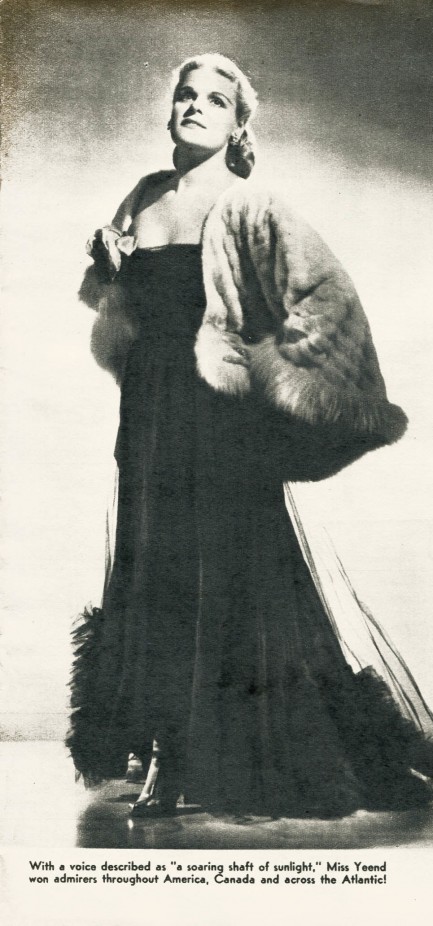 ---
We'd like to offer our St. Cyr appreciation.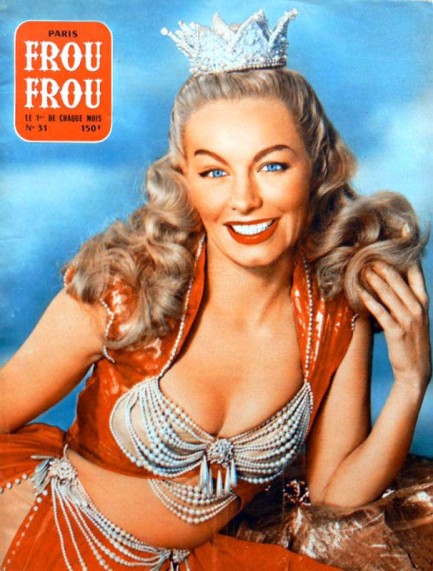 We found this issue of the magazine Paris Frou Frou with cover star Lili St. Cyr, always lovely but wearing a crown this time, which is a fitting accessory for one of the queens of burlesque. The issue was incomplete, but below are a few interior pages, including one with the semi-famous 1950s dancer who billed herself as Miss Kalantan, as well as shots of Kirk Douglas and Elsa Martinelli. Also mixed in were some clippings from a second issue of Paris Frou Frou, and we've added those pages too. All the images date from the mid-1950s.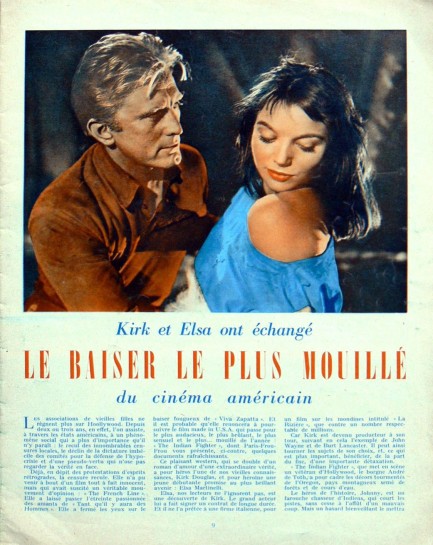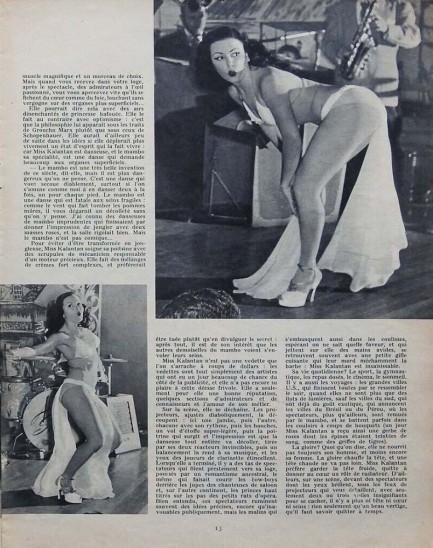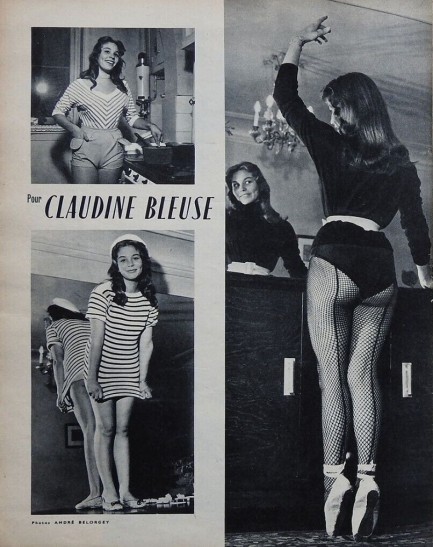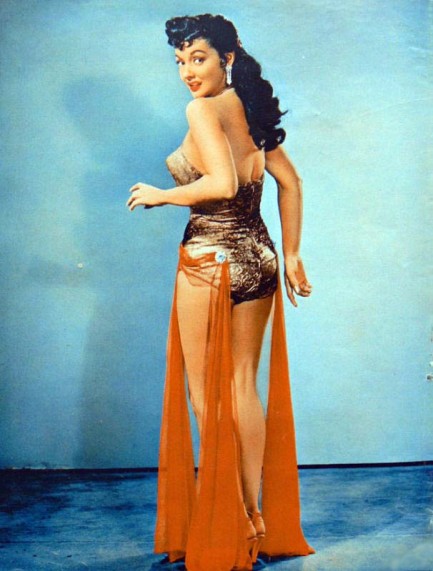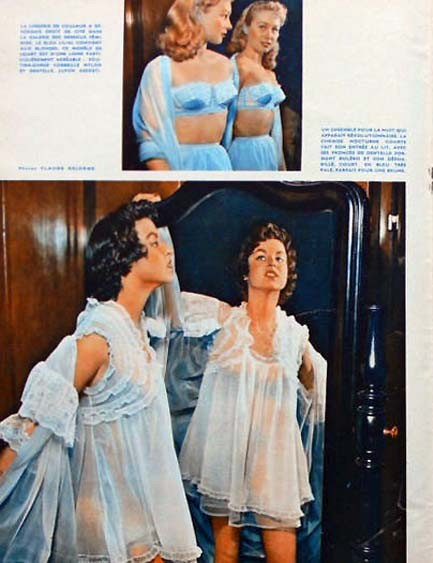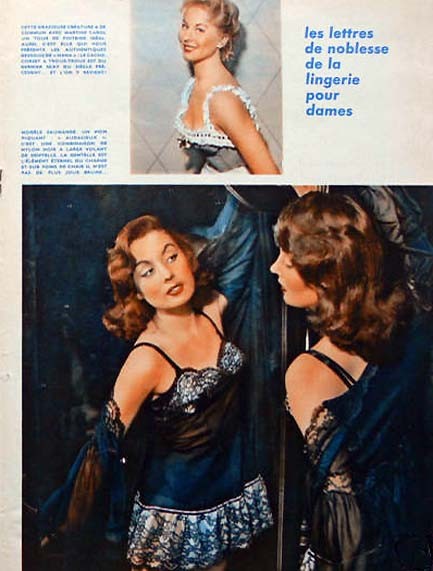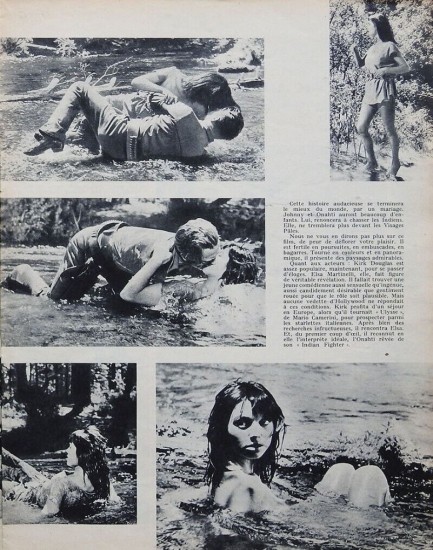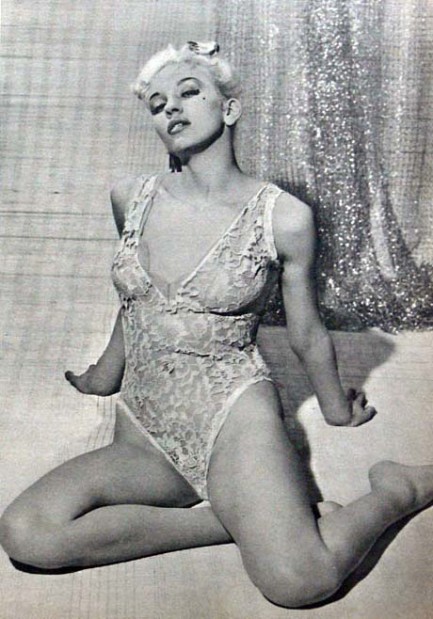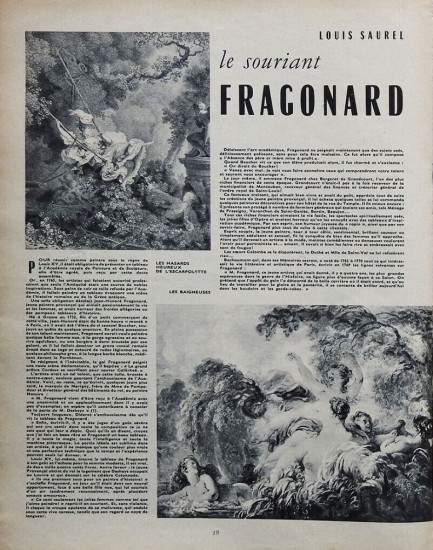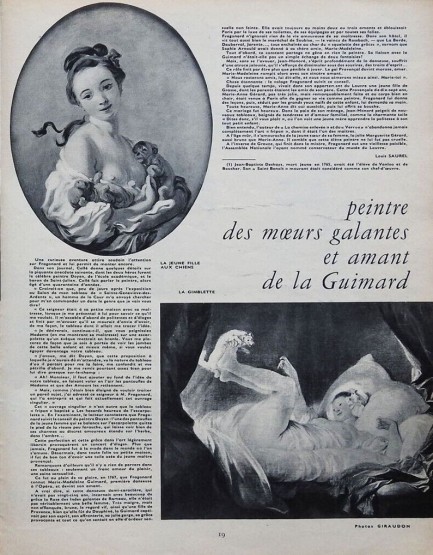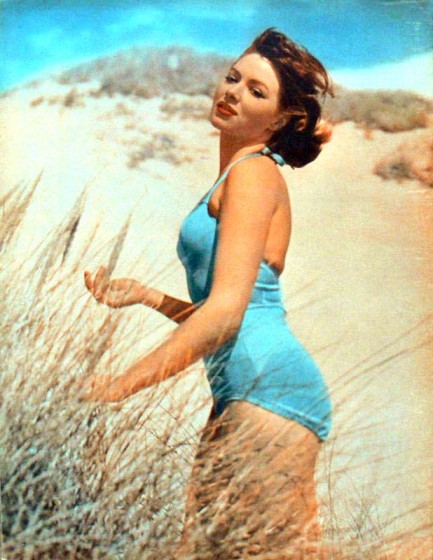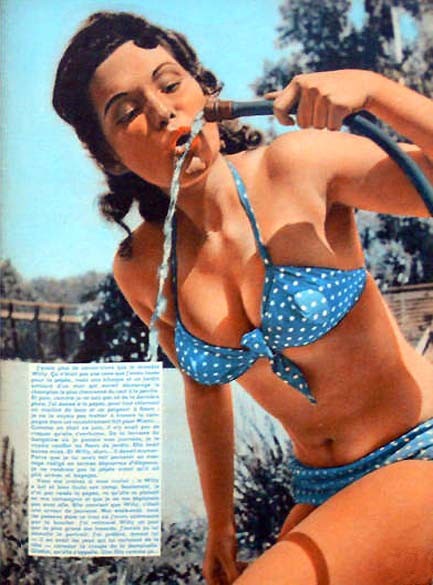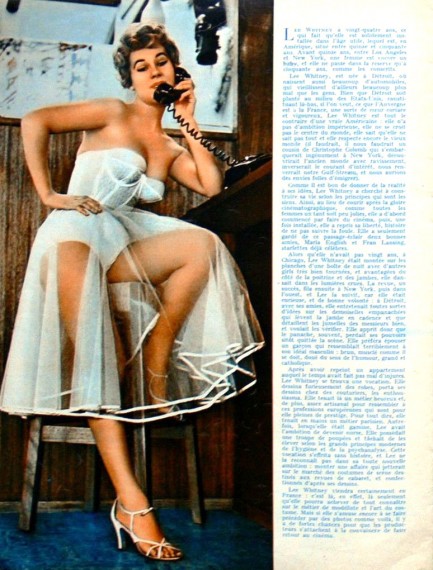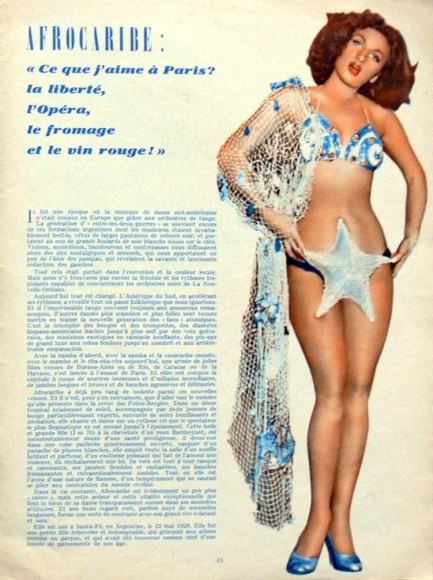 ---