Hah hah, don't worry about my gun. Worry about my mood.
Above, a photo of German actress and dancer Taina Béryl, aka Taina Beryll, aka Tayna Beryll, happily playing with a sidearm, which given a choice is better than her unhappily playing with it. Her name is often spelled "Tania" around the internet but that's incorrect. As a dancer Taina-not-Tania Béryl performed at the Teatro San Carlo in Naples, and in cinema was seen in such productions as Une blonde comme ça, L'inconnue de Hong Kong, and Berlin, cites with los Espias. 1963 on the image.
---
It sounds nice but it isn't all it's cracked up to be.
A couple of days ago we did a post of Mexican film magazines and basically, we knew none of the cover stars. But we were curious, especially about the interestingly named Viviane Romance, and decided to dig a bit more deeply. Born Pauline Arlette Ortmans in France in 1912, her career began in 1925 at age thirteen, when she danced at the Sarah Bernhardt Theatre in Paris. The next year she scored a spot as a Moulin Rouge dancer, and at sixteen moved on to dance at the famed Bal Tabarin nightclub. At eighteen she entered and won the Miss Paris pageant but was stripped of her title when she was found to be pregnant.
This loss of her crown, while doubtless dismaying for Romance, also generated public recognition that she parlayed into a film role in 1935's Princess Tam Tam, in which starred American dancer Josephine Baker. In 1936's La belle équipe, she played the role of a young woman who destroyed the friendship of co-stars Jean Gabin and Charles Vanel. The film was a hit, and a series of bad girl roles followed in Naples au baiser de feu, La Maison du Matais, Prisons de femmes and Le puritain. She had become one of cinema's first femmes fatales.
When the German army swept into France in May 1940, Romance found herself caught in a dilemma. The Nazis were eager to create a veneer of normalcy. That meant they were willing to allow the French film industry to function, though under the auspices of their Propagandastaffe, which would censor any content deemed disrespectful or harmful toward Germany. Faced with the choice of working for the Nazis or retiring—which might not have been allowed without serious consequences—Romance chose to continue performing, and starred in Vénus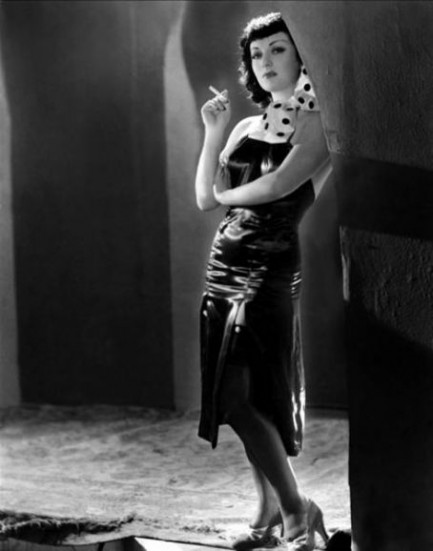 aveugle, Feu sacre, Une femme dans la nuit, and Cartacalha, reine des gitans. In the last, she sang the hit song "Chanson gitane (Sur la route qui va)."
It's worth pointing out that Romance wasn't alone in her decision to perform for the Nazis. Many of France's top stars, including Danielle Darrieux, Junie Astor, René Dary, Suzy Delair, Albert Préjean and others did the same. In select instances, some type of pressure was brought to bear. For instance, in Darrieux's case, the Nazis had imprisoned her husband Porfirio Rubirosa, and her acting was the price for his freedom. At the same time, it should also be noted that many French actors made the choice to ignore the plight of their Jewish compatriots. The Germans banned Jews from any participation in cinema, and the workers who remained were required to carry cards affirming their non-Jewishness. Thus while the genocidal extent of Nazi plans may not have been crystal clear to some actors, the intent to—at a minimum—erase Jews from public life was certainly no secret.
But Romance and others performed anyway. And of course, giving the Nazis an inch meant they would take a mile. Ever vigilant for propaganda opportunities, party officials pressured Romance, Darrieux and the other actors into traveling to Germany for a highly publicized visit to several Berlin film studios. Newspapers and newsreels touted the appearances in a blatant attempt to burnish the Nazis artistic bona fides. For the segment of French citizenry opposed to the occupation, the actors had crossed the line. It was one thing to continue working—everyone needed to do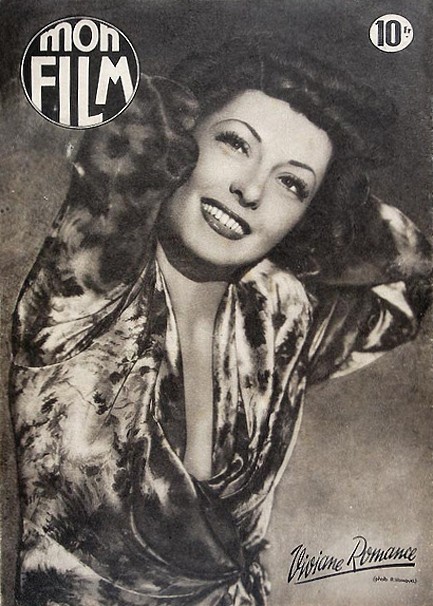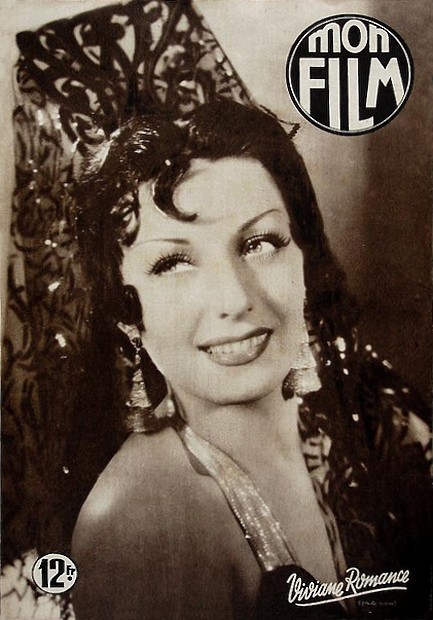 that. But to allow themselves to be used to legitimize the Nazi agenda was an entirely different story. When the Germans were finally expelled from France in 1944, Romance was thrown in jail. We don't have much information about this event. We can only say she was eventually forgiven—officially at least—for what many perceived as her feeble level of the resistance to the Nazis.
After the war, Romance immersed herself in work, making eight movies in the next three-plus years. In 1949 she played the role of Bella in the film Maya, for which you see the promo art at top. Her performance was lavishly reviewed—she was the toast of Paris again. Romance worked steadily through the next decade until her star began to dim in the early 1960s. She grappled with financial difficulty in the mid-1960s, and at one point had to sell off her possessions to survive. She made her last film, Nada, in 1974, and died in 1991 in Nice, on France's Côte d'Azur, at age seventy-nine.
It would be journalistically tidy to write that Viviane Romance lived a life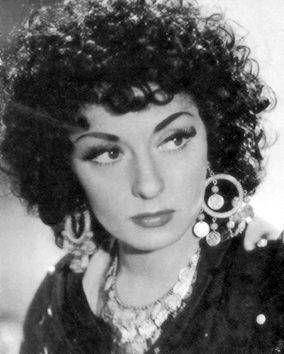 that somehow embodied her stage surname, but it would also be glib and untrue. The scandal of unwed motherhood, the climb up the ladder while still just a teenager, the shadow of Nazism over the prime of her career, her stint behind bars—none of it can be romanticized. Nor can her three failed marriages. If anything, Romance was like the narrator of the song she once memorably performed, "Chanson gitane." That woman was strong enough to pass "with a noise of horses" but fragile as "a shiver of tinsel." Ultimately Romance's story mirrors that of many women who survived dangerous times. They had to be tough, smart, and pragmatic—then when order returned they had to be judged on their failings and hope for forgiveness.
---
If sex sells, pretending sex is bad sells even better.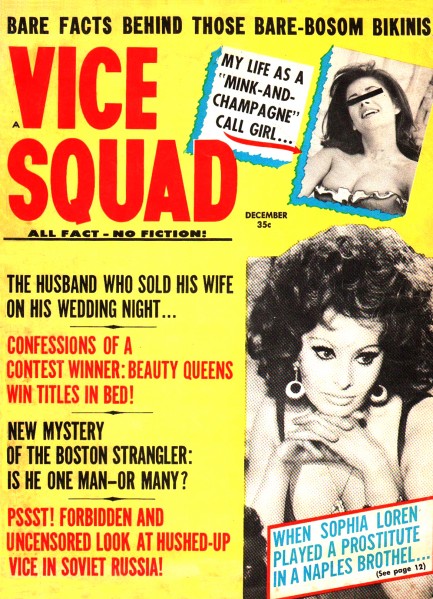 Here's another Vice Squad

magazine, published this month in 1964, with cover star Sophia Loren and several other interesting offerings. You'll notice the banner about bare-bosom bikinis. Believe it or not, back in the mid-sixties bikini evolution reached a point where bras vanished entirely. The most famous of these suits were known as topless Maillots, and

Vice Squad

breathlessly claimed they were popular with liberated young women on the beaches of Saint Tropez. As far as their popularity Stateside, we weren't around yet, so we can't say with certainty whether they were widely worn. However, we did find a 1964 photo at bikiniscience
of a brave Chicago woman named Toni Lee Shelley being hustled away by a local cop after wearing a topless Maillot on North
Beach. Interesting, isn't it, that the same thing would probably happen today, half a century later? (At Pulp we tend to snicker about this, because on our beaches many sunbathers go entirely nude—and we wish most of them would cover up).
Anyway, the leering tone of Vice Squad's text (along with censored pix) was designed to inflame the magazine's mainly conservative readers while giving them involuntary stirrings in the pants. Imagine thousands of Archie Bunkers getting heated up over the magazine's scandalous contents, slamming it down in disgust, then sneaking a closer look after the missus had gone to bed. The same formula is at work in the stories about beauty queens, the "mink and champagne girl," and Sophia Loren, who is pictured here in her film Leri, oggi, domani, aka, Yesterday, Today and Tomorrow.
Loren was always dogged by rumors that she turned to prostitution briefly during the dismal post-war years in Naples, when she was a teenager. The Vice Squad story, while not going that far, certainly suggests that Loren was a bit of a wild child. We can't say if she was ever a member of the world's oldest profession, but we can definitely say Vice Squad editors were experts at another ancient endeavor—spreading vicious rumors. That said, if any proof exists that the great Sophia Loren was a lady of the night, we'd pay to see it. How does fifty bucks sound?


---