The shot heard 'round Japan.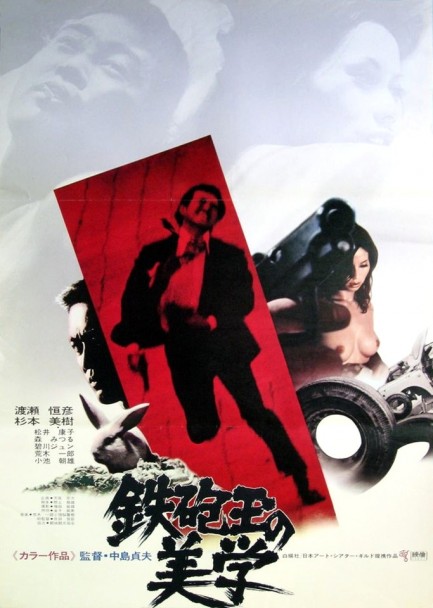 This unusual poster was made to promote a film called Teppôdama no bigaku, known in English by the cool title Aesthetics of a Bullet. The movie came from Art Theatre Guild, or ATG, producers of films in the loose category known as Japanese New Wave, meaning to take a new approach to filmmaking by rejecting traditional ideas and techniques. This one was directed by Sadao Nakajima and stars Tsunehiko Watase as a hot-headed two-bit hustler named Kiyoshi who tries numerous schemes to get ahead, including being a chef, gambling, and breeding rabbits. He fails at all of them, and he's desperate for a break.
When he's given a job by a local yakuza cartel known as Tenyu Group, he quickly learns about the power of a gun. With it he can command others, make them fear and respect him, make them literally kneel. With this gun his sense of self worth is first restored, then inflated. He caresses it, brandishes it, polishes it, treats it better than even the women he lusts for, and the gun confirms that he's superior to others. And once he feels superior he becomes—not to put too fine a point on it—a total asshole. He's actually an abusive chump even before the gun, but the weapon fully unleashes his destructive, hyper-masculine impulses.
The things he does are too ridiculously stupid to get into. Suffice it to say that even for a regular guy these would lead to trouble, but he's Tenyu Group's thug-at-large, which means his erratic behavior and explosive anger offends the other crime bosses. Pretty soon he discovers that he's torn a dangerous rift in the yakuza network. But what Kiyoshi doesn't know—which the audience does from the beginning—is that Tenyu Group hired him in the first place precisely because he's a disruptive fuck-up. Their theory was always that he would spark a gang war. All he has to do is fire that beloved gun once and Tenyu Group will have the excuse it needs.
Aesthetics of a Bullet is obscure, so we knew nothing about it, but we liked it. It's concise, has a strong point of view, and a good supporting cast that includes Miki Sugimoto and Mitsuru Mori. Its only flaw—perhaps unavoidable—is that the lead character is such a misanthropic troublemaker that we could barely tolerate watching him. But we guess that's where the whole rejecting traditional filmmaking comes in. Who needs a likeable or even sympathetic lead? Real life is more complicated than that, and Kiyoshi's fictional life gets plenty complicated too. Even if you can't root for him, at least he won't bore you, and neither will the movie. Aesthetics of a Bullet premiered in Japan today in 1973.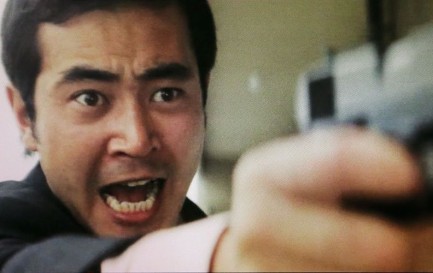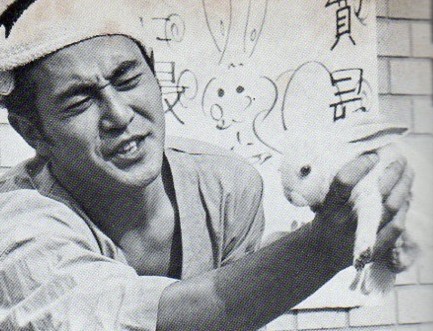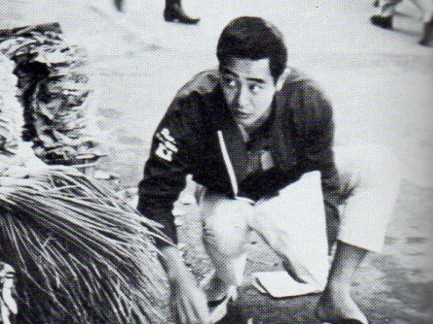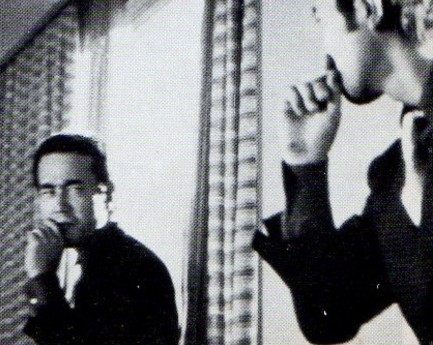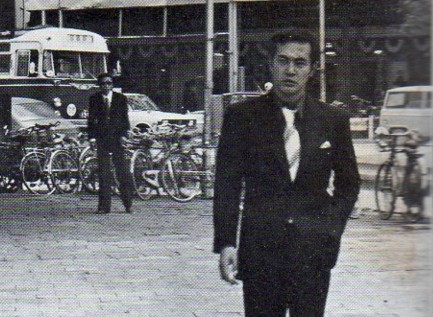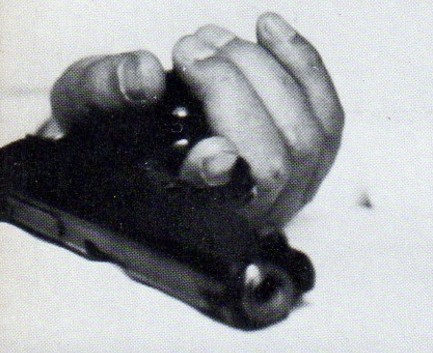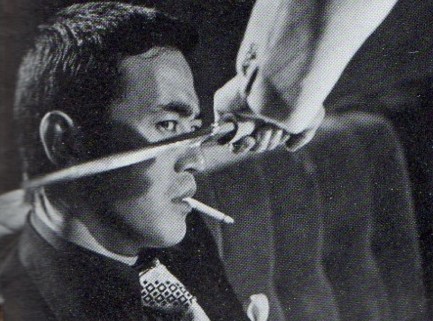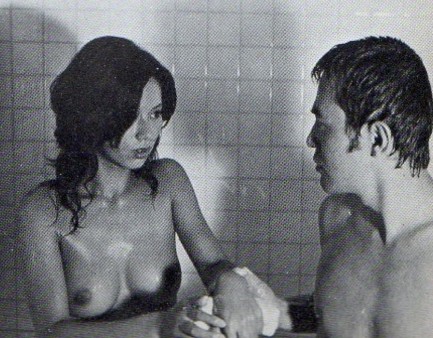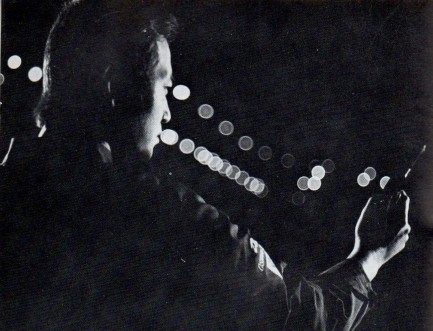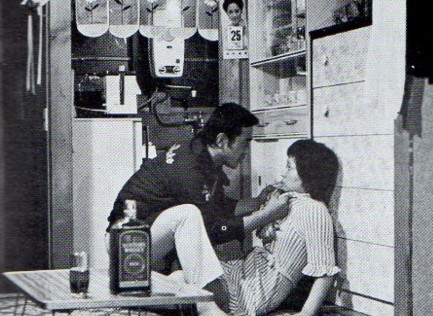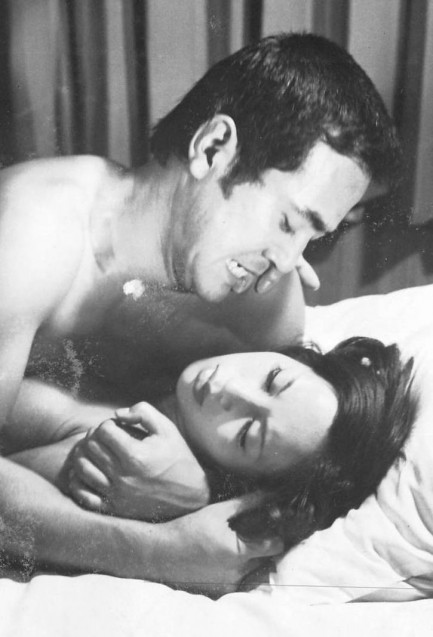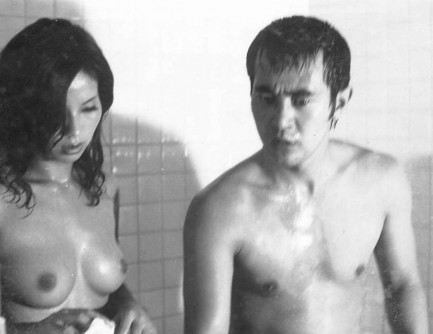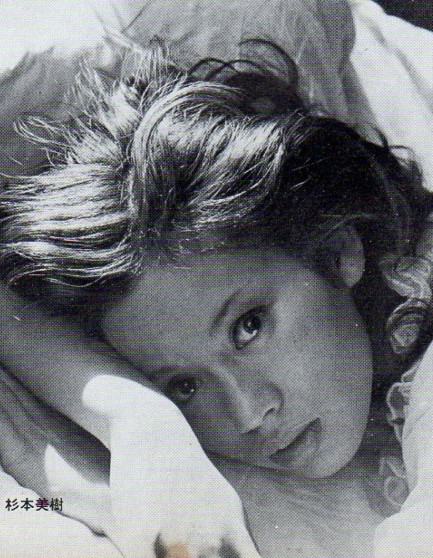 ---
Don't let the title fool you—this flick goes practically nowhere.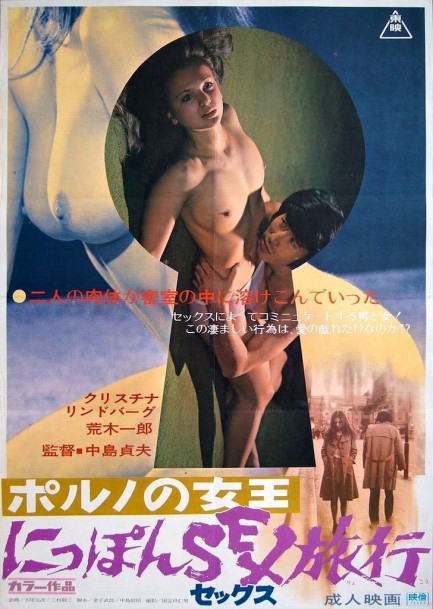 One of the elements we like about pinku films—aside from the action, the visuals, and the glimpse into a culture not our own—is that the women who have suffered all sorts of degradations at the hands of men inevitably massacre their tormentors in the last reel. When that doesn't happen, we're cheated of the final catharsis, which makes us party to the abuse rather than cheerleaders for the abused's emancipation. We don't need to be shown that the world is cruel—we just want to see something done about it, if only in the realm of violent fantasy.
Thus Sadao Nakajima's Poruno no joô: Nippon sex ryokô, aka The Pornstar Travels Around Japan, aka The Kyoto Connection doesn't quite deliver for us. It's a rather simple film, and it has nothing to do with traveling around. Quite the opposite, actually. The porn star in question is held captive in a room most of the movie and repeatedly abused by a rather disturbed taxi driver for whom she eventually develops feelings. Psychologists, so we hear, call this sort of emotional inversion Stockholm Syndrome. We call it a letdown, even though we understand there's an attempt to make a serious point here.
At least the movie has Christina Lindberg in the title role, so that's a substantial silver lining. The poster above is one you can find on many websites, but we suspect only we have the rare two-panel version below. Too bad the printers produced such a shitty image. We can only assume that upon seeing a nude Christina Lindberg, they printed the posters one-handed while abusing themselves. Poruno no joô: Nippon sex ryokô, aka The Pornstar Travels Around Japan opened in Japan today in 1973.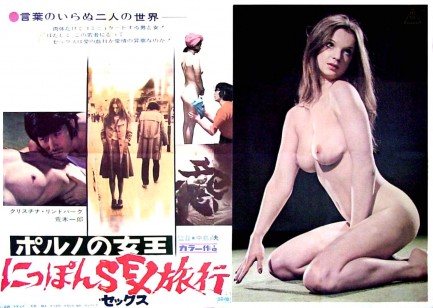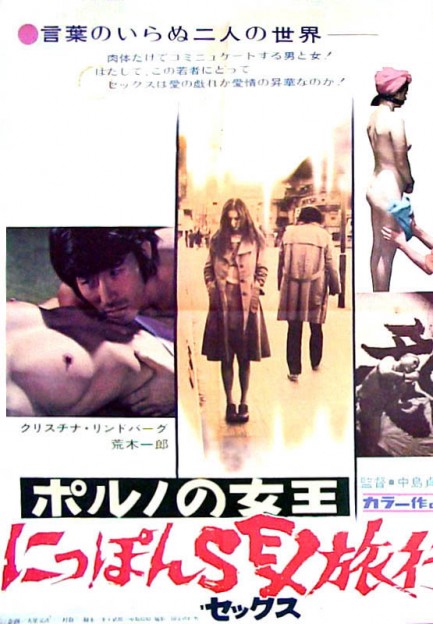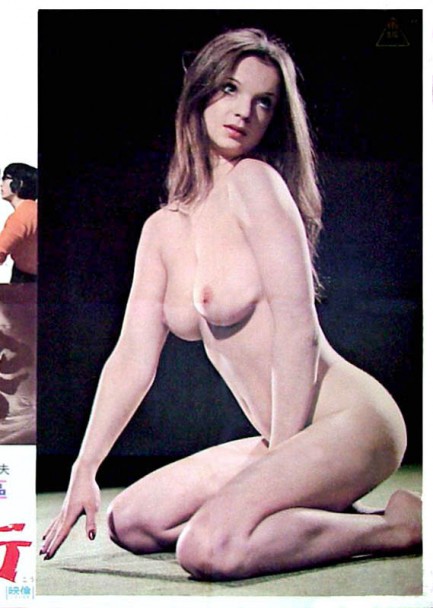 ---