Rumors spread, gossip revealed, scandals shared.
We're back to The National Police Gazette with an issue published this month in 1963. The cover is given to Jolanda Addolori and Anthony Quinn, who were unmarried but had a child together, a real no-no for the time period, particularly when you already have a wife and four children, as Quinn did. His wife was actress Katherine DeMille, who was most active during the 1930s, before devoting time to motherhood. Quinn eventually divorced her and married Addolori in 1966. Elsewhere in the issue you see Bobby Darin and Sandra Dee, get nice photos of Grazia Buccella and Veronique Vendell, and learn about the ring prowess of Sonny Liston and Max Schmeling. You can see many more Gazettes at our tabloid index located here.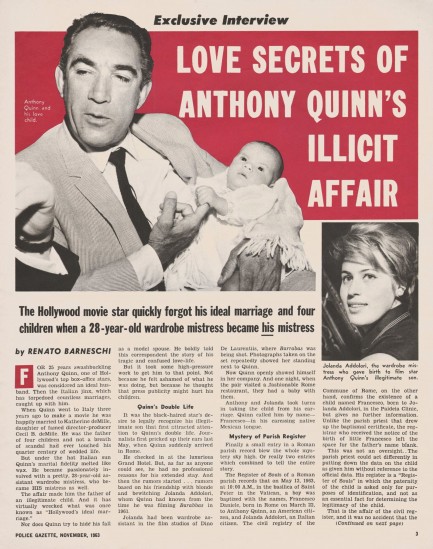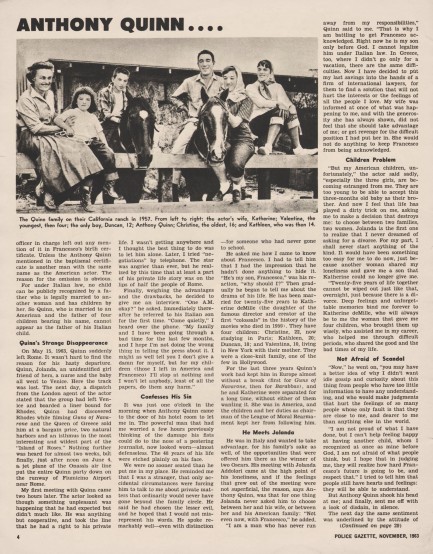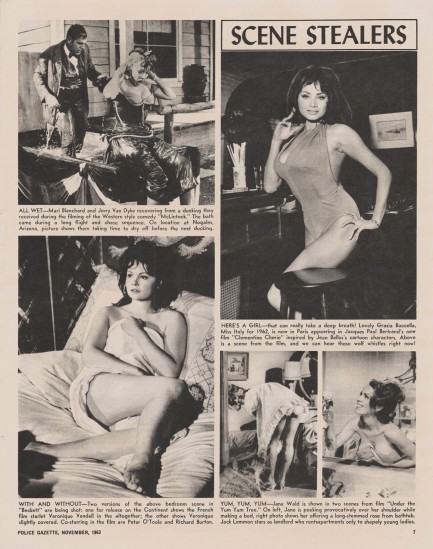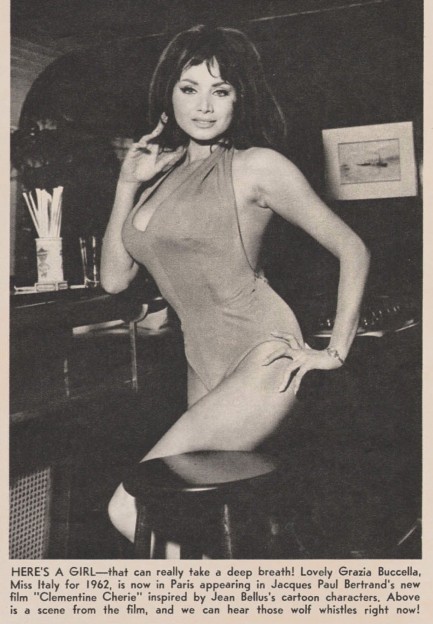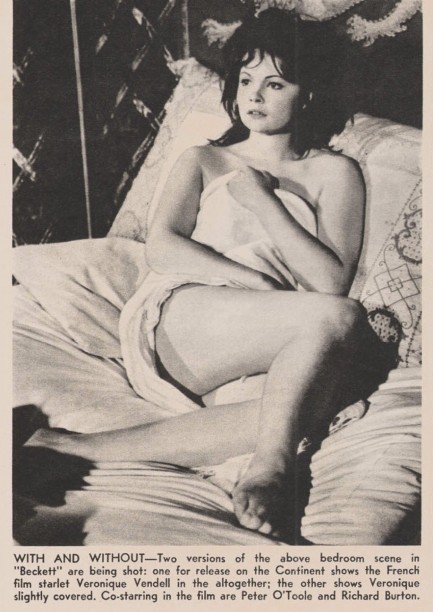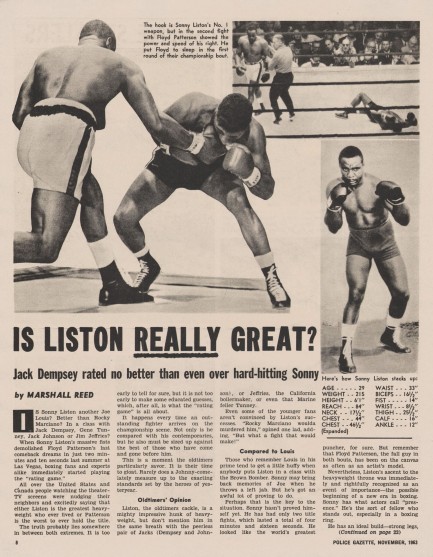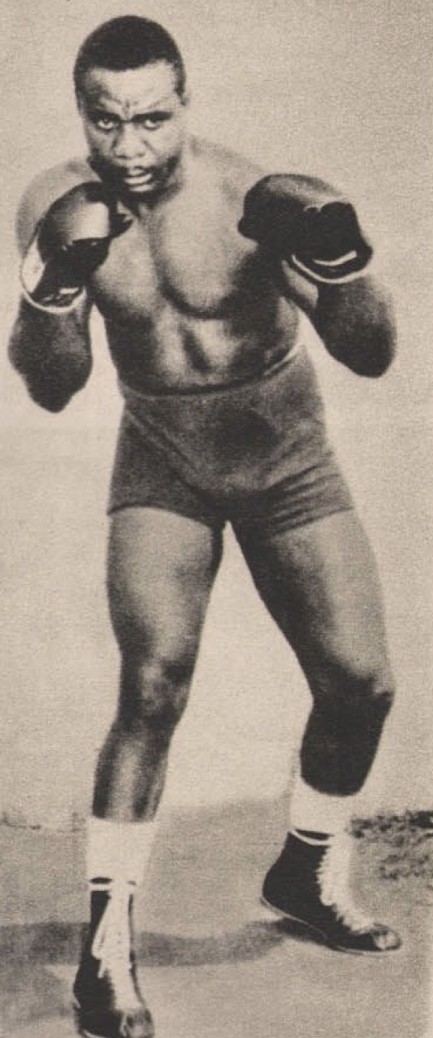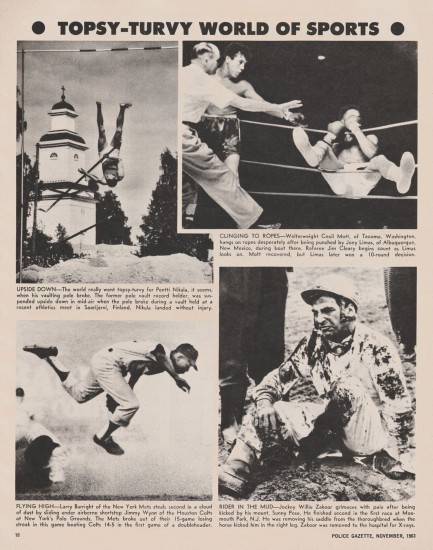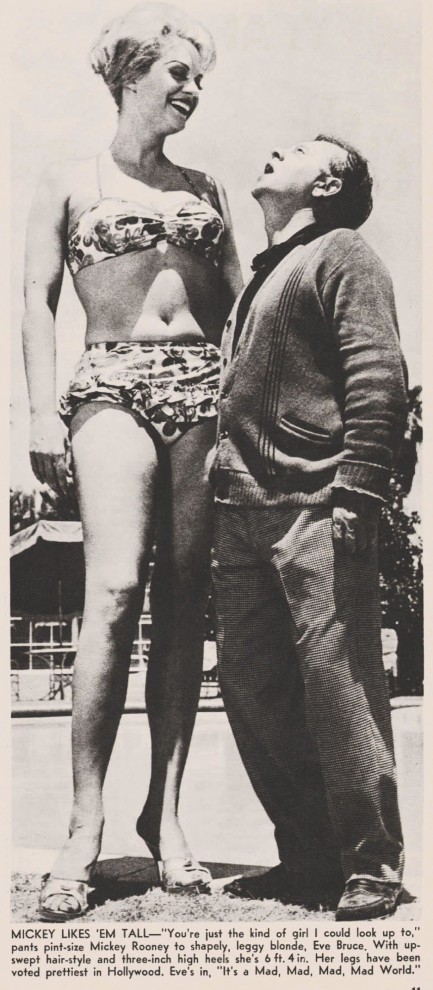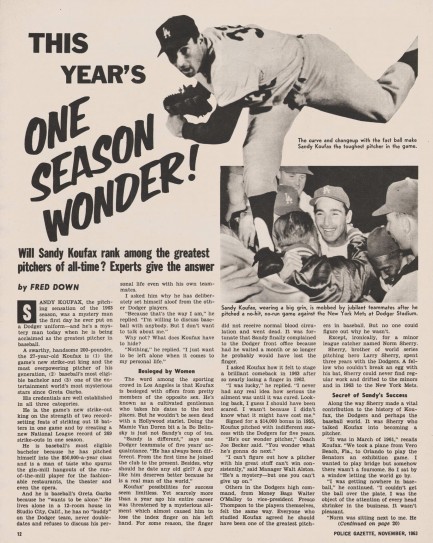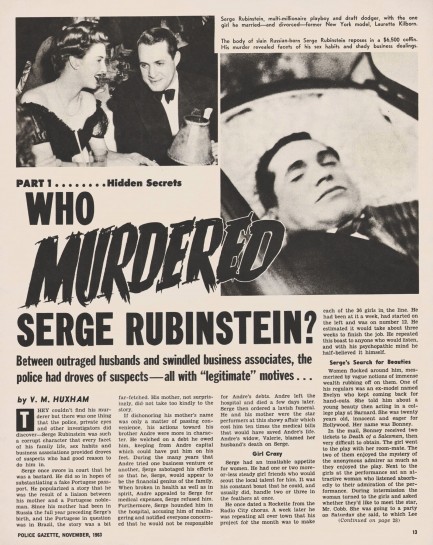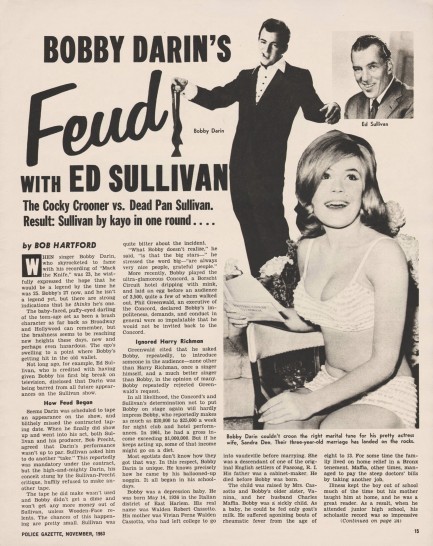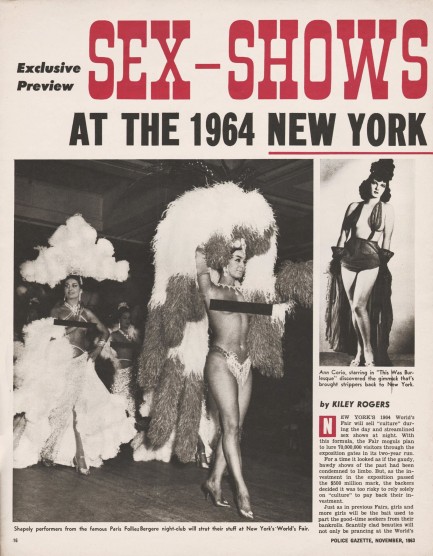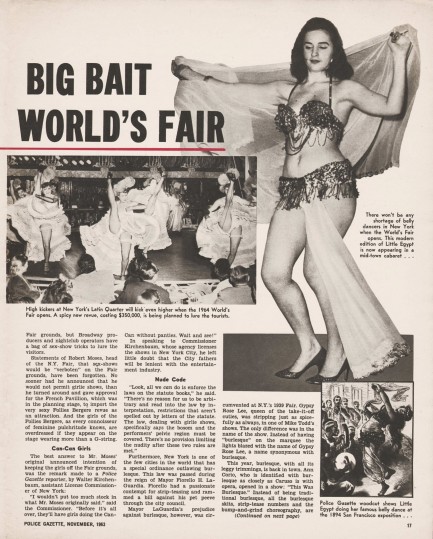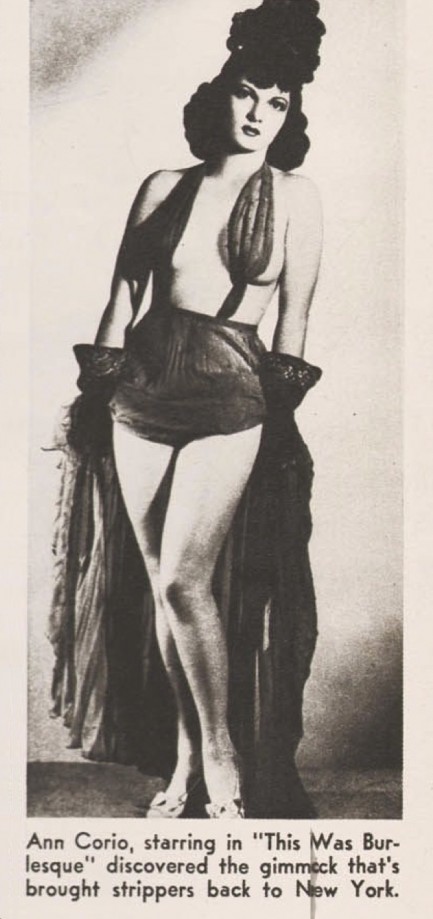 ---
Skating on thin ice.
Rave, for which you see a cover above, was a low budget U.S.-based magazine that launched in 1953 as a celeb publication, quickly moved into scandal and gossip, but didn't survive beyond 1956, as far as we can tell. The graphic design was revamped twice, and so we suspect it just never found its niche in a crowded tabloid market. But it wasn't for lack of providing celebrity rumormongers what they craved. This August 1955 issue discusses Serge Rubinstein's murder, Anita Ekberg's bombshell status, Jackie Gleason and more, but of special note are two stories: one about Sonja Henie, and another about Sheree North.
Sheree North, not well known today, was a dancer-turned-actress who in the mid-1950s was groomed (like so many other women) as the next Marilyn Monroe. She even made the cover of Life with the caption: "Sheree North Takes Over from Marilyn Monroe." But it didn't happen. Though North had a couple of hit films, her on-deck status was quickly usurped by another bottled blonde named Jayne Mansfield. North had done some burlesque early in her career, and Rave claims she had a few stag reels floating around. We don't know about that, but there was a 1951 clip called the "Tiger Dance" that certainly pushed the bounds of contemporary sexiness. We found an upload of it, and you can see it here.
The story on Sonja Henie is a bit more interesting. A Norwegian-born world and Olympic champion figure skater, Henie shot to international fame at age fourteen and turned that recognition into a Hollywood career. She became extremely popular as a screen star, and the same drive that sparked that success fueled her personal life. She married three times and had numerous affairs, including with Tyrone Power and allegedly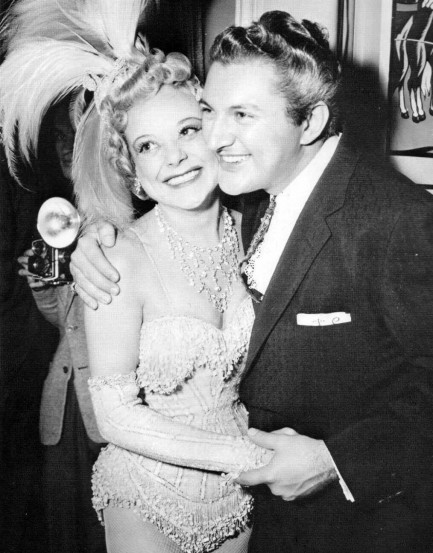 with champion boxer Joe Louis. But the mystery man Rave hints at on its cover is none other than piano player Liberace, just above. If you know anything about Liberace then you know his dates with Henie were just for show. But as a gay or bi celebrity—and both were designations he denied until his dying day—dating women would have been a completely understandable strategy to avoid being outed by the time's vicious tabloids and losing his musical career.
Henie, on the other hand, rarely let controversy get in the way of her decisions if she thought the result would ultimately be a net gain. This is possibly why she publicly greeted Adolf Hitler with a Nazi salute at a Berlin exposition in 1936, and why she sought Joseph Goebbels' help in distributing one of her films in Germany. Yet you have to assume that anyone who would hang out with and possibly sleep with Joe Louis didn't have rock solid racist views. But as millions died, her behavior can only be seen as shameful. However she returned to Norway with Holiday on Ice in 1953 and again the year Rave published the above cover and was warmly greeted, if not quite totally forgiven. Henie died of cancer in 1969, but as another fascinating product of a complex time, we suspect her name will come up on this website again.
---
Crime Detective had a lot of questions about Serge Rubinstein's murder, but no answers.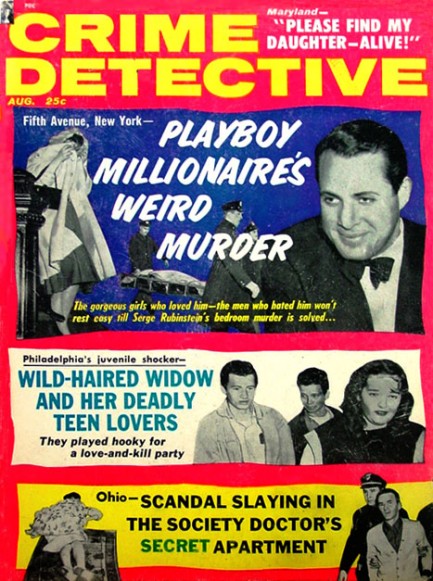 The detective magazine business used to be booming. We've already discussed or shown you covers for True Detective, Official Detective, Inside Detective, Front Page Detective, Master Detective

and

Confidential Detective

. Today we have yet another entry in the genre—

Crime Detective

. This issue is from August 1962, and it has a story on the treacherous Serge Rubinstein—financier, crook, blackmailer, two-timer, and victim of murder back in 1955. Why did he make the cover seven years after his death? Because the crime was never solved, and it remains one of the most famous unsolved killings in New York history.
Rubinstein was Napoleonic in size and ambition. He sought wealth and believed rules applied to everyone except him. He was a swindler nonpareil, and though many people suspected this, he had the requisite veneer of manners and the requisite pocketful of cash to blend with the upper crust. He was a draft dodger, like so many of the ultra-wealthy. But when it came to fighting women, he was a real tough guy—he beat his first wife unconscious and ripped off her clothes. But he kept the ugliness and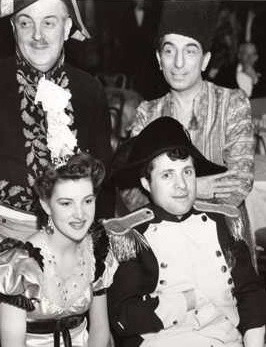 violent tendencies hidden, and used his money to attract socialites who ordinarily would have assumed he was the coat check boy. He always dated several models at once, yet insisted on fidelity from all of them. He bugged their apartments to be sure they complied. In summation, Serge Rubinstein—who you see at left dressed as Napoleon—was a bad guy.
No surprise, then, that he was eventually found strangled on the floor of his palatial Manhattan flat. Police first believed he'd been tortured for the purpose of revenge or for extracting business secrets. Then they started thinking it was a kidnapping gone wrong. The last person to see Rubinstein alive was one of his girlfriends, Estelle Gardner, but she had left his apartment around 1:30 a.m. Around 2:30 a.m. Rubinstein had called another girlfriend named Patricia Wray, but she had declined his invitation to come over. The apartment was protected by heavy doors and iron bars, which meant a key had been used to gain entry. Rubinstein gave keys to staff and girlfriends. All were questioned and all were cleared. That left about a thousand more suspects, consisting of the cheated, the betrayed, the ruined, and the embarrassed. Serge Rubinstein's bad habits had caught up with him. Not only had they cost him all the things he ever had, including his life—the person who took them away would never be found.


---