A dozen movie stars share the Crown.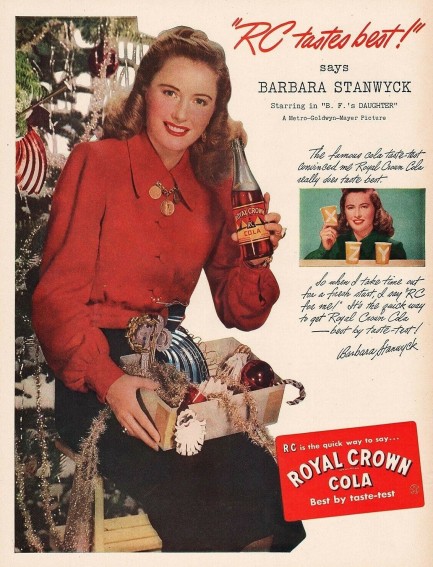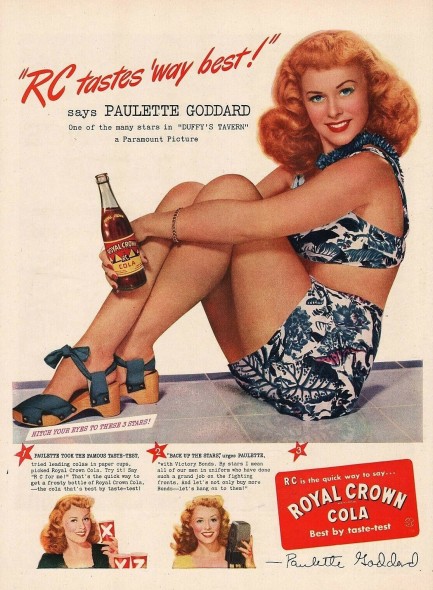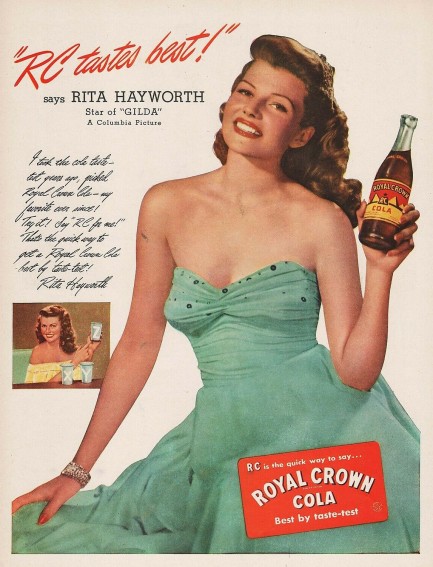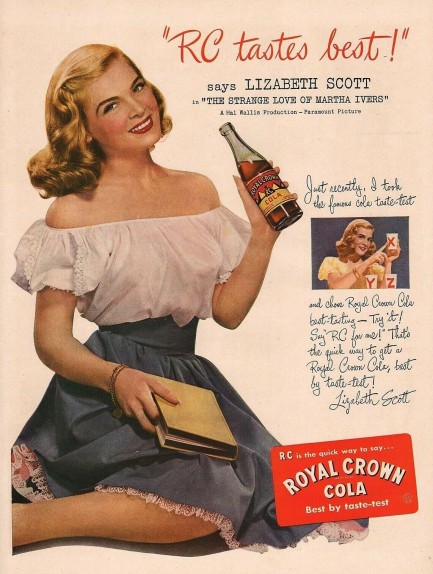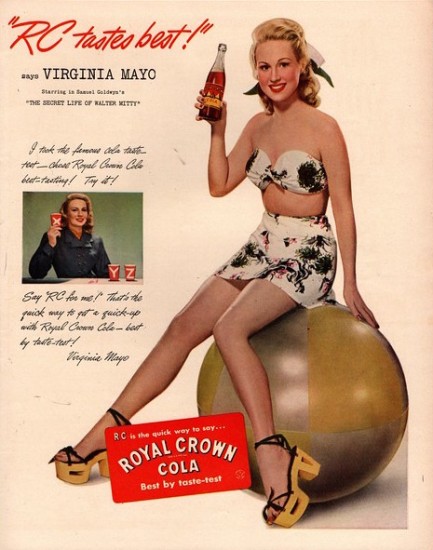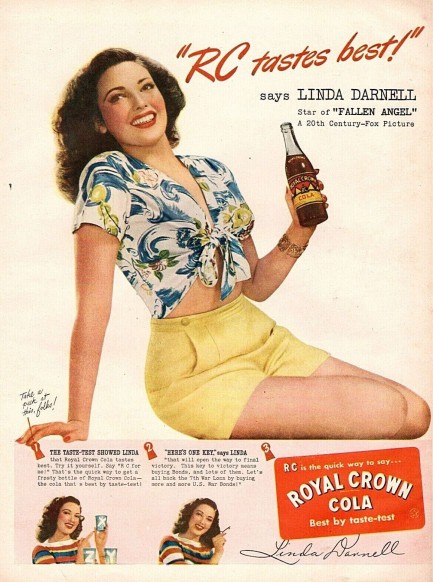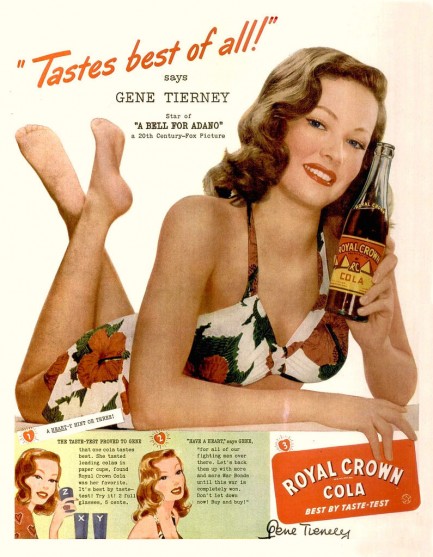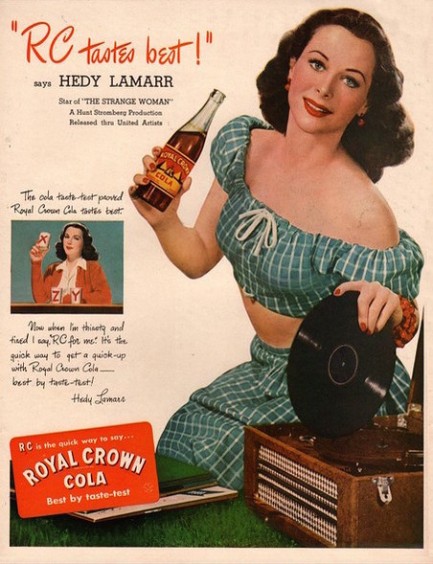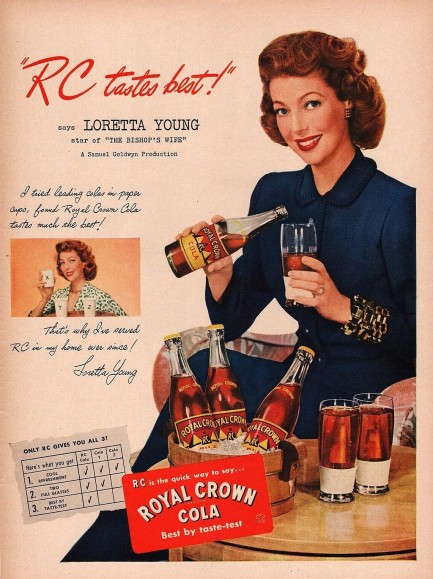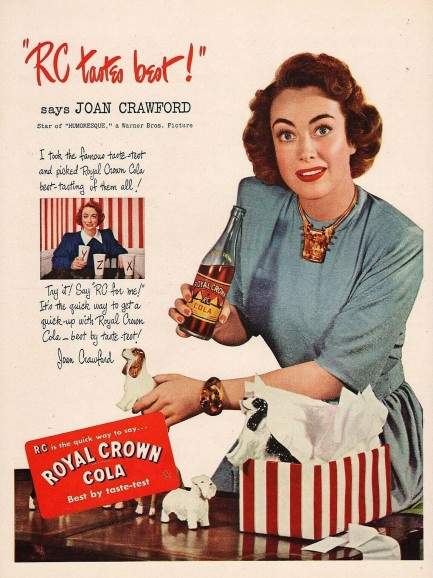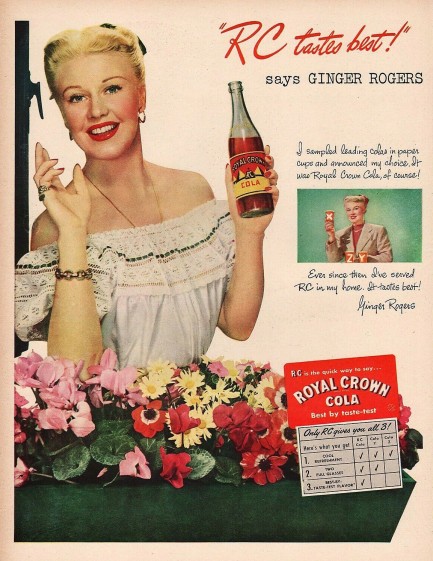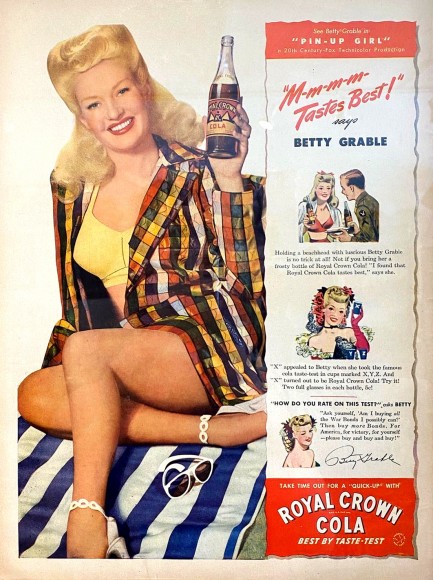 Not long ago we showed you a few Royal Crown Cola print ads featuring Hollywood superstar Lauren Bacall, and mentioned that other celebs had also pitched the brand. That was an understatement. In its efforts to claw away part of Coca Cola's dominant market share, RC signed up an entire stable of top stars, including a-list personalities such as Barbara Stanwyck, Joan Crawford, and Gene Tierney. Above you see a dozen celebrity ads produced by RC. There were others we left out of the group, for example with Sonja Henie, Irene Dunne, Diana Lynn, and even Bing Crosby. But how much cola can you really stand? Twelve is enough for one day.
---
Ice is nice, but harder than water.
British skater and actress Belita, who was born Maria Belita Jepson-Turner, frolics in the pool at the Town House Hotel in Los Angeles for a cover of Life that hit newsstands today in 1945. We've shown you this pool before. A window from a swanky hotel bar known as the Zebra Room provided a view through one wall, which meant patrons could watch swimmers while enjoying cocktails. The hotel put together a group of women called Aqua Maidens who performed swim shows, but Belita was not a Maiden. She was already famous for skating in the 1936 Olympics (though she had finished only sixteenth), and had established a Hollywood career with 1943's Silver Skates and 1944's Lady, Let's Dance. She would also make 1946's Suspense, which was unique for combining skating with film noir.
In addition to being an ace skater Belita was an accomplished dancer, and the Life photos show her demonstrating her underwater ballet skills. She even wears a tutu in a couple of shots. Interestingly, Picture Post, a British Life-like magazine that was considered imitative, had already featured Belita on its cover, also at the Town House, two months earlier on June 16, 1945. Doubtless both sets of photos were from them same session. So in this case Life was the imitator.
Belita wasn't the most famous ice skater in Hollywood during the 1940s—Sonja Henie was a huge star, and Vera Ralston was probably better known as well. That may be one reason why Belita managed only eight or nine films before moving on to other pursuits. She eventually retired to the village of Montpeyroux, France, where she died in 2005 at age eighty-two. But the photos below are eternal.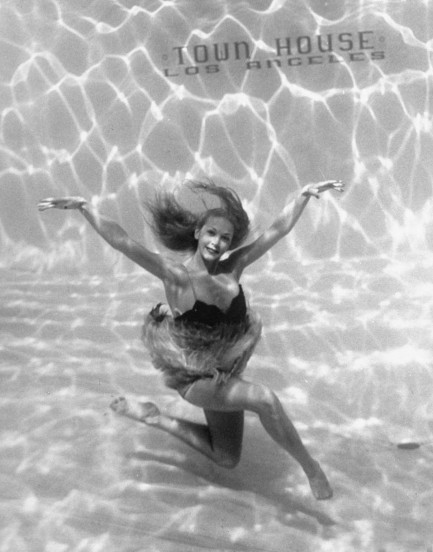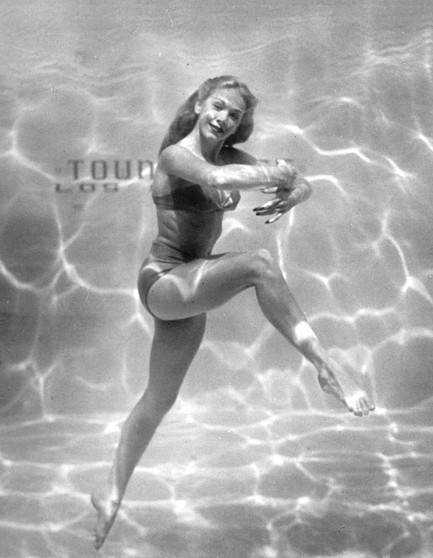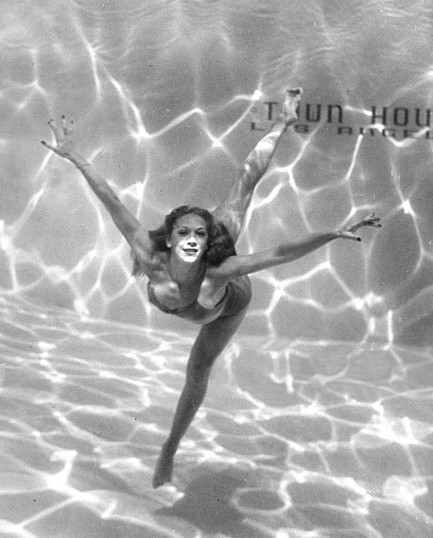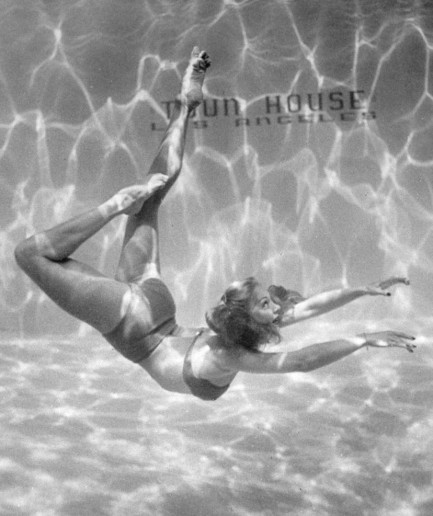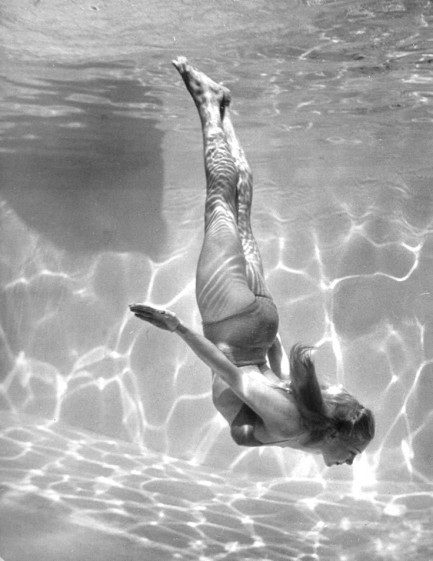 ---
Skating on thin ice.
Rave, for which you see a cover above, was a low budget U.S.-based magazine that launched in 1953 as a celeb publication, quickly moved into scandal and gossip, but didn't survive beyond 1956, as far as we can tell. The graphic design was revamped twice, and so we suspect it just never found its niche in a crowded tabloid market. But it wasn't for lack of providing celebrity rumormongers what they craved. This August 1955 issue discusses Serge Rubinstein's murder, Anita Ekberg's bombshell status, Jackie Gleason and more, but of special note are two stories: one about Sonja Henie, and another about Sheree North.
Sheree North, not well known today, was a dancer-turned-actress who in the mid-1950s was groomed (like so many other women) as the next Marilyn Monroe. She even made the cover of Life with the caption: "Sheree North Takes Over from Marilyn Monroe." But it didn't happen. Though North had a couple of hit films, her on-deck status was quickly usurped by another bottled blonde named Jayne Mansfield. North had done some burlesque early in her career, and Rave claims she had a few stag reels floating around. We don't know about that, but there was a 1951 clip called the "Tiger Dance" that certainly pushed the bounds of contemporary sexiness. We found an upload of it, and you can see it here.
The story on Sonja Henie is a bit more interesting. A Norwegian-born world and Olympic champion figure skater, Henie shot to international fame at age fourteen and turned that recognition into a Hollywood career. She became extremely popular as a screen star, and the same drive that sparked that success fueled her personal life. She married three times and had numerous affairs, including with Tyrone Power and allegedly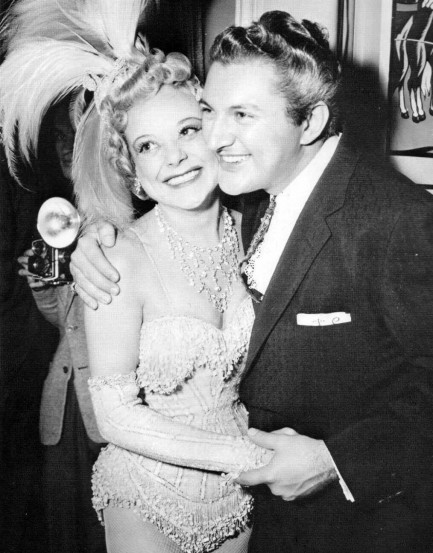 with champion boxer Joe Louis. But the mystery man Rave hints at on its cover is none other than piano player Liberace, just above. If you know anything about Liberace then you know his dates with Henie were just for show. But as a gay or bi celebrity—and both were designations he denied until his dying day—dating women would have been a completely understandable strategy to avoid being outed by the time's vicious tabloids and losing his musical career.
Henie, on the other hand, rarely let controversy get in the way of her decisions if she thought the result would ultimately be a net gain. This is possibly why she publicly greeted Adolf Hitler with a Nazi salute at a Berlin exposition in 1936, and why she sought Joseph Goebbels' help in distributing one of her films in Germany. Yet you have to assume that anyone who would hang out with and possibly sleep with Joe Louis didn't have rock solid racist views. But as millions died, her behavior can only be seen as shameful. However she returned to Norway with Holiday on Ice in 1953 and again the year Rave published the above cover and was warmly greeted, if not quite totally forgiven. Henie died of cancer in 1969, but as another fascinating product of a complex time, we suspect her name will come up on this website again.
---