This is what happens when you send a dancer to do a killer's job.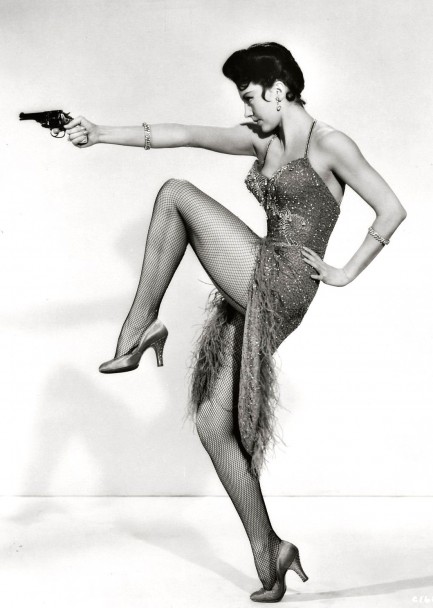 This is just ridiculous from Cyd Charisse. She has nowhere near proper shooting stance. Her base is totally off. She doesn't have her firearm properly braced. Where do you even start with this? She isn't going to hit anything. Luckily, she didn't have to rely on marksmanship to make a living. Instead, she danced and acted in numerous hit movies, including Singin' in the Rain, Brigadoon, and The Silencers. This image was made as a promo for her 1956 musical Meet Me in Las Vegas, which was a who's-who of musical talent, including Lena Horne, Liliane Montevecchi,
Frankie Laine, the Four Aces, Sammy Davis, Jr., and others. Interestingly, it was also known as Viva Las Vegas, a decade before the Elvis movie. We can already picture Elvis fans raising an interjecting finger, but it's absolutely true. We explained it way back in 2011, and if you check out that write-up you'll also see Charisse in a slightly better shooting stance. She still won't hit anything. But at least she's on two feet.


---
Her aim is true.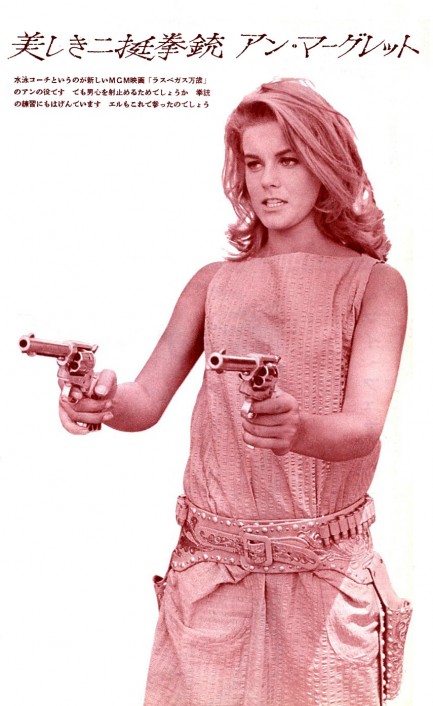 Above, a 1964 Japanese promo image for Viva Las Vegas featuring Ann-Margret. We mentioned a while back that hers was the second movie with that title. See a cool promo for the first one here.
---
Two for the money.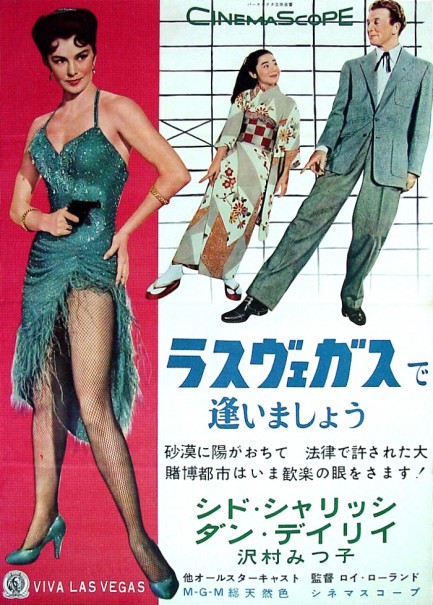 Here's a curious item we ran across at our favorite vintage memorabilia shop. It's a Japanese promo poster for Viva Las Vegas, which… hey, wait a sec. Where's Elvis? Where's Ann-Margret? And who are these imposters? Well, turns out Elvis's immortal Viva Las Vegas was not the first. The first film of that title starred Cyd Charisse, Dan Dailey and Agnes Moorehead, and was released in 1956. During its U.S. run it was known as Meet Me in Las Vegas, but for its international release the title was changed. Plotwise, you've got a flick here with a central gimmick that's just begging to be recycled in a modern romcom. Get this—Dailey discovers that whenever he's at the gambling tables he cannot lose as long as he's holding hands with Charisse. If it sounds intolerably cute, well, what do you expect? It's a mid-century musical. Actually though, the movie isn't top notch, due mainly to some less-than-stellar acting in parts, but you do get to see Las Vegas as it was before it became the consumerist dystopia it is today, and you get cameos from Vic Damone, Sammy Davis, Jr., Debbie Reynolds, Frankie Laine, Lena Horne and others. Well worth a look.

---