They say even bad publicity is good publicity.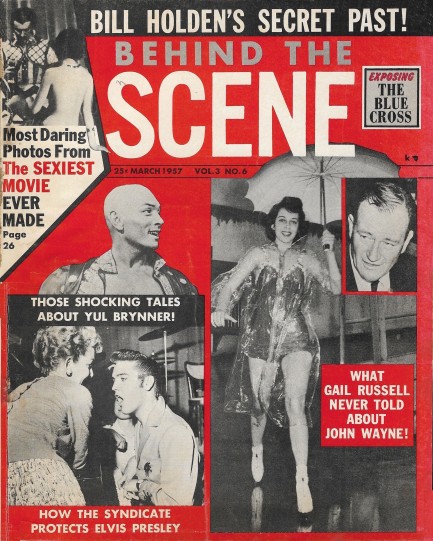 In this March 1957 issue of the tabloid Behind the Scene editors take swipes at assorted Hollywood icons, among them Yul Brenner, John Wayne, and others. Highlights include the allegation that Elvis Presley's career is mob controlled, that camera clubs are just fronts for porn peddlers, that Hedy Lamarr used Linda Lombard as a body double for Samson & Delilah, and that Lucrezia Borgia is the sexiest movie ever made. Also Mamie Van Doren's "secret weapon" is that anywhere she goes she always wears the least clothing of any woman present.
The shocking tales about Brynner have mainly to do with his claims of being a real life man of action, born on the Russian island of Sakhalin to Mongol ancestors. The truth was more mundane, but the lies helped Brynner establish himself as a star. As far as Elvis goes, he was dogged by rumors of Mafia ties later in his career, but this mention of a connection as far back as 1957 was a surprise to us. As always, people on both sides of the issue are willing to shout their version of the facts to the mountaintops, but nobody really knows who's telling the truth. We'll check with Elvis himself on this, since he lives just over in the next town since faking his death in 1977.
The interesting story here is the one about Gail Russell and John Wayne. Their acquaintanceship began when they starred in Angel and the Badman together in 1947, and continued when they reunited for Wake of the Red Witch in 1949. Whether they were more than just friends, nobody really knows. At the time Wayne was married to Esperanza Baur Díaz, and the relationship was marred by drinking and fighting, including one incident when Baur shot at Wayne. When the divorce inevitably came, it turned into one of the nastiest splits in years, with Baur accusing Wayne of being a violent drunk who beat her and fucked around with various women, including Russell, and Wayne accusing Baur of hanging around sleazy dive bars in Mexico, hooking up with strange men, and spending his money to entertain them.
The divorce was in 1953, but Behind the Scene, with this cover, is offering its readership dirt from an event that was still fresh in the public's minds because it had been such a knock-down-drag-out spectacle. Russell had never weathered the limelight well, and she used booze to cope. Her long term drinking problem was exacerbated by the turbulence surrounding the Wayne-Baur split. Two weeks after the divorce she was arrested for drunk driving. It caused Paramount to decline renewing her contract, and she kind of floated around for a few years, trying to hook on with a new studio but drinking steadily all the while. In 1955 she crashed her car and fled the scene, and in early 1957 she drove though the plate glass windows of Jan's Restaurant in Hollywood.

With hindsight, it's clear Russell was in a death spiral, but in the Tinseltown of that day the situation was perhaps not so obvious. In August 1957, Russell was found unconscious in her home, passed out after a drinking binge. Even in Hollywood, she had now crossed the line from being merely a party girl to having a problem. She was persuaded to join AA, but couldn't stop drinking, and in August 1961 was found in her L.A. apartment, having died from liver damage, aged 36, another beautiful star that flamed out. All that and more, in thirty-plus scans below.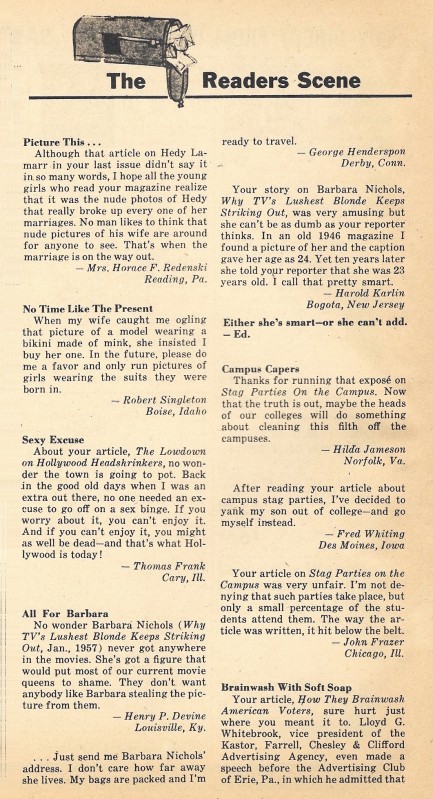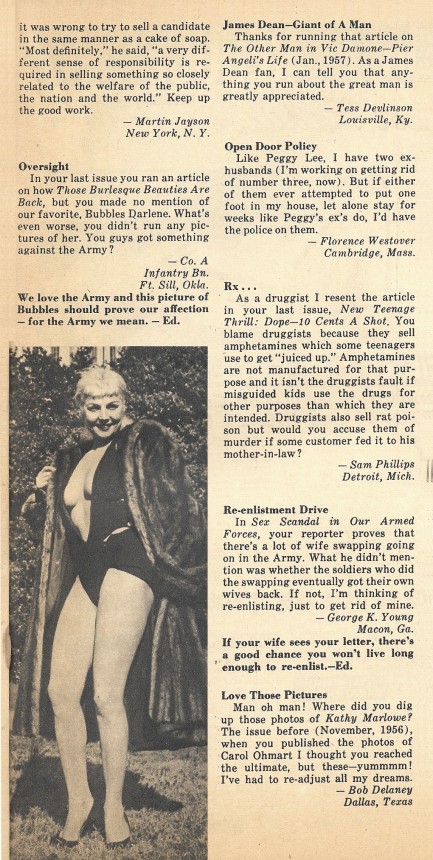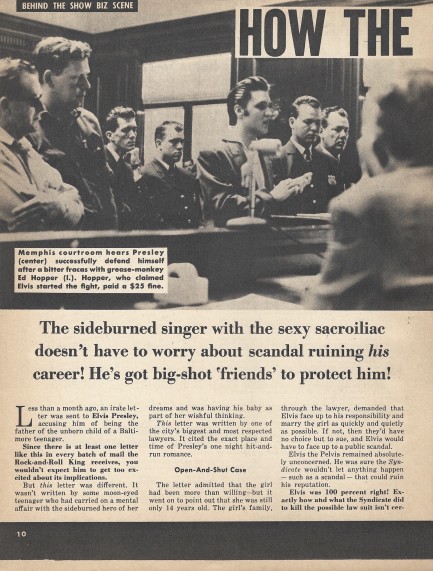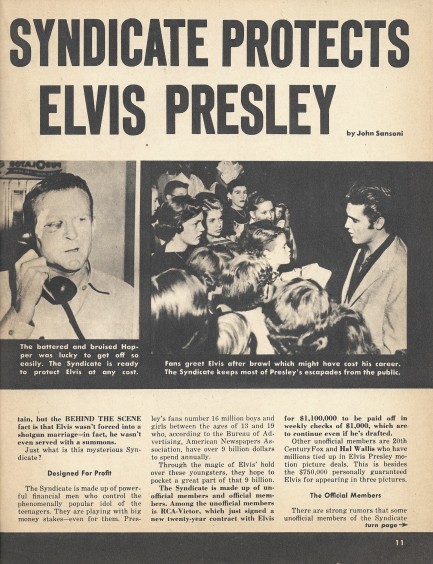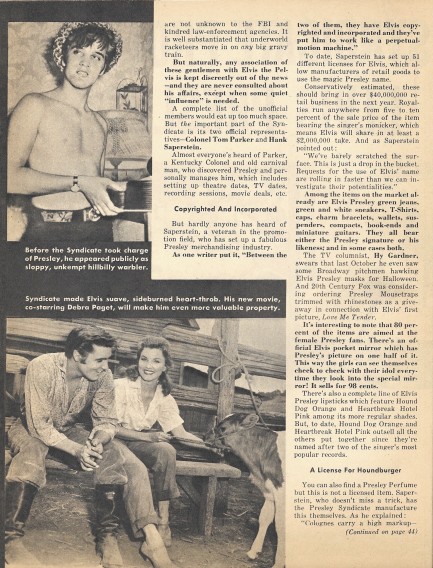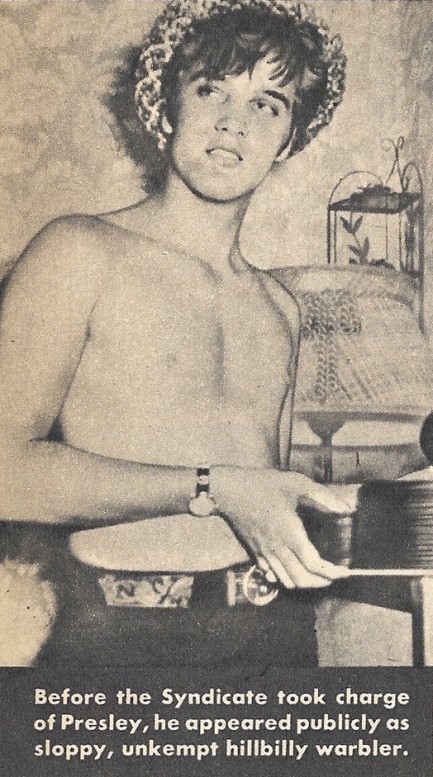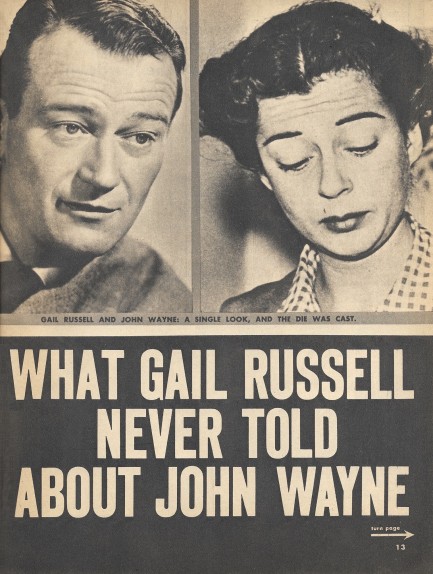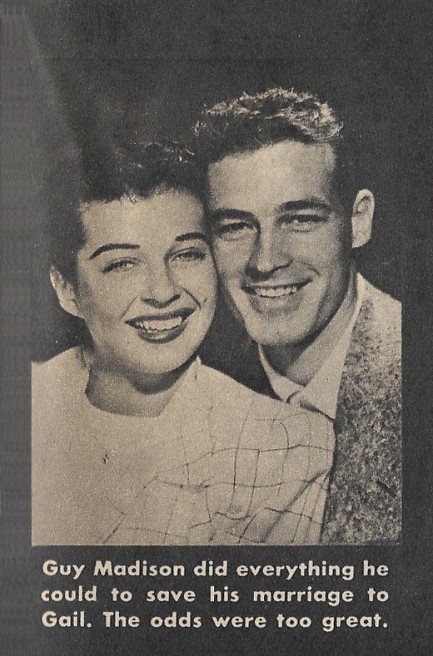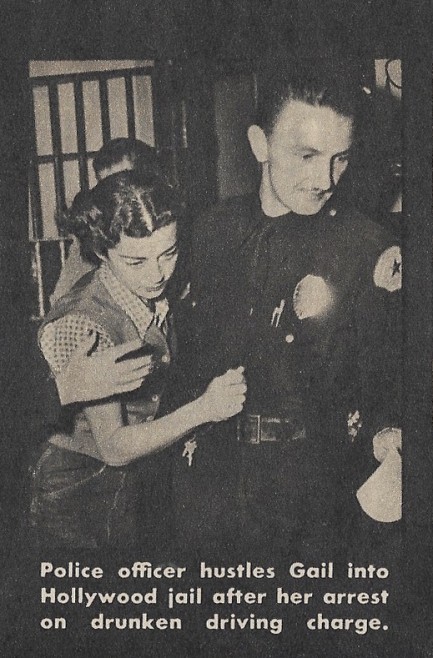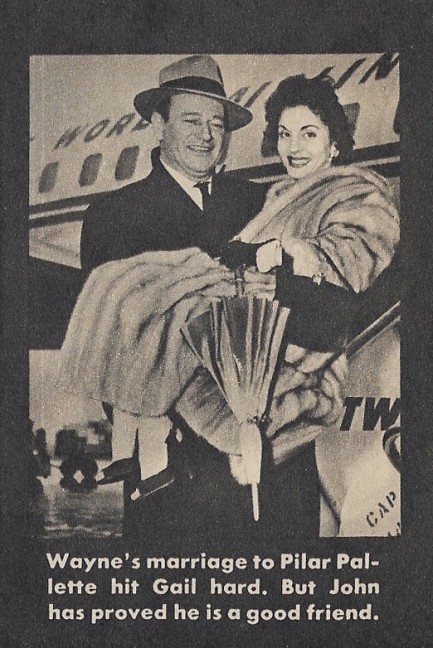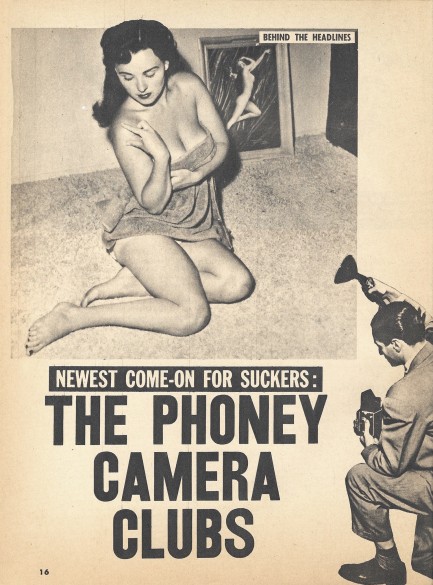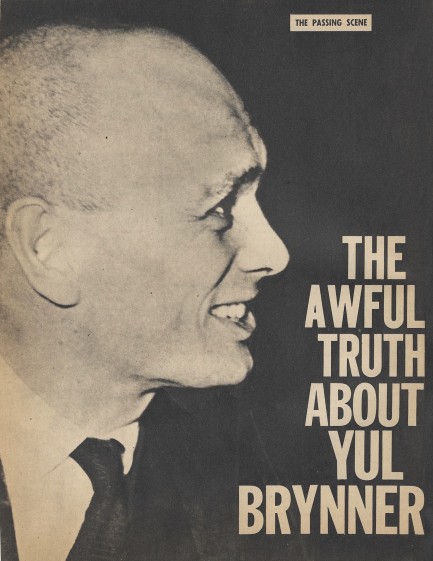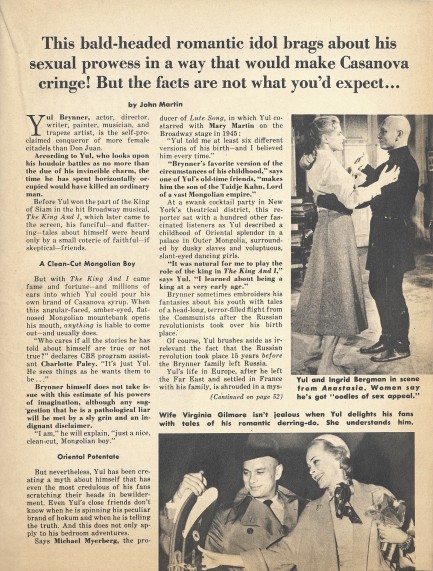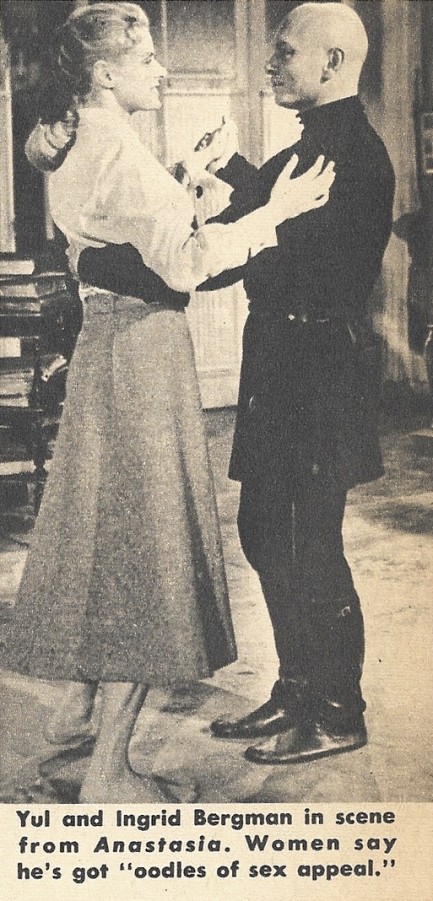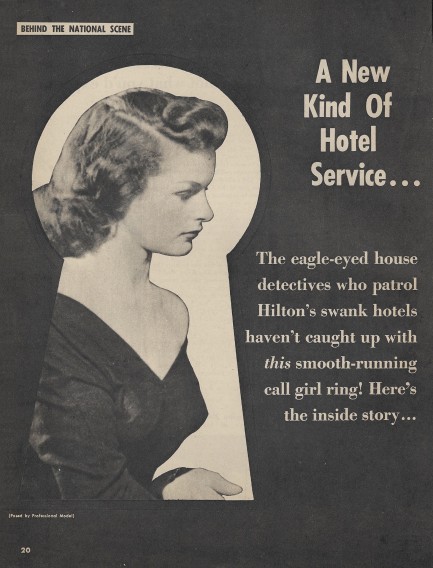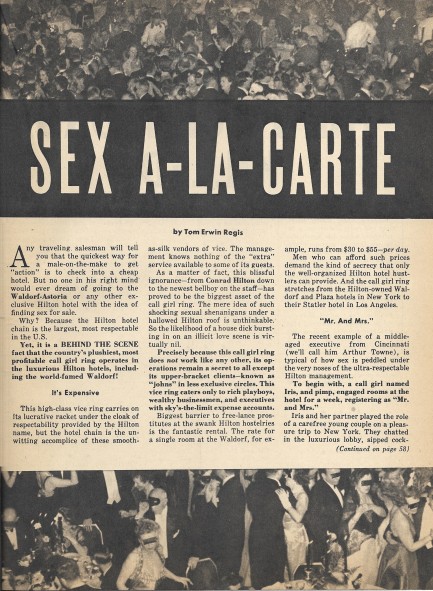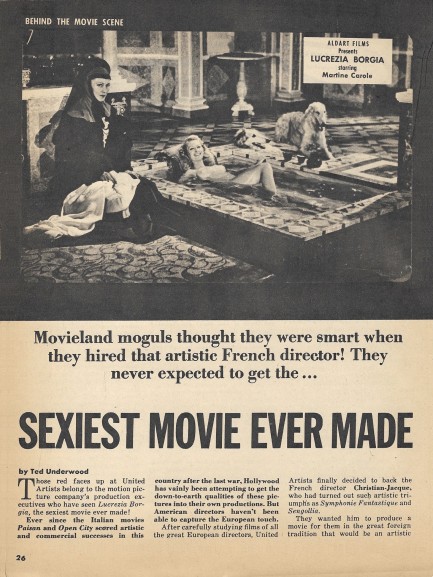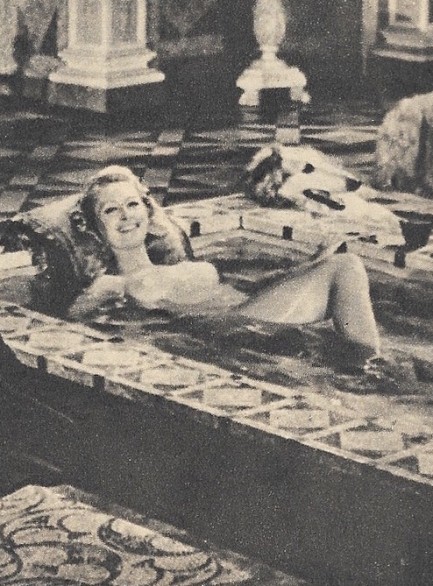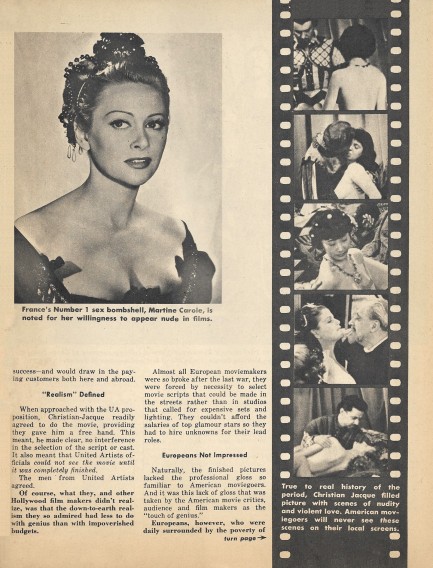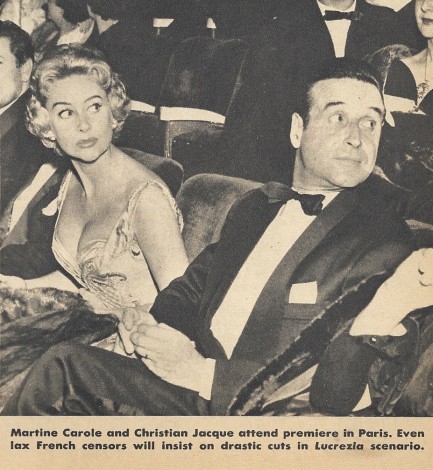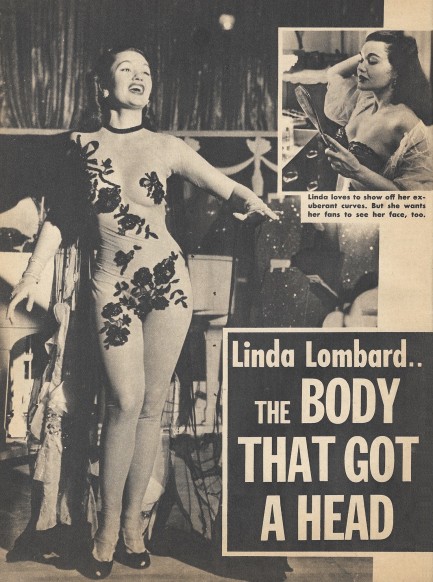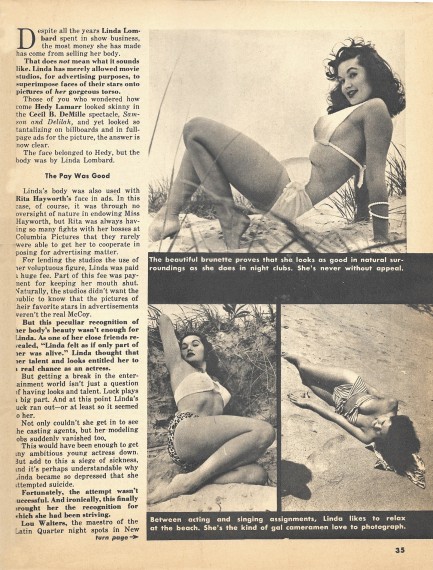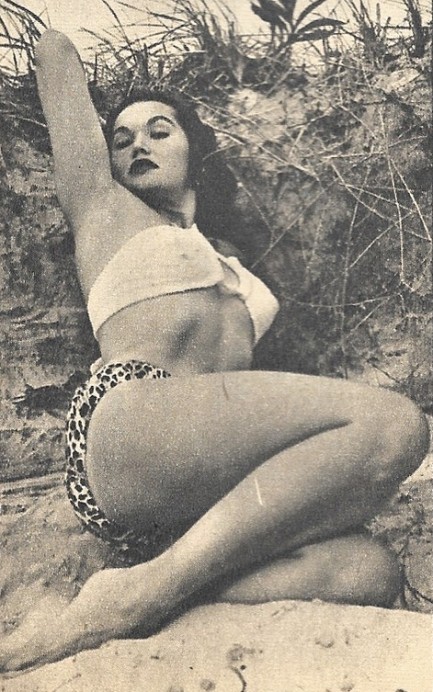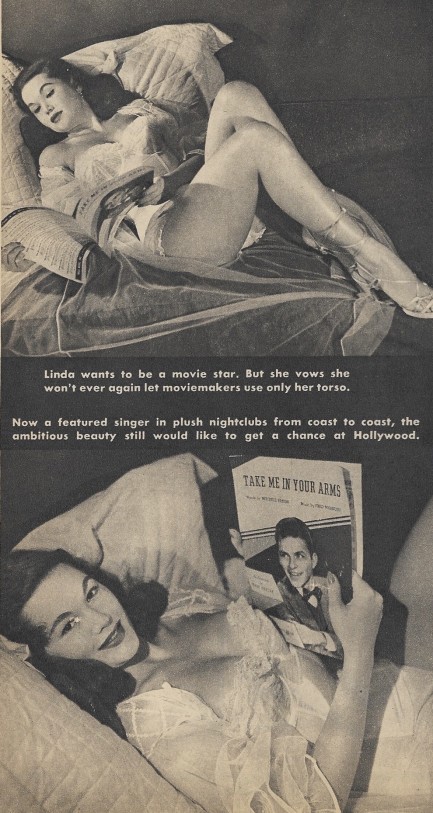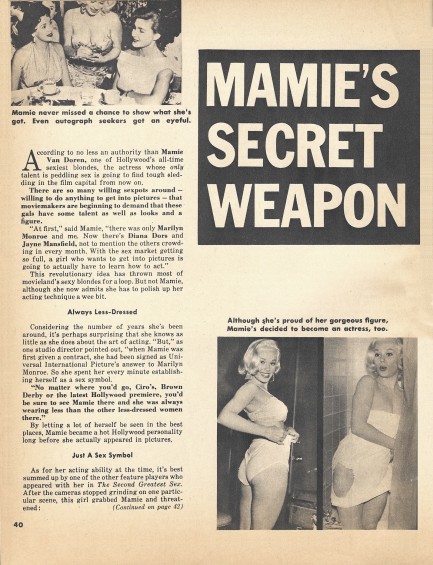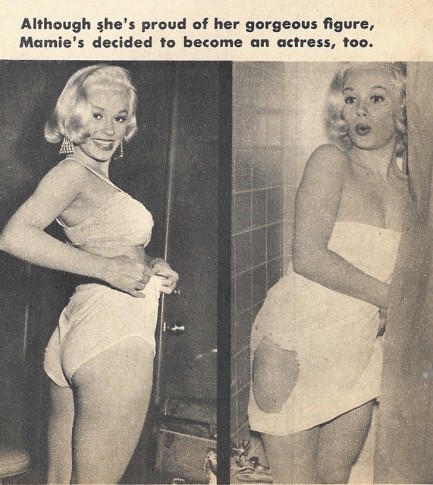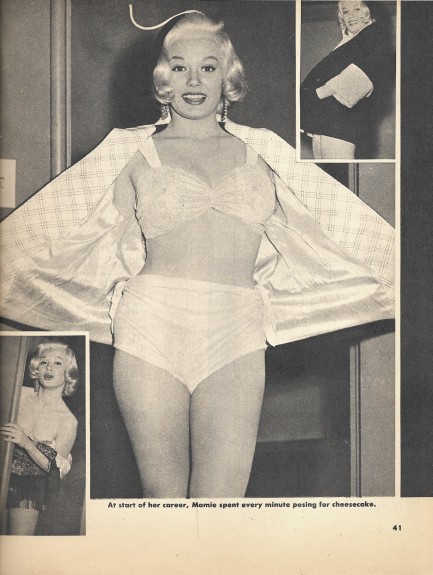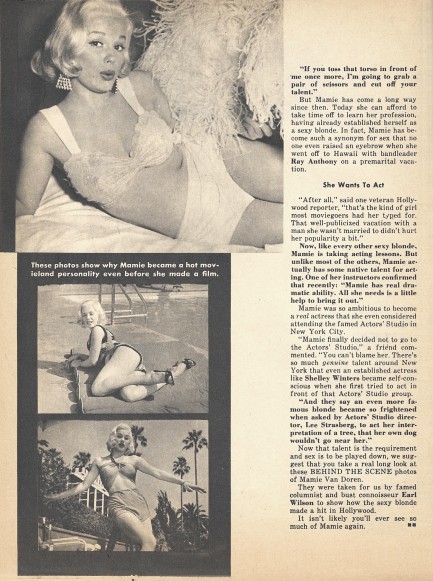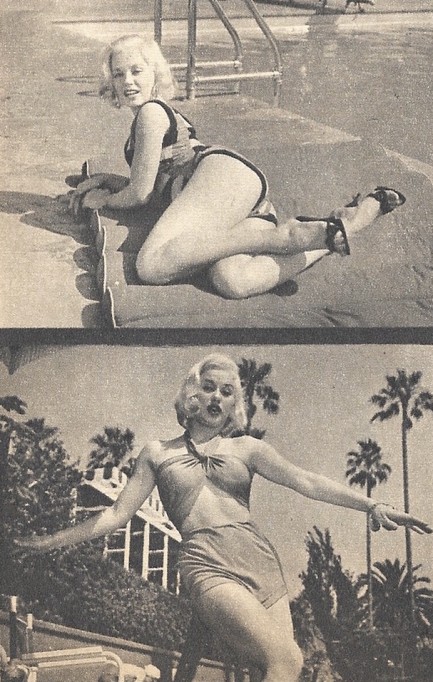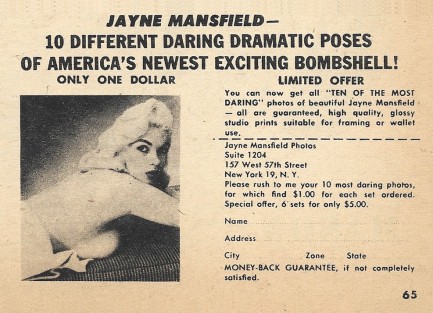 ---
Sleazy tabloid exposes the nationwide trade in even sleazier Tijuana bibles.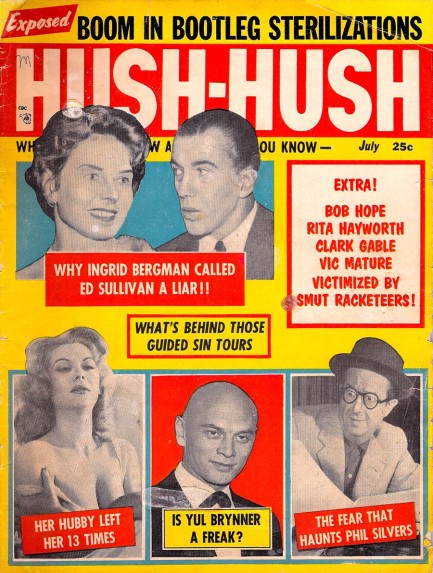 It's been a while since we've featured Hush-Hush, but it's one of our favorite high-end mid-century tabloids, so today we have a newly scanned issue from this month 1957. We learn that Ingrid Bergman called Ed Sullivan a liar for falsely claiming she was booked on his show, and that Phil Silvers was terrified that he would lose his fame, and that Eartha Kitt was destined to forever be lonely because she was interested only in white men.
But the fun story here is the one headed: "Movie Stars Victimized By Smut, Inc." The article is about Tijuana bibles, and the many celebs who had been unknowingly featured in them. We've already posted a few bibles, thus you probably already know that they're pornographic eight-page comic booklets sold clandestinely in drug stores and soda fountains. Their makers felt free to borrow the likenesses of public figures of the day, and Hush-Hush offers up examples starring Bob Hope, Marie Wilson, Robert Mitchum and others. The article describes them as "unbelievably filthy booklets showing the basest sexual acts and perversions."
Well, true enough. Their distribution was so worrisome that the FBI got involved, and while the feds did manage to make some arrests, the flow of booklets remained pretty much uninterrupted. We can only assume that Hush-Hush's exposé made them even more popular, which is kind of how it works with porn, right? Someone gets on their soapbox about it and people walk away thinking, Hmm, I better see one of these with my own eyes. Of course, Hush-Hush didn't dare reprint the interior pages, but we have no such inhibitions here at Pulp Intl. See the next post, and see here.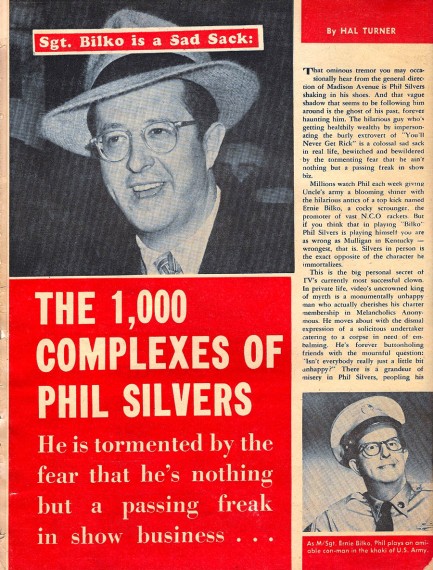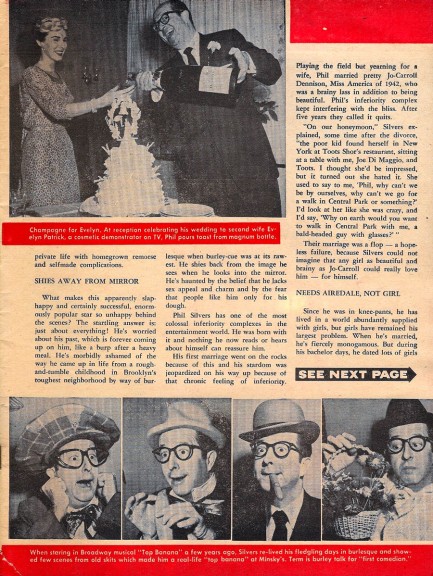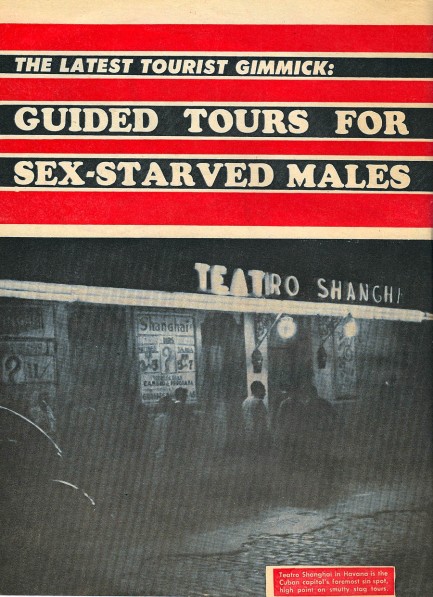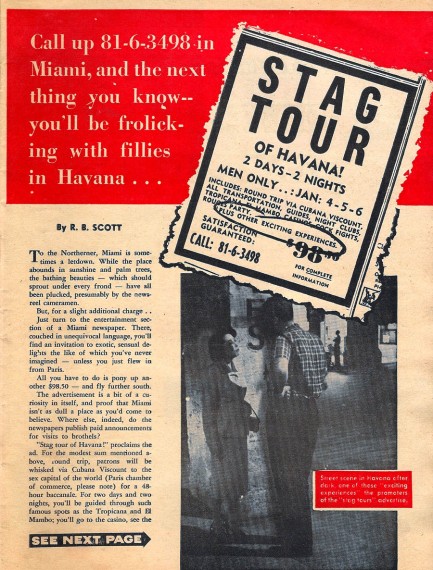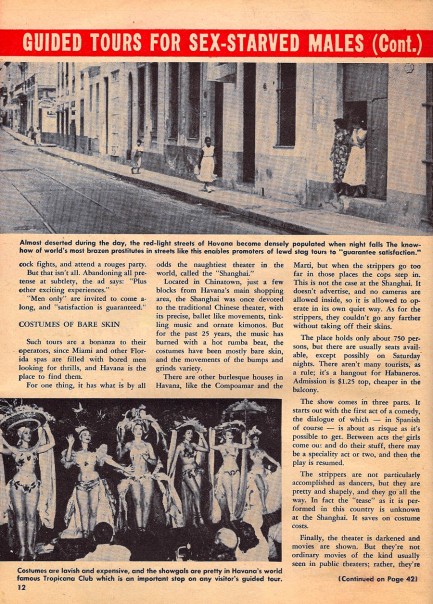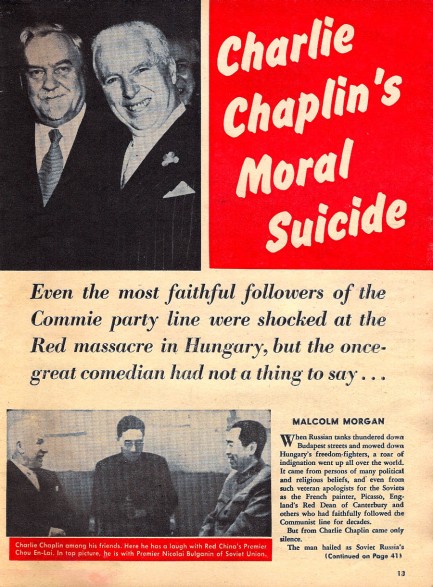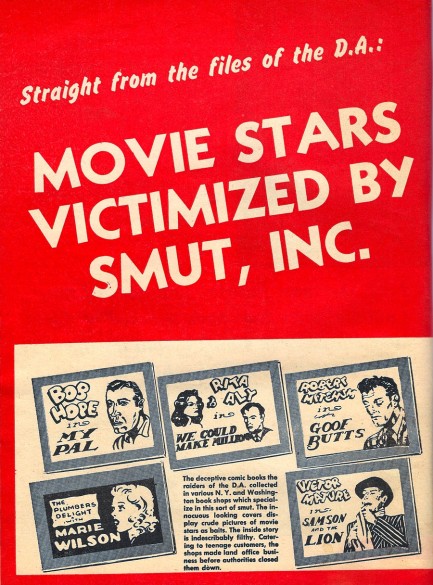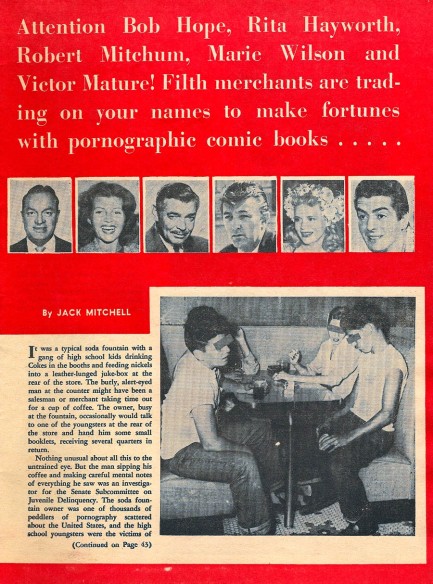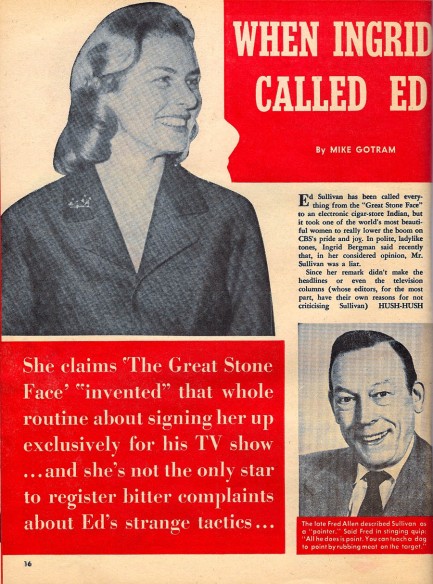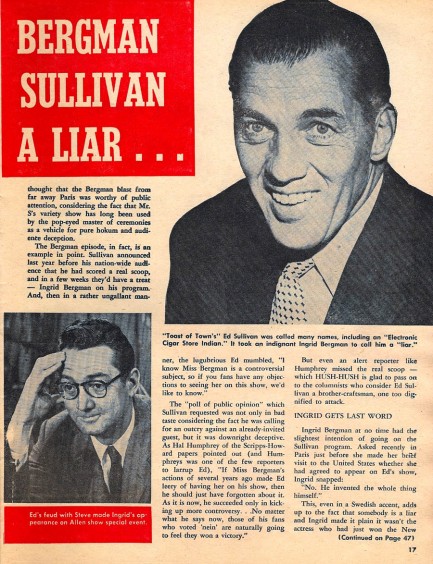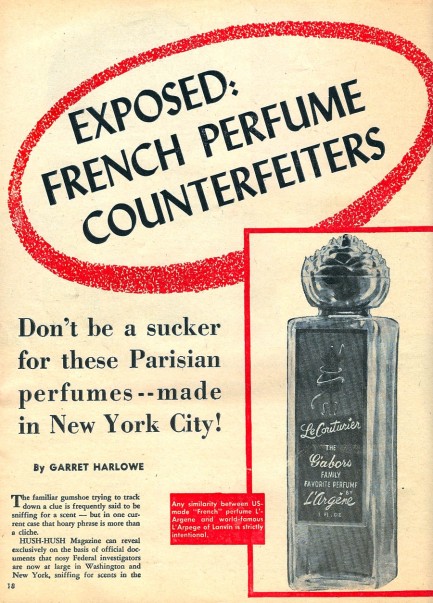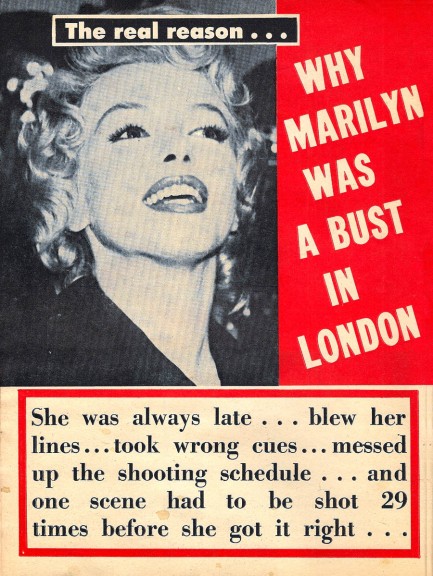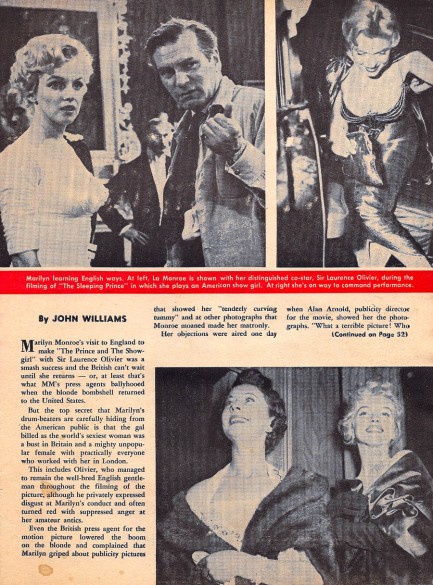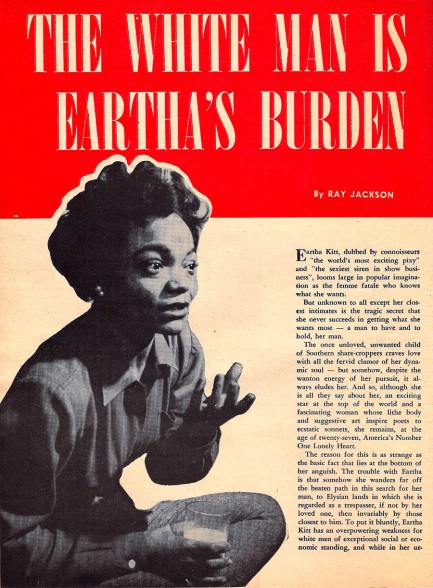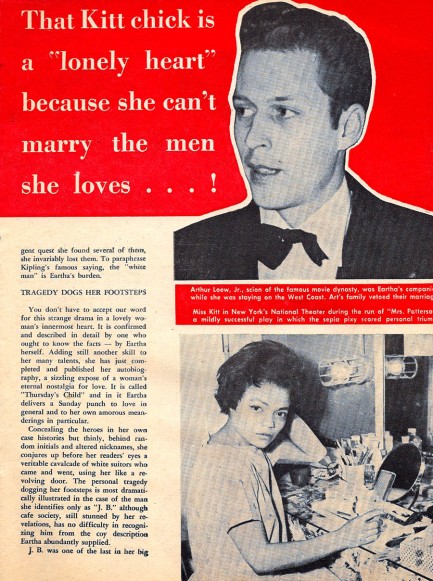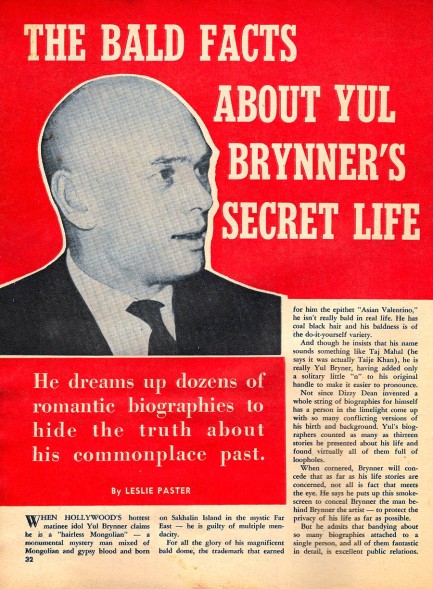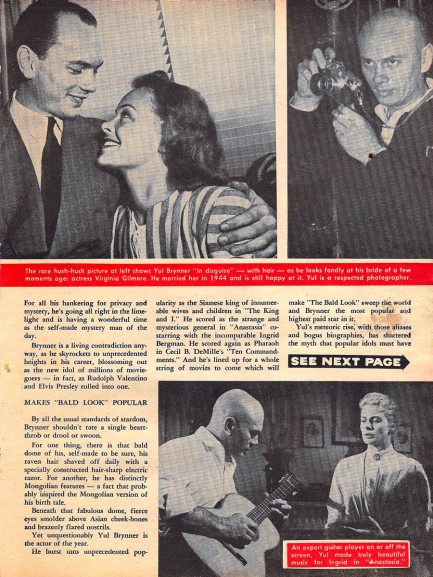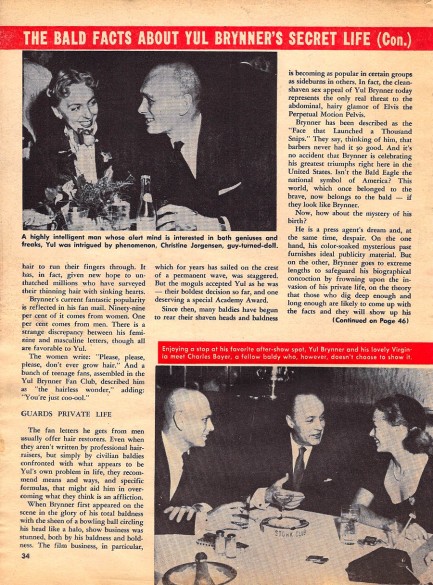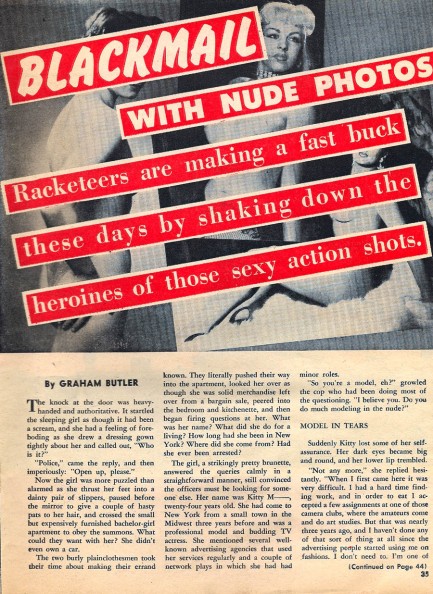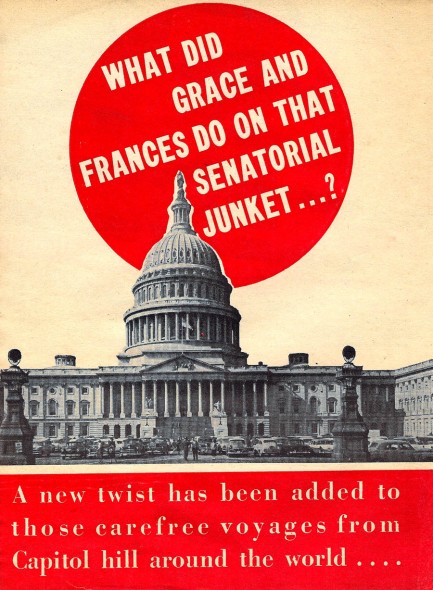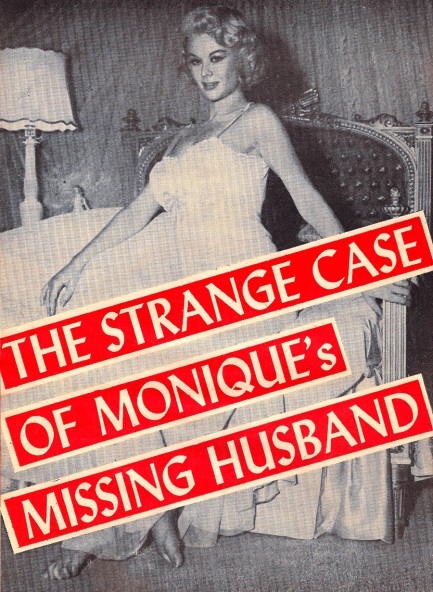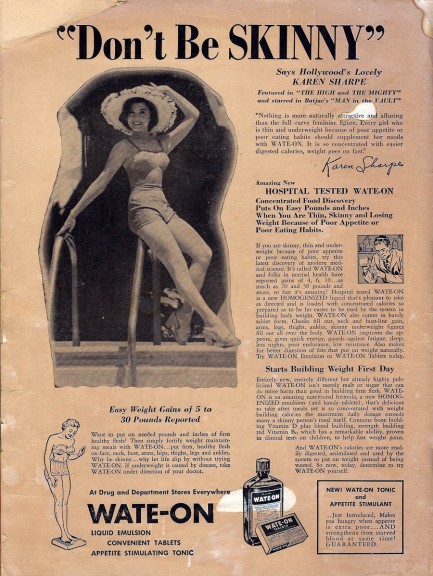 ---
Bold McDonald spun a yarn.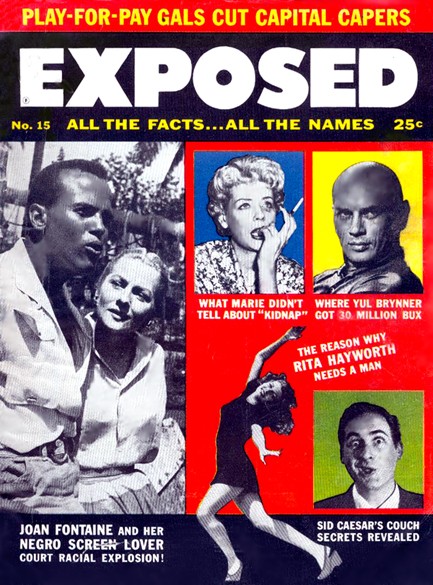 Today we're back to the mid-century tabloid Exposed, with a cover from this month 1957 featuring Harry Belafonte, Joan Fontaine, Yul Brenner, Sid Caesar and Rita Hayworth. In the middle of the cover, you see a shot of a bruised and worried Marie McDonald. The photo was taken just after she was found on January 4 wandering in the desert near Indio, California. The tale soon spread across Hollywood like wildfire—that she had been abducted at gunpoint from her home the night of January 3 by two swarthy men who demanded her rings, her money, and her body. The last demand had a certain resonance. McDonald had gotten famous using the nickname "The Body." The possibility that two swarthy men—one black and one Mexican—had defiled it was, in 1957, simply incendiary.
McDonald's story began to fall apart immediately. She claimed rape, but doctors found no evidence. The note left by kidnappers at her house was made up of words clipped from newspapers found in the fireplace. To the cops, it seemed unlikely that kidnappers would, under the circumstances,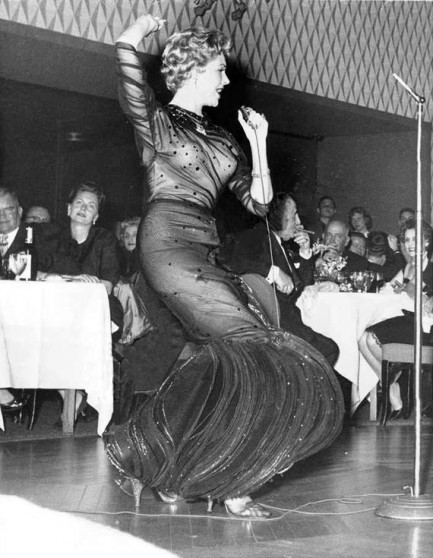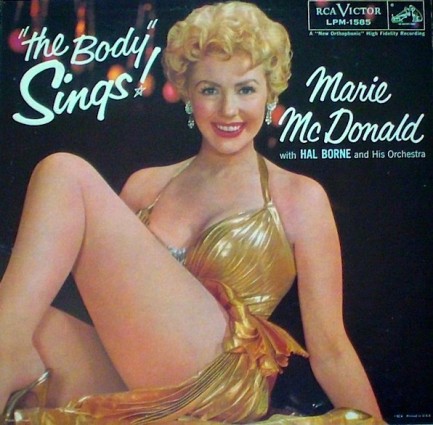 take the time to make a note from paper and glue. They also learned that McDonald had made three phone calls during the time she was missing—none to police.
But McDonald was in a battered state, with scrapes, bruises, and two broken crowns. And she stuck to her story—nighttime, bedtime, a noise in her yard, a lean out the window, and a man lurking right there with a sawed-off. The noise had been made by a second man to draw her to the window. McDonald said the men took half an hour to make a note and discuss their plans, then bundled her into a car. About the phone calls, she said she barely managed to sneak to the phone and was disoriented and had no idea who to call. When the kidnappers heard the mounting news coverage about the crime, they decided she was "too hot" to keep and dumped her in the desert, sending her tumbling down a 25-foot embankment. And then there was the matter of the unidentified males who had called people close to McDonald with threats.
By January 5, McDonald's ex-husband Harry Karl was offering up some juicy quotes to the press. Among them: "Marie is a very sick woman. I believe she left of her own accord." He had received one of the calls from the kidnappers, but wasn't buying it for a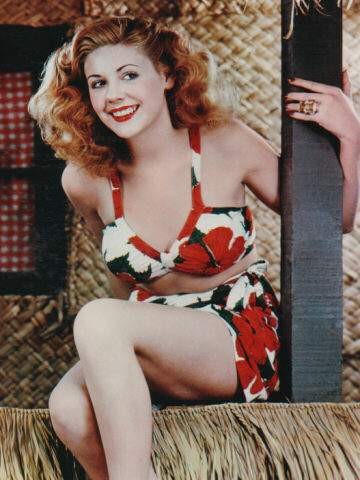 minute. He said, "She has done some very strange things in the past." Police soon learned that the kidnap tale resembled the plot of Sylvia Tate's comedic novel The Fuzzy Pink Nightgown, which happened to be among the books McDonald had in her home. There was little doubt now in the minds of authorities that the whole situation was an elaborate hoax, but McDonald was a celebrity and so the police dutifully arrested suspects, continued investigating, and by January 17 sent the whole messy affair to a grand jury.
The day McDonald arrived to give her testimony she said, "I'm not looking forward to this. I don't see how I can convince 19 men if I can't convince the police." She was right. The grand jury decided there wasn't enough evidence of a crime and the matter was dropped. In retrospect, McDonald was probably lucky not to have been prosecuted herself. Perhaps the fact that she had retained Hollywood super lawyer Jerry Giesler helped her there. In any case, the Marie McDonald kidnapping went into the history books as yet another Hollywood conundrum.
McDonald's career as a popular performer had been more or less finished for ten years, but she had remained on the fringes of the news thanks to her marriages—seven of them—and her many famous friends.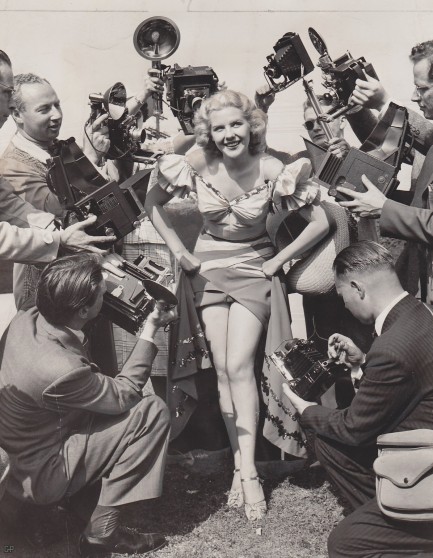 The events of 1957 had put her front and center again, but it was the last time, until she died of an accidental Seconal overdose—or was it suicide?—in 1965. Two months later, her husband Donald F. Taylor, overdosed in the same room, using the same bottle of pills.
---