Yeah, but you should see the other guy.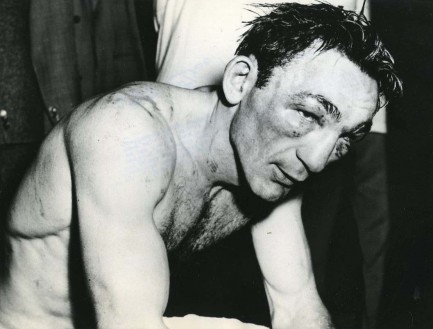 This is American boxer Carmen Basilio, and bad as he looks on the outside, he feels even worse inside because he's just learned he lost his welterweight title to challenger Johnny Saxton. That wasn't what Basilio, the crowd of thousands, and the television audience of millions thought when the final bell rang, but the judges somehow saw a different fight than everyone else and awarded Saxton the decision. Did it have anything to do with the fact that Saxton was mafia-connected, and his "manager, friend, and adviser" was Philly mobster and notorious fight fixer Frank "Blinky" Palermo? Very possible. Basilio later said of the decision, which occurred in March 1956, "It was like being robbed in a dark alley." Well, he certainly looks like a guy who was robbed. See more on Basilio here.
---
He had a face only a mother could love.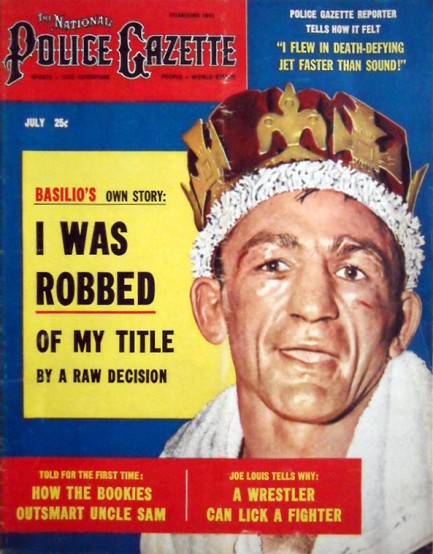 The National Police Gazette focuses on sports with this July 1956 cover of welterweight and middleweight boxing champion Carmen Basilio. According to the Gazette, Basilio lost his welterwight title to challenger Johnny Saxton due to the fact that the judges had been bought off by local mob figures. This may have been true. Saxton was tight with—or perhaps controlled by—a Philadelphia wiseguy named Blinky Palermo. Saxton was no hack—he went 39-0-1 to start his career—but in some of those fights his opponents gave less than their all, conspicuously so.
Saxton won his first title in 1954 against Kid Gavilán, and that fight was openly discussed as a fixed affair. When Saxton topped Basilio in March 1956 in a fifteen round decision, Basilio said bluntly of the judging, "It was like being robbed in a dark alley." The Gazette took up his case four months later. Other magazines weighed in on Basilio's behalf as well, and in September 1956 he
got his revenge when he knocked out Saxton in a rematch.
Basilio finished his career with a respectable record of 56-27-7, having taken quite a few beatings, but also having dished quite a few out. In the end his face was a topographical map of all those battles, with ridges and hillocks everywhere, but on this Gazette cover showing him after winning the welterweight title, he positively glows. There's nothing quite like winning.
---
Fifty years ago one big question about Kennedy was whether he was the puppet of a foreign religion. Sound familiar?
The National Police Gazette hits all bases in this vibrant September 1959 issue, telling us about Billie Holiday's heroin woes, Carmen Basilio's feud with Sugar Ray Robinson, Mickey Mantle's lack of respect from his employers, and Debbie Reynolds' divorce. But we're focused on the John F. Kennedy article. Just fifty years ago Americans were suspicious enough of Catholics that Kennedy's opponents were able to exploit his religion during his campaign for president. The far right Aryan Knights are quoted from a press release: The Romanist church organization insolently pretends to temporal authority over various governments and people of the world, including our own United States. The League goes on to claim that Rome wants Catholicism established as America's state religion, and that those who refuse to conform will be prosecuted or destroyed.
Hmm... The leaders of an overseas religion want to take over America using the President as a Trojan Horse? Why does that ring a bell? Merrill J. Fox, head of the Federal Party, said: "Kennedy is bound to carry his religion over into politics. He does it now, subconsciously. Kennedy wouldn't be good for our country because he isn't his own boss." Interesting, no? These fearmongers are basically forgotten today, consigned to that copious dustbin of history which is home to some of the most odious loudmouths who ever emerged from the woodwork. But at the time these guys made a fine living. And when you revisit some of their laughable assertions, it becomes clear that green—not red, white and blue—was their focus. Put another way, you'll never go broke telling people what to be afraid of. With regard to our current era, there's an old saying that applies: The more things change, the more they stay the same.
Because people have incredibly short political memories, it seems like a good time to update this piece and be a little less coy about our insinuations. We're writing now in 2018. At the time we wrote the original post there had been three years of suggestions that Barack Obama had a secret muslim agenda directed from somewhere or other in the Middle East, or possibly Africa. These days, now that Obama's stint in the White House has come and gone with no forced conversion in America to sharia law, people will try to pretend the fear campaign never happened, partly because they now know it's embarrassingly stupid to have believed it. But tens of millions of conservative voters did believe it, thanks to a drumbeat heard mainly on far right radio from 2007, through the presidential campaigns, and into the first couple of years of Obama's presidency. As we said, the more things change, the more they stay the same.
---