In some ways she's a non-traditionalist.
Above, a nice geisha themed promo photo of Japanese actress Junko Fuji, star of scores of films spanning forty-five years. Among them: Kyokotsu ichidai, aka The Chivalrous Life, Bakuchi-uchi: socho tobaku, aka Big Time Gambling Boss, and the popular Hibotan bakuto aka Red Peony Gambler series. Fuji's showed no signs of slowing down and has another film on the slate for 2018. We don't have a date on this image, but figure late 1960s.


---
Japanese cinema's love affair with the nun is a hard habit to break.

Japanese cinema loves its nuns, whether clothed or naked, dominant or submissive, or sometimes just copping a squat in the woods. So today for your enjoyment we have six sexploitation posters featuring these figures, spanning the years 1968 through 1980. Remember, just looking isn't a sin. Title and star info appears at bottom.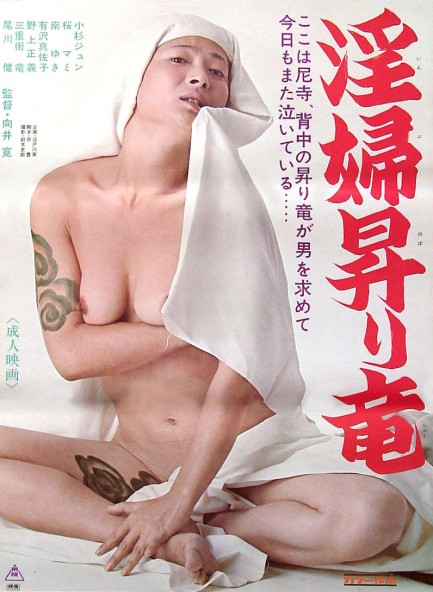 From top to bottom: Nun's Prohibited Night with Yuki Nohira, Tattooed Nun's Dissolute Life with Jun Kosugi, Nunnery Confidential with Junko Fuji, A Nun's Rope Hell with Naomi Oka, Humiliated Nun with Mihoko Kuga, and Black Clothed Nun's Pain with Eri Kanuma. As you know by now, these films had no Western release, which means the English titles we've given are approximate, at best.
---