The saying goes that no parent should have to bury a child. Somebody didn't hear the saying.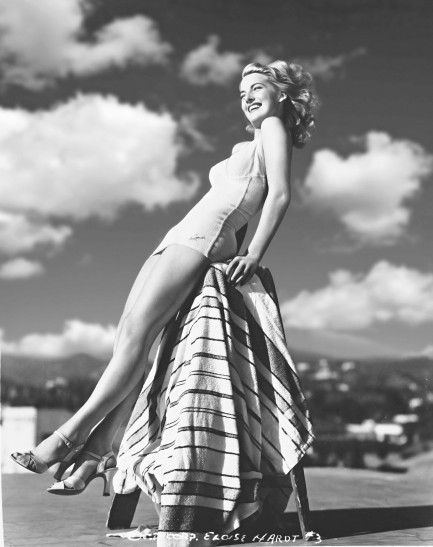 The above Colombia Pictures promo photo of U.S. actress Eloise Hardt first appeared in 1941, when she was still performing in uncredited roles. Her first star turn came in 1947 in the twenty minute short The Luckiest Guy in the World, followed by a role in Homecoming in 1948. But her career in movies never really took off. It was in television that she made her mark, appearing in dozens of series beginning in 1956. Some of those included Alfred Hitchcock Presents, Miami Undercover, and Dr. Kildare. But for all her acting credits, it was for events outside of show business that she seems to be remembered today.

In 1968 Hardt's daughter Marina Habe was kidnapped, murdered, and her body left in the woods off Muholland Drive. Speculation over the years is that one or more members of the Manson Family did the deed. This would have made Habe an early victim, as their famous murder spree didn't occur until 1969, but according to Ed Sanders, author of The Family, members of Manson's circle admitted they knew Habe, and newspaper reports in 1969 suggested the same weapons that killed Habe were used on Sharon Tate. However no arrest was ever made in the murder. As for Hardt, she's still alive and residing in California, which means she's outlived her daughter by nearly fifty years.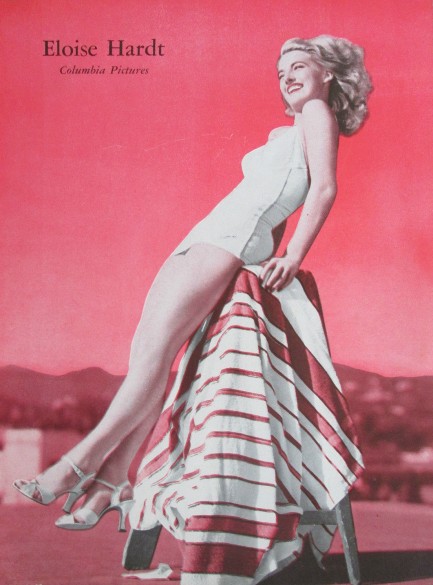 ---
I could do this with magic, but I really enjoy cooking.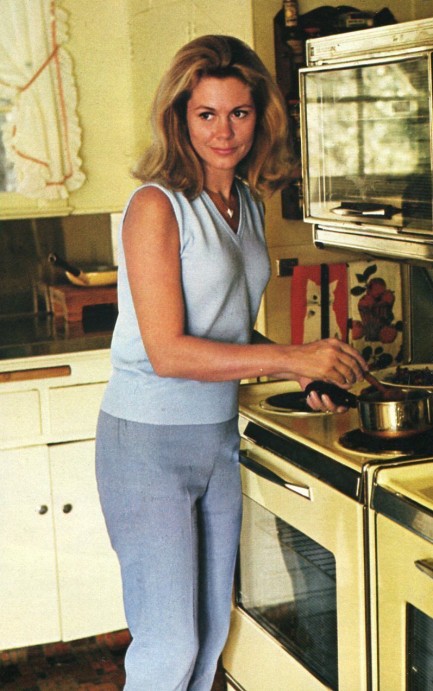 Elizabeth Montgomery, a rare Hollywood-born actress, is best known for her role as Samantha on the long running 1960s-1970s television series Bewitched. But she actually goes way back. She was born in 1933 and broke into show business in '53, later appeared in such films as the gangster thriller Johnny Cool, and on television in Alfred Hitchcock Presents and 77 Sunset Strip. This shot of her is from the Japanese showbiz magazine Roadshow and is from around 1968.
---
Ralph, this wasn't what I meant when I said I needed a little pick-me-up.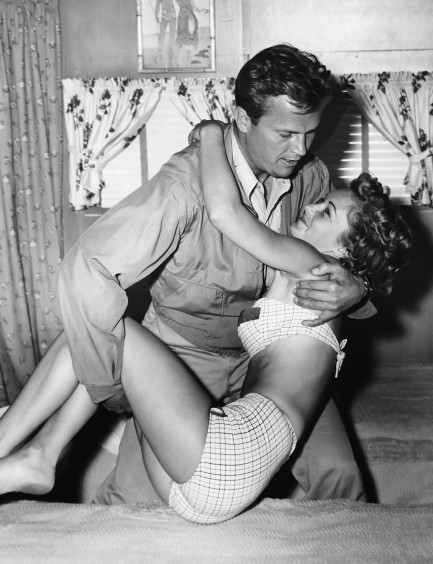 Ralph Meeker and Vera Miles joke around on the Hollywood set of the television series Alfred Hitchcock Presents. The episode they starred in was the series debut "Revenge," and is considered by many to be the pinnacle of the show's seven-year run. Meeker would appear in three more episodes of the series and many movies, while Miles would co-star memorably in Hitchcock's Psycho. The photo dates from 1955.
---