Royal Crown helps consumers to stay awake at the movies.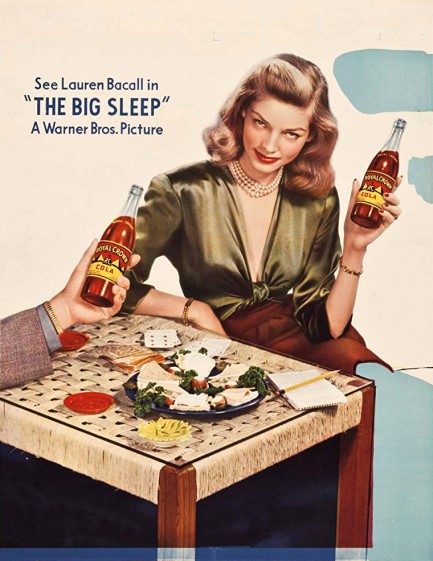 Lauren Bacall brings her special brand of smoky sex appeal to this magazine advertisement for Royal Crown Cola, made as a tie-in with her 1946 film noir The Big Sleep. RC was launched in 1905 by Union Bottling Works—a grandiose corporate name for some guys in the back of a Georgia grocery store. The story is that the drink came into being after grocer Claud A. Hatcher got into a feud with his Coca Cola supplier over the cost of Coke syrup, and essentially launched RC out of equal parts entrepreneurialism and spite. Union Bottling Works quickly had a line of drinks, including ginger ale, strawberry soda, and root beer.
However humbly RC Cola began, the upstart had truly arrived by 1946, because The Big Sleep, co-starring Humphrey Bogart, was an important movie, and Bacall was a huge star. She was only one jewel in the crown of RC's endorsement efforts. Also appearing in ads were Rita Hayworth, Veronica Lake, Joan Crawford, Virginia Mayo, Paulette Goddard, Gene Tierney, Ann Rutherford, Ginger Rogers, and others. Bacall flogged RC for at least a few years, including starring in tie-in ads for Dark Passage, another screen pairing of her and Bogart that hit cinemas in 1947. You see one of those at bottom. We can only assume these ads were wildly successful. After all, it was Bacall.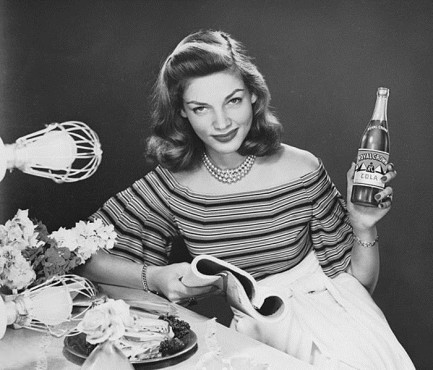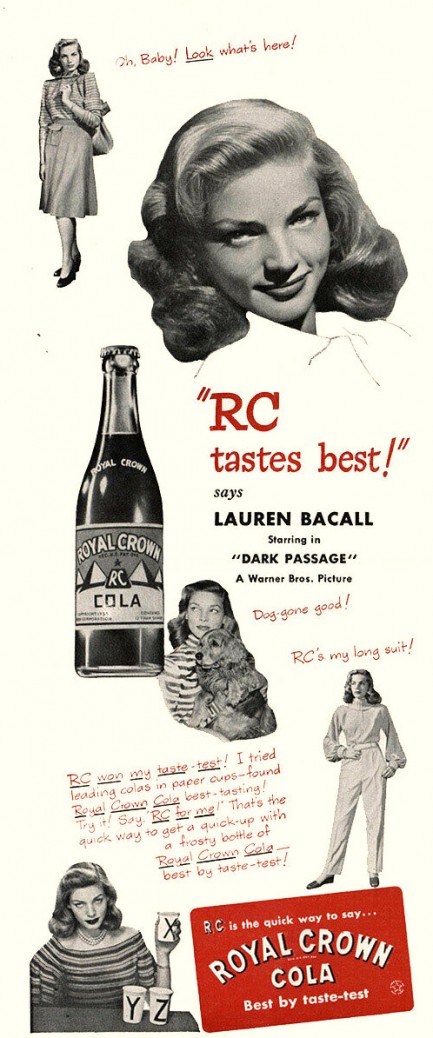 ---
The mystery happens on an island, alright. But the island is Manhattan.
We thought Bermuda Mystery would be an island adventure, a copycat To Have and Have Not, but not a single exterior scene takes place in Bermuda. The film is actually set in New York City. The mystery of the title refers to an offshore investment fund based in Bermuda and shared by six war vets. If any of the six die before the account comes to maturity the others split the extra, which in a modern storyteller's hands would be a recipe for a Tarantinoesque six-sided gun battle, but which in this film leads to the investors being bumped off one by one. Ann Rutherford plays the classic mid-century ditz role as the niece of the first victim who drags a private dick into the mystery to help her unmask the killer. Of course, romance eventually develops between ditz and dick, though he's engaged to another woman. "I told you I'd get him before this was over," Rutherford says directly to the audience, winking. But it was obvious from the get-go. Marginally enjoyable if low budget. Bermuda Mystery premiered in the U.S. today in 1944.
---
She might be a little overdressed for a Caribbean climate.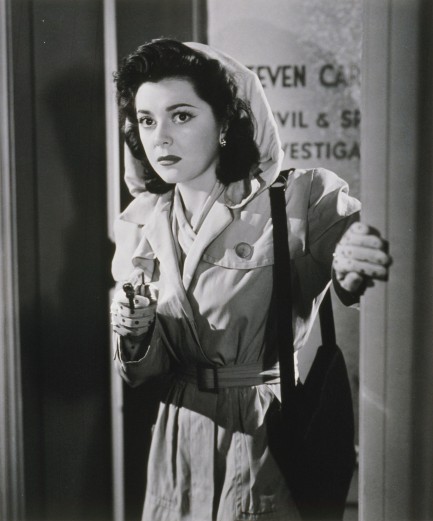 Canadian born actress Ann Rutherford is probably best known for playing Scarlett O'Hara's sister Carreen in Gone with the Wind, but she starred in many films, and acted for more than forty years. The photo above was made to promote her role in Bermuda Mystery, a movie that's little known today but which we decided we needed to see because: 1—we love the Caribbean; and 2—we love mid-1940s mysteries. It took a while, but we finally managed to find a copy. Unfortunately, the movie wasn't set in the Caribbean. It takes place in New York City. But at least that makes Rutherford's wardrobe appropriate. Why is the movie called Bermuda Mystery? We'll tell you about it a bit later. 1944 on the photo.
---