Whether by day or night the action was non-stop.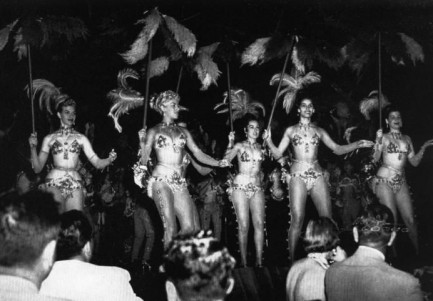 We love vintage nightclub photos, and vintage pix of people partying in general. Since Havana photos are unusually interesting, we're always drawn to them. There's a large number of Havana photos out there, but not primarily because of Cuba's political history. The photos really exist because Cuba was a pioneer of Caribbean tourism, attracting travelers beginning in the 1920s through a heyday of the mid-1950s. The island was promoted as a place of sophistication, mixed with permissiveness, unpredictability, and a touch of the primitive. This prompted various movers and shakers—from New York City businessmen to top musicians to Hollywood stars—to flock to Havana. And where important people went, cameras followed.
Was the Havana image true? Probably, based on what we've read. But it was not unique. During the same period Tangier had a similar reputation, as it attracted writers like Paul Bowles, William S. Burroughs, and numerous gay expatriates. During the 1960s Acapulco was known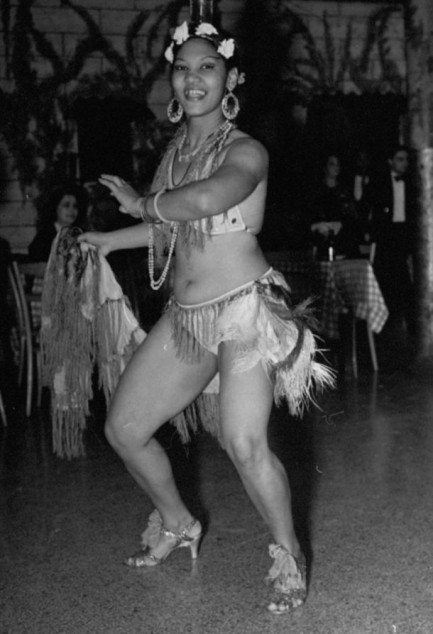 as a great place to go for thrills. During the 1980s, Ibiza or Mykonos. The 90s, Thailand or Goa. The 00s, Tulum. Havana wasn't unusual in terms of what it offered. Bigger, yes. More convenient for Americans, for sure. But numerous far flung locales have served as paradises for foreign visitors to lose themselves and get crazy.
Most or all of the aforementioned places are considered to have changed for the worse, whether through ecological damage, destruction of historic architecture, unchecked overbuilding, overtourism, or all four scourges at once. But it was revolution that changed Havana, a fact that gives vintage photos from there a particular poignancy. A typical narrative is that while elites and tourists partied, exclusion, inequality, and poverty helped fertilize the seeds of upheaval. But we don't judge anyone in these shots. We've lived in similar circumstances in Central America. We were even partners in a beach bar in the Caribbean. We were always well aware of the prevailing socio-political problems, and we sympathized greatly with the local populations. But it didn't stop us from partying the nights away.
There's an immense feeling of freedom being in a simpler place—and for all its opulent nightclubs and restaurants, Havana is said to have exuded a primeval sensuality that intoxicated tourists and expatriates. If you live in the U.S. or some other modern nation, that feeling isn't something you can achieve by merely paring down your current lifestyle. The things you give up continue to exist all around you. By rejecting those, you become a weirdo. But by living in a less modern nation your life truly changes top to bottom, and you gain this while still existing above the local mean. That's the paradox, or the injustice, depending on your point of view: your satisfaction derives partly from the ability to take or leave anything you wish, because you are economically able to do so. You live more simply than you did, yet live better than most people around you. It isn't noble, but it's very much an attraction.
Bowles and Burroughs lived well in Tangier because it was immensely cheaper than Europe or the U.S. With the savings gained they hosted parties and had time to hone their literary crafts. They were a part of the local society, but existed in a middle-upper stratum, high above the impoverished, well below the Moroccan elites, benefitting from the general perception that foreigners from rich nations are themselves rich. That's how it was for us too. So there's inequality built into that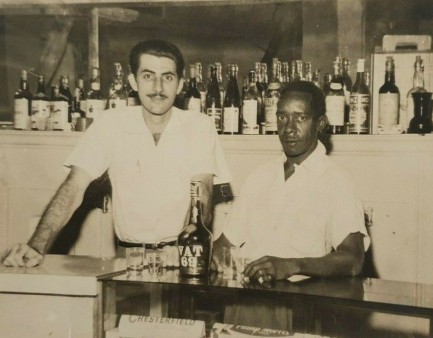 type of expatriate experience. It's unavoidable. A friend of ours lived in a stick shack on Cayos Cochinos for an entire year and he was still considered a rich foreigner. Everyone knows you have a choice. The Americans who partied in Cuba could never have been anything but wealthy invaders, no matter the reality of their finances, or the inclusiveness their sensibilities.
Living comfortably means the novelties one experiences seem thrilling or romantic. When we were knocking around Guatemala, El Salvador, and the Bay Islands, we turned washing our clothes by hand into an enjoyable ritual, yet understood quite well that many families' daily water intake literally depended on walking a mile to a river. Buying food from the local fruit and veggie stand was far more convenient than queuing at the supermarket for meat, and we ended up dropping to our college weight, but we were nevertheless aware that many people couldn't afford any food, and would have been disgusted at how pleased we were that our reduced fat intake meant we could show six pack abs at the beach. We helped some local families, both financially and logistically, but when your downsized existence is a choice you can never truly fit in.
But the freedom you feel is real. Offloading the burdens of modern life brings legitimate satisfaction. The pursuit of pleasure takes on a special joy. We hit bars, parties, and gallery mixers continually. As foreigners there's no social stigma to drinking every night. Unless you have a job—and we didn't—it's how you form a social circle. Locals generally disapprove, but their judgements carry little weight. So when we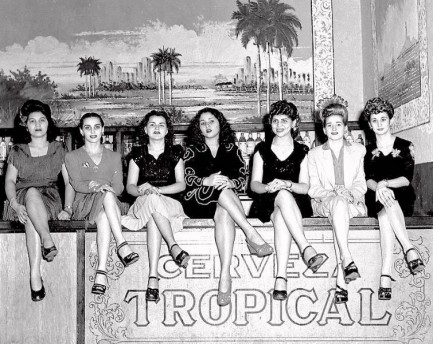 look at Havana partying shots we don't quite see oblivious, entitled people, because we know it isn't that simple. Most of them knew what was percolating. Stability was diminishing fast. There was a dissolved parliament, large protests, a 1953 battle in Santiago de Cuba, and other signposts on the way to change. It was clear the fun could never last.
The assortment of people you see here are caught on film like insects caught in amber, long dead but preserved. They're having a few laughs, enjoying some drinks, executing deft turns on dance floors, making their small, temporary marks on the world, leaving behind images showing them for one sliver of a moment in timeless eternity. Things changed in Havana, and now things have changed for all of us. If circumstances where we can dance and laugh and shout together in hot crowded places without fear of sickness ever return, be sure to embrace them fully. We don't just mean in some far flung tropical enclave. We mean anywhere. Because if it isn't a virus that takes those pleasures away, it'll be the march of years. You'll want to have done your best with this gift called life.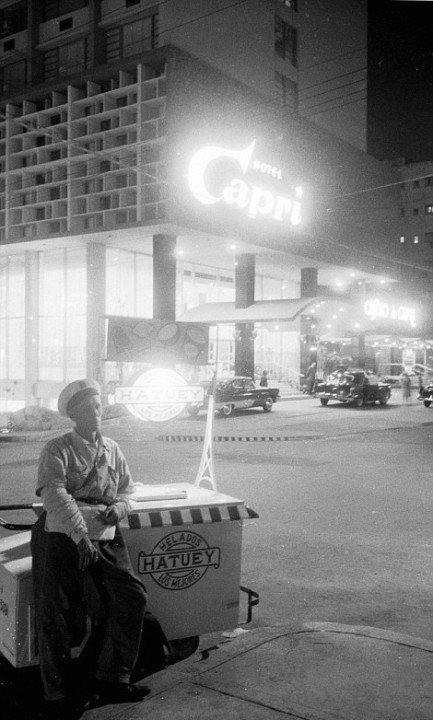 An ice cream vendor patiently waits for potential customers to emerge from the Capri Hotel and Casino, 1958.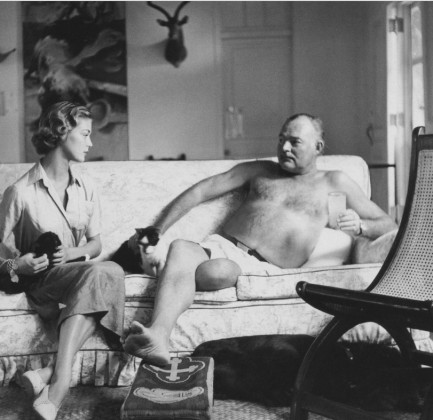 Fashion model Jean Patchett and author Ernest Hemingway, who habitually went shirtless, lounge at Finca Vigia, his house in Cuba, 1950.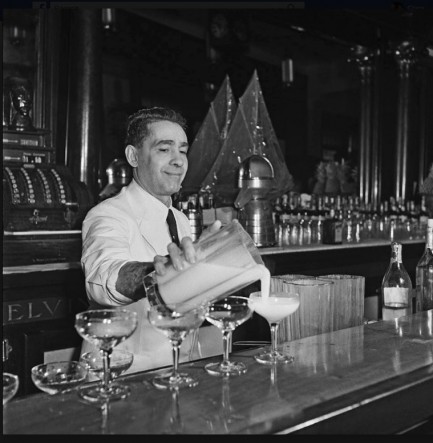 Above, Constantino Ribalaigua Vert, the "Cocktail King of Havana," inventor of the Papa Doble daiquiri, and owner of the famed bar La Floridita.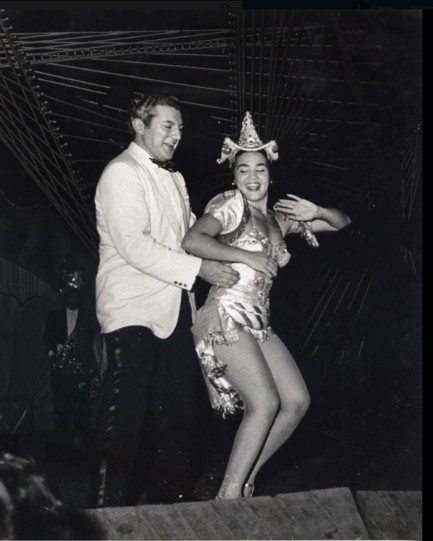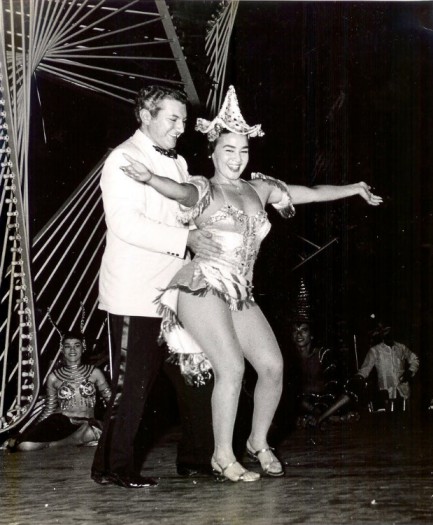 Liberace performs on stage at the Tropicana with headline dancer Ana Gloria Varona, 1954.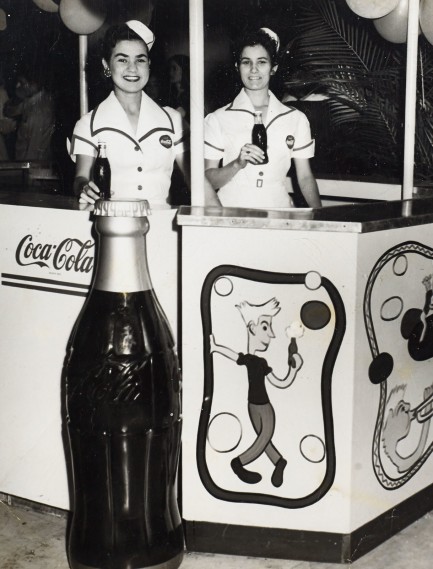 A Coke and a smile from two soft drink vendors.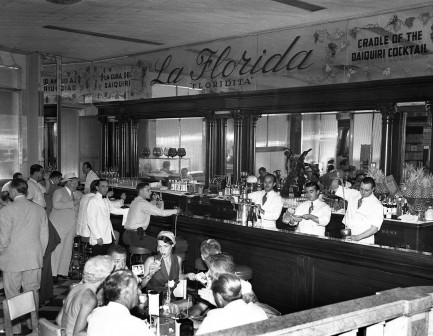 Patrons enjoy drinks at La Floridita, 1955.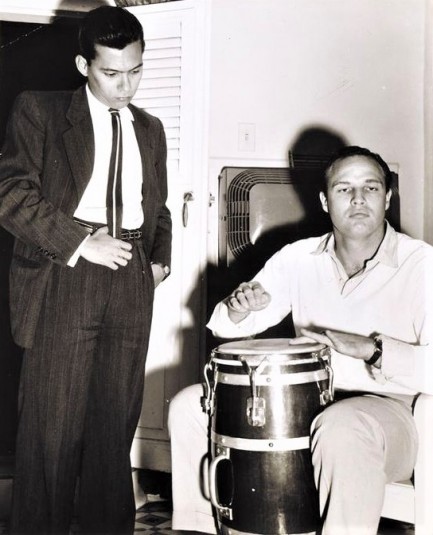 Cuban writer Guillermo Cabrera Infante stands by while Marlon Brando tries his hand—or both of them—at the conga drum at Hotel Packard, 1956.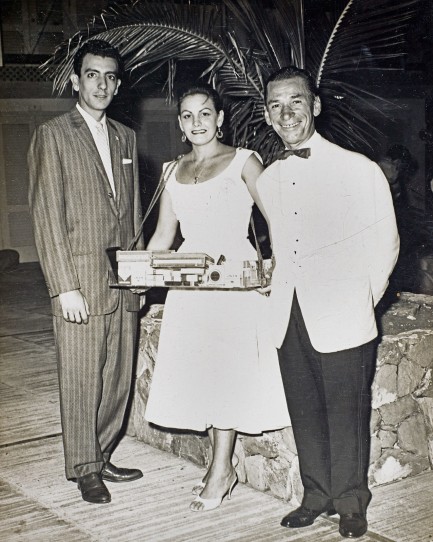 Mafia kingpin Meyer Lansky, on the right in this shot, attends the opening of the Hotel Riviera in December 1957.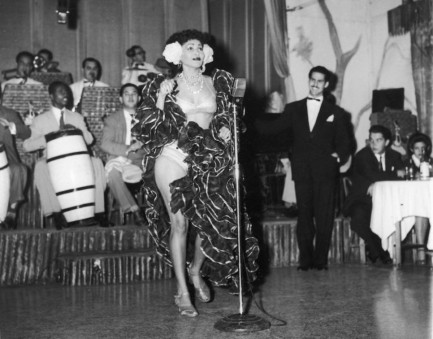 Famed entertainer Zulema dances the rhumba at the Zombie Club, 1946.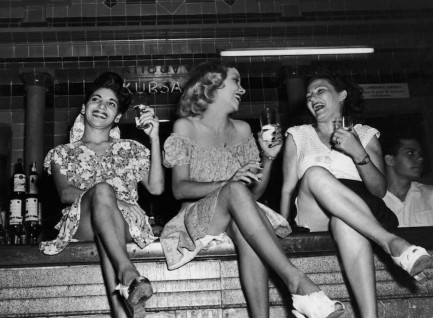 Three women liven up the room from their perch on the bar at Cabaret Kursal.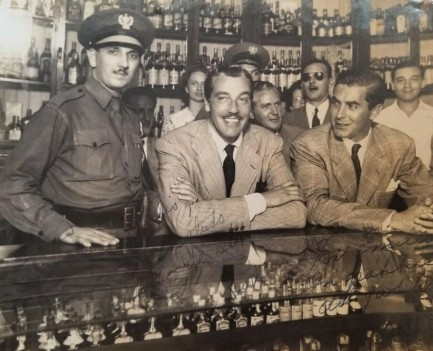 Cesar Romero and Tyrone Power enjoy a drink and a chat at Sloppy Joe's Bar.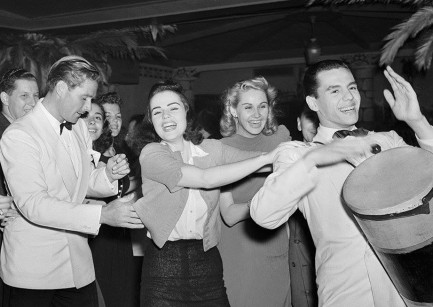 Revelers including Errol Flynn and Desi Arnaz, Jr. form a conga line during the Yoruba festival known as Dia de Babalú-Ayé.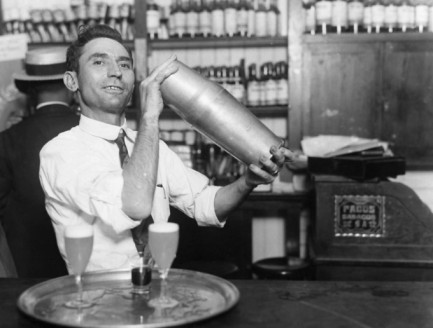 José Abeal Otero, founder of Sloppy Joe's Bar, mixes up a giant batch of liquid magic. No, this isn't the same person as above, Ribalaigua. They were both small, dapper guys.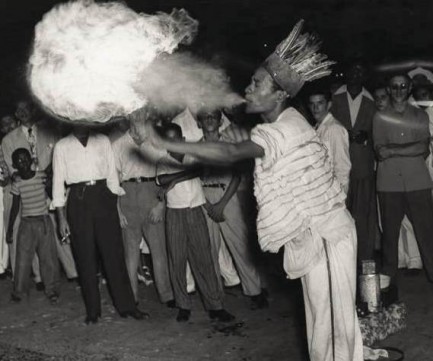 A firebreather thrills onlookers in front of the Saratoga Hotel, 1949.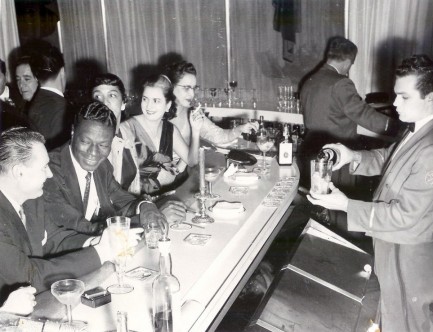 This photo shows Nat King Cole and his wife Maria Cole, along with Martin Fox, who was the owner of the Tropicana, accompanied by his wife Ofelia and an unknown fifth party.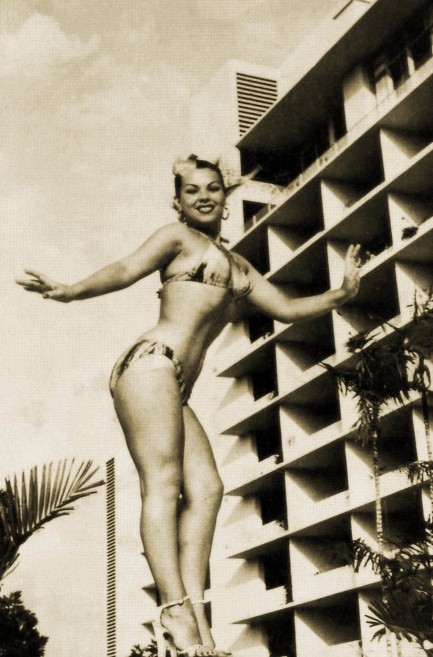 U.S. born vedette and movie star Tongolele, aka Yolanda Montes, poses outside the Capri Hotel and Casino, 1958.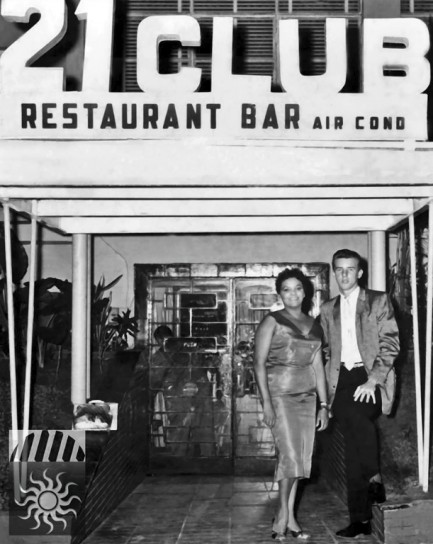 Meme Solis and Elena Burke pose at the entrance to the 21 Club, located in the Capri Hotel.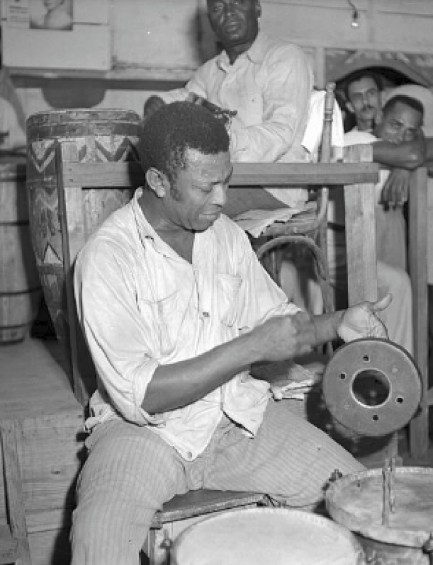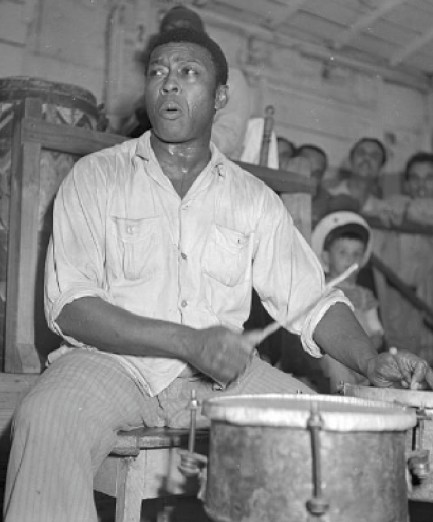 These photos show Silvano Chueg Echevarría, a master of percussion and an iconic musical personage. Let's go back to that Marlon Brando photo for a sec. Brando was an aficionado of percussive instruments. During that 1956 jaunt to Cuba he made it known that he wanted to buy drums from real percussionists. One of the musicians he met was Echevarría. All the Havana percussionists knew of Brando, of course, but thought he was a musical dilettante. At some point he finagled his way onto a nightclub stage, sat in with a band, and truly amazed onlookers with his ability on the conga. He wasn't a master, but he was pretty good. He won respect, and bought his drums.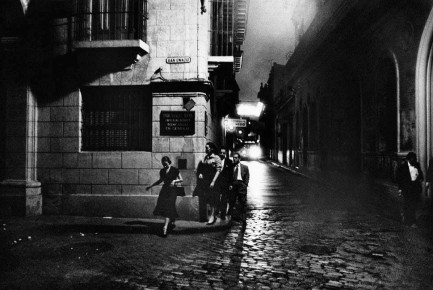 Raquel Revuelta, Manuel Corrales, and Mariano Rodriguez leave the famed bar Bodeguita del Medio and walk through the Havana night to other locales, other adventures, 1958.


---
She was a material girl living in a material world.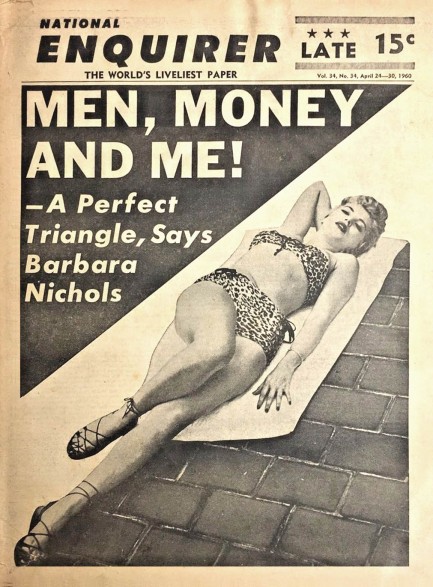 Above is a 1960 National Enquirer with Barbara Nichols on the cover, and editors claiming she said "men, money, and me" make a perfect triangle. Nichols was never a top star, mainly guest starring on dozens of television shows, but she was a staple in tabloids because she dated many rich and famous men but never married, which is why we suspect Enquirer editors came up with their cover quote. Some of her escorts included Jack Carter, Steve Cochran, Cesar Romero, and Elvis Presley. Nichols died in 1976 aged forty-seven due to liver dysfunction. It had initially been torn in an auto accident a decade earlier and gave her problem the rest of her life. We have a pair of nice femme fatale photos of her and you can see those here, and well as an awesome album sleeve here.
---
Some days you just can't get rid of a bomb.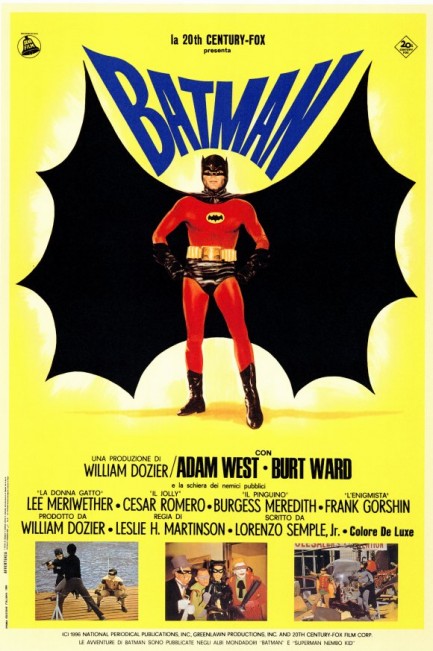 Is the original Batman movie cheesy? Well, let's just say that's like calling a truffle mildly flavorful. In one scene Batman needs to dispose of a smoking bomb. He runs along a wharf, but no matter which way he speeds with this thing he cannot unload it. Everywhere, innocent people are obliviously threatening to become collateral damage. Nuns stroll, lovers neck, marching bands play, women walk with babies. The Caped Crusader is blocked on all sides as he runs every which way like mad, and the scene just goes on and on. Thwarted at last by a school of ducks, he sighs and says to himself—but also to his audience—"Some days you just can't get rid of a bomb."
More than any other, that line sums up Batman. Plot? Sure, there's a plot. Joker, Penguin, Catwoman, and Riddler join forces to rid Gotham of the Dynamic Duo. Cast? Absolutely. You've got Lee Meriwether, Burgess Meredith, Frank Gorshin, Cesar Romero, and the immortal Adam West as Batman. But don't worry about that stuff—just watch the film. Its cynicism-free humor is almost unrecognizable as such in our modern, jaded age, but even so, it will knock you out of your chair laughing at least once. We guarantee it. And if it doesn't? Well then, you're a soulless zombie. Batman was released in the U.S. today in 1966.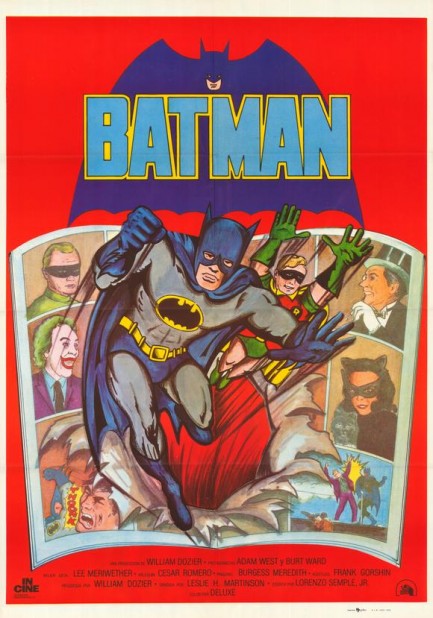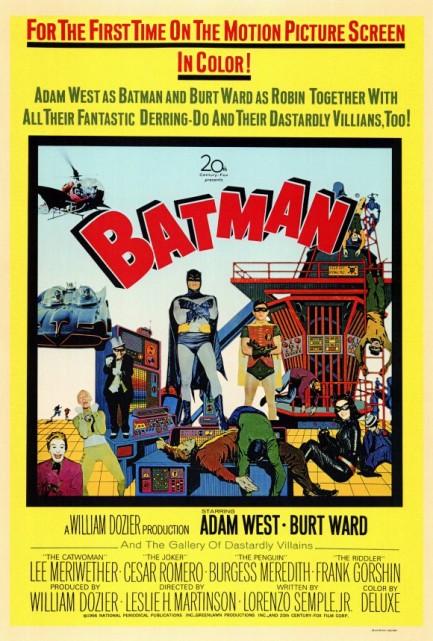 ---