She was a material girl living in a material world.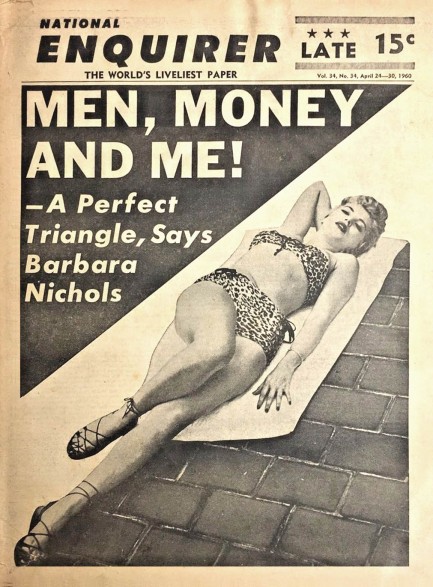 Above is a 1960 National Enquirer with Barbara Nichols on the cover, and editors claiming she said "men, money, and me" make a perfect triangle. Nichols was never a top star, mainly guest starring on dozens of television shows, but she was a staple in tabloids because she dated many rich and famous men but never married, which is why we suspect Enquirer editors came up with their cover quote. Some of her escorts included Jack Carter, Steve Cochran, Cesar Romero, and Elvis Presley. Nichols died in 1976 aged forty-seven due to liver dysfunction. It had initially been torn in an auto accident a decade earlier and gave her problem the rest of her life. We have a pair of nice femme fatale photos of her and you can see those here, and well as an awesome album sleeve here.
---
Some days you just can't get rid of a bomb.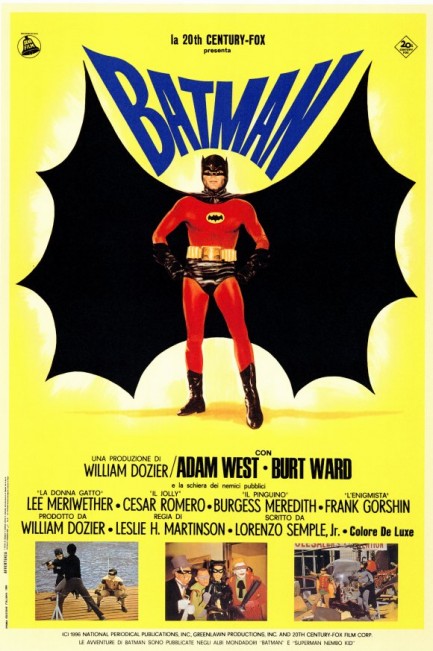 Is the original Batman movie cheesy? Well, let's just say that's like calling a truffle mildly flavorful. In one scene Batman needs to dispose of a smoking bomb. He runs along a wharf, but no matter which way he speeds with this thing he cannot unload it. Everywhere, innocent people are obliviously threatening to become collateral damage. Nuns stroll, lovers neck, marching bands play, women walk with babies. The Caped Crusader is blocked on all sides as he runs every which way like mad, and the scene just goes on and on. Thwarted at last by a school of ducks, he sighs and says to himself—but also to his audience—"Some days you just can't get rid of a bomb." More than any other, that line sums up Batman. Plot? Sure, there's a plot. Joker, Penguin, Catwoman, and Riddler join forces to rid Gotham of the Dynamic Duo. Cast? Absolutely. You've got Lee Meriwether, Burgess Meredith, Frank Gorshin, Cesar Romero, and the immortal Adam West as Batman. But don't worry about that stuff—just watch the film. Its cynicism-free humor is almost unrecognizable as such in our modern, jaded age, but even so, it will knock you out of your chair laughing at least once. We guarantee it. And if it doesn't? Well then, you're a soulless zombie. Batman was released in the U.S. today in 1966.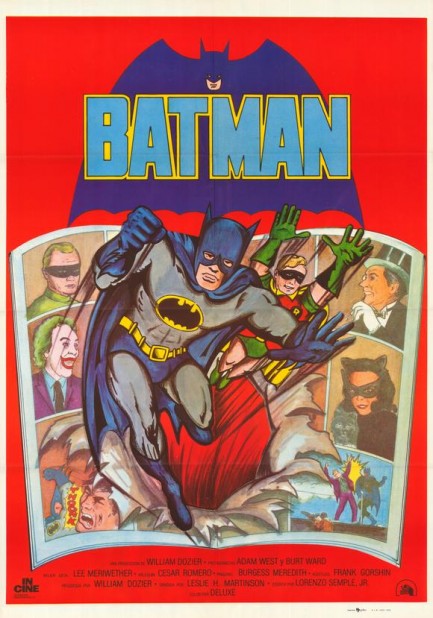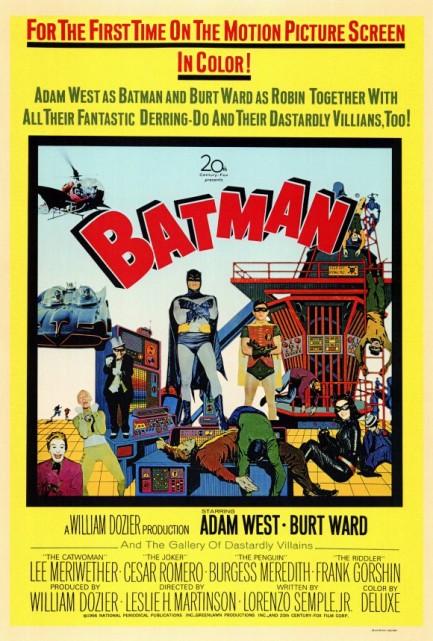 ---