The best defense is a good offense.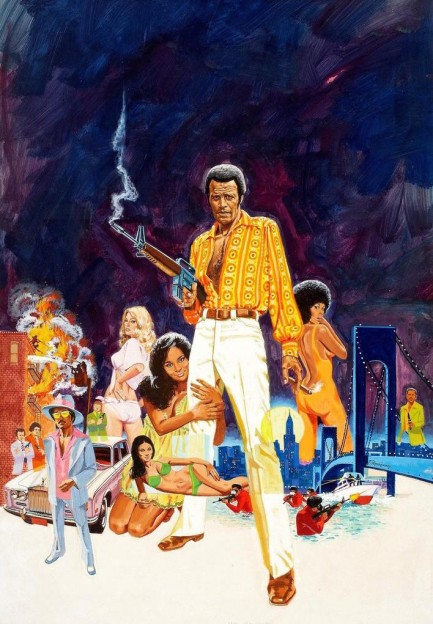 Above: the original promo art for Hell Up in Harlem, a blaxploitation classic starring former NFL defensive back Fred Williamson, along with Gloria Hendry and others. This masterpiece was painted by Robert Tannenbaum, a promo art icon whose website you can check out here. You can read about the movie here. Hell Up in Harlem opened in New York City today in 1973.


---
Ex-footballer Fred Williamson finds hits in cinema a bit more elusive than hits on a gridiron.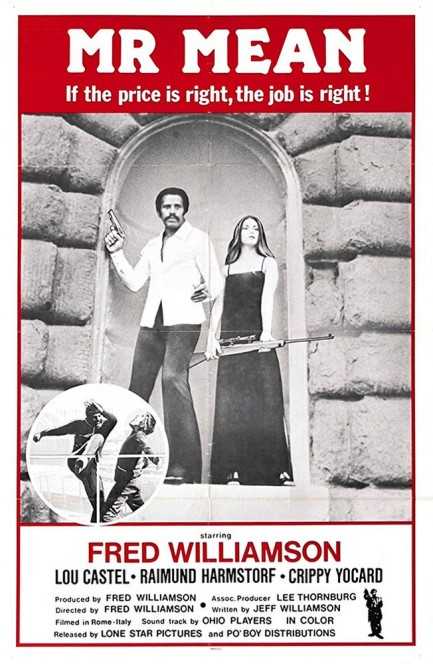 Above is a poster for the blaxploitation movie Mr. Mean, which hit cinemas this month in 1977. First, the title. Mr. Mean. We don't like it. It doesn't project the dignity of Mr. Majestyk, the approachable earthiness of Mr. Ed, the dystopian oppressiveness of Mr. Robot, the humor of Mr. Bean, the cultural examination of Mr. Baseball, the weirdness of Mr. Meaty, the paternalism of Mr. Skeffington, the righteousness of They Call Me Mr. Tibbs!, and, most importantly, the melodic promise of the forgotten '80s pop band Mr. Mister. In short, Mr. Mean just sounds like a movie about a guy nobody wants to know.
It was written, produced, and directed by ex-NFL bonecrusher Fred Williamson, and long story short, directing a film is just a little more complicated than spearing wide receivers as a defensive back. He should have done better, since this was his fifth go-round of nearly twenty in the director's chair. Possibly the studio messed up his final cut. Or, considerably more likely, it was a disaster from the snap. Problem one: there's an unbelievable number of scenes of Williamson going from point A to B, either by car on on foot. If all the transit scenes were cut the movie would be ten minutes shorter. Problem two: every actor in the film is made of wood.
But we made it through this interminable slog across a fireswamp of first year film student errors for two reasons—Williamson himself, who has charisma and actually does mostly okay in the lead role, and his co-star Crippy Yocard. Both are great looking and many viewers will probably dig him, her, or both. Yocard in particular was one of the more free-spirited Italian stars, which she proved by posing for numerous extremely nude photos, including this one. Back yet? Now just imagine what the others are like. Maybe there's even a third point of interest with the movie—it feels a bit arthouse, which makes it a curiosity within the blaxploitation genre.
Notice we haven't discussed the plot? Fred didn't even know what it was, so how can we? Basically, he plays a fixer living in Rome who takes jobs come what may, but is asked to cross the bright white ethical line and kill a guy. He doesn't want to do it, but he needs the money, the target is supposedly a real asshole, and so forth. Despite the hackneyed premise, a decent movie could have resulted, but it feels as if an investor backed out halfway through and Williamson and crew found themselves stuck up the Tiber River with neither paddles nor budget.

So what's the upshot here? Williamson gets to strut and whip ass, Yocard gets naked, and arrogant white villains get obliterated. All good things. An unexpected aspect is that the legendary funk band Ohio Players get the soundtrack duties and close the movie with "Good Luck Charm," which is a song so good it almost erases the memory of them opening the movie with a laughably bad theme song called—guess?—"Mr. Mean." What can be said? Even musical geniuses will fumble when pressured. As for Williamson—he just dropped the ball. Which is why he was a defensive back in the first place.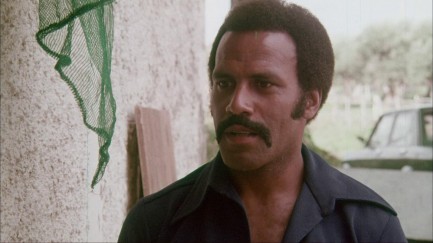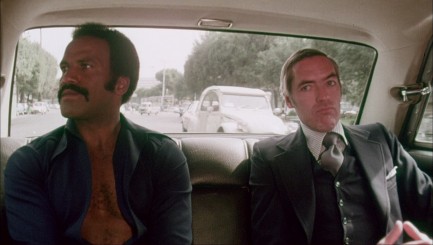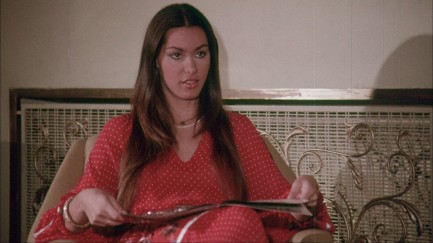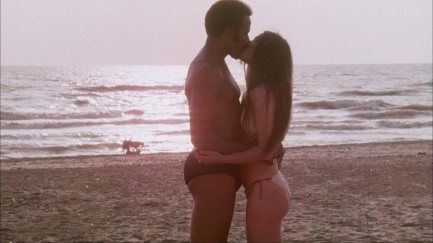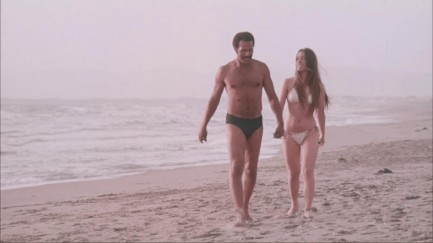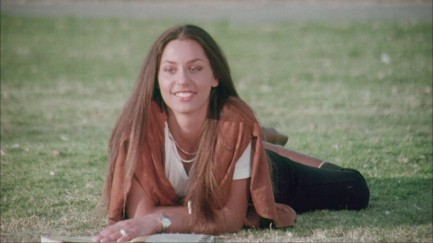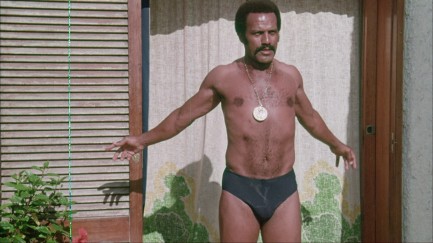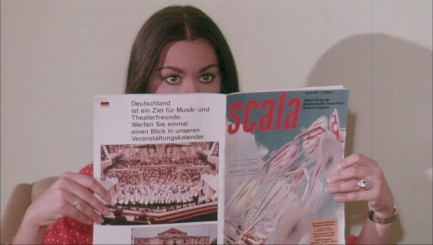 ---
Going nowhere fast in Harlem.
Hell Up in Harlem premiered in the U.S. today in 1973. It was the sequel to Black Caesar, which had been a surprise hit in cinemas a mere ten months earlier. The rush to make a follow-up shows. Hell Up in Harlem is eleven different kinds of inept, a tableau of repellent characters, bad scripting, and poorly staged action. It's not as if ambitions were low here. The movie tells the story of a Harlem crime kingpin who becomes pitted against his devious and ambitious father, imparting the lesson that family relationships come apart like tissue paper if the profit motive is strong enough. Yes, there was a good movie in here somewhere, but it never quite gelled. However Hell Up in Harlem does feature an excellent promo poster painted by George Akimoto, and some of the best production photos we've seen from the blaxploitation genre, a few of which we've shared just below. The time it will take you to look at them is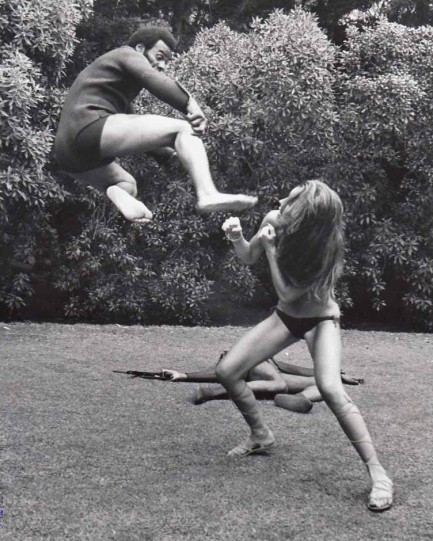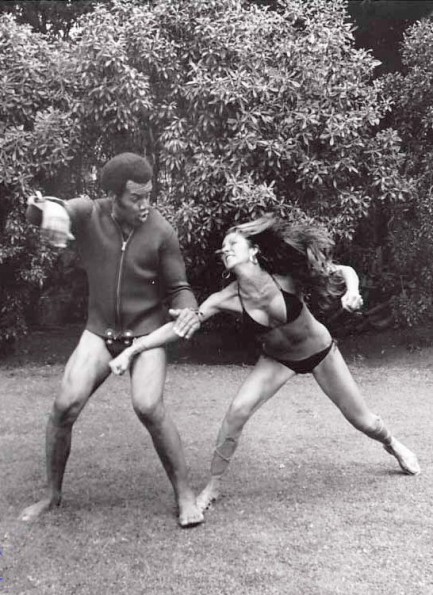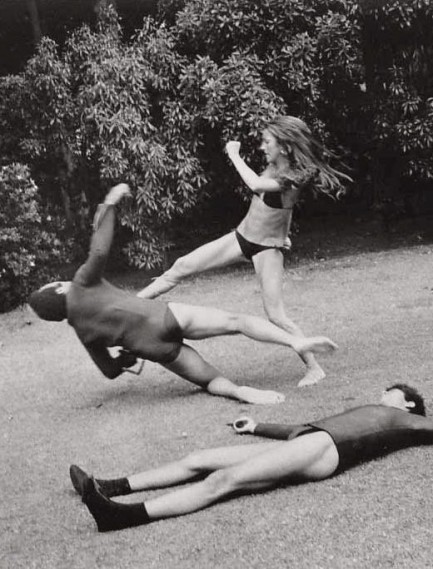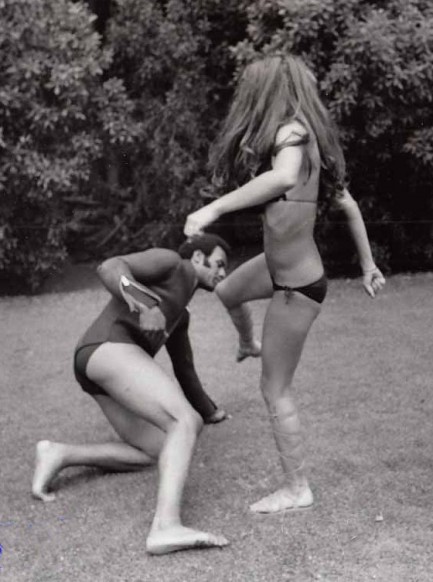 more than the amount of time the fight scene lasts—another flaw of Hell Up in Harlem. The shots show star Fred Williamson in mortal combat with Mindi Miller, who appeared in many films, including Westworld, Body Double, and Amazons. You can find these images around the internet, and she's misidentified on every single one of those websites—even Getty Images—as Gloria Hendry, who she clearly isn't. We also have, below, a great nude promo of Williamson. About time we featured a naked guy, right? Well, don't blame us for the lack. They just didn't make much in the way of nude male promos back then—especially ones like this. And speaking of unexpected, what's that dark shape between Williamson's thighs? We bet he didn't plan on showing that. But don't let it entice into you watching the movie. Unless you're a true blaxploitation fan you'll probably regret it.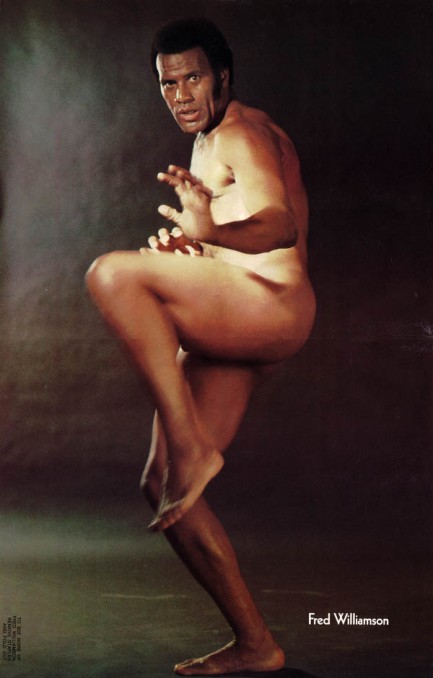 ---