Coffy gets scalding hot in explicit novelization.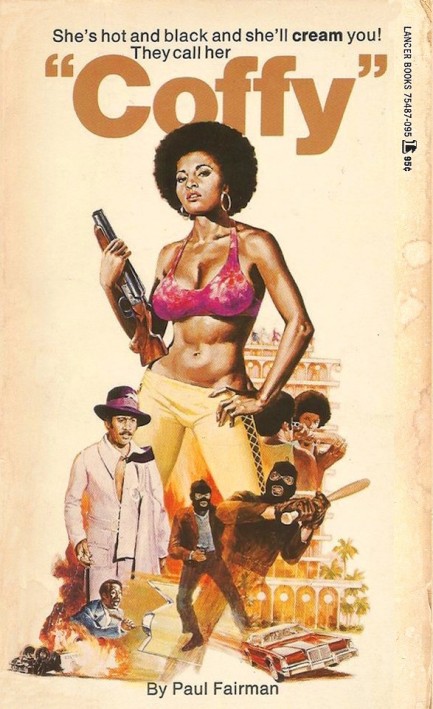 A novelization of the blaxploitation classic Coffy? We had to buy it. Paul Fairman was tapped to bring the iconic character of Coffy to literary life, and we were surprised to discover that the result is x-rated. We assume Fairman's marching orders came from Lancer Books or/and American International Pictures, and in a way it's a clever gambit—readers had no choice but to imagine Pam Grier dispensing the blowjobs and sizzling bed sessions described. Unfortunately, the other edge of that sword is Fairman has Coffy raped, which didn't happen in the movie (though she was seriously threatened with such). Except for the kicked up explicitness, the tale hews close to the motion picture, with Coffy seeking bloody revenge against the degenerates who addicted her eleven-year-old sister to heroin.
Fairman writes with as much soul as he can muster, but it's quickly discernible that he doesn't exactly have his finger on the pulse of the black community. Some of his attempts at African American vernacular are cringeworthy, especially the constant interjections of, "Sheeee-it!" We really don't think many black authors would have made that choice, and Fairman, who's not black and is no Toni Morrison, should have rethought it. The book has this and numerous other flaws, and isn't well written overall. We're particularly let down that Fairman never solved the mystery of Coffy's real name. Her last name is Coffin, but we don't learn a first name in the movie, and we don't here either. Her sister calls her Flower Child, but we feel like that's understood to be a nickname.
We managed to get Fairman's Coffy for seven dollars plus shipping. We've seen sellers ask for a lot more, even as much as eighty dollars, but we'd caution against extravagant expenditure. You get less than you expect. The book has extra large type to help pad it into a normal sized paperback. With regular type, leading, and kerning we think it would run maybe 100 pages. Instead of typographic tricks, a more detailed portrayal of No-First-Name Coffin would have been better, but no such luck. Even so, we're glad we bought Fairman's novelizationsploitation. If we hadn't, we would have wondered about its contents forever. The cover art on this is uncredited, but it comes directly from the film poster. That art, in turn, is rarely attributed, but it's by George Akimoto. Excellent work.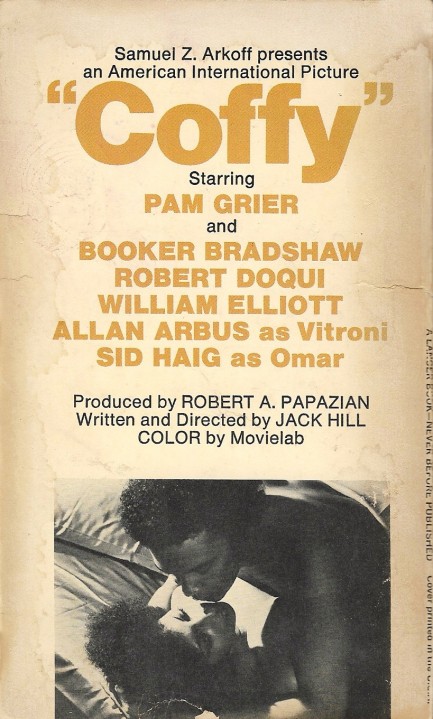 ---
Going nowhere fast in Harlem.
Hell Up in Harlem premiered in the U.S. today in 1973. It was the sequel to Black Caesar, which had been a surprise hit in cinemas a mere ten months earlier. The rush to make a follow-up shows. Hell Up in Harlem is eleven different kinds of inept, a tableau of repellent characters, bad scripting, and poorly staged action. It's not as if ambitions were low here. The movie tells the story of a Harlem crime kingpin who becomes pitted against his devious and ambitious father, imparting the lesson that family relationships come apart like tissue paper if the profit motive is strong enough. Yes, there was a good movie in here somewhere, but it never quite gelled. However Hell Up in Harlem does feature an excellent promo poster painted by George Akimoto, and some of the best production photos we've seen from the blaxploitation genre, a few of which we've shared just below. The time it will take you to look at them is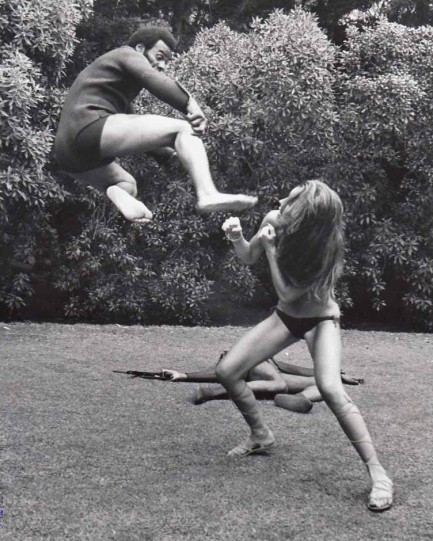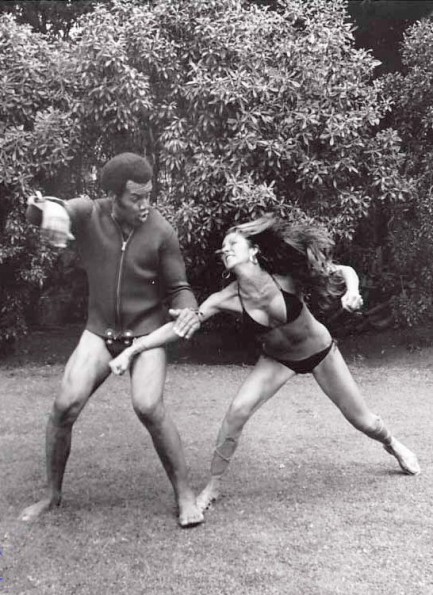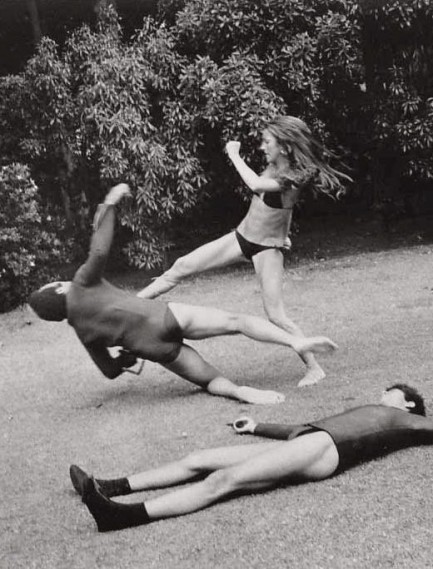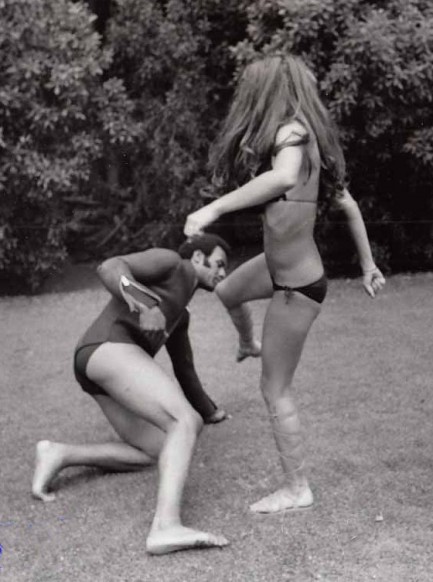 more than the amount of time the fight scene lasts—another flaw of Hell Up in Harlem. The shots show star Fred Williamson in mortal combat with Mindi Miller, who appeared in many films, including Westworld, Body Double, and Amazons. You can find these images around the internet, and she's misidentified on every single one of those websites—even Getty Images—as Gloria Hendry, who she clearly isn't. We also have, below, a great nude promo of Williamson. About time we featured a naked guy, right? Well, don't blame us for the lack. They just didn't make much in the way of nude male promos back then—especially ones like this. And speaking of unexpected, what's that dark shape between Williamson's thighs? We bet he didn't plan on showing that. But don't let it entice into you watching the movie. Unless you're a true blaxploitation fan you'll probably regret it.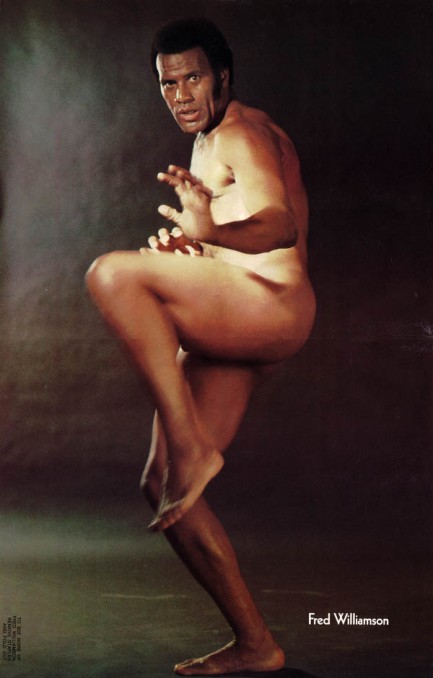 ---