Going nowhere fast in Harlem.
Hell Up in Harlem premiered in the U.S. today in 1973. It was the sequel to Black Caesar, which had been a surprise hit in cinemas a mere ten months earlier. The rush to make a follow-up shows. Hell Up in Harlem is eleven different kinds of inept, a tableau of repellent characters, bad scripting, and poorly staged action. It's not as if ambitions were low here. The movie tells the story of a Harlem crime kingpin who becomes pitted against his devious and ambitious father, imparting the lesson that family relationships come apart like tissue paper if the profit motive is strong enough. Yes, there was a good movie in here somewhere, but it never quite gelled. However Hell Up in Harlem does feature some of the best promo photos we've seen from the blaxploitation genre, and we've posted a few just below. The time it will take you to look at these four photos is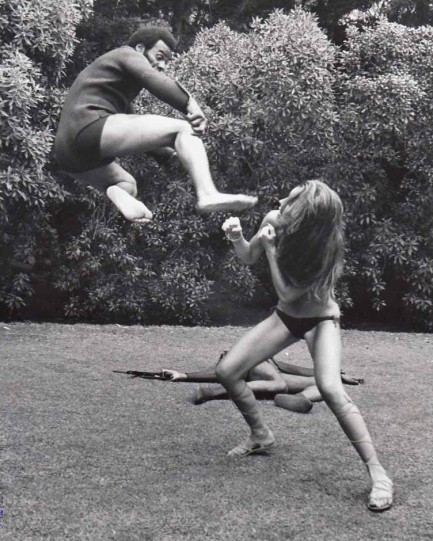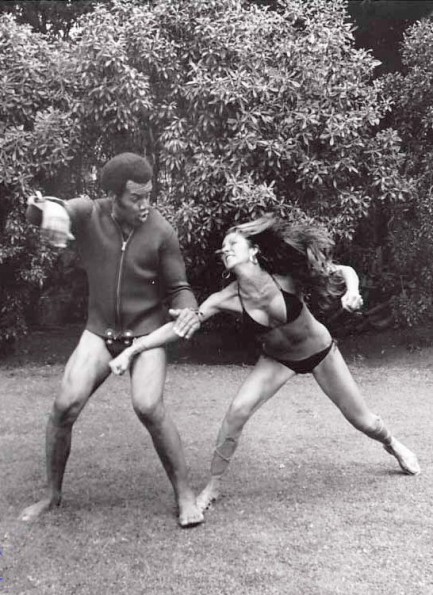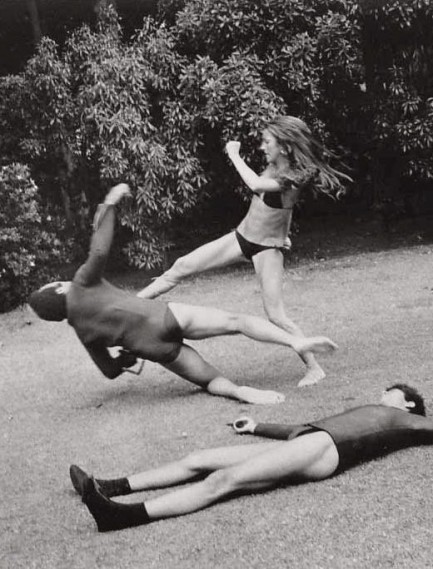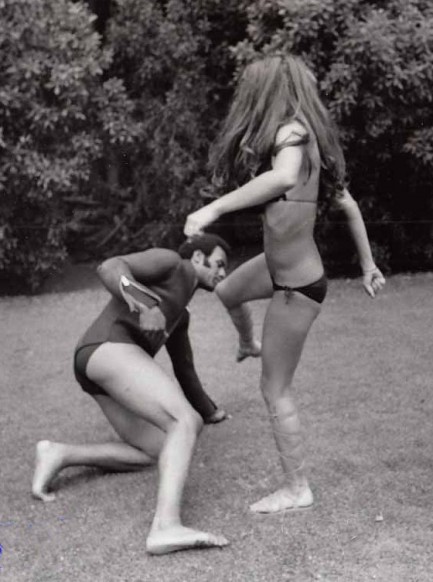 more than the amount of time the fight scene lasts—another flaw of Hell Up in Harlem. The shots show star Fred Williamson in mortal combat with Mindi Miller, who appeared in many films, including Westworld, Body Double, and Amazons. You can find these images around the internet, and she's misidentified on every single one of those websites—even Getty Images—as Gloria Hendry, who she clearly isn't. We also have, below, a great nude promo of Williamson. About time we featured a naked guy, right? Well, don't blame us for the lack. They just didn't make much in the way of nude male promos back then—especially ones like this. And speaking of unexpected, what's that dark shape between Williamson's thighs? We bet he didn't plan on showing that. But don't let it entice into you watching the movie. Unless you're a true blaxploitation fan you'll probably regret it.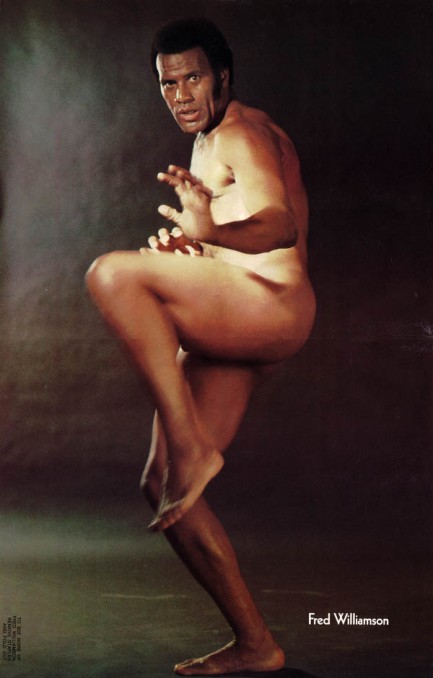 ---
My eyes are up here, people.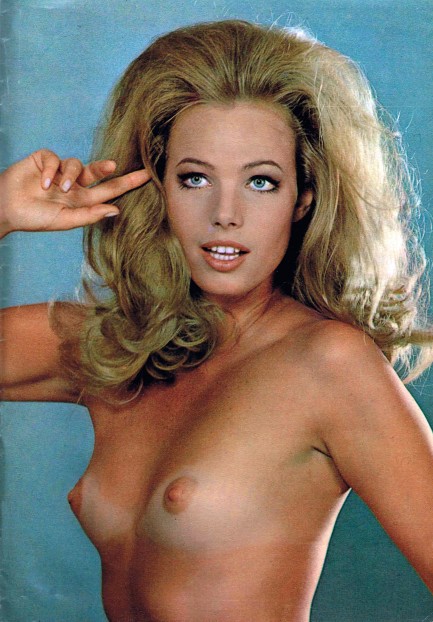 Above, an eye-opening photo of German actress Solvi Stubing, one of the great sex symbols of Italian cinema. Her film career began in 1964, and included appearances in Nude per l'assassino, aka Strip Nude for Your Killer, Le deportate della sezione speciale SS, aka Deported Women of the SS Special Edition, and Le amazzoni, aka Battle of the Amazons (we wrote about that one here). This photo is from the French magazine Sexyrama, 1970.
---
Once upon a rain forest dreary.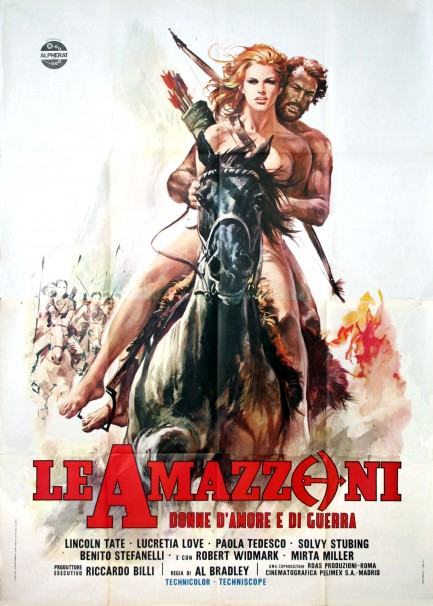 From the immortal director Alfonso Brescia, who gave humanity films such as Super Stooges vs. the Wonder Women and Kill Rommel!, comes Le amazzoni: donne d'amore e di guerra, aka Battle of the Amazons. As you've no doubt guessed, it's a sword and sandal epic, shot in Italy and starring an international cast of b-level actors, including Lincoln Tate, Paola Tedesco, and Solvi Stubing. In the film, a group of villagers hire some thieves to help defend against a band of Amazons. You've seen this plot before when it was called The Magnificent Seven, or better yet Seven Samurai, but unfortunately, the only magnificent aspects of Amazzoni are the various scantily clad women. But though they are lovely, they are also exceedingly mean. They kill their own wounded, torture people in various diabolical ways, and run roughshod over the nearby peasants like a band of neo-cons, appropriating whatever or whomever they desire. When the thieves and villagers make their mutual defense pact, we get a little culture clash comic relief to lighten the tone, which is good because the entire film is so dark it looks like it was shot through a pair of welding goggles. Eventually the fun and games end and we're off to a climactic final battle, the outcome of which we won't spoil except to say that in a movie with an anti-feminist subtext, things are not likely to end well for queen ballbuster. The above poster was produced for the film's Italian premiere today in 1973, and you can see the original trailer here.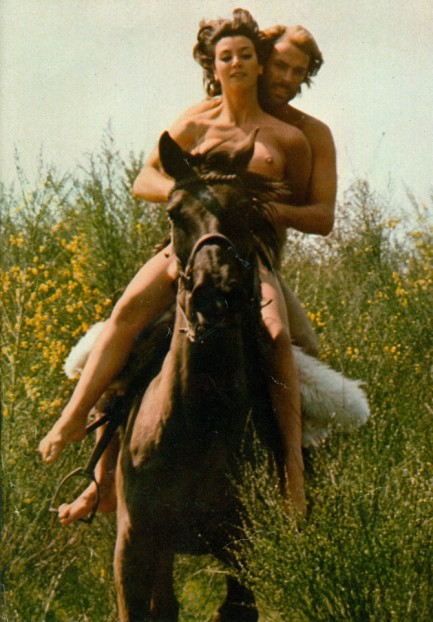 ---