A favor turns fatal in MacDonald mystery.
This is just the sort of eye-catching cover any publisher would want from an illustrator, an image that makes the browser immediately curious about the book. Since so many John D. MacDonald novels were illustrated by Robert McGinnis, and the female figure here has the sort of elongation you usually see from him, you could be forgiven for assuming at a glance that this is another McGinnis, but it's actually a Stanley Zuckerberg effort, clearly signed at lower left. We've run across only a few of his pieces, namely The Strumpet City and Cat Man. This is by far the best we've seen.
The story here is interesting. It begins with a woman having drowned in a lake and a sister who disbelieves the verdict of accidental death. She's right, of course, and the detective she hires soon agrees with her. The mystery is quickly revealed to involve taxes, deception, and money—specifically money the dead woman was supposed to keep safe and which has now disappeared. In an unusual move, MacDonald unveils the killer two thirds of the way through the tale, and the detective figures it out shortly thereafter. The final section of the book details his efforts to trap the villain.
This is the last book MacDonald wrote before embarking on his famed Travis McGee franchise. It was within the McGee persona that MacDonald indulged himself in often tedious sociological musings. In The Drowner his characters ring more true, but you can see signs of what is to come in several existential soliloquies concerning the state of the world and the various frail personality types that inhabit it circa 1963. For all our misgivings about the McGee books, they're still good. But we especially recommend any novel MacDonald wrote that came earlier, including this one.


Update: We got an e-mail from Pamela, who told us, "The plot seemed familiar, and sure enough - it was an episode of Kraft Suspense Theatre back in 1964."
We had a look around for it, with no expectations of success, but lo and behold, we found the
episode
on Archive.org, which often has public domain films and television shows on its platform. We watched the episode, which stars Aldo Ray, Clu Gallagher, and Tina Louise, and we have to say, John. D. MacDonald was probably thrilled. The adaptation is almost exact, with only a bit of license taken with the climax. The only thing he would have hated is that he's credited as John P. MacDonald. The only thing we hated was the lo-rez quality. Oh well. You can't ask for perfection when it comes to early television.


---
When the sun's away the crooks will slay.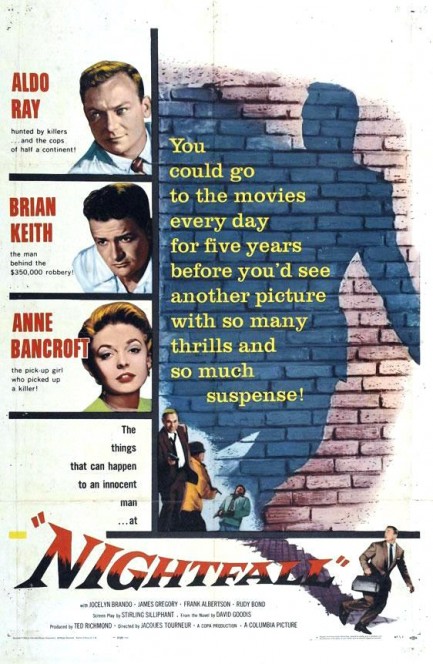 And speaking of the film noir starring Aldo Ray and Anne Bancroft, we watched it right after finishing the book, and though the novel was pretty dark, the filmmakers decided a little upbeat mood music was on order, so they got the immortal jazz crooner Al Hibbler to sing a theme song. Everybody knows this one. Join right in: Nightfaaaaaaall... and youuuuuuuuuuu... lovely you... underneath the wreath of heaven's pale blue... you are poetry (possibly haiku)... you are melody (maybe in d minor, the saddest of keys)... You get the idea. Don't let us turn you off this film. The theme song is nothing the mute button won't fix.
As we mentioned in our post on the source novel, Nightfall was directed by Jacques Tourneur, the heavyweight talent behind the film noir monument Out of the Past, and he has the kind of skills that make an early shot of co-star James Gregory getting on a bus an artistic achievement. Gregory plays an insurance investigator on the trail of $350,000 worth of missing heist loot, and, as in the novel, the innocent schmuck who accidentally got stuck with it lost it and doesn't remember how or where. That person is played by Ray, who's great in this, as he relates his dilemma in flashbacks and desperately tries to deal with the two murderous robbers who originally stole the cash.
Nightfall is no Out of the Past, but it's a solid film noir entry, well worth watching. Besides Ray and Gregory, the two robbers Brian Keith and Rudy Bond are good, and honey-voiced Bancroft as the femme fatale handles her pivotal role nicely. Credit here also goes to Burnett Guffey, who photographed the movie, and added to his long list of beautiful film noir achievements—Johnny O'Clock, Night Editor, In a Lonely Place, The Sniper, Private Hell 36, Screaming Mimi, and a portfolio of other films. Put Nightfall in your queue. It'll be worth it—once the theme song is over. It premiered in the U.S. today in 1956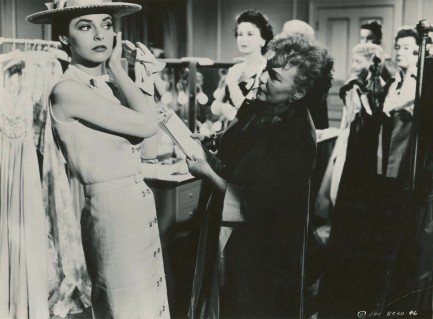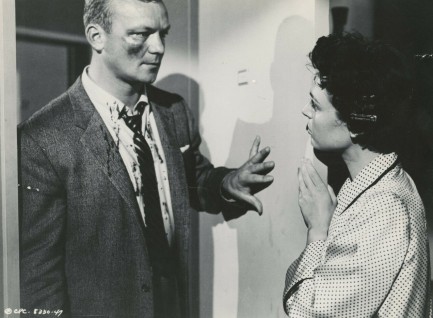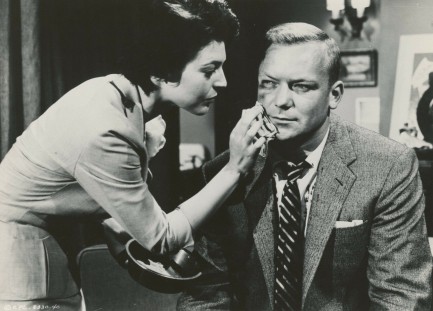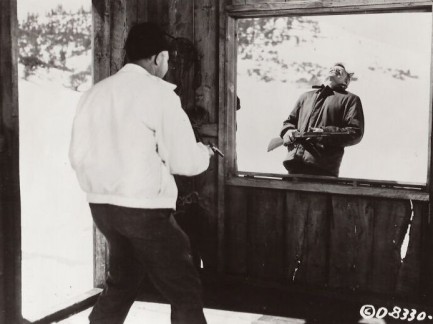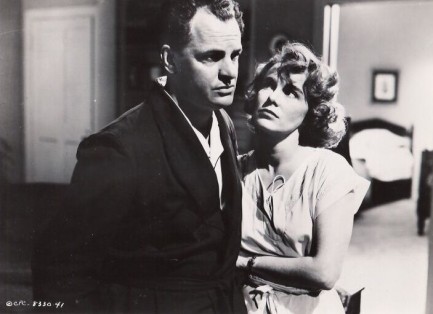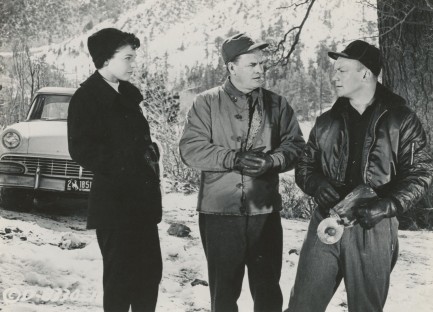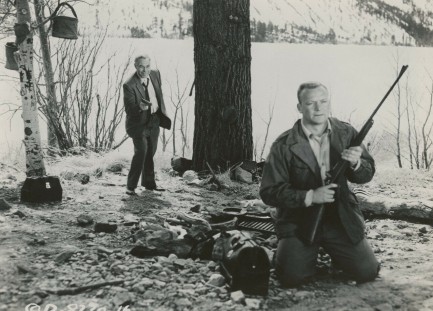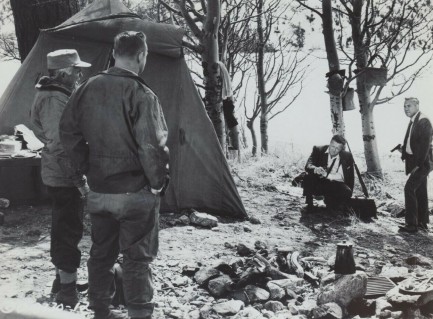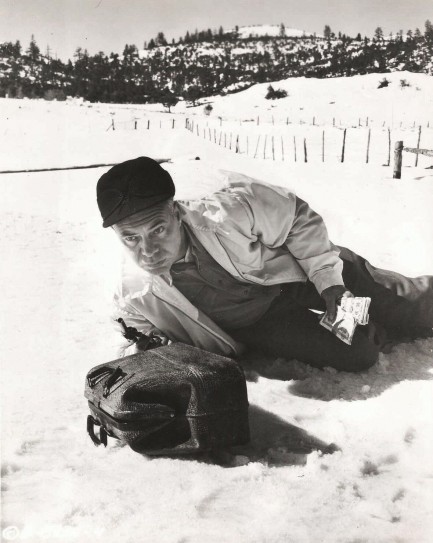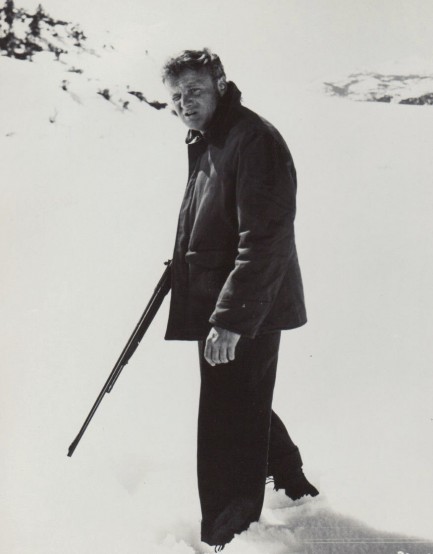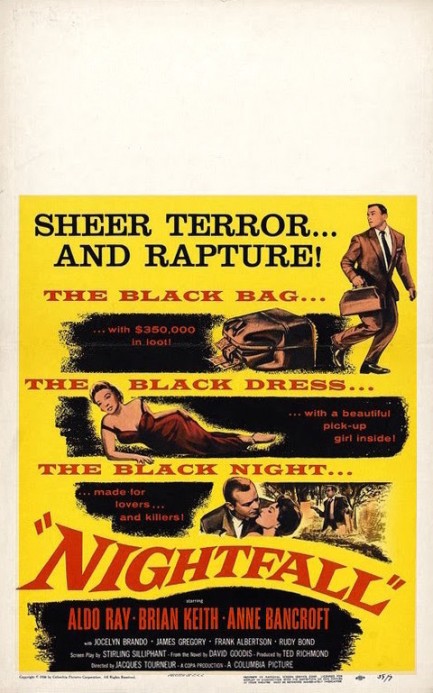 ---
Brothers can you spare a production budget?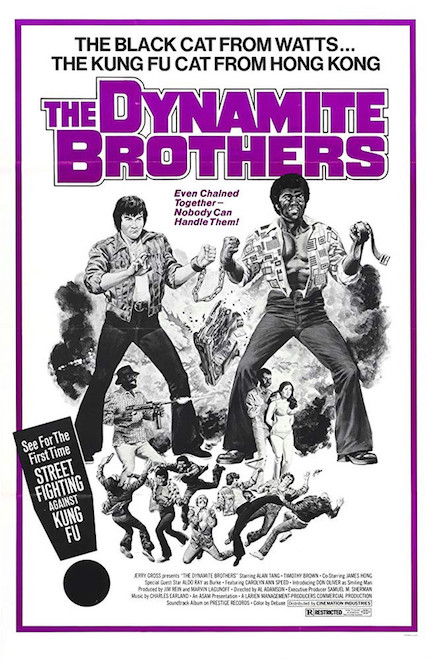 It's fair to suggest that most blaxploitation movies weren't good in the traditional sense. But The Dynamite Brothers, aka Stud Brown, which premiered in the U.S. this month in 1974, is probably close to the worst movie of the genre. It's a low budget The Wild Ones with a chop socky revenge thriller tacked on, and it has "rush job" scribbled all over it. Everything is off, from the direction to the screenplay to the sound effects. Not to put too fine a point on it, but it's films like this that helped kill blaxploitation.
Picture the first screening for the studio, Asam Film Company. Director Al Adamson managed to put up a brave front during the shooting schedule, but he's made his final cut and knows the movie is shit. He's cringing. He's slumped so low in his seat he looks like he's lost air pressure. He even considers scuttling for the exit during the second reel. If he stays low, like a crab, he might make it unseen. But he's still there when the lights come up, and various execs and investors are sitting around looking stunned. They're just white guys with money and don't know dick about this blaxploitation thing, so they have no idea what to think.
Finally someone ventures hopefully, "Was that good? Or..."
Someone else: "Al? Al? Where are you?"
Al: *sigh* "I'm down here."
"What the hell are you doing on the floor?"
"Uh, my back. Laying flat helps with—"
"Were you hiding?"
"Are we fucked?"
"Did you FUCK US?"

He fucked them. The Dynamite Brothers was an unremitting disaster. It turned out to be the only movie Asam Film Company ever made. Co-star Timothy Brown in particular had to be disappointed with the final product, considering his film debut was the all-time classic M*A*S*H, in which he played Corporal Judson. Top billed Alan Tang also had to be bummed. Back in Hong Kong when he was first approached about the project, someone told him mixing kung-fu into a blaxploitation flick was a no-brainer. Halfway through the screening he began to wonder if he'd misunderstood the meaning of that term.
Nevertheless, somehow both he and Brown survived The Dynamite Brothers and went on to have long careers, which is a tribute to their talent and persistence. Al Adamson kept working too, which is possibly a tribute to filmgoers' short memories. But like Bran the Broken in Game of Thrones, allow us to serve as the memory for all humanity here—steer clear of this one like the un-defused bomb it is. Get a tactical robot to delete it from your movie queue. It's baaaad. We don't mean cool-bad or funny-bad. It's just bad-bad.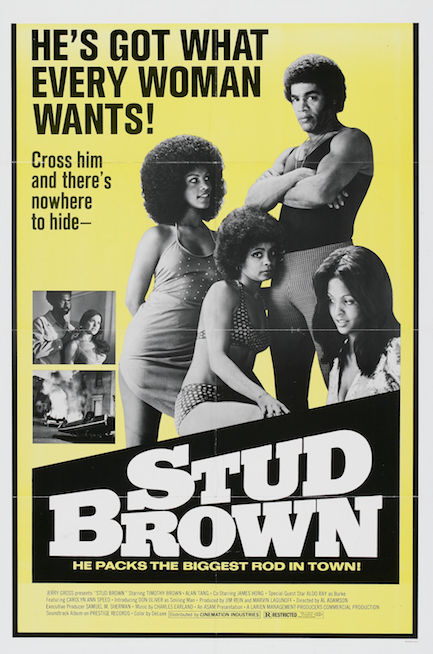 ---