She's tougher than Tarzan, meaner than Sheena, and lustier than Gungala.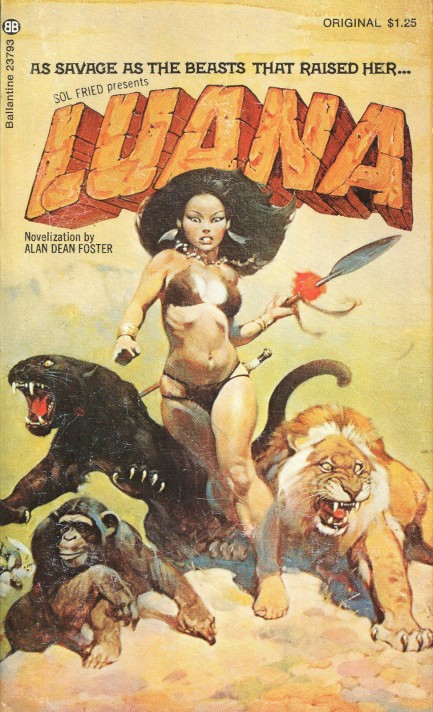 You can look at this cover and correctly assume that we've shared it because it was painted by Frank Frazetta, considered by many to be the master of sword and sorcery art. It's a beautiful piece, rightly famous. Alan Dean Foster is a master too. He isn't what you'd call a significant author in the sense that he's produced lauded original material, but he may be the king of movie novelizations. Among his output: The Black Hole, Clash of the Titans, Outland, Starman, Pale Rider, and The Chronicles of Riddick, as well as novelized series based on Star Wars, Star Trek, and Alien. We love Foster for his Star Wars sequel Splinter of the Mind's Eye, which came out before The Empire Strikes Back (notice we don't bother with that Episode nonsense) and followed Luke and Leia—not siblings in Foster's universe—as they adventured on strange worlds and discovered their love for each other. We still think the film series should have followed Foster's lead, but whatever.

His Luana is a novelization of the 1968 movie of the same name starring Mei Chen Chalais, which we talked about a while back. Sometimes novelizations are published before the film, sometimes after. Foster published Luana six years after the film in 1974 for reasons that are obscure. It was among his first published books. While template for a novelization is provided by the filmmakers, the author is who gives it color and life. Foster fulfills that duty with obvious relish, mining literary and cinematic antecedents like Tarzan, Tarzana, Gungala, Sheena, Shuna, and Ka-Zar for familiar tropes. A kilometer long pit filled with army ants? A lion and panther, both larger than any ever seen before, working in tandem with a huge chimp? A pitched battle between blowgun wielding Tanzanian tribesmen and an expedition of white explorers? A secret city of solid gold buildings? As lost world tales go, by standing on the shoulders of his predecessors, Foster crafts something better than average. And far better than the movie too.


---
I knew it would be a daring dress but this is a little ridiculous.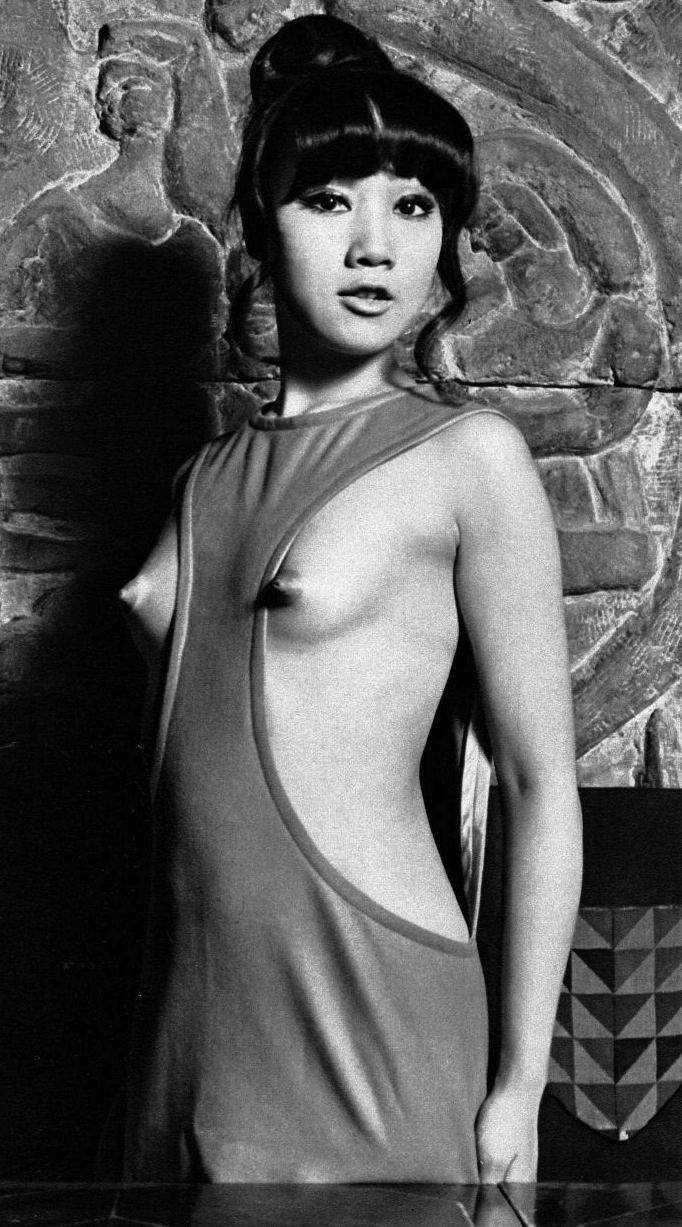 Vietnamese actress Mei Chen, aka Mei Chen Chalais, tries on a dress and immediately realizes her designer got her request for a plunging neckline confused. Chen isn't well known today, but she'll always have a place in our hearts for her lost world film Luana. And this crazy dress. The photo is from 1968 and first appeared in the magazine Girl Illustrated.


---
It don't mean a thing if it ain't got that swing.

One good swing deserves another, and since we screened Tarzana, sesso selvaggio, we thought we'd check out another Italian female Tarzan movie, 1968's Luana la figlia della foresta vergine. Basically, a man who disappeared into the African jungle many years ago is sought by the daughter he left back in civilization. The father had taken a second wife who bore him a second daughter. Unbeknownst to the first daughter, her father and his new wife died, and the second daughter grew up in the jungle alone, befriended by birds, primates, and an assortment of big cats. So the first daughter leads a jungle expedition and ends up stumbling upon a half sister that spends her time swinging on vines from water hole to water hole.

Describing the premise of this movie was probably more trouble than it was worth. All we really needed to say is that it's a film that features hot French actress actress Evi Mirandi and hot Vietnamese actress Mey Chen, aka Mei Chen Chalais, who has no lines at all but looks great running around in a loincloth. She also knows the jungle well enough to avoid the carnivorous flowers, something that—crucially—can't be said of others. The rest is unimportant. The poster art above is interesting, we think. It's signed, illegibly, and nobody has yet determined who the artist was. Someone in Italy needs to work that out. We'll just wait here trying to decide whether Luana la figlia della foresta vergine was actually any good. It premiered today in 1968.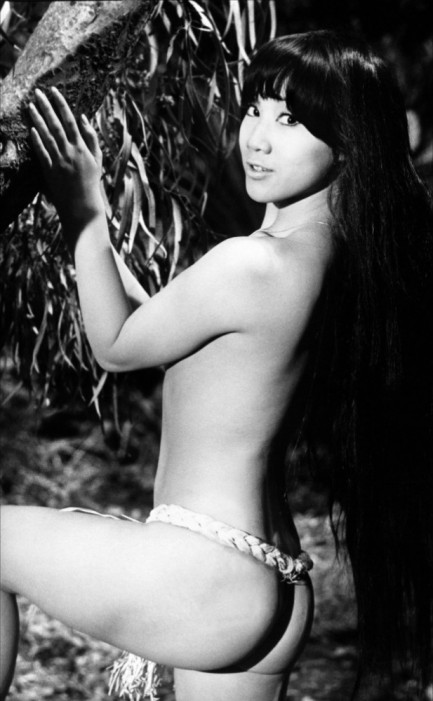 ---