Red eyes at night, Merle take warning.
Above, a great Spanish poster for the Andre de Toth thriller Aguas turbias, better known as Dark Waters, with Merle Oberon as a woman living in a bayou mansion inhabited by dodgy relatives who may want to kill her. The film premiered in the U.S. in 1944 and reached Spain this month in 1946. The poster is similar to the U.S. version, but the predominant color was changed to a bright red-orange, including—weirdly—Oberon's eyes. In our opinion the poster is actually creepier than the movie. You can read about it here.
---
Rita Hayworth is a human 4th of July fireworks show.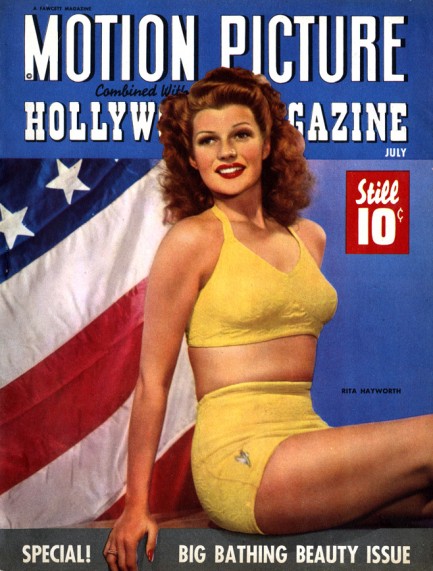 Over in the U.S. this is the day that makes cows tremble in fear—July 4, or Independence Day. Since moving away from the States we've had to get used to a whole new set of holidays, and while those events are truly amazing, none of them involve the searing of millions of hamburgers on outdoor grills. In our own way we're trying to change that by teaching our friends what exactly goes into a great hamburger, but working one friend at a time it may be some years before we really make an impact on the local cuisine. However, we can participate in July 4 in a more immediate way by sharing a couple of images from a July 1943 Motion Picture-Hollywood Magazine of that most beloved of golden age American stars, Rita Hayworth. Other stars inside include Norma Shearer, Jeanette MacDonald and Merle Oberon, and you also get the most famous photo of Betty Grable ever shot. Okay, our work is done. Though we can't find a decent burger in this corner of the world (yet), we do have a wide beautiful plaza just one block away and on that plaza is a quiet bar with outdoor tables and friendly staff members that keep us well-stocked with ice cold bottles of white wine. That's going to be the rest of our day. Enjoy the rest of yours.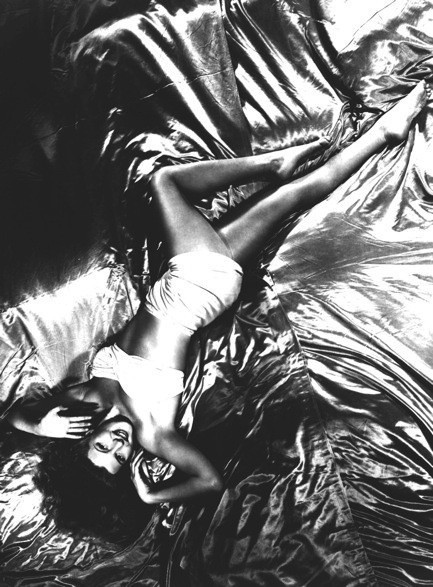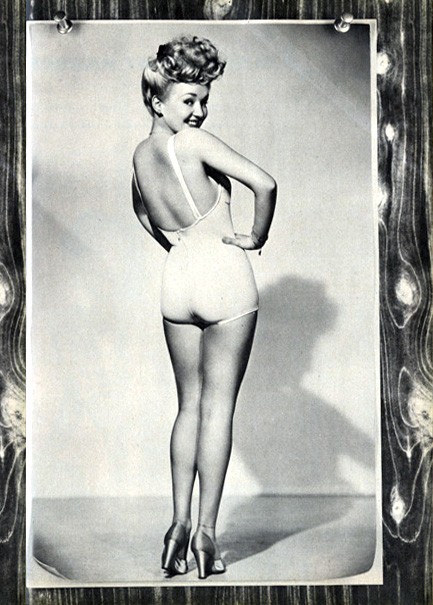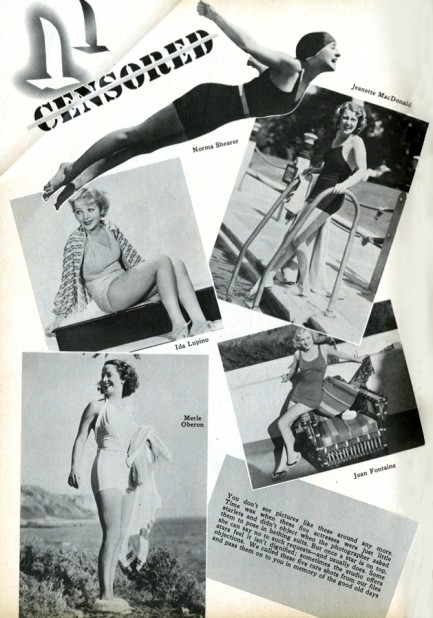 ---
It's sink or swim on the blue bayou.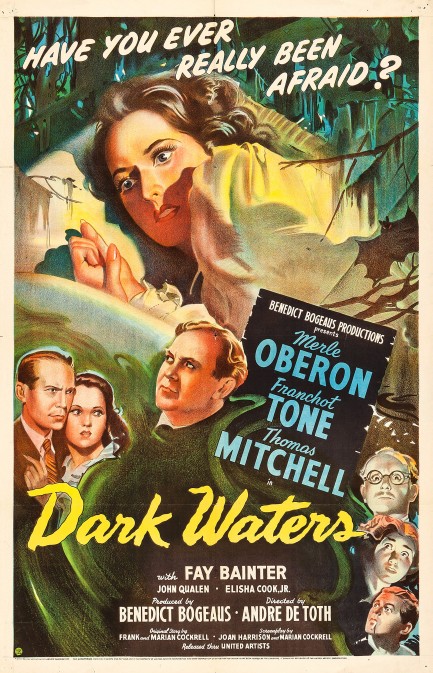 Dark Waters, which premiered in the U.S. today in 1944, is an interesting movie that hinges on PTSD. They didn't call it that back when the film was made, but what would you call it when someone can't put a traumatic experience behind them, is nervous, prone to panic attacks, and is socially debilitated? The sufferer is Merle Oberon and her trauma is the terrifying experience of being on a boat that was torpedoed by a German submarine. She lost her mother and father in the attack, and barely survived a subsequent ordeal on the water. Take this understandably jittery person with an untreated disorder, stick her in a mansion on the creepy-ass Louisiana bayou, then have someone or someones try to drive her insane. Who's doing the scaring? Well, that's the entire plot, and you'll have to find out for yourself.
We don't think this is a top flick, but it has a pretty cool south Louisiana feel, which is worth something. There's even a fais do-do—a Cajun dance party. It also has Elisha Cook, Jr. as a hopeless suitor and Nina Mae McKinney as a maid, which is way too minimal a role for her, but that's the way it went for women of color in 1944. Dark Waters is fine for fans of gothic creepshows, but film noir fans should temper expectations. The movie is labeled a film noir on some crowdsourced websites like IMDB and Wikipedia, but it isn't really. It has a nice a nighttime swamp climax, but one set piece does not a film noir make. It's more of a gothic thriller on the order of Rebecca. Noir fans take note. Everyone else, enjoy.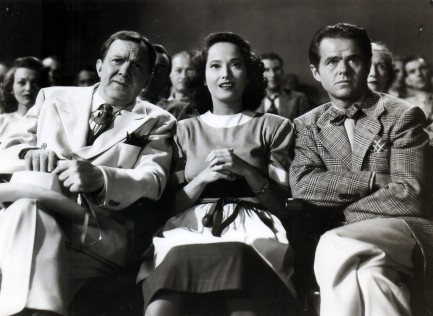 ---