All the best people showed up.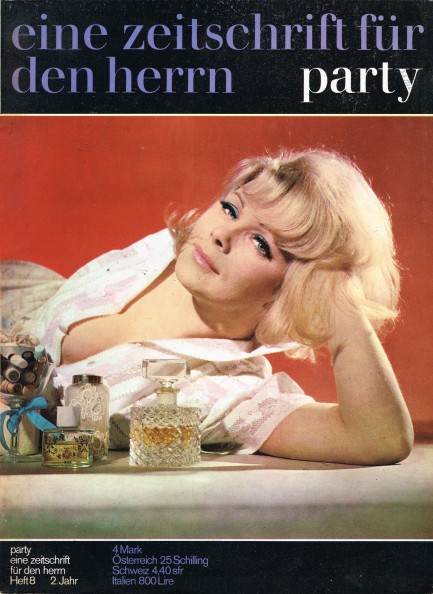 The West German pop culture and celeb magazine Party, which was produced in Hannover by Lehning Press, is an obscure publication. It's very vivid, with bright color, many full page photos, and many film celebrities represented. Equal time is given to unknowns too, for example, the cover features Annelies Niessner, who was... we have no idea, and inside a color page is given to Cornelie, identified only as a "millionärstochter geht eigene wege," a millionaire's daughter who goes her own way.
In terms of celebs you get Carol Lynley, Jane Russell, Sandra Dee, Stella Stevens, Laya Raki, a beautiful portrait of Jane Fonda, numerous shots of Ursula Andress, and many others. This publication didn't waste words, even on the copyright date. The cover tells us this is issue eight, so we're going to say it came in August, and we're thinking it's from 1967. Though it may be short on info, Party is an appropriate name, because it's a very fun magazine. We have several more issues, so look for those later.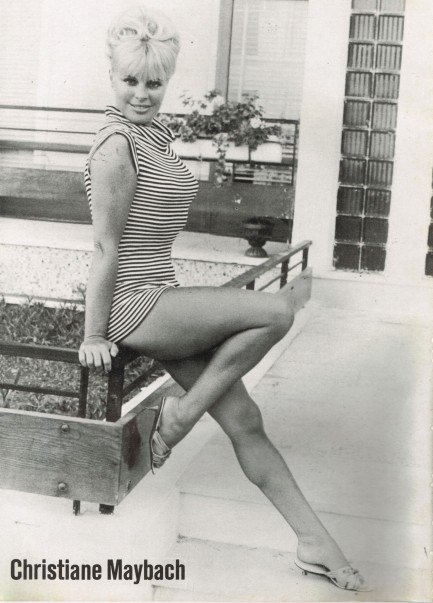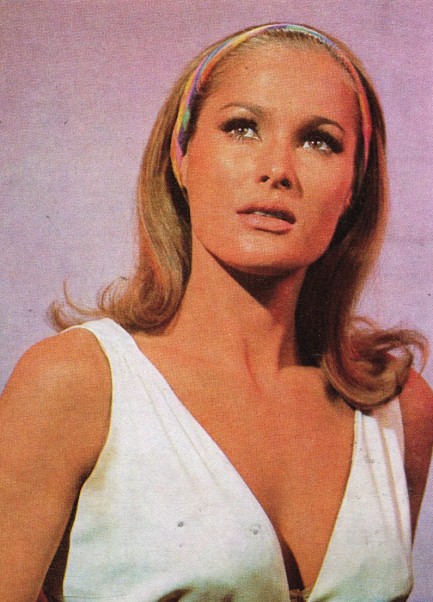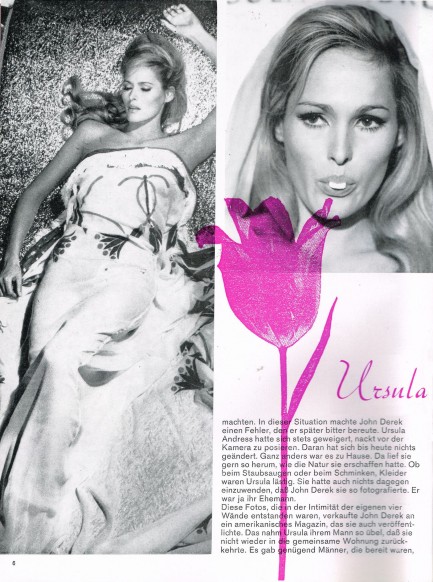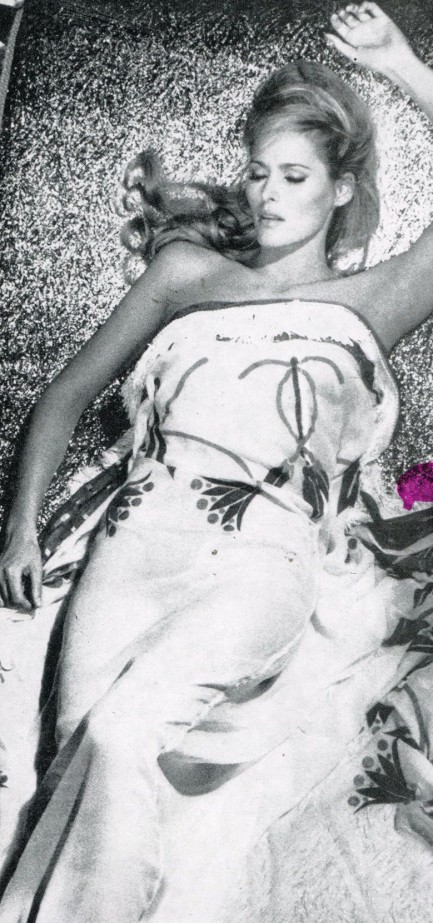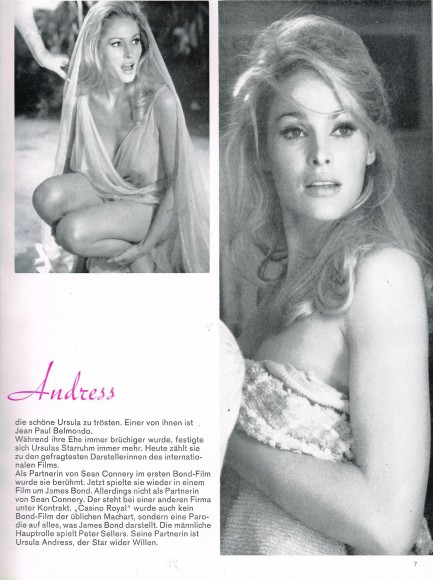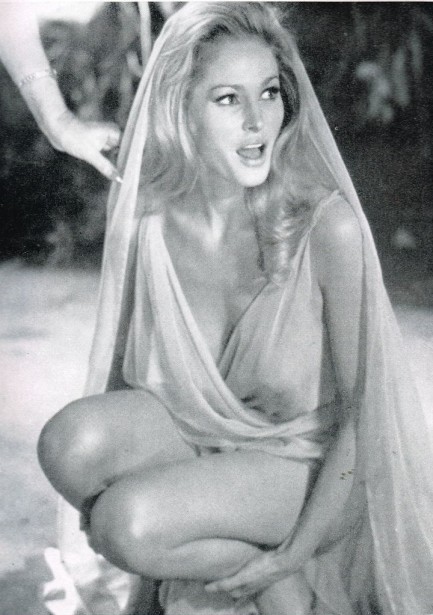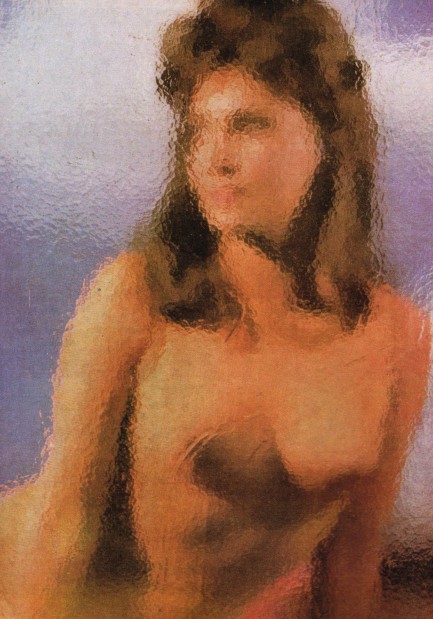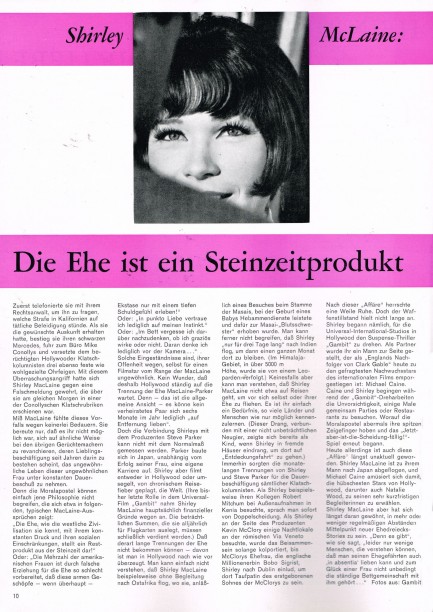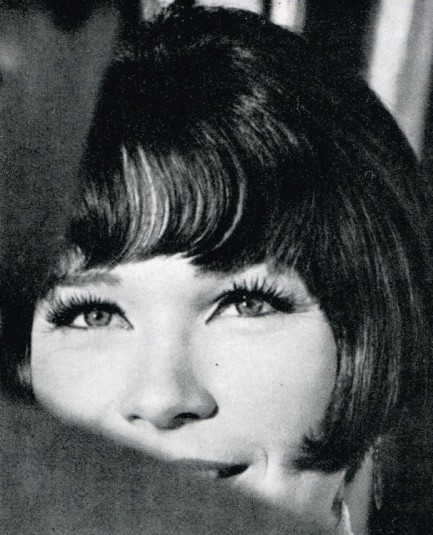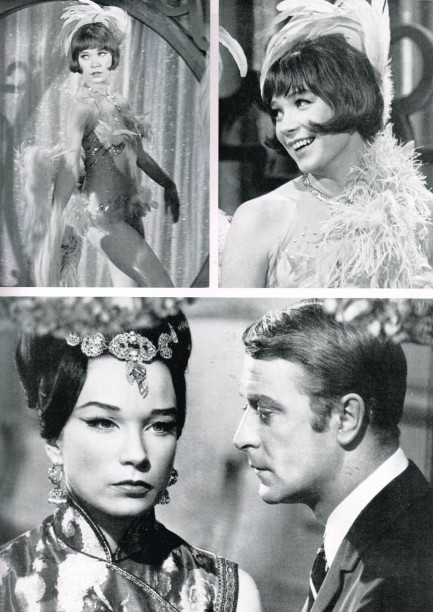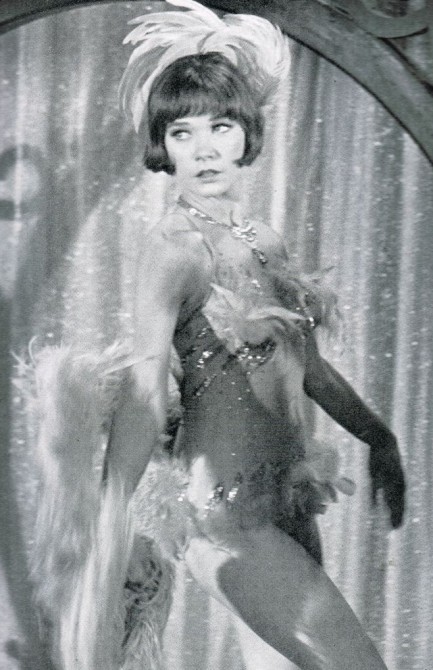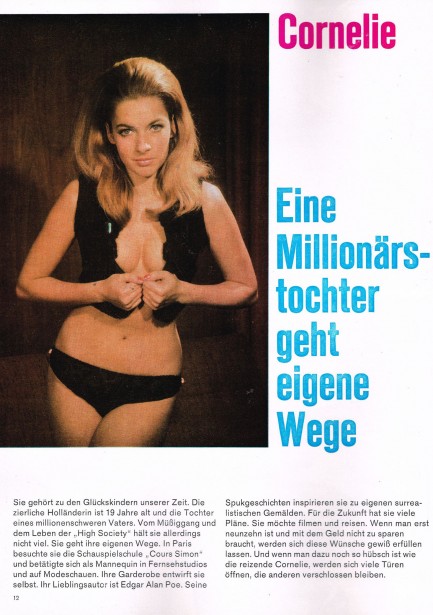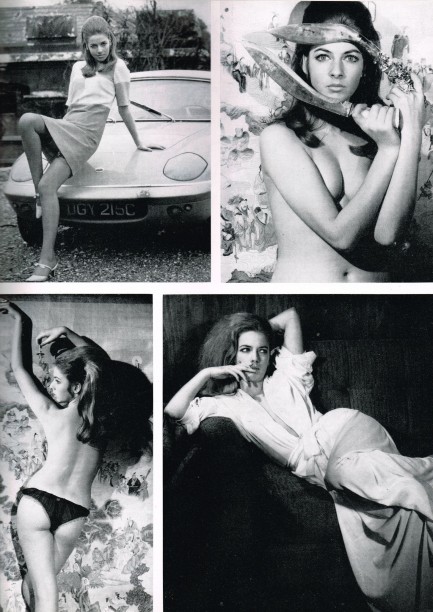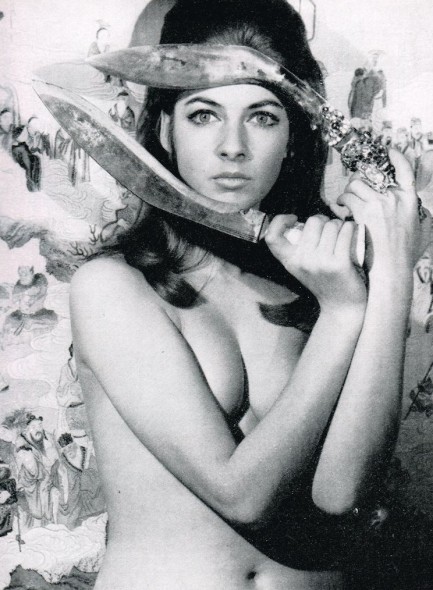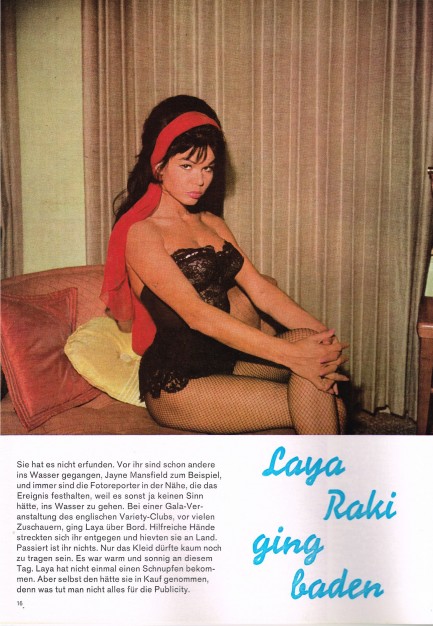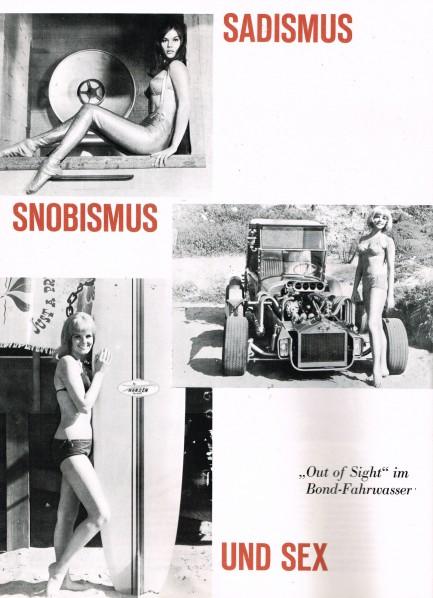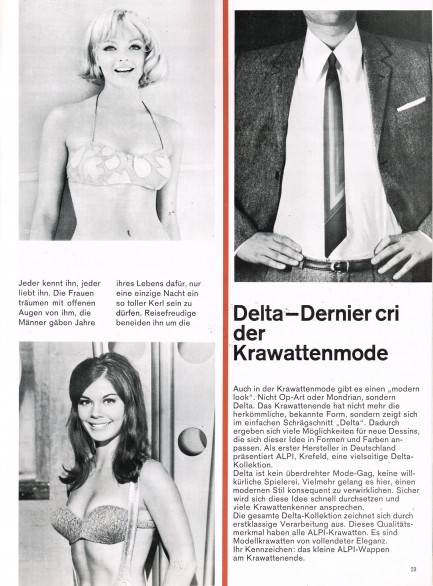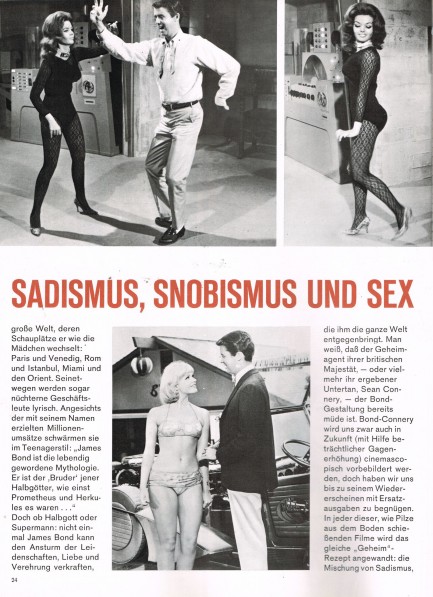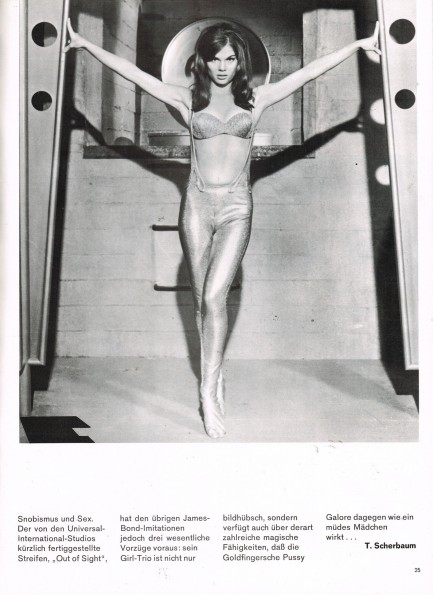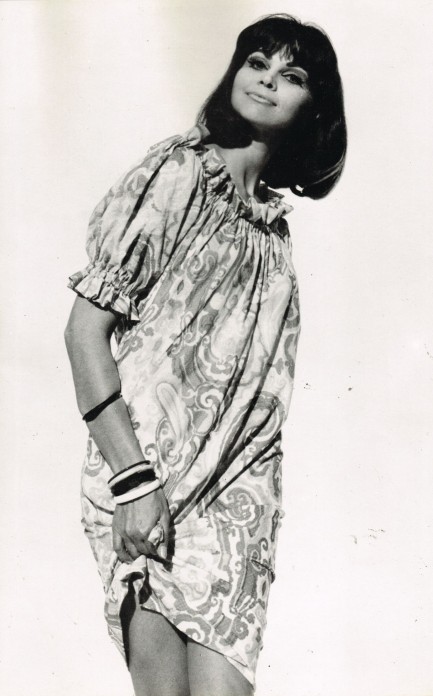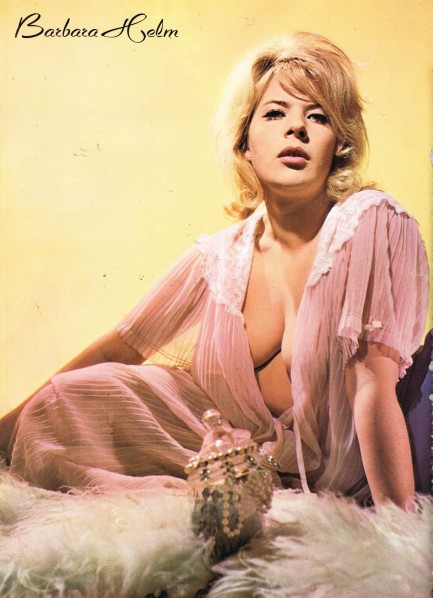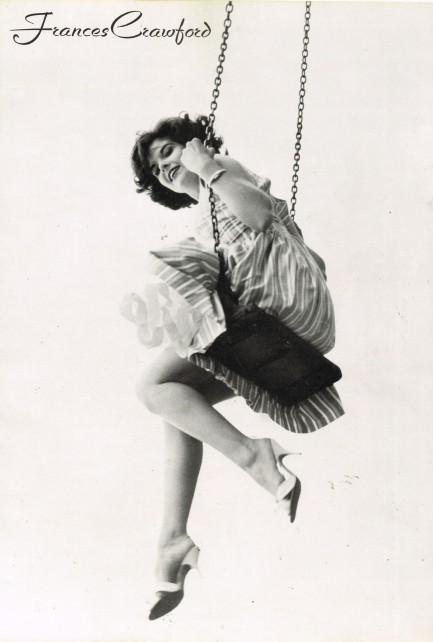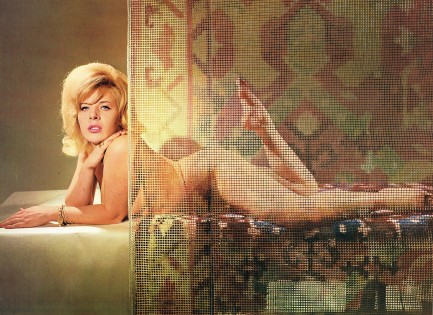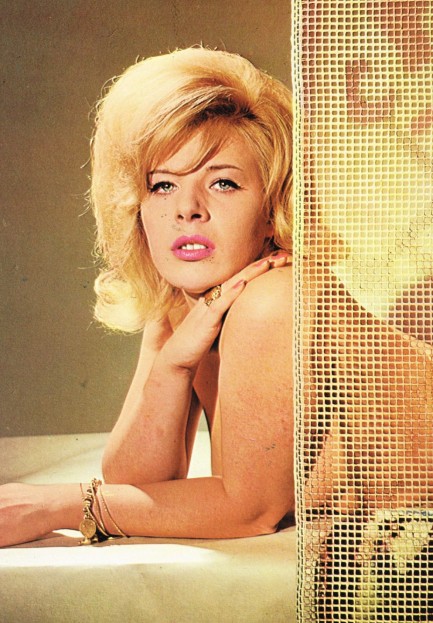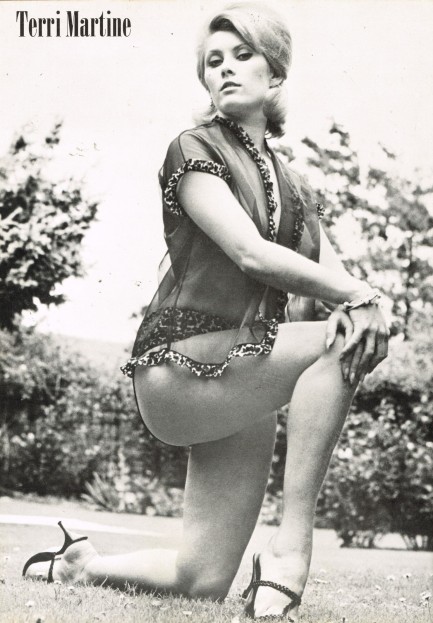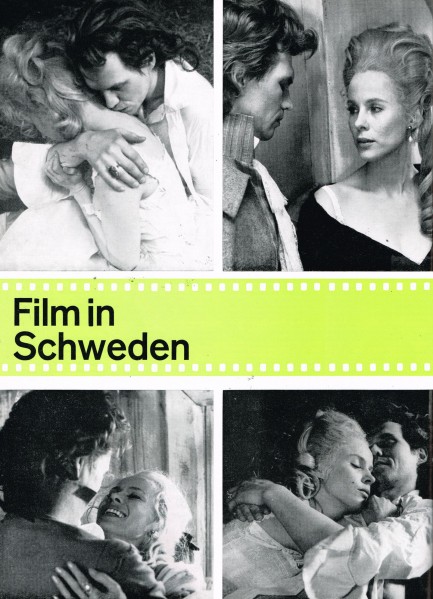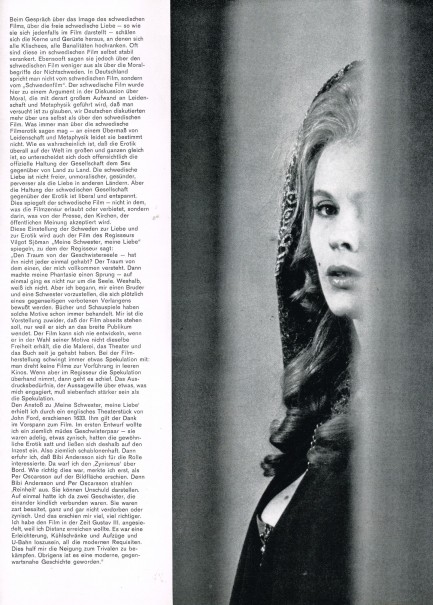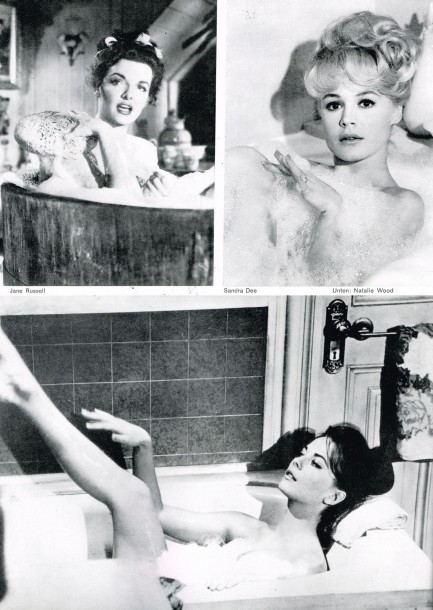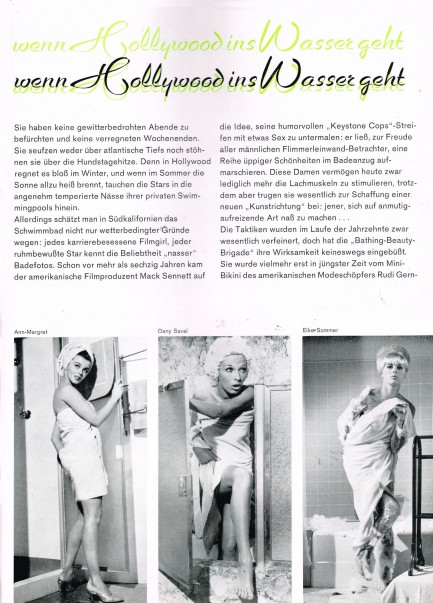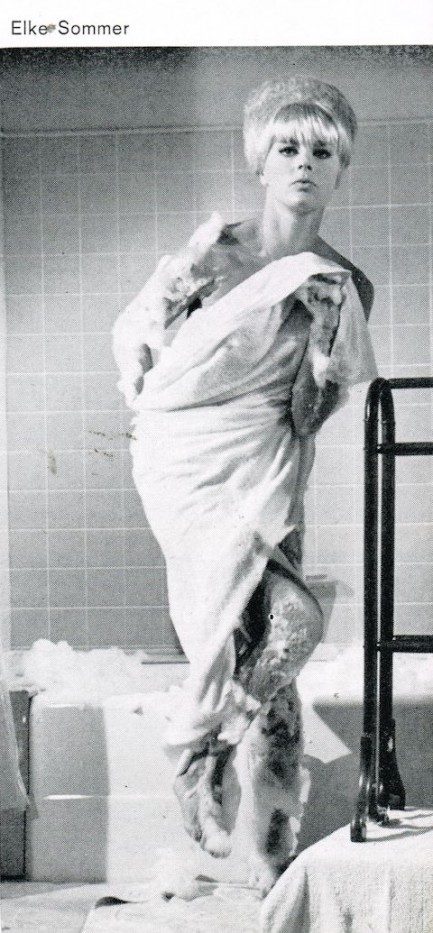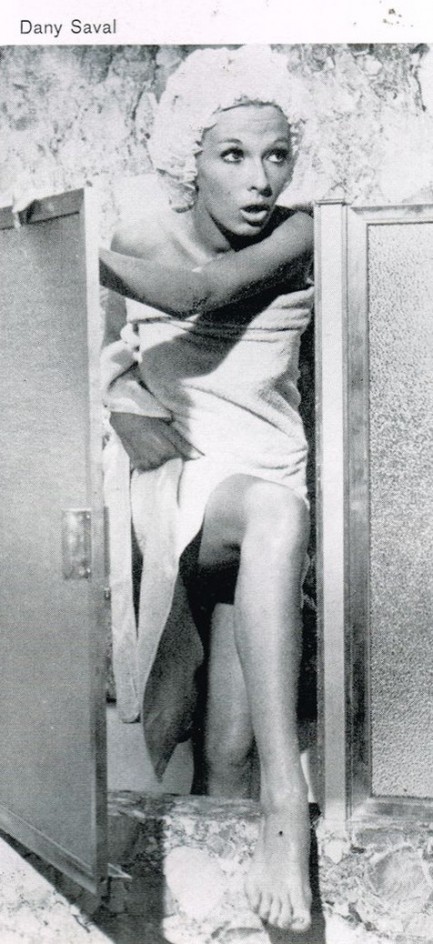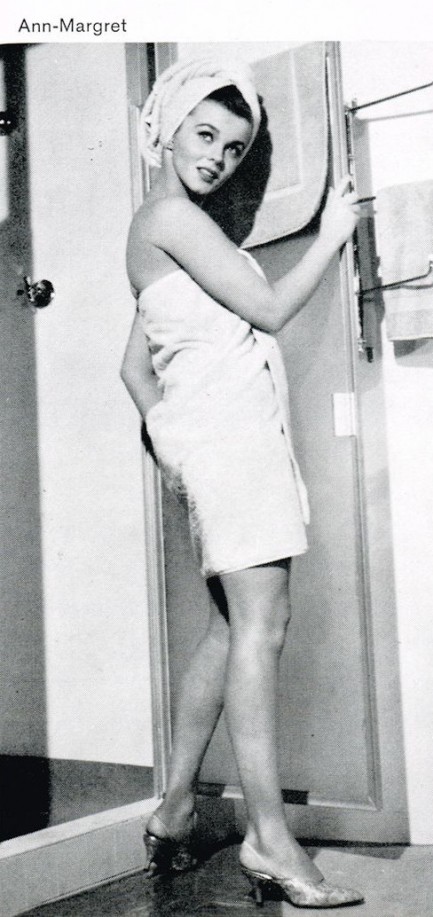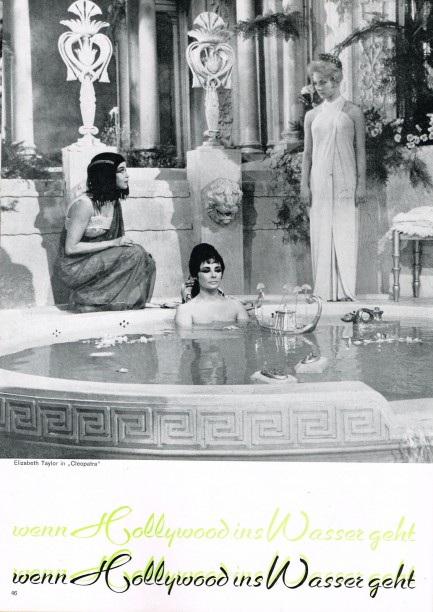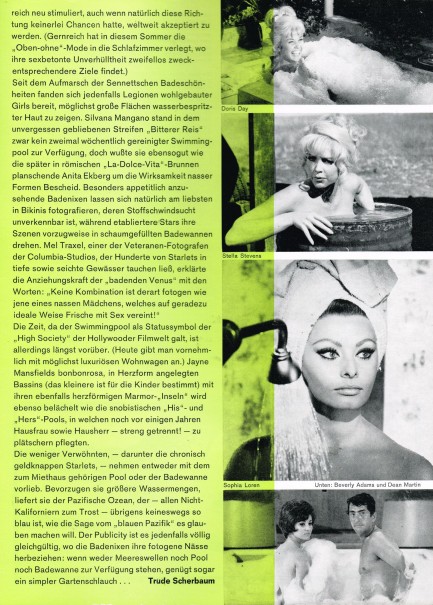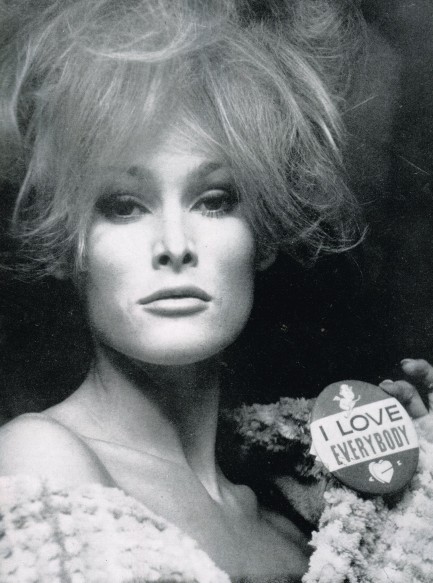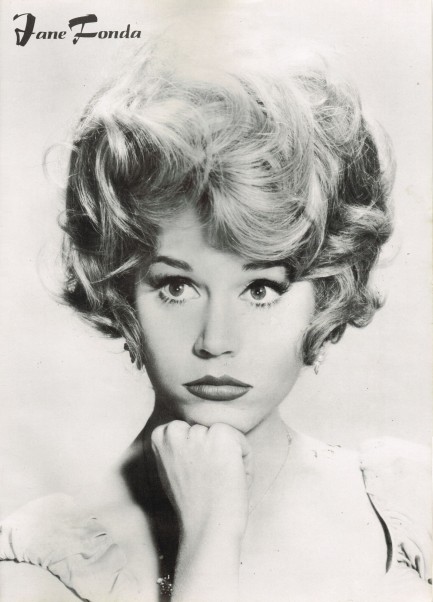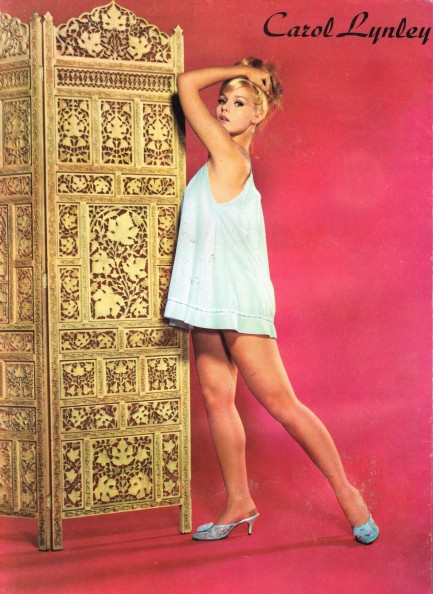 ---
Pawn to king's palace—pawn takes queen.

They really don't make many like this anymore. We're talking about high budget adventures in an international setting, combined with romance and a few laughs. Hollywood used to specialize in international glamour, but nowadays in big budget movies Americans go abroad mainly to slaughter or be slaughtered. Gambit, which starred Shirley MacLaine and Michael Caine, and opened nationwide in the U.S. today in 1966, falls into the same category as Charade, To Catch a Thief, The Thomas Crown Affair, How To Steal a Million, Bedtime Story, and numerous other immensely pleasing cinematic excursions. Too bad those are far better films.
Michael Caine plays a con man who has found in Shirley MacLaine the physical double of the dead wife of Ahmad Shahbandar, the richest man in the world. Shahbandar's wife was in turn the virtual double of the ancient Burmese queen Li Szu.
Shahbandar
has an immensely valuable carved bust of this queen, which he bought for its resemblance to his wife. Caine hopes that once Shahbandar gets a look at MacLaine, he'll let his guard down and invite them into his inner circle, setting himself up for a theft of the bust. If this plot premise seems a bit cluttered to you, we thought the same.
But it doesn't matter because it's not really the main gimmick in the flick. That would be Caine's fantasy of his perfect crime, versus its reality. In his imagining, which makes up the first thirty minutes of the film, MacLaine goes through the motions of the heist like a mute automaton. Then the film restarts with the real MacLaine, and this one talks. Worse for Caine, she has questions, doubts, and, most upsetting of all, opinions. If half an hour of Caine imagining the perfect crime—especially when as a viewer you have no idea it's a fantasy—seems overly long, we thought the same. Again. But we mention it specifically to keep you from turning the film off, which is definitely a possibility for any MacLaine fans dismayed that she's trancewalking through her role. Stick with it and you'll get the same lively star from The Apartment, Irma la Douce, and other hits.
Obviously, we wouldn't have placed this movie in the same category as Charade et al unless there's romance, and MacLaine and Caine—whose names, by the way, sound like a country band or a Vegas magic duo—duly fall in love. But you won't buy it. The script says they fall in love, so okay, by the three-quarters mark they adore each other, but the love spark is never there. Luckily there's also a heist, some comedy, and all the other trimmings of the adventure/romance genre, so despite the film's shortcomings you may find it enjoyable. Then after you finish you can watch any of the movies we mentioned at top and note the difference when this formula is well executed.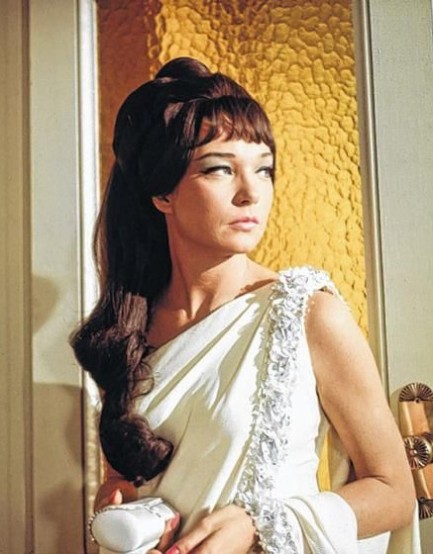 Hi, I'm not Chinese but I get to pretend I am in this movie.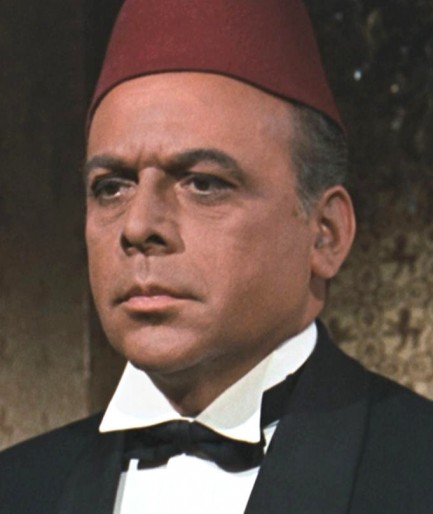 What a coincidence. I get to pretend I'm Arab.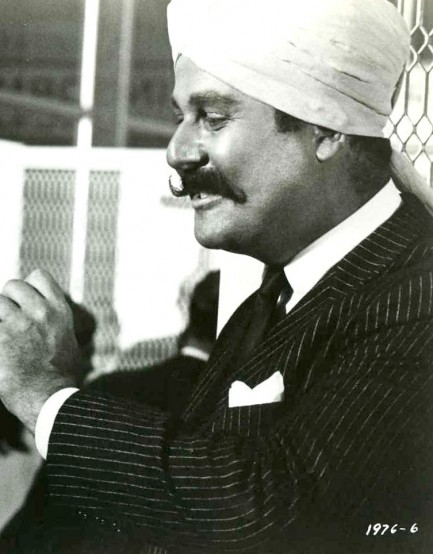 Hi, guess what? I'm white too, but Sikh and you shall find!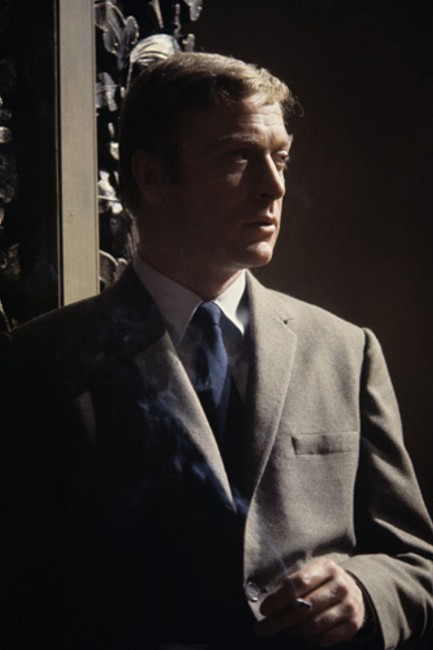 And me? I basically get to play myself, because, well, I'm Michael frickin' Caine. Plus I can't do accents.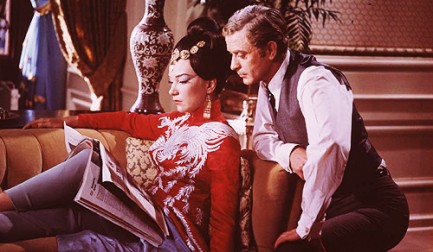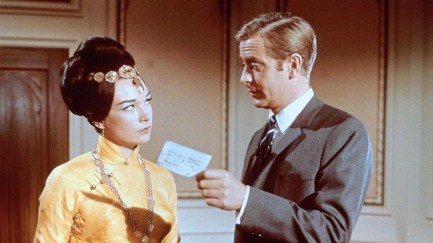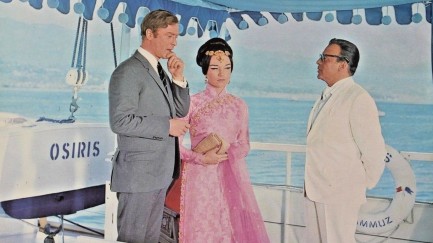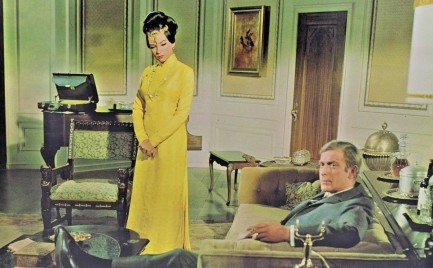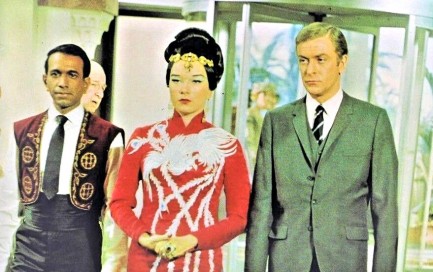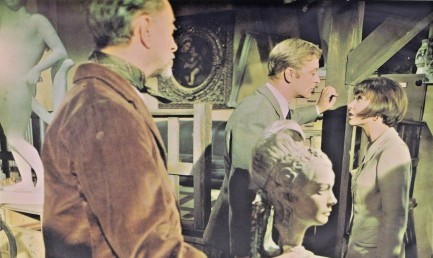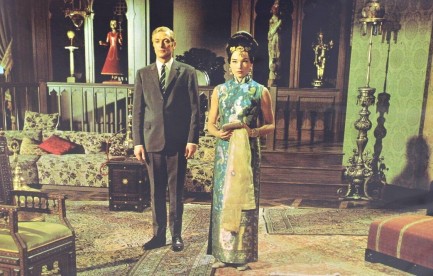 Regarding the above quips about ethnicity, they aren't completely out of the blue. We happen to be doing some work on a television series that's causing consternation online because of its casting of black and latino actors. See, there's a sizable contingent out there that wants an all-white cast in this thing, because the source material (written back when no white authors were putting characters of color in their lightweight adventure novels, because, why hurt your book sales?) is ostensibly all white.
It's a headache, dealing with these folks. Most of the complainers talk about "their" territory being encroached upon, and say idiotic things like, "Why can't blacks and latinos write their own books?" They've invented a term—"blackwashing." These intellectually deficient people forget—or never bothered to learn—that blacks and others were erased from, let's see, pretty much every Bible movie ever made (since none of the people in the Middle East of that era were white), and pretty much every western ever made (up to 25% of cowboys in the old west were black), and those films alone comprise many thousands of opportunities, both creatively and financially, wiped out by American segregation.
A look around Pulp Intl. will reveal white actors made-up yellow to play Asians and Pacific Islanders, brown to play Native Americans, Indians, Mexicans, Arabs, and so forth. We've written about maybe two dozen such films, but there were literally thousands. Hell, even stage minstrels came about partly because audiences wanted to see comedic black performances but were for the most part not about to watch actual black men do it. So we thought Gambit would be a good moment to point out yet again the century-long erasure of actors of color from lucrative opportunities in cinema, both in front of and behind cameras, and to note that diversity in media is (inadequate) redress of a hundred years of racist exclusion.
Every time someone sees the cast in this tv show we're working on and complains about white culture being encroached upon, if you were to check their music collection you'd probably find such thefts as white guys rapping, white guys playing the blues, white guys playing jazz, and white guys playing rock and roll, from Elvis on down the line. When you include clothing, style, dance, language, and more, pretty much everything people of color have invented in America has been co-opted by white culture and magically transformed into money, while simultaneously all the literature people of color supposedly don't produce was summarily ignored by Hollywood.
Despite all we've written about this today, we're basically pretty dispassionate on the subject. White casts reflected an understanding among filmmakers of the shortest path to making money. Sure, there has long been a tiny percentage of cinema about race that had performers of color, but basically, movies were filled with whites (even if they had to wear shoe polish to play characters of color) because audiences were understood to be white. So why alienate your audience? But the diverse peoples that have always existed in America are today both more numerous and more economically significant—and the younger folks who actually fuel movie industry profits are particularly diverse.
Therefore yesteryear's logic still applies for studios: Why alienate your audience?
Hollywood diversity is about making money, just as yesteryear's segregation was. We don't mind that people hate diverse casts. They're racists—duh. No further explanation needed. But what irks us is racists who pretend to be oppressed, conveniently ignoring generations of exclusion perpetrated either directly by them, or on their behalf. Nobody in their family tree was ever denied economic opportunity by nationwide industries because of skin color. People in Hollywood are in essence saying today, "Hmm.. you know, maybe it would be nice for our industry to stop screwing over people of color and actually give them some opportunities here. That's fair, right?" We think it's sad that so many people either don't get that, or pretend not to, but whatever, there's our explanation for why we joked about it above. Because behind every quip there's a story, if not an unsolicited rant.


---
The stuff that bad dreams are made of.
Any movie called Pulp is one we must watch, and since Mike Hodges of Get Carter fame helmed the production we were confident going in, especially since we knew it featured bombshell Nadia Cassini and numerous locations in some of the prettiest and most remote parts of Malta. In fact, as a travel piece the film is flawless (Hodges could have written it for the sole purpose of getting a Mediterranean vacation on the Hollywood dime), but as satire, it's torturous, despite a few clever sight gags and four or five sharp one-liners.
Don't get us wrong—there are merits: always-interesting star Michael Caine, character actor Lionel Stander, and Hollywood icon Mickey Rooney. But there was also a lot of bad: star Michael Caine sleepwalking through the production in owl glasses and a pompadour, character actor Lionel Stander in a cock-hugging one-piece bathing suit, and Hollywood icon Mickey Rooney getting his dangle on in size forty tightie-whities. To quote our girlfriends, "Eew." Yes, we know they're riffing on their own tough-guy images. But still, eew.
The main problem with this movie is there's simply no—if you'll excuse the term—thrust to the plot. Even satire needs to go somewhere, otherwise it's just middle-aged men showing their packages for nothing. If Rooney and Stander ever watched Pulp without cringing they did better than us. However, since scantily-clad men are rare in the macho world of pulp, we've posted some beefcake as a treat, below. And afterwards, we have some shots of Malta that'll really turn you on. Pulp opened in the U.S. this week in 1972.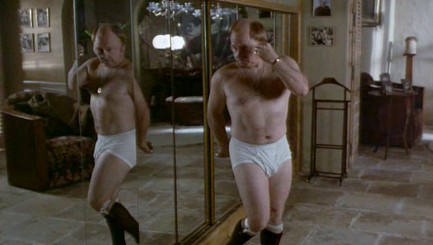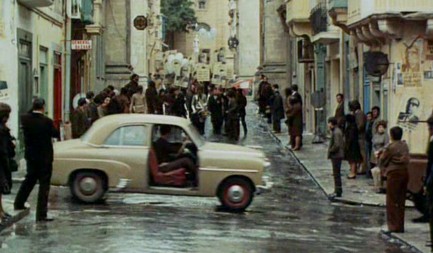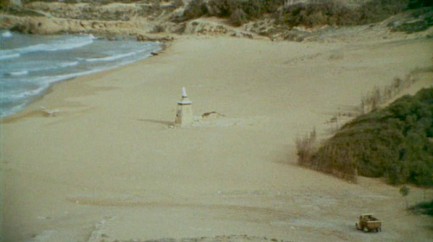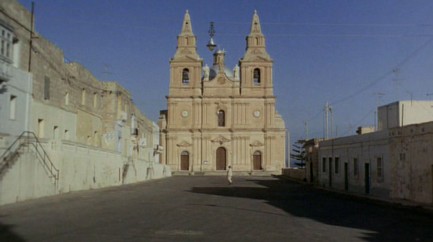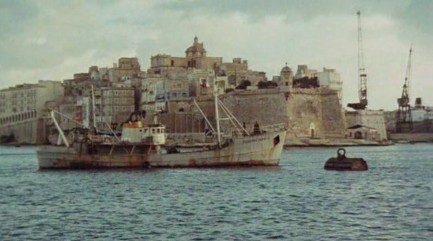 ---