That's fine, mister—I want the other one anyway. Before the school got bombed she was my sex ed teacher.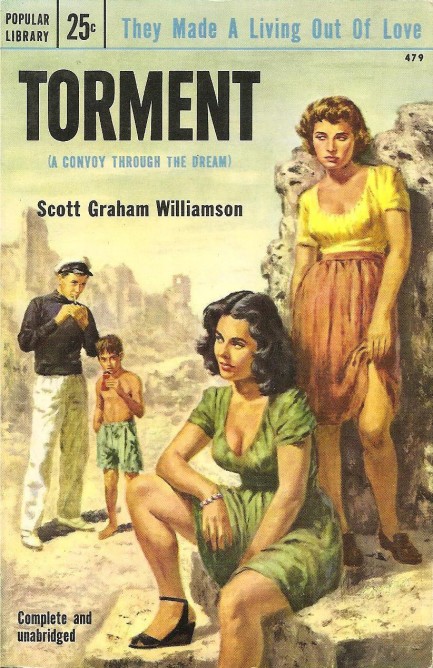 This cover depicting a grown man and a pre-teen boy browsing a pair of working girls is kind of creepy, we know, but it's also well executed. Originally titled A Convoy Through the Dream and published in 1948, Torment appeared in this Popular Library edition in 1953. Author Scott Graham Williamson tries for Hemingway with a story set in various sites around the Mediterranean during World War II, including Gibraltar, Algeria, and particularly Palermo, Sicily. Basically, a radio officer on a warship and his wife try to maintain their love and fidelity in a time of chaos and separation. This comes complete with that familiar war novel plot device—one last incredibly dangerous mission before the hero can go back home. The cover art is uncredited.


---
They got wet and I suppose they shrank when they dried. But they still look okay, n'est pas?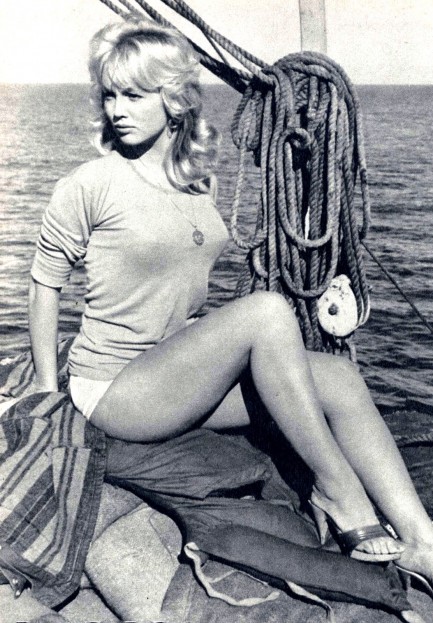 French vision of perfection Mylène Demongeot takes a break while filming the World War II drama Sotto dieci bandiere, aka Under Ten Flags in the Ionian Sea off the coast of Sicily in 1960. She's dressed in character as Zizi, a name we really love, and you're surely wondering how the filmmakers managed to fit a blonde sexpot wearing white spray paint for shorts into a war epic. Well, let's just say if you get all the other historical elements correct, adding a little sex appeal is Zizi. Below you see her putting the legs that launched a thousand fantasies into action, during a scene from the film in which she climbs aboard a boat using a cargo net and miraculously doesn't throw a shoe. You'd think one of those sailors would give her a hand, but then again, maybe that's just not possible. Some say
Demongeot is
no Bardot. We agree—she's all that and more.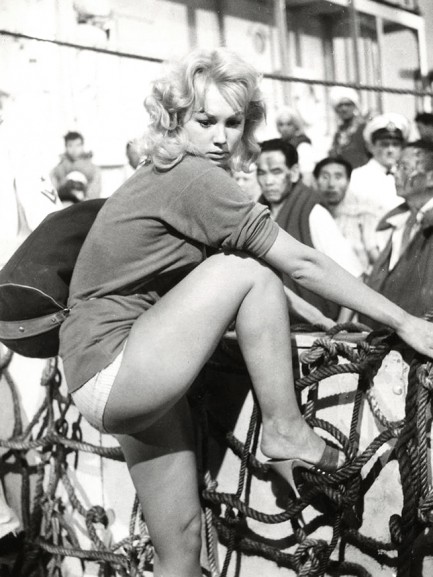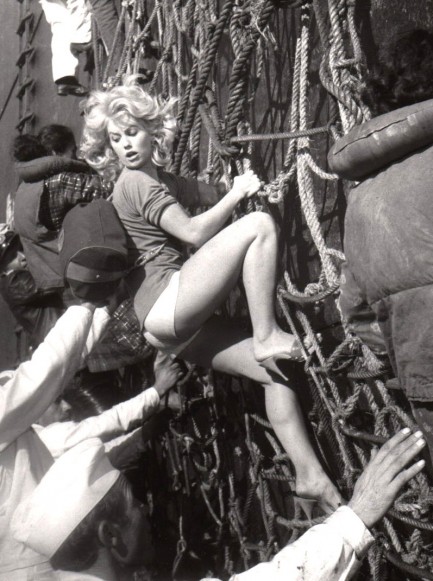 ---
Matteo Messina Denaro's plan to rebuild Cosa Nostra is derailed by arrests.
Italian police carried out a large raid today against organized crime figures suspected of having links to gangster Matteo Messina Denaro. Denaro, along with other aspirants, is vying to be the first to rebuild the Sicily-based Cosa Nostra, which collapsed after the 2006 arrest of then-boss Bernardo Provenzano, and the 2007 arrest of heir apparent Salvatore Lo Piccolo.

Altogether, police made around 100 arrests in the Sicilian capitol of Palermo, and on the Italian mainland in the Tuscany region. The operation, nicknamed Perseus after the mythical Greek hero who killed Medusa, was carried out with the backing of helicopters and police dogs, and was the culmination of a nine-month investigation. Those jailed will be charged with variety of offences, including extortion of arms and drug trafficking.

Anti-Mafia prosecutor Pietro Grasso said at a press conference that, "While the 2006 operation had brought Cosa Nostra to its knees, Perseus prevented it from rearing its head again." Meanwhile Denaro, who is sometimes described as a playboy and is famous enough to have earned a L'Espresso cover and an infamous Warhol-style tribute from an anonymous Italian graffiti artist, remains at large.

---