That's no lady—that's Brigitte Bardot.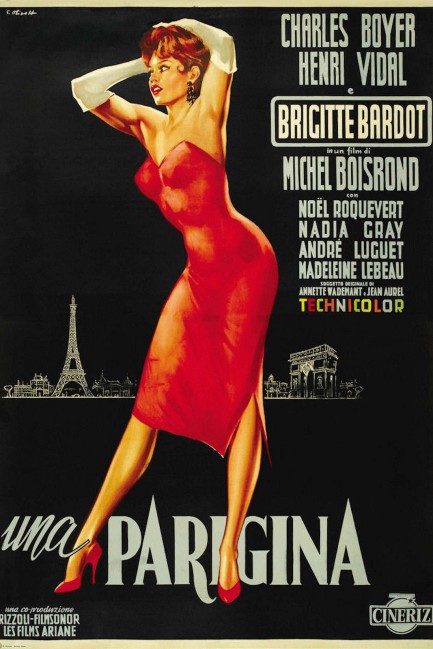 Above, an iconic poster painted by Giorgio Olivetti for the 1957 Brigitte Bardot comedy Una parigina, originally released as La Parisienne. The Bardot figure here was the first femme fatale graphic ever used as the symbol of Pulp Intl., which some of you may remember. Olivetti painted two promos for the film. The second one, just below, is less famous, but still beautiful. We talked about this movie over the summer, and in short it's Bardot running around Paris creating Monroesque chaos among the male population, though with a winkingly more adult subtext than in your average Monroe romp. In other words, there's a hint here and there that Bardot actually gets laid. We don't think that ever happened in Marilyn's comedies. If you're curious about the movie, or interested in seeing the nice U.S. poster—which also features Bardot in her famous red dress—have a look here.
---
With the sweet often comes bitter.
La dolce vita,
aka The Sweet Life, is one of those movies everyone claims to have seen, but surprisingly few have actually sat through. Fellini's ironically titled 1960 masterpiece hit American shores for the first time today in 1961. There's nothing we can tell you about it that hasn't been said, as reviews both professional and amateur abound on the interwebs. But the two posters above, both painted by Giorgio Olivetti, may be new to you. You can see more examples of Olivetti's work here. In the meantime watch the movie. Seriously.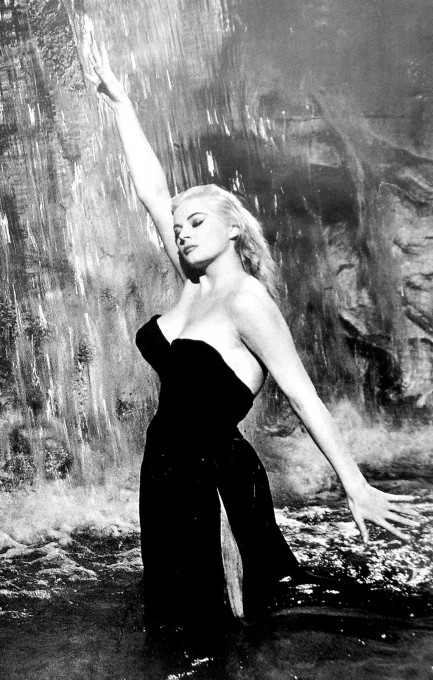 ---
It's possible to have too many Bonds.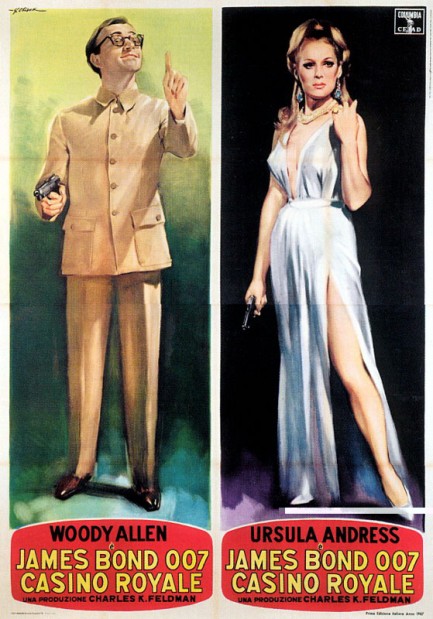 1967's Casino Royale wasn't a global Christmas movie in the sense that today's films are, however it did premiere Christmas week in ten European countries, as well as today in Japan. The movie wasn't good. Basic idea: Sean Connery is an imposter, so the real James Bond in the form of David Niven is coaxed out of retirement, and he comes up with a plan to confuse his arch enemies SMERSH by renaming all British agents—male and female—James Bond. Time's review of Casino Royale was headlined "Keystone Cop Out," and The New York Times' Bosley Crowther was just as scathing, noting that "since it's based more on slapstick than wit, with Bond cliché piled upon cliché, it tends to crumble and sprawl."

But one thing about holiday blockbusters—past and present—is that they're expensively promoted. The many posters produced to sell
Casino Royale
were top notch. A U.S. poster painted by the legendary Robert McGinnis remains one of his most iconic
pieces,
but we also like these Italian quattro foglio promos painted by the extensively and expensively collected Giorgio Olivetti. We saw a set of these asking $8,500 at an auction site. By contrast, below are several U.S. promos, not paintings but photo-illustrations, on which the film's secondary players get starring roles. They aren't nearly as collectible as the movie's paintings, but they're pretty, so we're sharing them as well.




---