There's nothing like a sweet treat to make your day.
Above, a poster for Kôkô Emanuelle: Nureta doyôbi, known in English by the interesting title High School Emanuelle: Wet Saturday. We tried but couldn't find a copy of this one. It stars Minako Mizushima, Yûko Asuka, and Rei Okamoto, and apparently deals with a bunch of high schoolers who take kendo classes and are lusted after by teachers and the like. That isn't much to go on, but a good image of the poster didn't exist online before today, so at least we accomplished that much. This premiered today in 1978.


---
Like Einstein said, if you want to understand relativity, watch a bad roman porno film and time will slow to a crawl.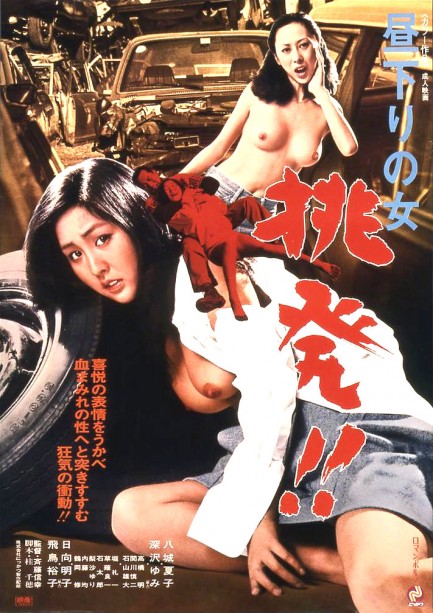 Ever get sexually aroused when having your teeth drilled? No? Us either. But Nikkatsu Studios' infamous roman p
orno films leave no fetish unexplored, so in the opening sequence of Hirusagari no onna: chohatsu! aka Woman of the Afternoon: Incite!, Yûko Asada gets turned on when a dentist drills her teeth. Weird, right? But we aren't disparaging the dental masochists among us. If inner ear vibrational resonance floats your boat, we say just do it.
Later Natusko Yashiro gets plain drilled in a dentist's chair.
T
his dentist is her husband, and she doesn't want to bear children because it will ruin her body. After being pressured on this issue she flees in her car, and thus begins an odyssey of Grecian proportions. During her travels she has several bizarre mishaps and stumbles upon assorted weirdos who, for reasons ranging from persistent neurosis to sheer psychopathy, all bring her to harm. The harm escalates to degradation, most of which takes place at a rural restaurant several bad men take over and turn into a carnival of violence and rape.
You'd suspect the point of all this is something about social decay, but we're not qualified to venture a guess. We just know that by the end credits, which arrive a mere sixty-seven minutes after Nikkatsu's opening logo but feel fifty reels too late, we thought we'd had our teeth drilled—with zero sexual arousal involved. Roman porno films may be softcore, but they sure can be hard on the psyche. Hirusagari no onna: chohatsu! premiered in Japan today in 1979.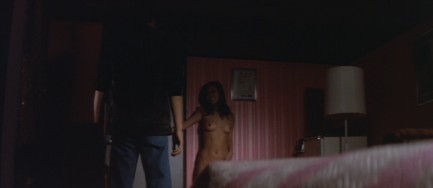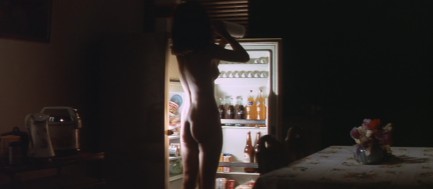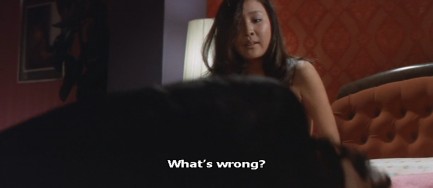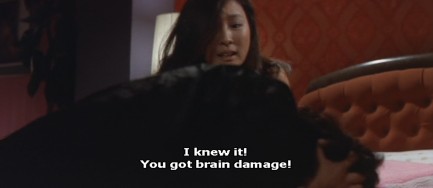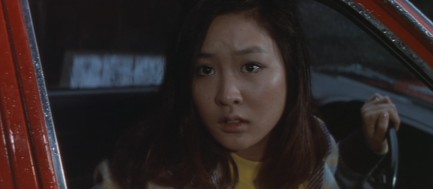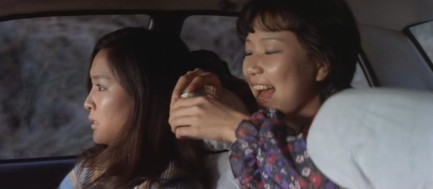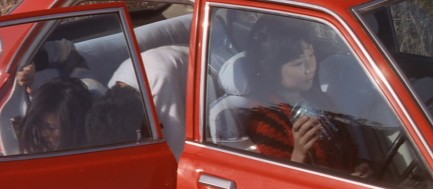 ---
Dive-in cinema at its best.
This poster is for Shiofuki ama, aka Clam-Diving Ama. You of course remember that an ama is a woman who dives for valuable undersea items, typically abalone or pearls. Like the other ama movies we've discussed, this one is from Nikkatsu, and it stars Akiko Hyûga as a neglected ama named Saki whose truck driver husband is inconveniently away for long periods. When he dies in an accident the men of Saki's village turn their attention to her, and a resultant affair leads to trouble. This one has a secret pregnancy, a miscarriage, and betrayal, and while Hyûga is the lead it's actually co-star Yûko Asuka who does most of the down and dirty. For those interested in viewing the movie, it will prove impossible to find, probably, but at least we can show you the poster. Oh, and the promo shot below. Shiofuki ama premiered in Japan today in 1979.
---