There's a reason she had such a sly expression on her face.
Here's a scan from Sidney Skolsky's This Was Hollywood

showing Henri de la Falaise, actress Constance Bennett, and actor Gilbert Roland relaxing in 1933 at the Agua Caliente Hotel in Agua Caliente, Mexico. At the time Bennett was married to de la Falaise. They divorced in 1940 and the next year she married Roland. Knowing that really gives her devilish little smile a deeper meaning, don't you think?
---
Revered French illustrator Jean Giraud dies.
Sad news just off the wire—unique, prolific, and influential French illustrator Jean Giraud has died aged 73 after a long battle with cancer. Giraud broke onto the art scene in 1965, won his first awards by 1973, and by 1975 had adopted the pseudonym Moebius and developed into a graphic arts master. He worked in the comics medium quite a bit as both a writer and artist, and in addition to nine Marvel/Epic graphic novels, and work on longrunning Marvel characters like the Silver Surfer, was also a regular in the pages of the seminal French sci-fi magazine Métal Hurlant—known in the U.S. as Heavy Metal. Aside from all that, he also worked extensively in motion picture production design, and his efforts helped shape films such as Alien, Willow, Tron and The Fifth Element. It's been a rough week for the art world—Ralph McQuarrie died less than a week ago. We've gathered up a few Giraud/Moebius pieces below so those who don't know this master can get a sense of his singular style.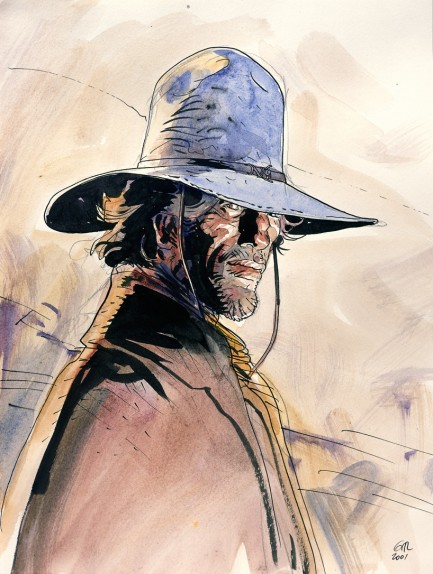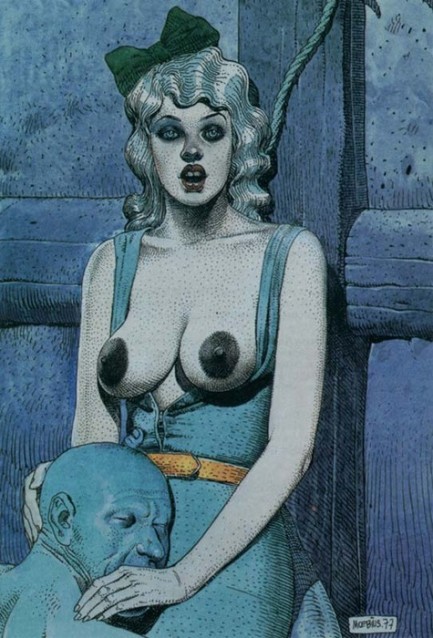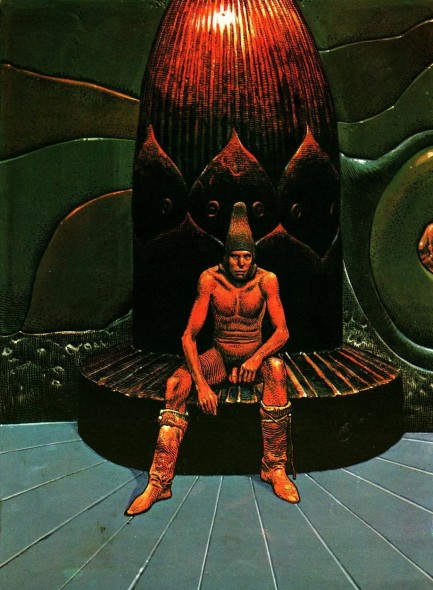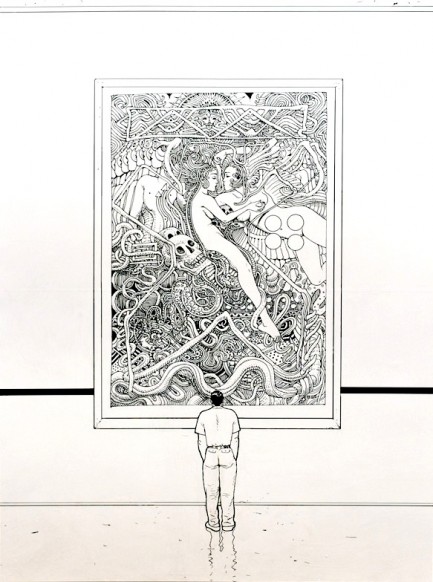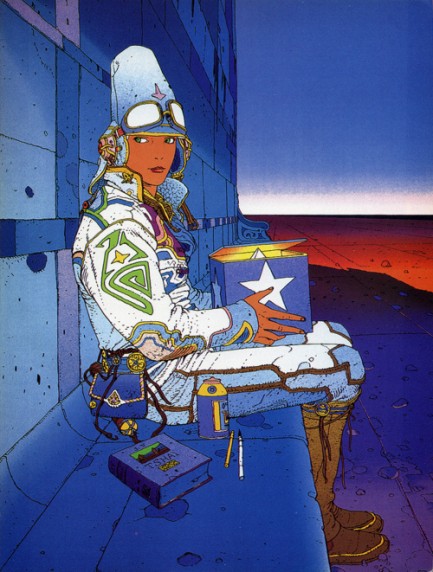 France
,
Alien
,
Willow
,
Tron
,
The Fifth Element
,
Métal Hurlant
,
Heavy Metal
,
Marvel Comics
,
Silver Surfer
,
Jean Giraud
,
Moebius
,
comic art
,
cinema
,
deaths
---
Giger retrospective taps into sexual obsessions and primal fears.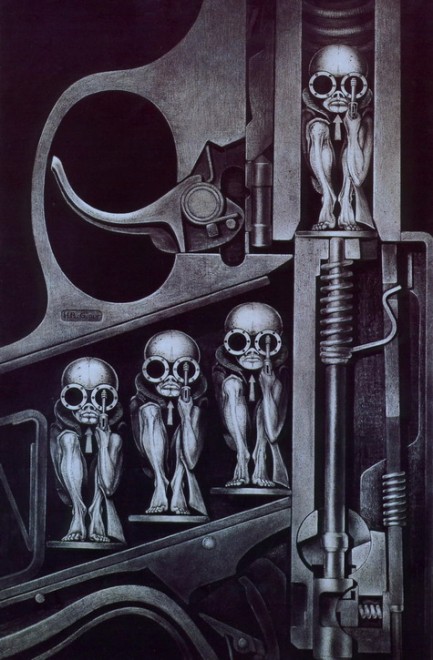 We've always liked the work of biomechanical airbursh artist H.R. Giger—it reminds us of high school, and the anguished sexual obsessions of that time. Most people associate his art with the Alien

franchise because he did the production design for the original film, and all the sequels have built upon that foundation. But Giger is about more than just slimy, vicious monsters. For instance, the piece you see above, "Birth Machine," is quintessential Giger. The crucial clue to its meaning comes from the title. And as we look closely at the piece, we see a pistol in which the bullets are half human creatures who themselves are holding pistols. If we assume each of their pistols in turn contain little bullet men with more guns loaded with more bullet men, we understand that Giger is making a statement about us killing ourselves through overpopulation. In a sense, each of us is a weapon, loaded with deadly ammunition and lacking any sense of restraint that might help us see that our state of perpetual war and environmental destruction derives from the fact that there are simply too damned many of us. Or something like that.
We bring all this up because we saw a Giger exhibit in person at the Kuba Art Gallery in Donostia-San Sebastián, Spain, and the pieces were extremely interesting. They're otherworldly, yes. Biologically weird, certainly. Relentlessly vaginal, absolutely. Giger is well known for those things. But there's also a darkness and density to the pieces that is very impressive in person. Their geometry and the physics implied within are Lovecraftian in a sense, which is why we weren't surprised when we saw that two of Giger's early pieces were in fact representations from the great horror writer H.P. Lovecraft's fiction. The exhibit also included a larger than life movie alien menacingly perched on a wall, as well as a macabre dinner table with six biomechanical chairs. If a Giger exhibit ever comes to your town, by all means, go. Any effort will be worth the time and energy spent to see this unique master's nightmarish work in person. We have more images below, and we apologize for their blurriness, but we were too terrified by the art to focus.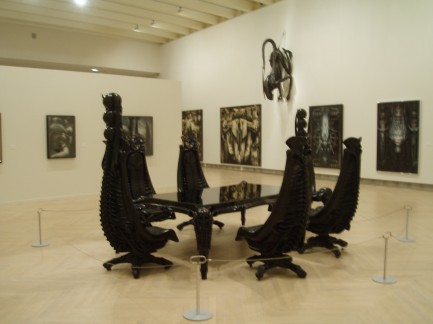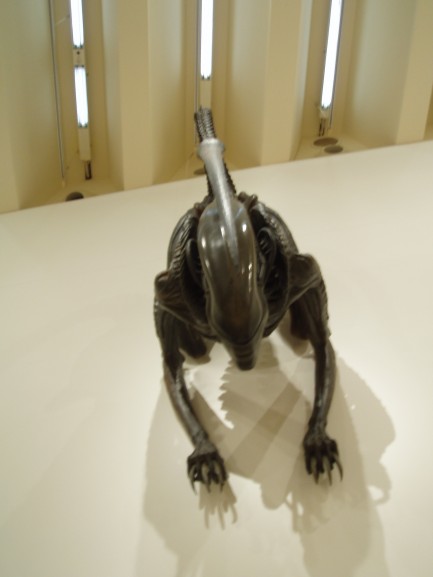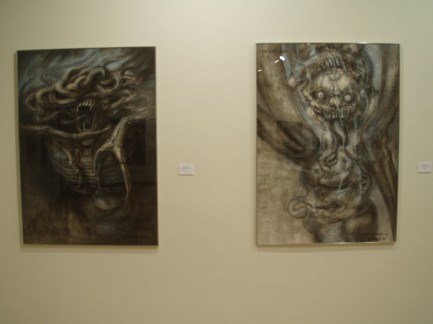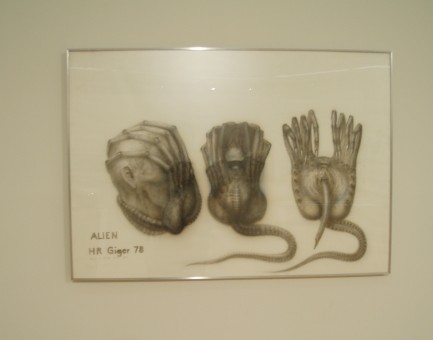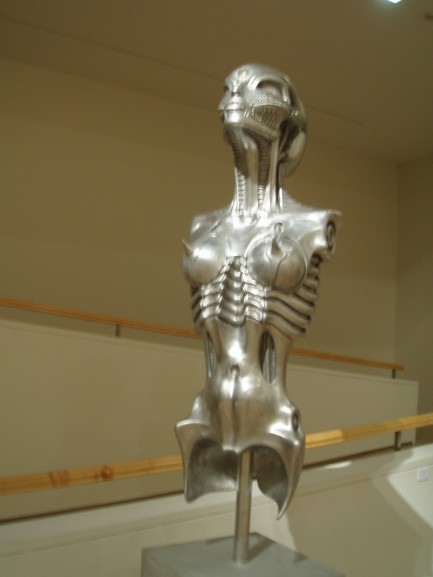 ---