You're absolutely right! Because corpses don't need money, keys, gum, or any of that stuff. What was I thinking?
First of all, when we see a title like No Pockets in a Shroud and see an angry guy with a crushed piece of paper it seems to us that he's just decided to go back to the drawing board with something, possibly shroud design. Which is how we came up with our silly subhead. But the book isn't about shrouds at all. What happens is a newspaperman's rigid personal ethics compel him to expose corruption in the big city, including bribery in professional baseball, a crooked abortion ring, and a racist group that bears a strong resemblance to the KKK. This truth-telling will cost him of course, but exactly how much is the question.

The book was written by Horace McCoy, who is often called an underrated writer, but once multiple sources use that term, maybe you aren't underrated anymore. He wrote numerous tales for the classic pulp magazine Black Mask, as well as for Detective-Dragnet Magazine, Man Stories, et al, before branching out to author classic novels like Kiss Tomorrow Goodbye and They Shoot Horses, Don't They? Generally, No Pockets in a Shroud is considered substandard for McCoy, but it has an interesting point of view. The rather intense cover art is signed "T.V.," which we take to mean Tony Varaday. And the title, incidentally, is just another way of saying: You can't can't take it with you.


---
Graphic novel set in Istanbul serves up exotic cocktail of adventure, romance and mystery.
The image above was painted by Spanish artist Ana Miralles, and is the cover of book 1 in a series of graphic novels called Djinn. Created in 2006 by venerable Belgian writer Jean Dufaux, the Djinn saga tells of Kim Nelson, a young woman who travels to Istanbul seeking clues to her grandmother's mysterious past. She soon learns that during the waning days of the Ottoman Empire her grandmother was a harem girl, the beautiful favorite of the Black Sultan. As more clues pile up and the mystery deepens, Kim finds herself dealing with shady characters and persistent paramours in bookshops, baths, and bedchambers all over the old city. These sorts of comics always remind us of Black Mask and other vintage mags that sometimes mixed romance with foreign adventure, but if you aren't familiar with 1930s pulps, think of Djinn as Romancing the Stone crossed with Emmanuelle. We've posted some fantastically illustrated interior pages below from our copy of Djinn 1: The Favorite. We recommend this series highly.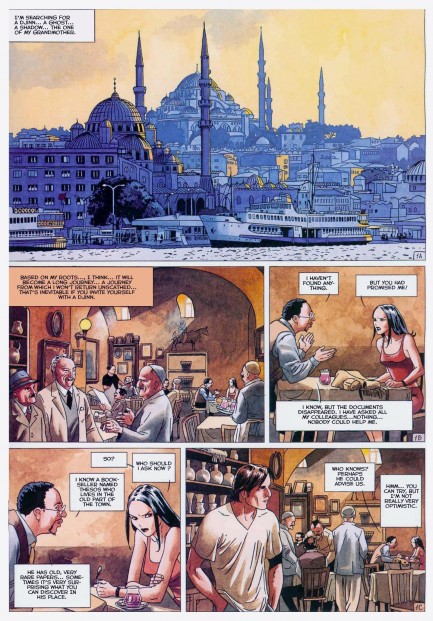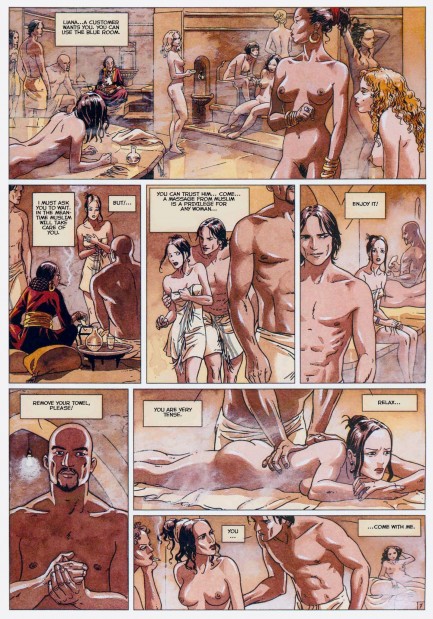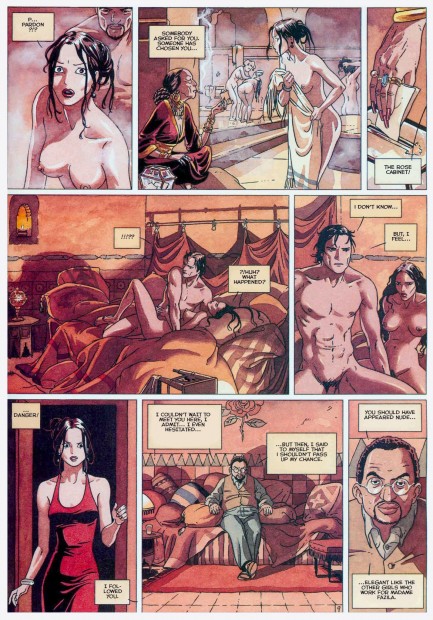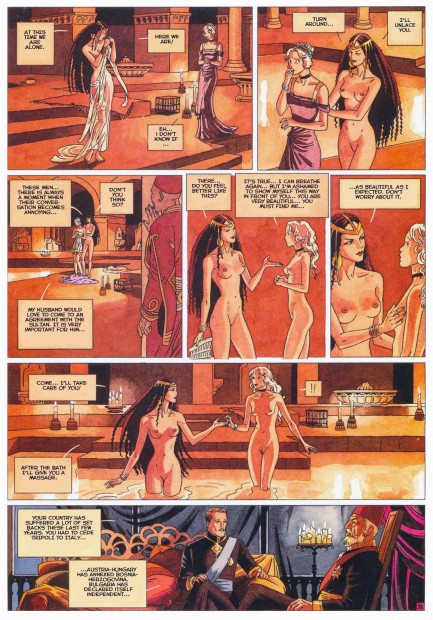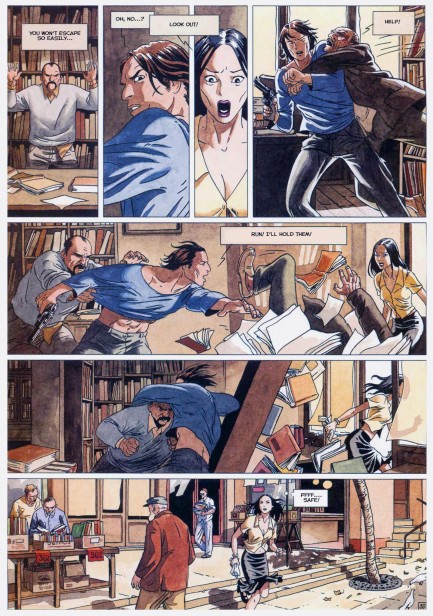 ---