Phantom actress puts men in their place.
We're back to National Spotlite with a cover published today in 1968. The photo is of actress Carolyn Haynes, and a headline goes to actress Caroline Lee, who says she makes men crawl for her sexual favors. The money quote: "If women use their bodies the right way they can be the most powerful people on Earth." A quote like that sounds suspiciously like it was fabricated by a man, and in fact while several Caroline Lees appear on IMDB, none fit the profile required to have done this interview—i.e. born sometime in the 1940s or possibly in 1950. National Spotlite is busted again. The editors simply could never have imagined a globally accessible actor database. We also did a search on Haynes and likewise learned she never existed

But some of the celebs are real. In Spotlite's "Dateline: The World" feature readers are treated to a photo of Chris Noel. It's been a long time since we've seen her—eight years to be exact. Spotlite tells us she smashed a vase over the head of a nightclub employee when he tried to force his way into her dressing room in Sydney one night. "The man attempted to romance her but she spurned every overture he made. When he tried to use violence to get his way she spilt open his skull." We found no mention of the incident in any other source, but we like the story for how it turns out. If her assailant had known anything at all about Chris Noel he'd have rememberd her publicity tours of Vietnam and realized she was one tough celeb.

"Dateline: The World" next regales readers with a tale out of Africa. "Cary Grant arrived in Nairobi to join a hunting safari and has been escorting two six-foot dark-skinned native girls to whatever cafes in town they can get into, and has caused quite a bit of controversy by doing so. Grant traded punches with a man in one spot when the gent took offense at Cary's dates. Cary flattened the man, but the stranger rose to his feet flashing a knife and only the quick efforts of the bartender and cafe owner averted further trouble for the star. Cary and the girls fled while the others were subduing the knife wielder."

Paris: "Juliette Prowse was detained the other night after she threw a make-up case through the window of a drug store. She had purchased some cosmetics at the American Drug on the Champs-Élysées, but brought the order back the same night. She claimed that she'd made a mistake and didn't need the cosmetics. The salesman explained that he would exchange the merchandise or give Prowse credit, but no cash refund. Juliette roared out of the place. Outside she hurled her make-up case through the store's front window. Two policemen saw her smash the window and nabbed her on the spot."

Beirut: "David Niven and wife Hjordis ran into an embarrassing situation in a night spot while making the cafe rounds in this Lebanese city. A belly dancer took such a fancy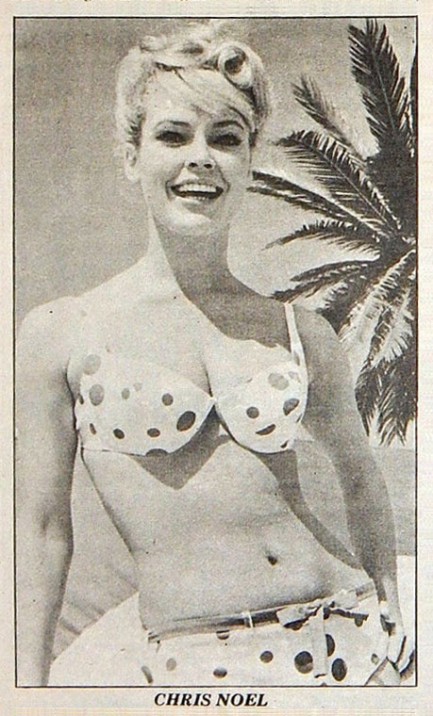 to David that she did her act for him alone. She even sat on his lap. The patrons objected to her performing for just one man and began to throw things at her and at Niven. David and Hjordis ran for the exits after he pushed the girl off his lap."

Capri: "Noel Coward is nursing bruises on his face. He says he was attacked by two young men while he was out strolling one night. The muggers made off with a pair of cuff links given to him by Raquel Welch and a watch from Greta Garbo. Coward was found half-conscious and bleeding."

You get the gist—celebs in trouble. Back during the heyday of tabloids Confidential had bellhops, bartenders, chauffeurs, maîtres d'hôtel, and cops by the hundreds phoning in hot tips, but Spotlite was never more than a second tier rag and could not have had the resources to uncover the above stories. Therefore the editors either made them up or lifted them from other tabloids. We suspect the latter—with the stories ginned up for entertainment value. Cary Grant in Nairobi with two Kenyan escorts? We'll buy it. Grant risking his million dollar mug in a fistfight? Improbable. But the stories sure are fun. See more from National Spotlite by clicking here.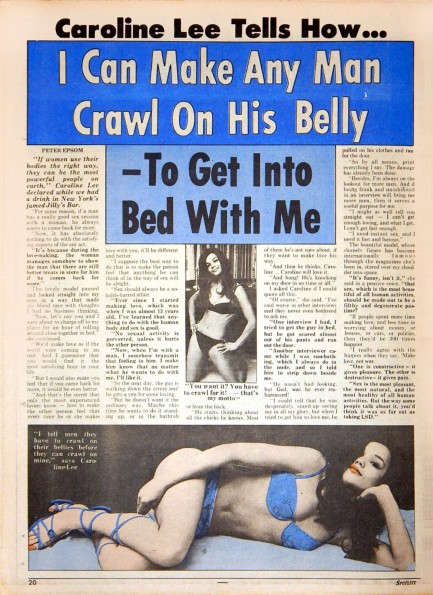 ---
Waiting for her ship to come in.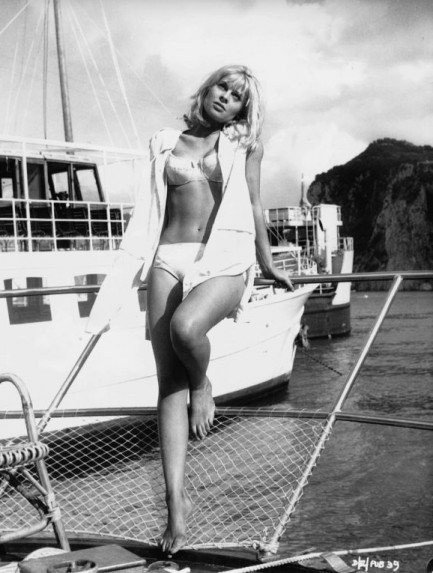 Promo shot of British actress Julie Christie on the set of Darling, the classic 1965 drama set in swinging London (and partly in Capri, above) about a model trying to sleep her way to the top. Christie was born in Chabua, British India, today in 1941.
---
Fifty years after his death, people are still telling us who Errol Flynn was.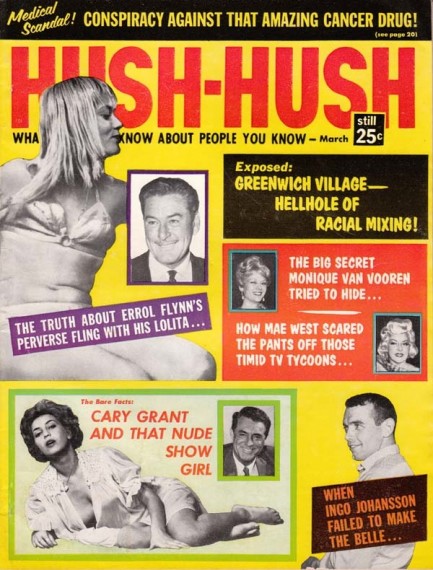 Above is a Hush-Hush from March 1960 with a spotlight on Errol Flynn's "perverse fling with his Lolita." They're talking about fifteen-year old Beverly Aadland, below, who we've mentioned before. The article is the beginning of a long tradition of journalists writing the truth—or at least their version of it—about Flynn. Since his death he's been tagged as a bisexual, a fascist, and a Nazi spy. As recently as 1988 Aadland offered her truth about Flynn in a People interview, and a 1990 book by biographer Tony Thomas rejected the fascist claims, pointing out instead that Flynn had left-leaning politics, though he had made racist comments in letters and conversation.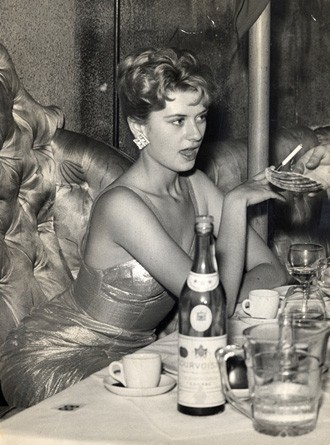 Thomas claimed Flynn's true feelings were evidenced by his support for the Loyalists during the Spanish Civil War and his friendship with Fidel Castro. Flynn has also been depicted with assorted personality quirks in films such as 1996's The Australian, with guy Pearce, and 2004's The Aviator, with Leonardo DiCaprio. So, suffice it to say that he's never gone out of style. But as far as whose story to believe concerning who Flynn was, we can't say. We doubt the conflicting accounts will ever truly be settled—with the passing of Beverly Aadland just last month, all the people who knew Flynn personally are dead.

---