Junko Mabuki gets deflowered.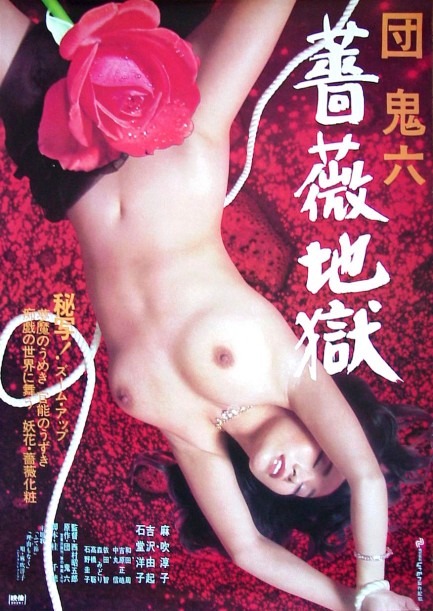 We just saw Junko Mabuki last week, and here she is again in the roman porno vehicle Dan Oniroku bara jigoku, which is known in English as Hell of Roses. Oniroku Dan was Japan's perv laureate of erotic bondage literature, and he became so famous that his name often appeared on the front of movies adapted from his material. And his material was pretty fringy stuff, at least by our standards. Last week's Oniroku Dan movie was centered around a slimy photographer's bondage obsession. This time there are two photographers, working in tandem to produce bdsm shots of young women who don't have any real idea what they've signed up for. Junko plays a famous singer who gets into their crosshairs. She'd never submit voluntarily, so the two predators subdue her with chloroform and spirit her away to an isolated house. Once she awakens she puts up a real fight and even manages to bloody one of her captors, but she still ends up caged, roped, dildoed, etc., and then there's that roman porno pee thing again. And a snake. And a kinky blood fixation. But you know what this movie doesn't have? Roses. Go figure. Dan Oniroku bara jigoku premiered today in 1980.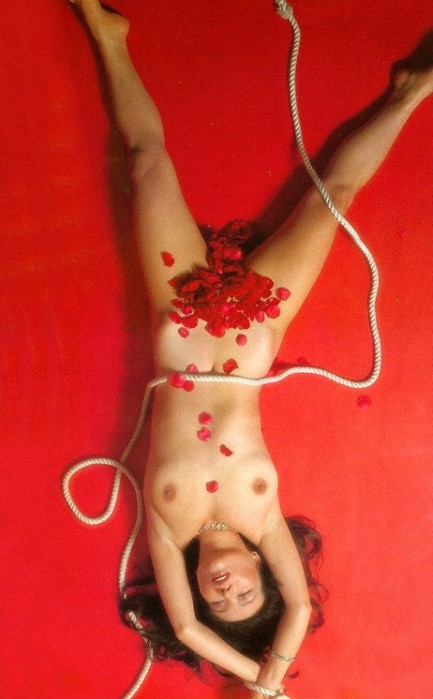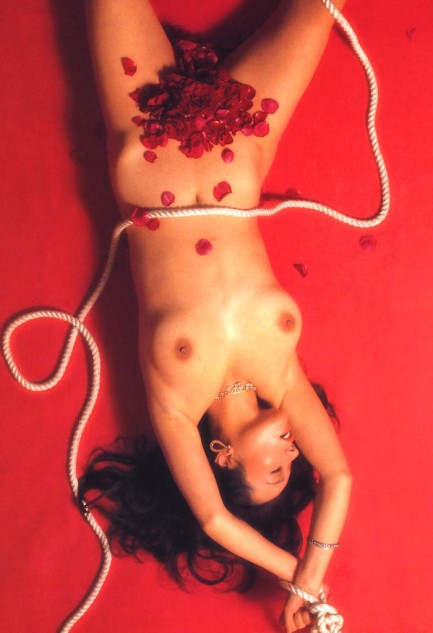 ---
Junko Mabuki starts a chain reaction.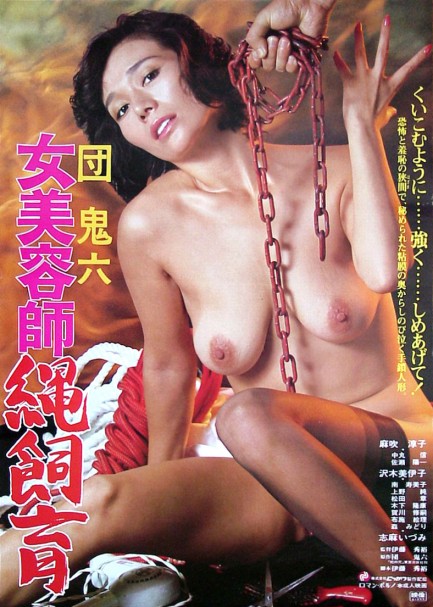 Junko Mabuki is an important actress of second generation Japanese S&M movies, and that's her above on a poster for Dan Oniroku onna biyoshi nawa shiku, aka Female Beautician Rope Discipline. What you see is what you get here. Junko meets a photographer who shoots bondage and discipline. At first she's repulsed, but, this being a roman porno flick, the thought of it grows in her mind. Meanwhile we meet Izumi Shima, one of the photog's bondage subjects. Junko soon crosses paths with Izumi and is attracted to her—and who wouldn't be?—but it's just the beginning of a descent into degradation, jealousy, and serious male-driven pee-version.
We're still trying wrap our heads around the various forms of Japanese cinema. Toei's pinky violence films usually had cool '70s street action and ass kicking gang girls, whereas Nikkatsu's roman porno had submissive women and sexual subjugation. They're all generally considered to be pink films, along with output from OP Eiga and other studios, but to us they're night and day. Pinky violence and roman porno represent two big studios in competition with each other, but more and more the patriarchy smashing ethos of the former feels like a rebuttal to the latter. In this one, though, the sadistic photographer gets his—spoiler alert!—head deservedly bashed in. Dan Oniroku onna biyoshi nawa shiku premiered in Japan today in 1981.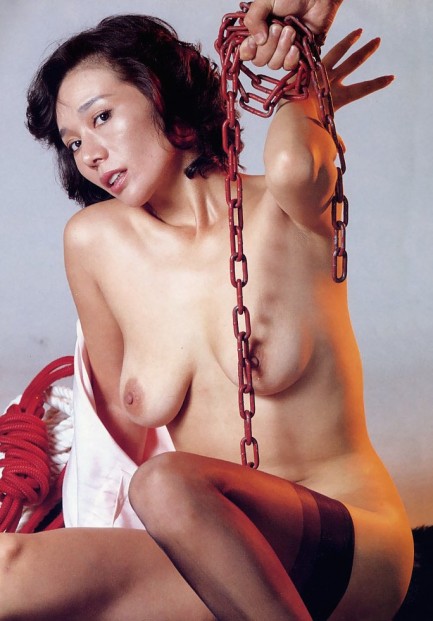 ---
The makers of Female Teacher: Rope Hell needed to learn a lesson or two.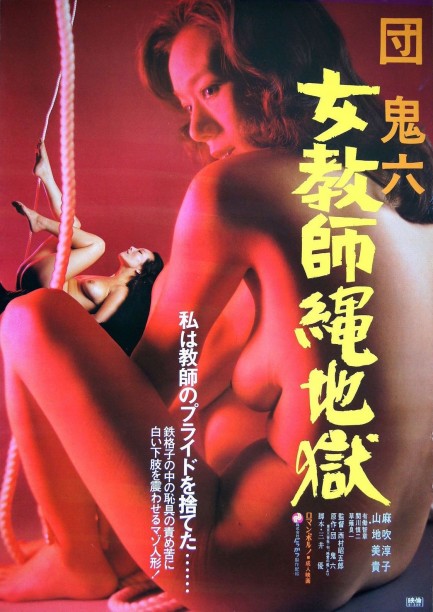 Based on a bdsm novel written by the acclaimed Oniroku Dan, Onna kyôshi nawa jigoku, aka Female Teacher: Rope Hell, is yet another Japanese exploration of the pleasures, pains, and limits of sexual obsession and bondage. Frankly, this one is a bit tedious. There's a razor thin line between thoughtful and dangerous when dealing with this kind of material. When Japanese films, in particular, end up on the wrong side of that line, you really have a mess on your hands. We understand, yes, that bad men aren't always punished in real life. But this isn't real life. It's just a movie, and punishment is key. In fact, for us it's the entire point. It's the only thing that makes these films watchable. But in this case, the abusive male ties up the two objects of his obsession and is tormenting them when one of his candles sets an accidental fire. He and the bound women burn to death. His obsession destroyed them all. That's the end. Roll credits. Hope we didn't ruin it for you.
The fixation Japanese film has with sexual abuse is curious. It often occurs for pretty straightforward narrative reasons—rape, or perhaps the murder of husbands and children, or often all three, are the triggers that transform women into terrifying revenants. The mostly thirty-something writers and directors who conceived pinku plots were taking swipes at Japan's patriarchal social structure by first explicitly revealing a sexist status quo, then allowing feminine power to demolish it. Or so it seems to us. In that way pinku does not differ from blaxploitation. In those, it's a racist status quo that is revealed and demolished. However revenge movies represent only a slice of the Japanese whole. Many films in the roman porno sub-genre feature degradation without revenge, in which case we think it needs to be very carefully done to avoid endorsing such behavior. Major fail on that account here. All respect to Oniroku Dan, but excesses such as a forced enema and subsequent sloppy evacuation are not things we can get behind, so to speak. Onna kyôshi nawa jigoku premiered in Japan today in 1981.







---