Okay, now you're going feel a little prick.
Did you ever see the movie Doc Hollywood? Well, 1962's A Halo for Dr. Michael is the same sort of thing—i.e., a bright young doctor passes up a glittering career in the big city (Manhattan) and practices medicine in a small southern town. He learns a little about himself, and of course finds love. Author Dorothy Worley specialized in this stuff, churning out books such as Dr. John's Decision, Dr. Jefferey's Awakening (are you sensing a theme here?) Dr. Michael's Challenge, and, for a change of pace, Cinderella Nurse. It's cheeseball stuff, but sometimes only a medical romance will scratch that itch. The cover art, in all its overwhelming pinkness, is by Tom Miller, who did a lot of work for Monarch and Fawcett. You don't hear his name mentioned with the top rank of pulp artists, but he was a first rate stylist who created more than a few classic images. We've collected a few below so you can see for yourself.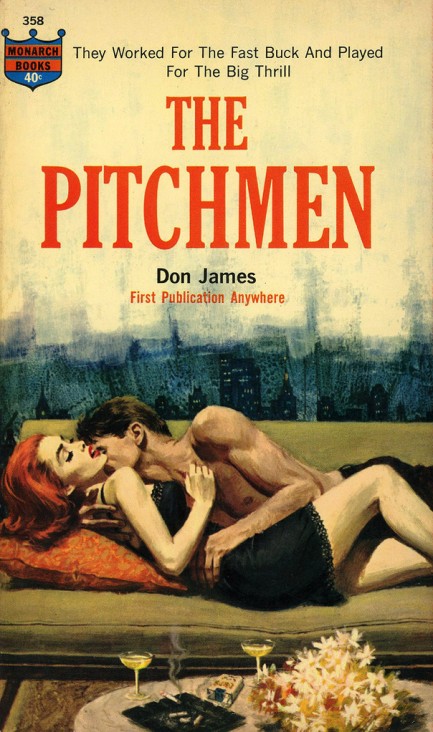 Dr. John's Decision
,
Dr. Jefferey's Awakening
,
Dr. Michael's Challenge
,
Cinderella Nurse
,
The Gang Girls
,
Campus Doll
,
Neighbors and Lovers
,
Steve Bentley's Calypso Caper
,
Dr. Kildare's Trial
,
The Jet Set
,
Fraternity Row
,
The Pitchmen
,
Don James
,
Carlton Joyce
,
Mack Reynolds
,
Max Brand
,
Robert Dietrich
,
Carlton Gibbs
,
Edwin West
,
Carson Bingham
,
Dorothy Worley
,
Tom Miller
,
cover art
,
literature
---
Frank Munsey's Argosy had humble beginnings but lasted nearly a century.
The guys at National Road Books have fed us more scans from their large Argosy collection, and above are five from 1938 through 1940. In these issues there's fiction from Max Brand, C.S. Forester, and a raft of capable in-house writers. The cover art is from Rudolph Belarski (panels one and two), G.J. Rosen (three and four), and Emmett Watson (five). After two years of finding almost nothing from Argosy suddenly we have a pipeline into a treasure trove thanks to NRB and we're ecstatic, because Argosy was the first real pulp magazine, launched on a $500 budget by Frank A. Munsey in 1882. The venture wasn't an instant success. Munsey had conceived a children's publication and that version of Argosy went bust immediately. But Munsey managed to keep ownership of the idea and kept publishing on a shoestring budget. As he learned the market, he realized a children's magazine wasn't the direction he wanted to continue. By fits and starts, he began shifting from young readers to pulp fiction and eventually transformed the magazine into an American staple that lasted until 1978. We'll have more on Munsey's publishing adventures later. Got any pulp treasures of your own? Feel free to do what National Road Books did and use the pulp uploader in our sidebar. Our mailbox is always open.
---
Dancing girl of the golden west.
Above is a cover of Frank A. Munsey's Argosy from June 18, 1938, with a famous painting by Rudolph Belarski for Max Brand's western adventure story "Señor Coyote". Even though Argosy was the first real pulp magazine, we haven't featured it often here because issues in good condition can be difficult to find. With this one we got lucky—the highly regarded antiquarian and collectible website National Road Books, who we've bought other magazines from, sent us an e-mail letting us know they've uncovered a trove of more than a hundred issues of Argosy, and included the scan. So thanks for the assist, guys. It's always needed. And speaking of assists, we want to remind everyone that our reader pulp feature, in the sidebar at right, is available to anyone who wants to share pulp treasures. How's about we all make that a resolution for 2011? Agreed? Great.
---