They're beautiful but they bite.
In honor of 'Gator Bait, which we wrote about a few days ago, we've gathered together a small collection of covers with art set in swamps and bayous. There are many different types of swamp denizens. You got your babes, your nymphs, your spawn, and even your occasional brat. Usually these creatures are safe to be around, but do remember that they attack if provoked. Thanks to all the original uploaders for these images.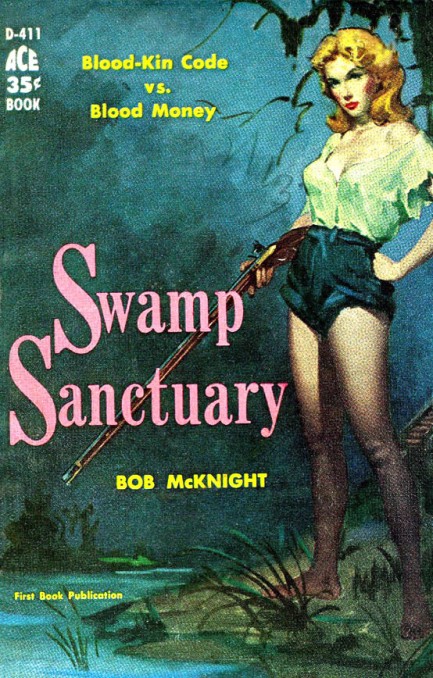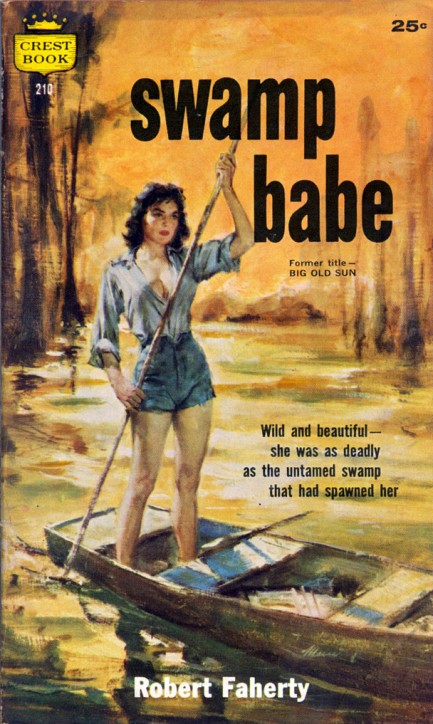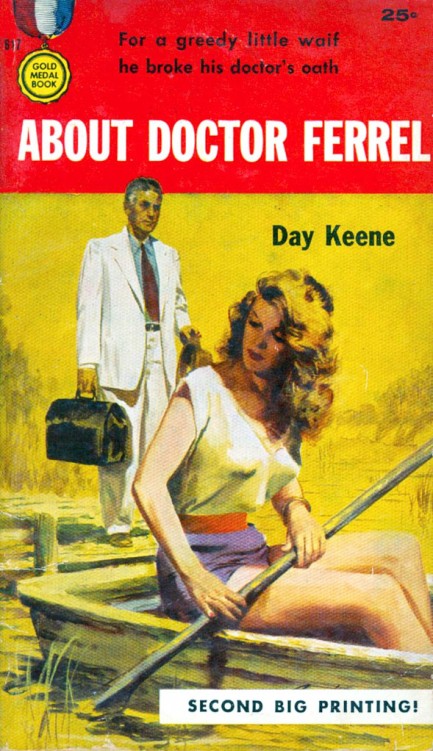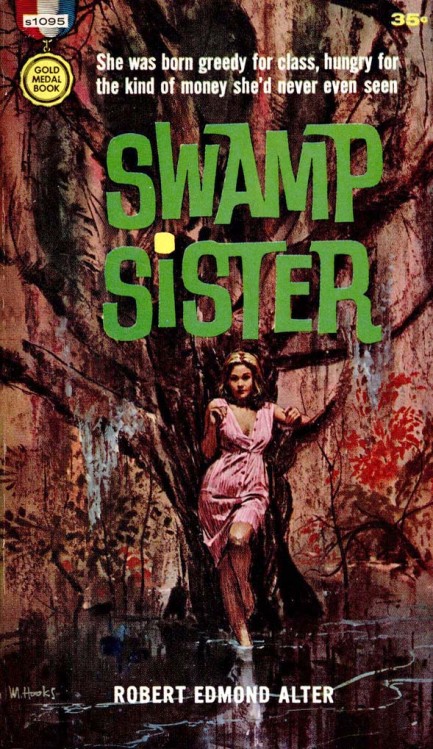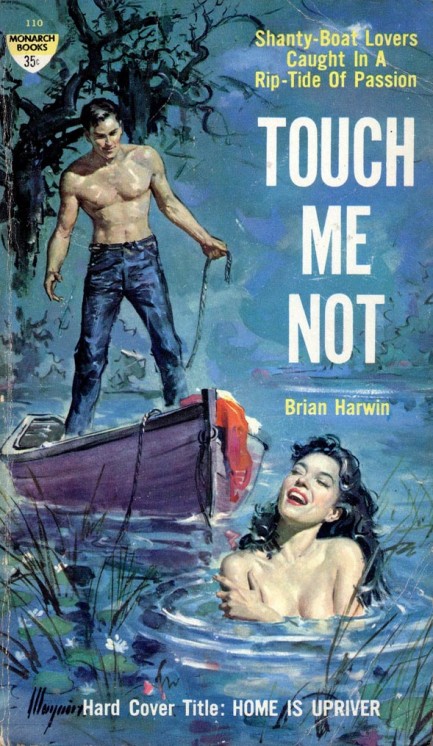 'Gator Bait
,
Swamp Sanctuary
,
Swamp Babe
,
Bayou Girl
,
Swamp Girl
,
Touch me Not
,
River Girl
,
Spawn of the Bayou
,
Swamp Bred
,
Swamp Sister
,
Swamp Nymph
,
Swamp Brat
,
About Doctor Ferrel
,
Charles Williams
,
Claudia Jennings
,
Allen O'Quinn
,
D. W. Craig
,
Bob McKnight
,
Robert Faherty
,
George H. Smith
,
John Thompson
,
Brian Harwin
,
Day Keene
,
Evans Wall
,
Perry Lindsay
,
Robert Edmond Alter
,
Robert Maguire
,
Barye Phillips
,
Mitchell Hooks
,
cover art
,
literature
---
Even southern girls get the blues.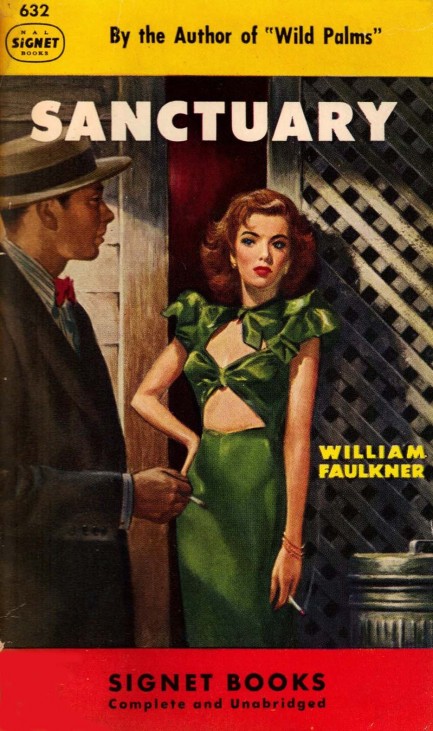 You know we like to share these pulp style covers certain publishing houses cooked up for reprints of serious pieces of literature. Today, it's William Faulkner's turn, and the subject is his 1931 novel Sanctuary, which Signet released in 1950 with this cover. Sanctuary was Faulkner's fifth book and first success, but he wasn't particularly fond of it, dismissing it as commercial claptrap written purely for financial reasons. If that was truly his intention, it seems like leaving out all the depravity and violence would have been a better way to go about it. In any case, critics did not consider the book lightweight in the least, and a central rape scene involving a corncob understandably generated quite a bit of controversy. When the book was adapted into a 1933 movie entitled The Story of Temple Drake starring Miriam Hopkins, the corncob was removed, but the film still caused a stir and helped bring about the introduction of the Hays Code—the censorship doctrine that predated the establishment of the MPAA. In 1961 Sanctuary was adapted again, and this time not only was the corncob removed, but a sizeable chunk of Faulkner's original plot. Despite his professed distaste for commercialism, Faulkner had by then worked on dozens of movie projects. He wrote screenplays for To Have and Have Not and The Big Sleep, and also became a sought after script doctor, massaging projects like Mildred Pierce, The Southerner and Gunga Din. We have a collection of posters from some of his projects below. If you've neglected to see any of these films, we highly recommend them and, of course, his novels are well worth a read.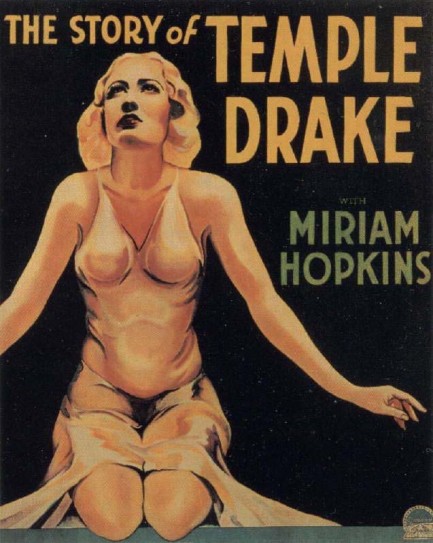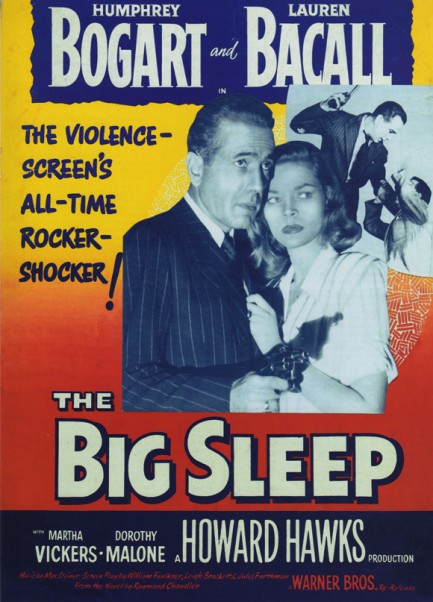 New York City
,
Hays Code
,
MPAA
,
The Story of Temple Drake
,
Sanctuary
,
Mildred Pierce
,
The Southerner
,
Gunga Din
,
To Have and Have Not
,
The Big Sleep
,
William Faulkner
,
Miriam Hopkins
,
Humphrey Bogart
,
Lauren Bacall
,
Joan Crawford
,
Lee Remick
,
cover art
,
poster art
,
film noir
,
cinema
,
literature
---